Lessons on Employee Engagement from Gareth Southgate and the Euros England Squad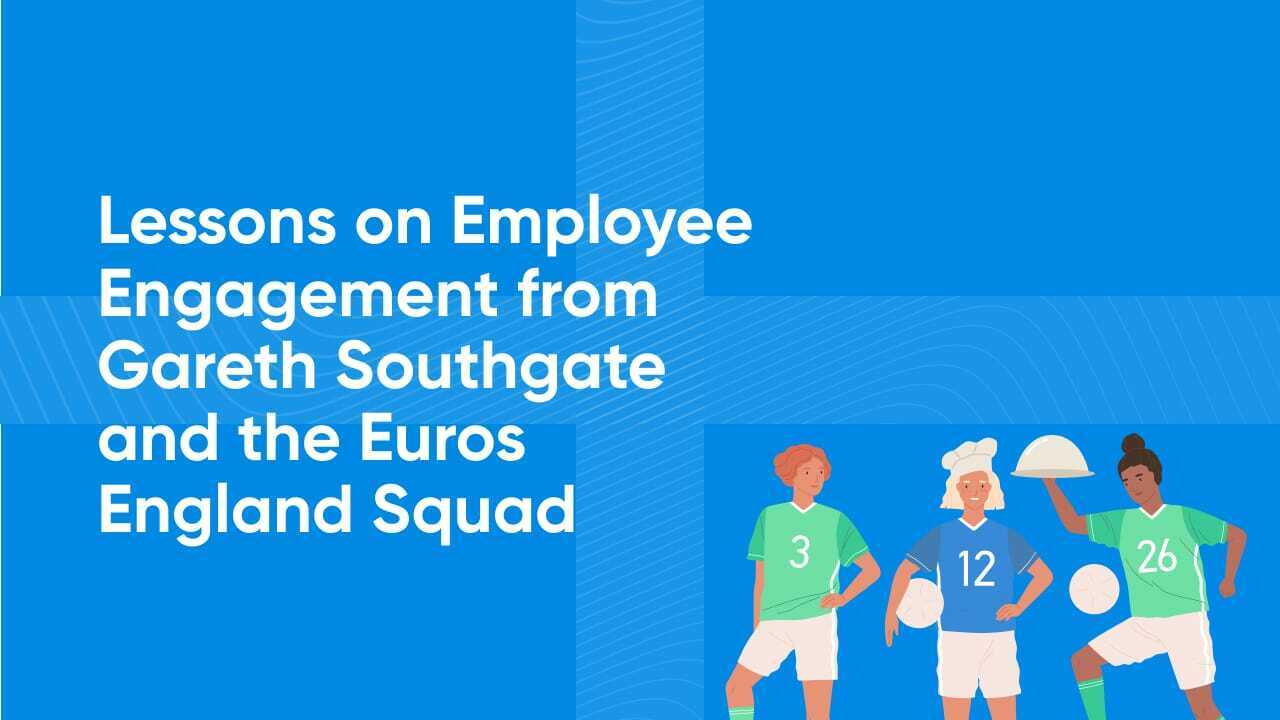 Okay, so we didn't get the win we all so desperately wanted. However, we do have genuine pride in what the England team their incredible leader, Gareth Southgate, led us to achieve in the Euros.
Gareth is the kind of boss you want. He believes in you; gives you chances and is there to catch you when you fall. And the team? They're engaged, motivated and they deliver. Yes, they didn't get us the win, but they are the first male team to get us to the final of a major tournament since 1966.
This is exactly why we're taking a deep dive into how Gareth engaged his team and the lessons we can take into the workplace.  
Hire Leaders Who Are Exceptional Listeners
Just like any team, football comprises a bunch of very different people with unique personalities and skillsets. And, it's pretty apparent that Southgate really understands each and every one of them. He knows that in order to get the best out of his players, a one-size-fits-all approach to leadership won't work.
Succeeding in creating a highly engaged and productive team all comes down to the listening skills of your leaders. They'll need to ask the right questions of their team to discover what motivates them; using this information to drive performance. 
At Harri, we're BIG believers in listening being an imperative management skill, which is why we've weaved plenty of questions into our interview templates.
Nurture, Nurture, Nurture!
The young talent of today are the business leaders of tomorrow, just the same as the best football managers today were once players themselves. 
When Southgate missed that penalty in '96, he gained the experience needed to lead the national team to their first-ever World Cup penalty win in 2018, with a team comprising of many who were still toddlers back in 1996.
He puts his trust in a young squad, where he has nurtured them from their under-21 days, which has been crucial for the team's success.
So, what can we learn from this when it comes to employee engagement? Well, as a leader, your team need to learn from your mistakes and the challenges you have faced throughout your career. Engage your team by sharing these experiences with them, but know when it's time to get out of their way and let them shine. Which leads us perfectly onto our next point…
Irrespective of how much national adoration Southgate receives, he consistently downplayed his achievements and instead placed the focus on his team. He is humble and always uses "we" instead of "I" to describe any success. Gareth has a sound reputation for sharing the victory and this makes him extremely likeable and respected by both the public and more importantly, his team. Without a doubt, this is a huge reason why his team is so engaged!
Always Stay Calm and Collected
Gareth shows bursts of passion when England scores or wins, of course, however, on the whole, he has been calm and collected throughout the tournament; exuding coolness and remaining level headed for the benefit of his players. 
For many of the team, this is their first or second taste of a major tournament – and remaining calm in a high-pressured environment creates a culture that will perform well through tough times.
Hospitality can sometimes be pretty tough, but this makes it all the more important to keep collected as a leader, offering a pragmatic approach to delivering solutions in the operation that'll be comforting, The slicker the environment, the better the support a leader can give their team, from smooth onboarding to flexible schedules, making them feel truly valued; through to paying them accurately and developing teams to their full potential.
We dared to dream through the Euros and sadly, despite the win being within our grasp – we just missed out. However, we can learn a lot from Gareth's leadership! Here's to 2022…
To find out more about how Harri can help your leaders become better by helping you communicate with your teams, give them the flexibility they need and hire great people, schedule a demo here.
You can also stay up to date with all labour related content here.