NYC Takes Inspiration from Union Rules with Just Cause Legislation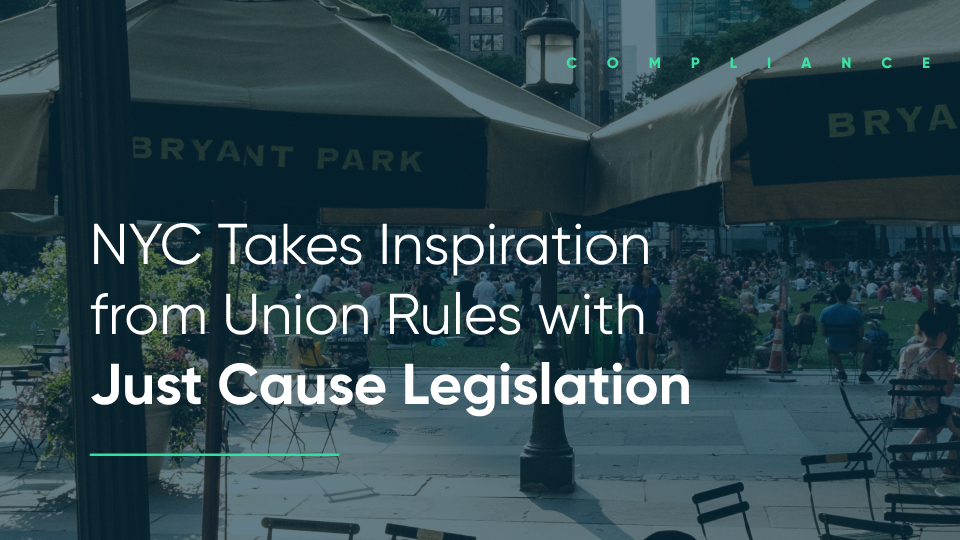 NYC restaurant operators are already familiar with Fair Workweek predictive scheduling laws, which seek to regulate and stabilize schedules for hourly workers. Beginning July 4, 2021, NYC Fair Workweek will expand to remove at-will employment.
For those unfamiliar with the term, "at-will employment" means that employers have the ability to dismiss an employee without reasonable cause, so long as the employer isn't discriminating against race, sexual orientation, religion, etc.
The removal of at-will employment means that hospitality employers must have "Just Cause" to terminate an employee. They also must follow "progressive discipline" steps before they're permitted to dismiss said employee.
Many restaurant groups have pointed out that this legislation takes a union-style approach to protect an employee's work status and scheduled hours, which could prove detrimental to day-to-day operations amidst a rapidly evolving post-COVID industry.
Below, we'll cover what Just Cause and progressive discipline so you can be prepared for the Fair Workweek expansion with minimal operational disruptions.
You can also view our Just Cause compliance webinar featuring Fox Rothschild here.
Understanding NYC Just Cause and progressive discipline
What businesses does Just Cause apply to?
Just Cause legislation applies to Fair Workweek covered businesses in NYC, specifically fast food restaurants with 30+ locations, including franchisors and franchisees.
NYC defines fast food as any business with counter service — meaning that fast casuals may be included but establishments like fine dining tend to be exempt.
If an hourly employee has worked with a hospitality business for at least 30 days, the employer cannot fire, suspend, or reduce their hours by 15% without Just Cause.
What is Just Cause legislation?​
Employers will have Just Cause to terminate an employee or administer other disciplinary measures if an employee breaks workplace policy or consistently underperforms in their role. But there are a few different pieces to Just Cause legislation that must be understood and enacted first.
Training on workplace expectations and policies
The first piece of this legislation is employee education. According to the legislation, if an employee isn't made fully aware of job expectations or workplace policies, they can't be expected to perform in full.
Operators should give employees full and thorough training on:
Standard workplace policies related to PTO, lateness, cash drawer discrepancies, etc

Job description, skill requirements, and expectations

An employee's performance expectations

Progressive discipline when policies are violated (explained below)
Maybe an employee ended up arriving 10 minutes late to work two days in a row due to commuting slowdowns outside of their control. Is this considered a workplace policy violation? Make sure it's understood from the get-go.
Enacting progressive discipline when a violation occurs
So when that employee arrives 10 minutes late two days in a row, does an employer have grounds to terminate them? Not yet.
The progressive discipline clause of NYC Fair Workweek states that employers must slowly escalate disciplinary measures as an employee continues to break policy.
A first violation might result in a verbal warning. The next might be a written warning. The third violation may lead to a final notice, which is followed by termination if and when the employee commits a fourth violation.
These progressive discipline measures must be outlined in workplace policies, applied to every employee consistently, and must be documented when they occur. Notice of an employee termination or significant schedule cut must be provided in writing alongside the reason(s) or violations committed by the employee.
12-month rolling violation window
It's extremely important to understand that an employee's disciplinary records are wiped clean after 12 months. That means someone might be on their third warning, but once 12 months pass from 30 days of their hiring, their disciplinary record is reset to zero.
Just Cause exemptions and Last in, first out
There are some instances where an employer is permitted to make layoffs without requiring Just Cause and progressive disciplinary measures. While these are still being defined (we'll update this when we know more), they relate to profitability, operational capacity, and seasonality.
But when an exemption is available, Just Cause legislation also aims to protect employees with seniority. Employers can only lay off their most recently hired employees.
This means operators must be strategic about who they hire, and when. A sudden operational change may require that a brand needs more cooks than servers. But if your most recent hire was a cook, you must lay off that cook if you choose to enact layoffs, even though it's counterintuitive to business needs.
Complying with NYC Just Cause regulations
Restaurant operators that don't utilize an all-in-one technology platform to manage Fair Workweek and its related Just Cause requirements leave themselves open to liability.
That's because Just Cause requires tracking and documentation of many varying HCM data points including:
Time and attendance

Days and hours worked

Schedule variants compared to an employee's

good faith estimate

Policy violations, when and where

Employee start date and violation resets
Here's how Harri is helping hospitality operators comply with Fair Workweek and Just Cause legislation.
In addition to compliance tools related to scheduling and wages, we're baking in compliance measures that specifically target NYC Just Cause employment protections in order to help hospitality brands better manage the removal of at-will employment. 
1. The system will alert hiring managers 25 days after an employee's first day.
Why is this important? Employees are only protected by Just Cause once they reach their 30th day on the job. Between Days 1 and 29, they're subject to at-will employment,
If a manager decides that an employee isn't a good fit, Harri will send them a reminder before Just Cause goes into effect, allowing them to freely reduce the employee's hours or terminate them if needed.
2. Terminations can be restricted to specific managers 30 days after an employee's first day.
To avoid accidentally violating Just Cause, operators can ensure that managers can only be fired by their direct manager, by an HR manager (perhaps someone who is very familiar with Just Cause's legal requirements), or another trusted member of your organization.
3. A warning will be issued when an employee is scheduled less than 15% from the highest total hours in their regular schedule within the previous 12 months.
Keeping track of every employee's regularly scheduled hours is near impossible when you're managing dozens of employees, let alone when their weekly scheduled hours can vary over 12 months. This automatic warning prevents managers from mistakenly violating Just Cause's scheduling requirements by tracking every employee's scheduled hours over the last year.
Intelligent predictive scheduling and employee shift swaps
As a set of predictive scheduling laws, the NYC Fair Workweek requirements attempt to create a fair, predictable work schedule for hourly employees. As such, there are many complex scheduling requirements that operators must adhere to:
Advanced notice scheduling
Employers must be given schedules at least 2 weeks in advance.
Right to rest periods
Employees must have at least 11 hours of rest time between shifts.
Predictability pay for schedule changes
Changes in posted schedules and shifts that do not contain a right to rest period require employers to pay a premium payment to all affected employees. New shifts may be turned down without retaliation. If the employee chooses to take an unexpectedly added shift, they're entitled to additional premium payments.
Restaurant operators aren't fortune tellers and hospitality is a wildly unpredictable industry, which means that schedules need to be well calculated and extremely labor efficient.
Harri's intelligent scheduling platform connects the dots between critical HCM processes to ensure effective schedules that comply with Fair Workweek, Just Cause, and other labor laws.
Predictive scheduling makes use of historic sales data so your team has a highly accurate understanding of service highs and lows based on day, time (down to the daypart), weather, and more. From there, position-based scheduling helps managers determine which employees would be a best fit based on their skills in relation to predicted customer demand.
On top of all of this, Harri automatically factors in regional and localized labor law requirements to ensure that you're building the best possible schedules that fit your brand's compliance requirements. If an employee is at risk of running overtime or if a right to rest period is violated, managers can assess the day's labor needs with real-time labor cost modules and make data-driven decisions.
If employee schedules are spot-on from the start, you'll reduce the risk of making accidental schedule changes that would otherwise violate an employee's expected work hours outlined under the Just Cause requirements.
Schedules are never fully set in stone. An employee may call in sick or want to change shift days to accommodate unexpected childcare needs. While last-minute schedule changes made by managers will incur premium payments, employee-driven changes will not.
Harri gives employees the ability to quickly and easily swap shifts with one another with minimal interference from a manager This can work in two ways:.
Shift swap
Employee X, a waiter, can no longer work their Tuesday morning shift. They see that Employee Y, another waiter, isn't working Tuesday morning but is working Tuesday evening. Employee X can initiate a shift swap to trade shifts with Employee Y.
Shift volunteer
If Employee X no longer wants to work a Friday evening shift, they can mark their shift as open using the Harri app. Other waiters and qualified employees within your location (or nearby locations) have the opportunity to grab that shift.
In both cases, a manager's final approval is required. When approved, your team schedules will automatically change without incurring any premium payments — or requiring mangers to chase down available team members to cover open shifts.
Easy good faith estimate distribution
Fair Workweek requires restaurant operators to send and maintain good faith estimates of approximate scheduled hours to each employee. The purpose of good faith estimates is to give hourly workers an idea of the days, times, and shifts that they're expected to work.
At the minimum, NYC good faith estimates should include:
An employees median number of expected working hours per week

The days of the week the employee will work

If the employee is expected to work on-call or not
Remember that Just Cause regulations target the employee's expected schedule — 15% schedule cuts cannot occur unless the employer has just cause to do so. This makes the good faith estimate an invaluable tool in documenting each employee's expected schedule and reflecting disciplinary changes if and when necessary.
Harri makes easy work of good faith estimates, ensuring timely and accurate schedule estimates.
Before an incoming employee starts their first day of work, Harri will prompt managers to generate a good faith estimate. The form is easily filled out on a mobile device and can only be completed when all NYC good faith estimate requirements are filled out.
Upon completion, the good faith estimate is sent to the prospective employee for their approval. Once approved, the manager will be notified that the employee is compliant to work. If changes need to be made, Harri simplifies the process of achieving two-way approval by allowing the employee to request a schedule change, which in turn will go back to the manager for internal approval.
Document storage and non-compliance alerts
Documentation is a major requirement for both Fair Workweek and its Just Cause amendment. Manually tracking and documenting employee records via pen-and-paper methods is extremely time-consuming and prone to error for hospitality operators overseeing dozens of locations and hundreds of employees. 
Similarly, tracking compliance requirements and ensuring all managers meet NYC Fair Workweek requirements is near impossible without an integrated tech solution.
Harri proactively alerts managers of non-compliant actions such as:
When an advanced notice schedule deadline is approaching

If an employee's schedule violates right to rest

When managers make changes to already-posted schedules 

If an employee's schedule receives significant changes and requires an updated good faith estimate
These alerts help prevent non-compliance violations and empower managers to gauge when a premium payment, such as for last-minute schedule changes, is truly necessary.
As noted earlier, operators must maintain meticulous records of everything ranging from specific employee shift information, expected working hours, good faith estimates, changes to good faith estimates, and more. 
Harri makes easy work of documentation requirements by storing digital records of everything related to employee workforce management data, easily accessible from any device. This includes Fair Workweek-related data, such as schedules, changes to schedules, and premium payment information, as well as data related to Just Cause legislation.