Opportunities For More Flexible Working Is Good News For All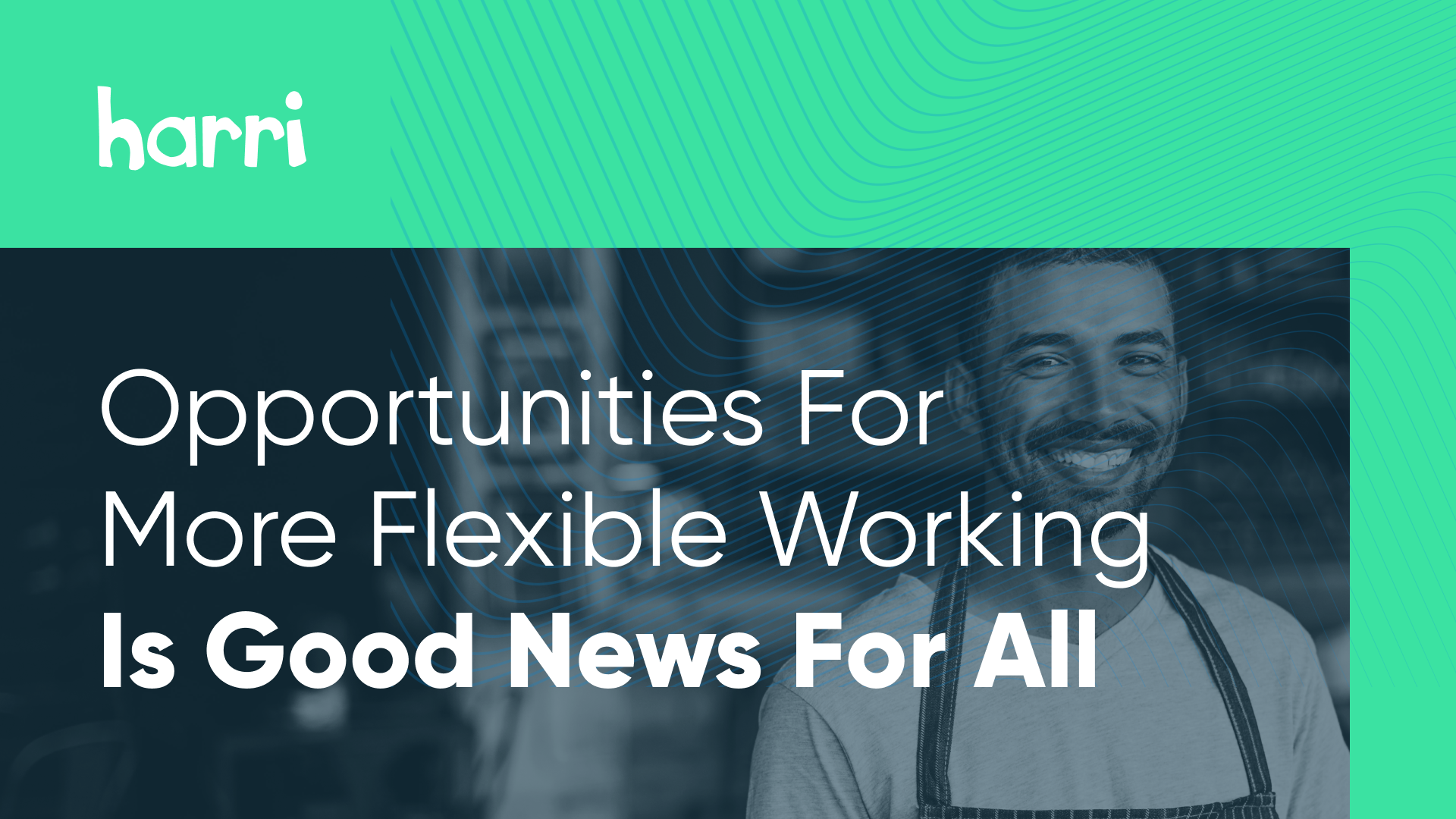 Flexibility is one of the top wants by hospitality employees when it comes to achieving job satisfaction, so a recent government decision to ban the practice of restricting people from working for more than one employer is great news for staff. However, it's also beneficial for operators – read on to find out why. 
Government ban gives workers much wanted flexibility
Harri's recently released report, Transforming the Employee Experience in Hospitality, produced in partnership with CGA, revealed the main priorities of hospitality workers today – and flexible working was right up there. When asked – as part of CGA's Working in Hospitality survey – what employees consider before deciding whether to accept a job, pay was top of the list at 63%, followed by flexibility and work-life balance, both at 49%. 
So news that the government has decided to widen its ban on exclusivity clauses to include those earning less than £123 a week has been welcomed across hospitality. An estimated 1.5 million workers are on contracts where the guaranteed weekly income is on or below the Lower Earnings Limit of £123 a week; the government's reforms will ensure people in this group who have exclusivity clauses are able to top up their income by working for other employers if they choose.
Business Minister Paul Scully said the move will give workers more flexibility over when and where they work to best suit their personal circumstances such as childcare or study, including the option of working multiple short-hours contracts.
"While not everyone will want a second job, the reforms will remove red tape that prevents those who want to do so," he added.
Struggling operators are benefitting too
Not only are the reforms good for workers, they're also good for employers looking to fill the ever-growing number of job vacancies in hospitality. Latest figures from the Office for National Statistics (ONS) show there are 171,000 vacancies across the sector, with the UK now in the position where there are more job vacancies than people in unemployment for the first time since records began. 
The total number of UK job vacancies in February to April 2022 rose to a new record of 1,295,000 – an increase of 33,700 from the previous quarter and an increase of 499,300 from the pre-Covid level in January to March 2020. Vacancies across all industries were above January to March 2020 pre-Covid levels, with the largest increase in accommodation and food service where the number of available jobs was up 85,500 (100.6%).
Kate Nicholls, chief executive of UKHospitality, said the ban on exclusivity clauses would go some way to helping operators fill those roles.
"Pre-pandemic the industry generated £130bn in economic activity and contributed £39bn of tax to the Exchequer. To fully recover and, crucially, to play an optimal role in the national economic recovery, we need to attract and retain good people at all levels. Offering flexibility is a critical part of this," she added.
Meanwhile, Rick Stein Restaurants is acknowledging the importance to staff of flexibility, and has introduced new flexible working contracts in anticipation of severe staff shortages this summer. The restaurant group is inviting applicants of all ages and levels of experience to join its team for as little as one shift a week, effective across all of its sites in Cornwall, London, Hampshire, Dorset and Wiltshire.
Part-time and flexible workers will receive the same benefits as those working more hours, including service charge, paid holiday and a 50% discount on dining.
Harri can help give staff the flexibility they crave
As well as a desire for more flexible working, our recent report also revealed a desire for more use of technology in the workplace, and with Harri you can meet both of those aspirations and more. The CGA survey showed that three in ten workers think the technology available to staff – like digital clocking-in and out – is not at all advanced, and 88% would like to see technology in the hospitality sector improve.
Nearly a quarter of employees surveyed said smart scheduling and shift management would make their experiences better, and these are areas where Harri has the perfect solution. Employees can easily clock in and out with Harri's time and attendance module, while our smart scheduling platform allows employees to swap, drop and request more shifts on the go, making life easier and more efficient for the whole team. Managers can also enable automatic, direct or pick-up shift functionality for employees to engage with. 
Our mobile communications tools are also a vital asset, enabling staff and managers to keep in contact with each other at all times, so that no one is left out of the loop.
Want to find out more? Hit the button below to request a demo.