Restaurant Bytes: Geoff Goodman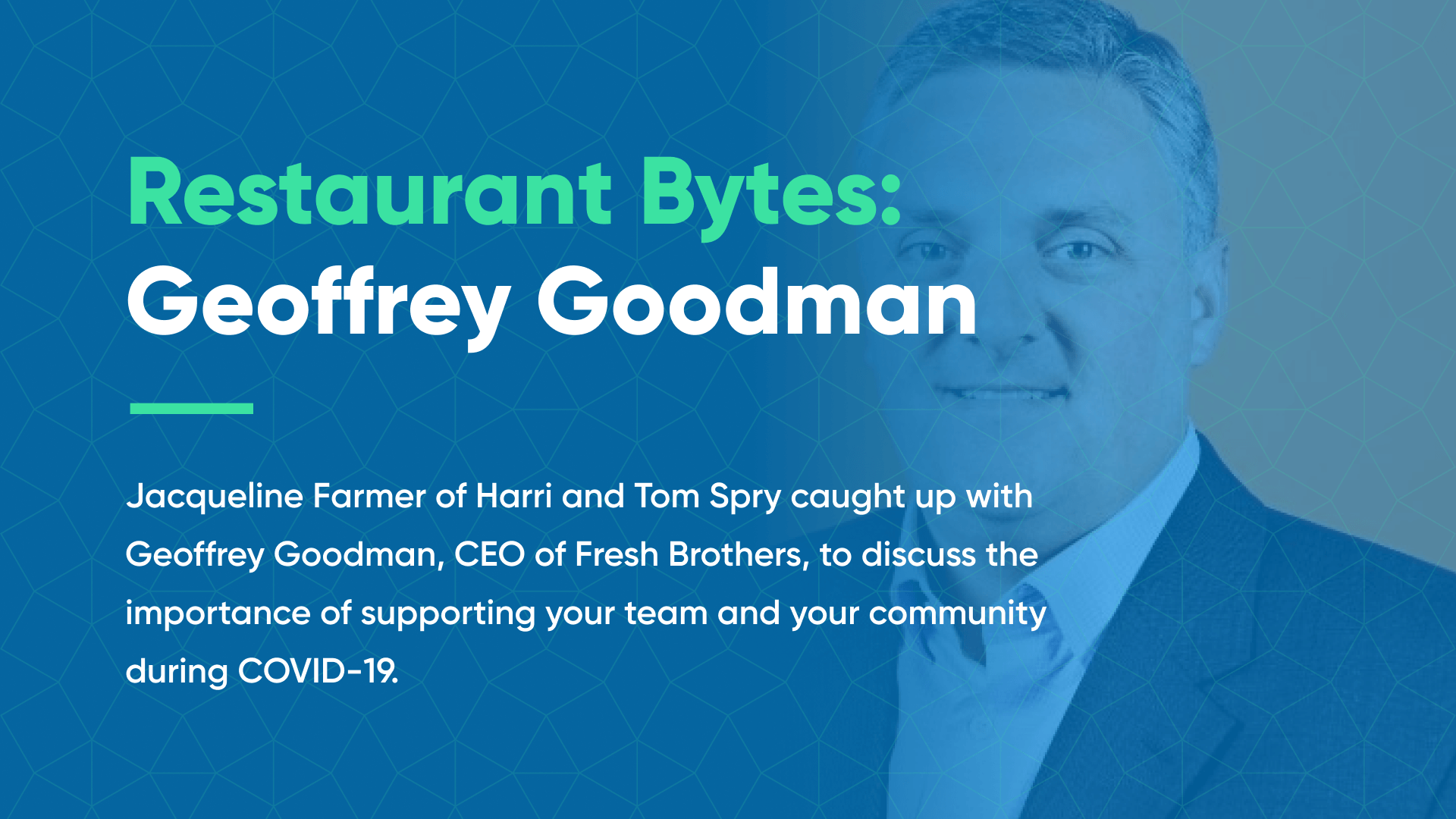 Restaurant Bytes is a short, virtual program that asks restaurant executives questions about the issues they are facing today. This program is hosted by Tom Spry (Principal of Tom Spry Executive Search) and Harri's own Jacqueline Farmer (Enterprise Sales Executive). In this episode, we caught up with Geoff Goodman, CEO of Fresh Brothers, to discuss how many restaurants can turn struggles into success opportunities.
Geoff's journey at Fresh Brothers is certainly a rollercoaster; landing a job and handling a global pandemic all within 30 days of each other. Being a restaurant operator in South California comes with its challenges, but with restaurants opening and closing on a moment's notice, it became increasingly difficult. "We have to keep on our toes," he says. 
The minute-to-minute openings and closings requirements created a highly turbulent working environment for the hospitality industry, to say the least, but Fresh Brothers adapted each and every time. Incredibly, the brand never had to furlough, layoff, or reduce employee hours during COVID-19. Geoff confessed, "We feel really fortunate to be where we are."
Key decisions that led to Fresh Brothers' success
Fresh Brothers was primarily a carryout and delivery concept.
They pivoted to institute curbside pickup, contactless delivery, PPE, sanitation measures.
Early adopters of integral technologies.
"Our investments highlight our priorities". Those priorities being: 
The health and safety of their team members and guests

Protecting their business
Fresh Brothers made some really quick pivots and adjustments to provide safety, security, and sanitation for their guests and employees.
Created a "curbside concierge" position.
This individual stands outside and facilitates orders so that guests never have to get out of their car.
Established a level of trust with their consumers.
"Trust is the new currency."
While their sales were up, Geoff admitted, "it hasn't been easy to get here." Between the pandemic, riots, curfews, and finances involved in putting together safety measures, it was difficult to move forward. 
However, Fresh Brothers found ways to thrive. Geoff says, "anytime you have an opportunity to show your heart as a brand, you do it." He's referring to the incredible acts of kindness that the Fresh Brothers has exhibited over the past year.
With their successes, the brand created a program to show their heart and character, and give back to their community. This program invited guests to donate pizzas to first responders, which Fresh Brothers matched. "Give 'til it hurts, then keep giving." 
With so much chaos, it is comforting to see that there are people working to elicit positive change. Their acts flew under the radar, but that was intentional. Geoff believes if you "do the right thing, you'll never go wrong", and what a great way to look at it that is!
Geoff's final insights for operators feeling alone:
Find a peer or confidant to speak with.

Others are going through what you are.

It's extremely comforting to know that you can talk to someone that knows what you're going through.
For access to the full interview, click here.