The COVID-19 Employee Health Screening Tool That All Restaurants Need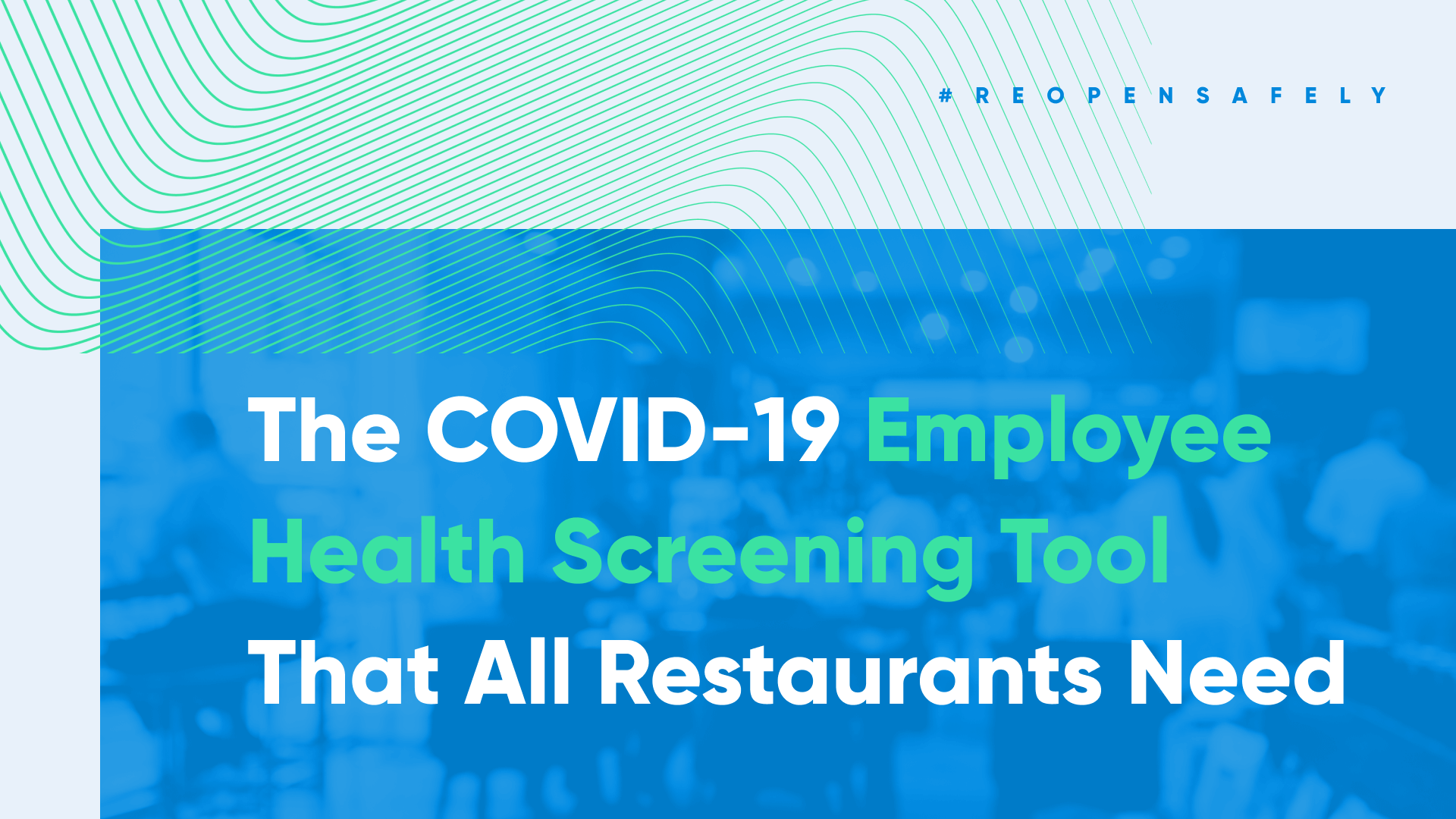 In the midst of reopenings and changing rules, restaurants are grappling with how to reopen successfully. The familiarity of customers grabbing dinner with friends or a coffee has become lost. Activities that were once part of our daily routine are having to be relearned, and this can be intimidating. People are itching to get back to 'the norm', but there is an overhanging fear for personal safety. The most pressing question becomes, how do you ensure the safety of your employees, while instilling customer confidence in the food you serve? The recipe for resuming operations in the hospitality industry is about to get clearer.
In times of uncertainty, the rules seem to be constantly changing.
As a first step, states began to outline requirements for reopening most of which, include Employee Health Screenings. There is nothing more distressing to customers than wondering if the food they are eating is safe. The fear of eating out is rampant, but there is also a pent up demand to get out and enjoy life's simple pleasures. Harri has provided an interactive map which provides the specific requirements you need to be aware of, state by state. As these existing rules change and more states plan for reopenings, this will provide you a central place for gathering that information.
The Harri's Health Check Platform Solution
The latest and most innovative health tool in your back pocket!
Harri is taking the initiative to empower all restaurants and employers to screen their employees' health. With every screening, you make a promise to your employees and customers that you are committed to curating a safe environment for everyone.
Quickly log employee symptoms at the touch of a button

Efficiently capture temperatures before employees enter the workplace

Audit your health checks across your enterprise

Receive proactive alerts when an employee fails a screening

Generate a Health Check summary to be displayed for customers or attached to your delivery orders for peace of mind

Verify Employers and Employees are wearing required PPE through image capturing technology
What Does An Employee Health Check Look Like?
The steps, the proof, the safety.
Ensuring an employees' health through Harri's Health Check is quick and efficient. The Health Check utilizes the screening questions from the CDC to be certain that every employee is symptom-free before entering the workspace. Employees are asked the questions upon their arrival and expected to be transparent in their responses. Following the questions, there is a no contact temperature check administered. The CDC recommends a safe temperature of less than 100.4 degrees. After receiving a passing mark, an employee is then able to begin their shift knowing that they are not putting themselves or anyone else at risk.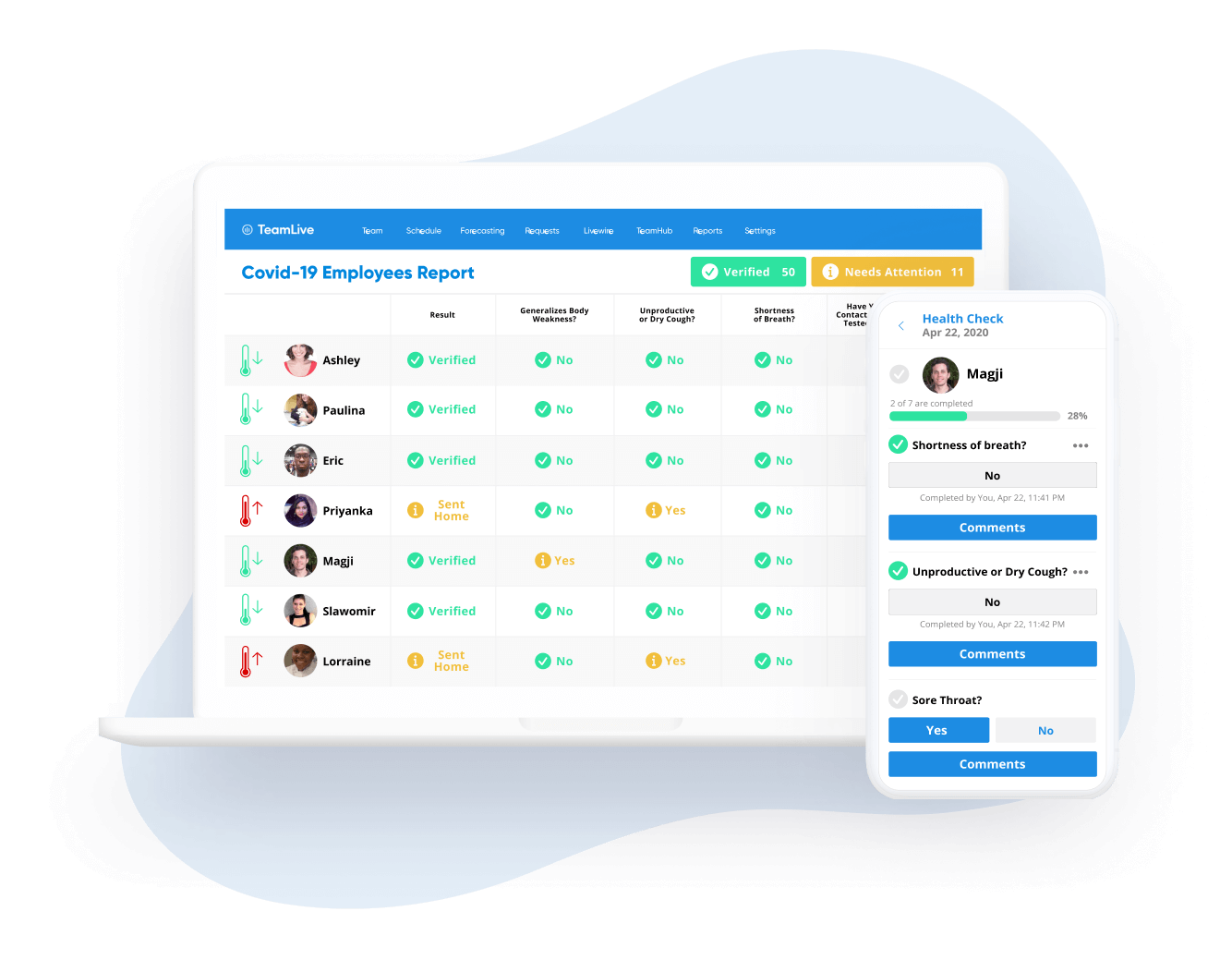 How Do I Prove That I'm Compliantly Administrating?
Harri's Health Check utilizes reporting and tracking capabilities to create an audit for employers. This audit includes: when the check was administered, who performed it, and records the responses. By having all of this information recorded, it is clear when an employer is administering their health checks.
What Are The Legal Ramifications?
How can I viably take an employee's temperature?
As with all legal questions, we recommend you checking with your own legal council specific to the jurisdictions you operate in. However, Harri has validated that the solution does not violate HIPPA, OSHA, Data Privacy & Storage laws, EOCC, and ADA guidelines.
What Else Can We Do To Ensure a Safe Environment?
Improving our habits so we can enjoy meals together sooner.
These are unprecedented times, and our task is to adapt to the best of our abilities. Here are six tactics to consider while working towards creating a safer workspace.
Employers should measure every employee's temperature and assess symptoms prior to them starting work. As the most effective measure, perform a temperature check before an employee enters the facility.
Even if an employee does not have a high temperature or appear symptomatic, they should continue to self-monitor under the supervision of their employer's occupational health program.
If an employee has come into contact with someone who is sick, they should wear a face covering at all times for at least 14 days following the exposure. Employers can issue facemasks or, in the event of shortages, approve an employees' supplied cloth face covering.
An employee should practice social distancing as much as possible in the workplace. 6 feet is the standard.
Offices, bathrooms, common areas, shared electronics, and other equipment should be cleaned and disinfected routinely.
Right now, no one has all the 'right' answers. If you see an area that needs improvement, make a change. If you're feeling uncomfortable or unwell, tell someone.