Transforming The Employee Experience In Hospitality: Ten Key Takeaways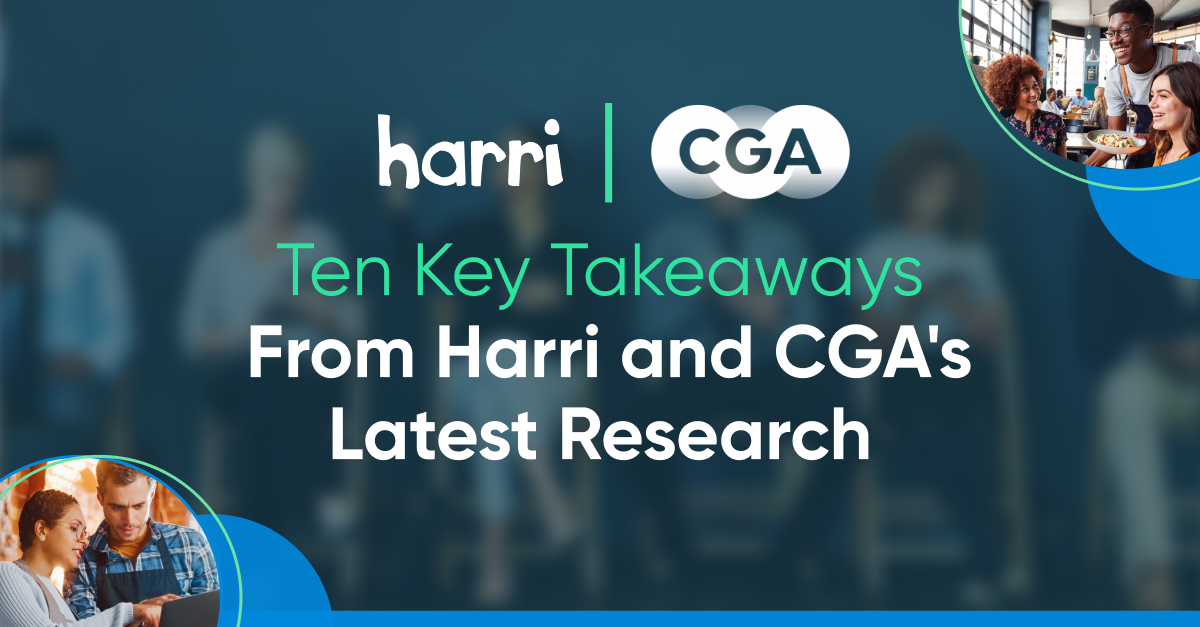 In April, we partnered with CGA to deliver a report on understanding and improving the employee experience across the hospitality industry. In the report, we share exclusive insights from our collaborative 'Working in Hospitality' survey, revealing employee expectations, satisfaction levels, and attitudes towards pay, training, wellbeing, and more. 
These insights are complemented by findings from our comprehensive interviews with ten hospitality experts, allowing us to better understand the current state of the industry. Below, we've outlined ten conclusions and recommendations from these in-depth surveys and interviews.
1. Hospitality has an image problem
In the UK, hospitality is perceived as a low-paid sector where students and graduates can earn some extra cash. As such, it has a negative reputation among prospective employees, which puts strain on recruitment efforts. Operators are doing everything they can to improve the industry's image, but further support from the government and the media is necessary for change.
2. People want clearer career paths
A common misconception about the hospitality sector is that it doesn't offer long-term career opportunities. To change this 'stop-gap' reputation, the industry needs to come together and offer clearer career paths for workers. Then, existing and prospective employees can map out a future in your business, and staff retention issues will be solved.
3. Employees are core to success
People are the key to success in any industry, and hospitality is no exception. The staffing shortage has reminded operators that a business is only as good as its workers. In our report, research from CGA outlines the close connection between staff performance, guest satisfaction, and sales. It's no surprise that organisations with strong recruitment and retention strategies are often the best in terms of commercial value.
During the pandemic, workers across all industries began to rethink their career choices – many quit their roles altogether in what was dubbed 'The Great Resignation'. Now, more than two-thirds of employees are turning to the internet to search for a new job. So if you haven't yet invested in digital recruitment platforms – or you aren't taking advantage of social media channels – do it soon, or you'll miss out on a diverse pool of talent.
5. Training and onboarding can be improved
We all know how important virtual training has been over the last two years. Yet, only a quarter of employees believe their training has fully prepared them for their roles, and over one-third reported that it was too basic or too long. There's clearly room for improvement, but where do operators start? With our digitised onboarding system, employees can review and sign essential documents, helping them to hit the ground running without distractions.
6. Wellbeing is a top priority
With its constant closures and reopenings, the pandemic hit hospitality staff particularly hard, leaving many feeling stressed, anxious, and isolated. Some turned to their employers for help, but this takes courage and trust in the workplace. Businesses can show they care by providing access to practical support and offering flexible schedules – it will boost their reputation and staff retention levels too.
The demand for a better work-life balance has increased significantly since 2020, and employers are finally beginning to recognise this. Those that offer flexibility and give staff the freedom to work around their personal lives will always stand out from the rest – especially to future applicants. Our smart scheduling tool comes in handy here, providing employees with optimised schedules that suit their needs.
8. COVID has revolutionised tech in hospitality
When the pandemic hit, digital solutions were adopted across the board – and they look set to stay. Consumers and employees now recognise the importance of technology in delivering a safe and convenient service. That being said, the last two years have revealed the gaps in hospitality's use of digital tools – and the investment needed to fill those gaps.
Technology is also gaining popularity among hospitality employees, with 9 in 10 saying they want to see more of it in the workplace. Businesses that invest in digital solutions will put themselves on the map, gaining a powerful competitive edge that can aid talent attraction and retention – especially among younger, more digitally savvy workers.
10. Digital solutions have untapped potential
If the last two years have taught us anything, it's that digital solutions have endless potential. From clocking-in and out, to smart scheduling, attendance monitoring, and online reviews and documentation, modern digital tools completely optimise employee engagement. Plus, they provide simple, on-demand access to functions that can improve the efficiency of a business, as well as employee retention and overall satisfaction. 
Are you looking for a solution that helps you to stay one step ahead of the competition? You need Harri! Our workforce management system centralises the entire process in a single platform, improving labour efficiency and saving you both time and money.
Overcome existing challenges and prepare for the ones ahead. Request a FREE demo below!