Indeed and Harri's Virtual Hospitality Roundtable Revealed how to Supercharge Your Talent Attraction Strategy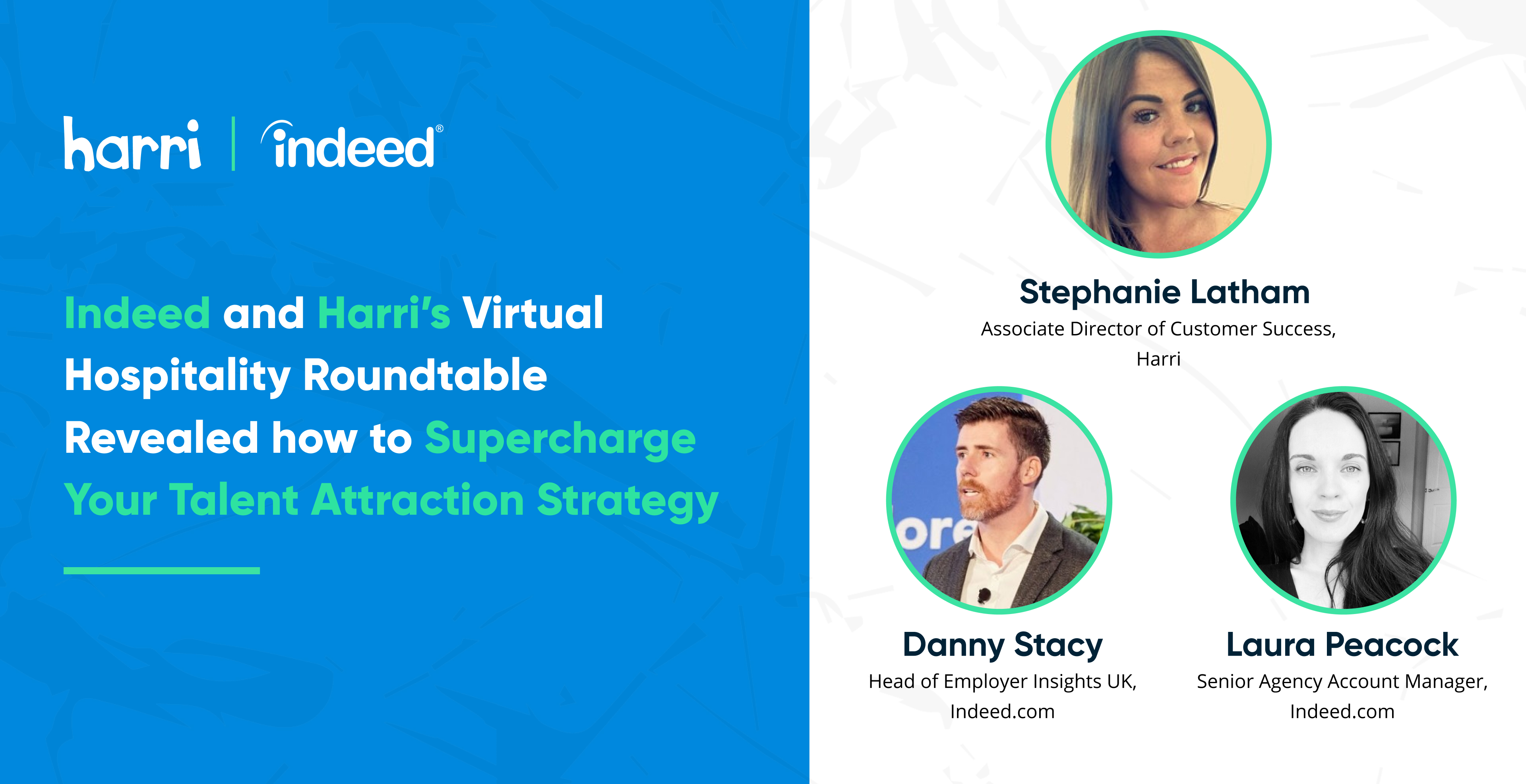 Recruiters from across hospitality attended our joint webinar with Indeed to gain expert insights into candidate attraction; the event was an invaluable resource for hiring managers wanting to make their job roles stand out in a fiercely competitive labour market.
Here we bring you our top takeaways from the session…
Indeed data reflects state of the jobs market
Danny Stacy, head of employer insights UK at Indeed, kicked things off by illustrating just how many more people are looking for work now compared to before the pandemic started in 2020.
Indeed now has 21-22m unique visitors every month in the UK, with one-million visitors being added every month since the start of 2022, compared to the pre-pandemic growth level of 600,000 unique visitors every month. 
As the Office For National Statistics recently revealed, there are currently 174,000 vacant roles in hospitality, and these record-high figures are reflected in Indeed's own data: Danny carried out a search for chef jobs which threw up over 7,800 roles containing the word 'chef'.
Caroline Ng, a strategist within Indeed's client strategy and insights team, revealed further data that demonstrates how the labour market has changed in the last two years. In June 2022 job postings in hospitality and tourism on Indeed.com showed an increase of 51% since February 2020, while food preparation and service job postings grew by 81% in the same period.
In May 2022 for the hospitality and tourism industry there were 879.1k job seekers on Indeed (up 13.5k since April 2022), with 14.1k posted jobs (up 1.1k since the previous month), meaning there were 62 job seekers per job.
The top five search terms being used were receptionist, concierge, hotel, porter and travel, and the average annual salary being offered was £22,831.
In food preparation and service there were 2.4m job seekers on Indeed in May 2022 (up 123.9k since April), with 202.3k jobs available (up 13k since April), working out at 12 job seekers per position. The top five search terms were chef, bar staff, kitchen assistant, waitress and kitchen porter, with an average annual salary being offered of £25,201.
Looking specifically at chef jobs on Indeed, Caroline revealed there were 25.5k chef job postings in May 2022, with 159.3k unique job seekers clicking on chef roles, and 8.6k employers hiring for chef roles.
Caroline also focused on restaurant manager roles on Indeed, revealing that in May 2022 there were 3.8k restaurant manager jobs posted, 54.5k unique job seekers clicking on restaurant manager roles, and 1.7k employers hiring for restaurant manager roles.
Caroline also talked about the Cost Per Appy Start (CPAS) – a measurement of how many people clicked on the 'apply' button after clicking on a job – for chefs and restaurant managers. For chefs, the average CPAS in May 2022 was £13.33, with an average of 5.1 apply starts per job. Cost per apply start dropped by 8% in May 2022 compared to May 2021, while the number of apply starts per job increased by 28%.
When it comes to CPAS for restaurant managers, the average CPAS in May 2022 was £9.27, with an average of nine apply starts per job. Cost per apply start increased by 6% in May 2022 compared to May 2021, while the number of apply starts per job also increased by 25%, demonstrating that employers are spending more in order to attract candidates.
As for pay rates, in May 2022 the average salary for a chef role was £24,942 (up 19% from the previous year), with some employers investing up to £35k to attract talent. In May 2022 the average salary for a restaurant manager role was £27,377 (up 13% from May 2021), with some employers investing up to £41k to attract talent. 
Employers across the board are certainly having to spend more to fill their roles: in May 2022 the average spend per job for a chef role was £70.37 (up by 21% since May 2021), while for a restaurant manager role it was £88.88 (42% higher than in May 2021).
The webinar provided some useful insights to job seekers' behaviour when using Indeed, plus some handy tips for putting together campaigns. Danny explained that users tend to look at the first seven-to-eight pages of results when doing a job search, so it makes good business sense to pay for a listing (rather than having a free – or "organic" – one) as it will come higher up the list.
But he said not to think of it as buying an advert in the traditional sense. 
"When you put budget behind the role you are paying every time someone clicks on your job, not paying for advertising your job. Organic jobs get very low visibility," he explained.
He also explained that Indeed's algorithms will look for the text in ads that most closely matches the search being run, so it's essential to think very carefully about how to word your job ads.
"For example, if your job is a very niche role that requires niche qualifications, you don't want to put a generalistic term in the detail or the body of the ad," said Danny. 
"SEO will get someone to see your job, but writing really great, creative job ads – not a job description – will encourage people to click on that apply button."
As for what search terms job seekers are using, 'part-time' is one of the most popular searches, while for chefs specifically, amongst the top ten search terms currently is 'live in chef'. For restaurant manager jobs, two of the top ten search terms currently are 'tier 2 sponsorship' and 'sponsorship visa', indicating that some job seekers are looking to apply from overseas.
Summing up - Harri's top five takeaways
Promote your employer brand – build brand awareness with a focus on promoting hard-to-fill roles in competitive markets. With Harri's career story pages you can showcase the best of your brand and attract talent.

Skill-based targeting – target jobseekers by skill and expand your reach into broader talent pools. 

Don't wait for applicants to come to you – proactively reach out to candidates qualifying for hard-to fill roles and get ahead of the competition. With our new conversational AI software Carri, you can reach out to candidates in your talent pool and process their applications in minutes, on your careers page, WhatsApp, Facebook Messenger and more. 

Write your job ads with care, including key search terms that relevant job seekers might be using, and make sure your ad is compelling and stands out from the crowd. 

Put sufficient budget behind your advertising campaign to make sure your roles get optimum visibility. With multi-channel job posting, your jobs get sent instantly to Indeed and other major job boards to get maximum reach to candidates.
Want to find out how else Harri can support your talent acquisition efforts? Book a demo today!