UKHospitality Launches Nationwide Workforce Strategy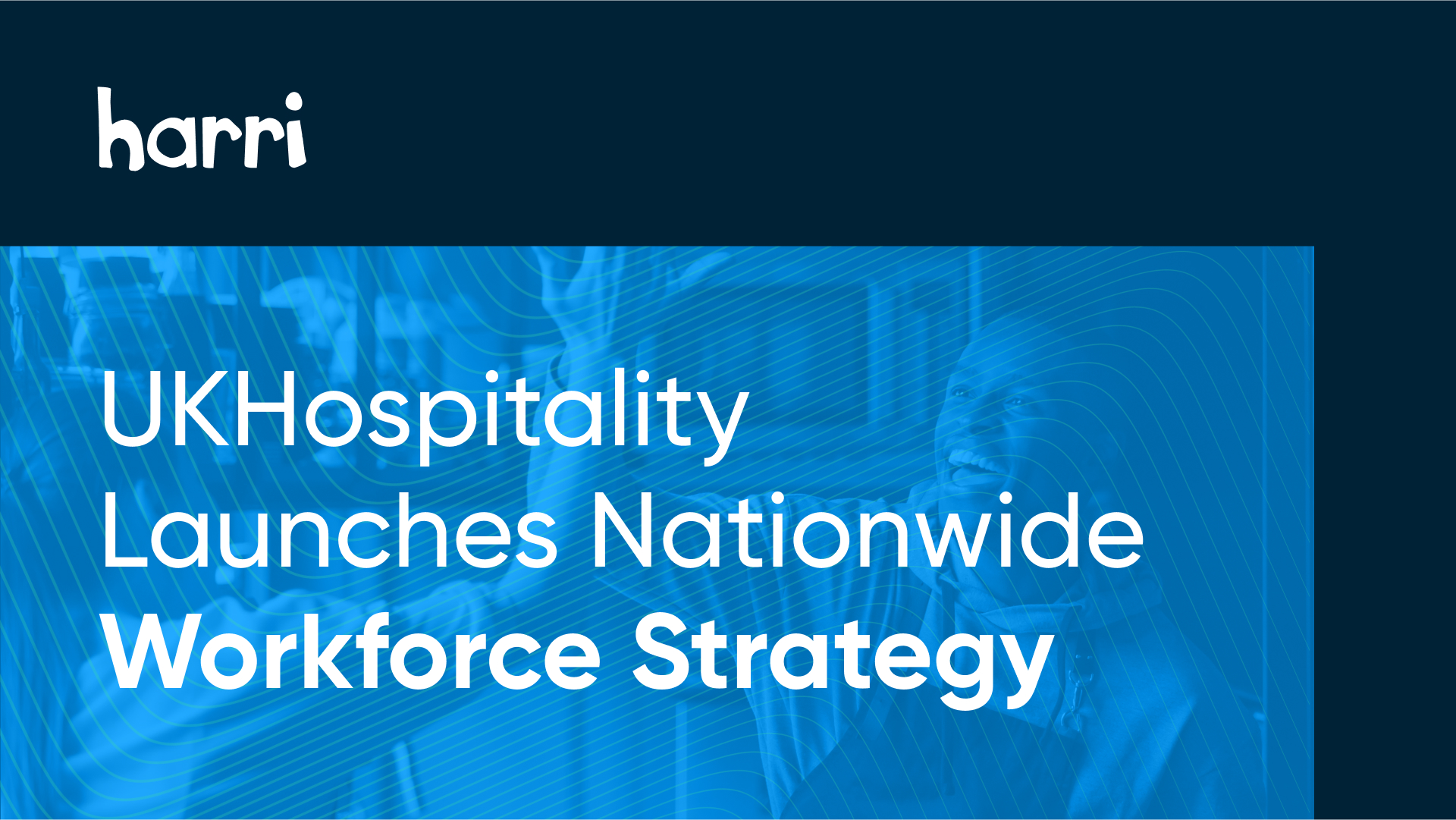 On 31st May 2022, Harri partner UKHospitality launched a nationwide hospitality workforce strategy in an effort to fill the 170,000 job gaps in the sector. The report, titled 'Fixing the crisis: a framework for collaborative action across the sector', is designed to work alongside the Hospitality and Tourism Skills Board, and focuses on five key areas that the industry must address.
Here, we outline these points, and highlight what you can do to combat each challenge. 
'Hospitality must be able to access a wide range of people to fill its vacancies.'
As workers continue to quit their jobs in record numbers, businesses are left with the high costs of sourcing, hiring and onboarding replacements, as well as providing training. To fill your open vacancies with top talent during this 'Great Resignation', you need to excel at recruiting.
Our pre-hire solutions enable you to discover thousands of candidates who match your unique hiring criteria, interview them, and complete the onboarding process – all in a single platform. This end-to-end solution saves hiring managers hours of time while delivering a seamless experience to new staff.
'Hospitality is a professional sector that must enshrine high standards and facilitate social mobility.'
Kate Nicholls noted in her foreword that people make hospitality. It's therefore essential that businesses create a skilled and dynamic workforce by ensuring existing employees are upskilled and new hires complete the necessary training before they begin working for you. 
Help new starters hit the ground running with our online onboarding platform. It offers compliance training so they can better understand the regulations and policies that apply to their role. Then, documents can be uploaded, reviewed and signed digitally via the convenient e-signature functionality, centralising employee data in a single platform.
'Hospitality must make people's working lives enjoyable and fulfilling.'
The pandemic caused individuals across all industries to rethink their lives and careers. Now, people want a better work-life balance, which means you need to be transparent about working schedules before the interview stage, and offer flexibility where possible. 
With our intelligent scheduling tool, managers can easily configure and define shift rules for employees while remaining compliant with local labour laws. This saves hours of administrative work, and allows time to be focused elsewhere. Plus, team members can trade shifts on the go with the Harri TeamLive app (available for iOS and Android).
'To reset perceptions of the hospitality sector as a great place to work and develop your career.'
For far too long, the hospitality industry has been viewed as a stopgap for students and young people to earn some extra cash. To attract and retain employees long term, operators must come together to change the current perception of the sector – which starts with the job postings. 
Using our talent attraction solution, you can bring your employer brand to life and showcase what it truly means to work for your organisation. This can be used to display and centralise information about new job opportunities, as well as things like benefits, values, culture, and employee testimonials. It's a great way to show job seekers why they should work for you, and to drive excitement at the start of the candidate journey.
'To ensure that there are no structural barriers to working in the sector – such as poor transport and a lack of housing.'
UKHospitality will work closely with the government to address wider issues that directly affect hospitality staff, including poor transport and a lack of housing. This requires the industry to unite behind the strategy. After all, there's no 'I' in team – and as Kate Nicholls pointed out, we need to do the heavy lifting. 
To support with transport-related issues, our jobs page ensures candidates know exactly how far away a role is from their current location. The convenient 'directions' feature allows them to plan their travel to and from the workplace before applying, so they don't waste their time or yours.
In addition to the above, the strategy examines professional standards, pay, the working environment, future demand, digital connectivity, and equality and diversity. As highlighted in Be Inclusive Hospitality's latest report, racism in the workplace remains a major problem, with 48% of operation management respondents having experienced or witnessed racism at work. 
Download the report for further insights.
Technology is the future of the hospitality industry. Our collaborative report with CGA titled Transforming the Employee Experience in Hospitality found that 88% of people would like to see digital improvements in the sector. That's where Harri comes in. 
Our all-in-one workforce management technology is built specifically for the industry. It allows operators to build, manage, and engage with your most important resource: your teams. Want to learn more about our cost-effective solutions? Request a free demo today!