Vacancies in Hospitality Continue to Grow as Industry Gets Behind Biggest Ever Recruitment Drive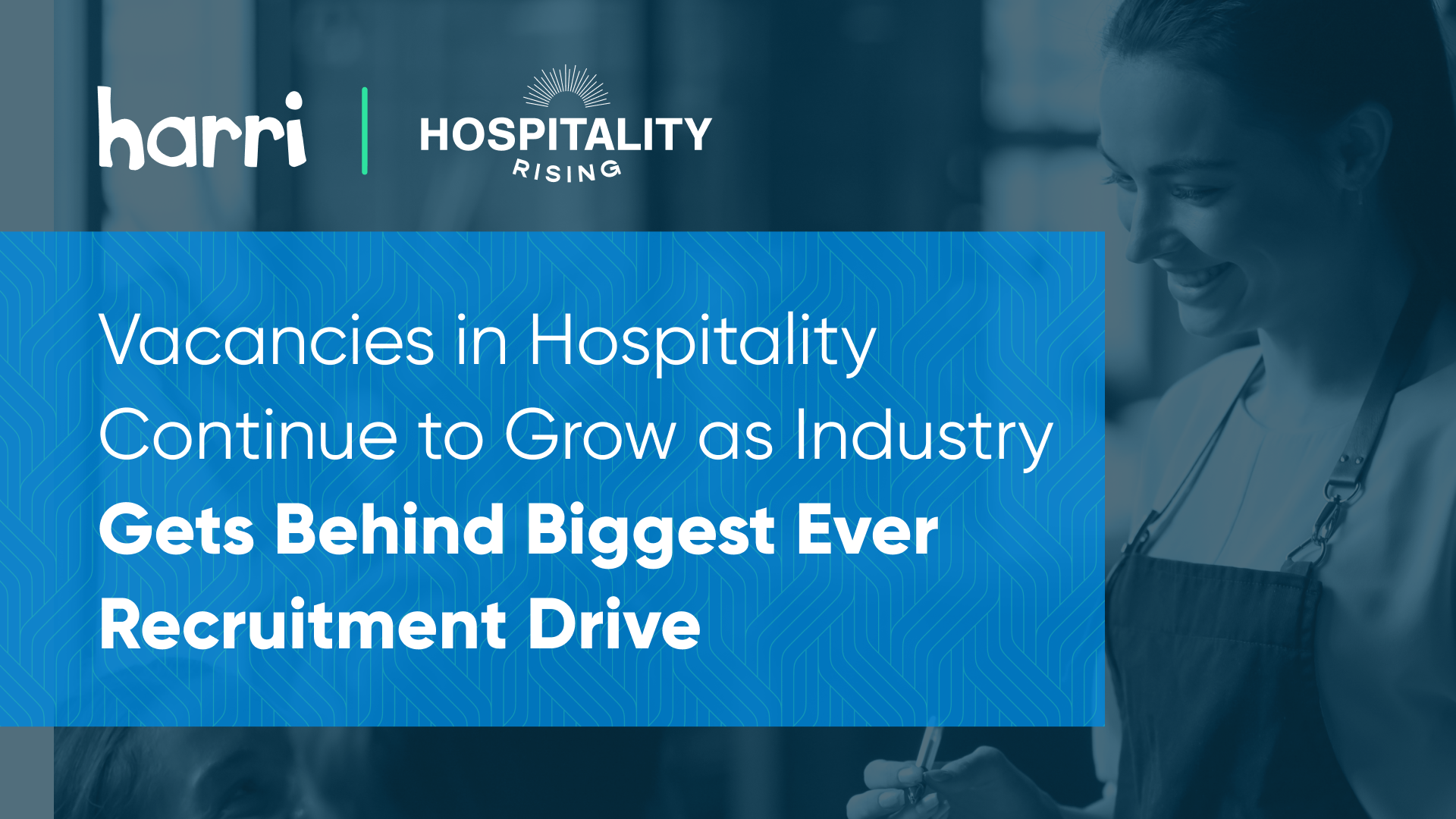 Hospitality job vacancies have hit another record high, as the fallout from the pandemic and Brexit continues to be felt. Individual operators – and businesses collectively – are pulling out all the stops to try and fill those roles. Here we take a look at some of the initiatives being introduced to attract people into hospitality jobs, as well as hold onto existing workers.
Latest figures represent new record
Job vacancies in hospitality are estimated to have risen by over 700% from November 2021 to January 2022 compared with the same period a year ago. According to the Office for National Statistics (ONS), there are 178,000 unfilled positions in hospitality – a massive leap from 22,000 a year ago.
UKHospitality chief executive Kate Nicholls said: "Of course the hospitality sector is delighted Covid restrictions are being lifted, but that brings a new problem: how to service increased customer demand without the staff to do it.
"Vacancies in our industry are now double what they were before the pandemic, and there has been a fundamental shift in the labour market and hospitality must address that quickly. 
Certainly, businesses are getting busier as Covid restrictions ease, with data from Barclaycard showing that during the last quarter of 2021, 56.2% of small and medium-sized enterprises (SMEs) reported a rise in earnings when compared with the same period in 2020. Barclaycard's data also showed transaction volumes were up 42.3% for the last three months of 2021, compared to the same period in 2020.
With such a promising start to 2022, 40% of SMEs plan to hire an average of six new employees before the end of March – but finding them will be the biggest problem.
Industry joins together through Hospitality Rising
With the worsening vacancy figures revealed, UKHospitality is calling for a redoubling of efforts to resource and support the Hospitality Rising project to promote careers in the sector.
The project, which was launched in November by former Pret a Manger and YO! Sushi marketer Mark McCulloch, has now won official support from the Hospitality and Tourism Sector Skills Board (HTSB) to be the strategic face of the industry's biggest ever recruitment campaign. The HTSB will work into the joint government and industry initiative, the newly created Hospitality Sector Council.
McCulloch, who now moves into the role of campaign director reporting to the HTSB, is seeking to raise up to £5m by encouraging employers to pledge £10 per employee. He has so far won the backing of representatives of a whole spectrum of hospitality businesses, including UKHospitality, the BII and the British Beer and Pub Association.
McCulloch said: "We see this approval as a call to action for industry colleagues to come together and get behind the campaign, not just emotionally but, importantly, financially too, as we seek to build a campaign war-chest.
"This will allow us to drive our message out to the UK public, tell all our fabulous stories and make hospitality a positive career choice for the very many, not the few."
Independent pub company St Austell Brewery, which owns 180 pubs, inns and hotels in the South West, is launching its own recruitment campaign in a bid to build up its teams amidst a staycation boom.
The six-figure, visual-led campaign, entitled "Your Adventure Starts Here", showcases the scenery the South West region has to offer; adverts feature employees carrying out their day-to-day roles, from housekeepers to chefs, against a backdrop of sun, sea, surf and the great outdoors.
St Austell Brewery people and communications director Tamsyn Allington said:
"Undoubtedly tackling the skills shortage is one of the most urgent challenges hospitality businesses face.
"As we see demand for UK travel and room bookings increase in the lead up to summer, filling both front- and back-of-house positions will be crucial to ensure we can continue to deliver a standout experience for customers and guests throughout the peak periods."
Staff retention is as crucial as recruitment
Given the current struggle to recruit talented individuals to work in hospitality, the revelation that a third of UK hospitality shift workers want to leave their jobs is extremely worrying. Recent research (from workforce management app Deputy) shows that 29% of UK hospitality workers want to leave their jobs, with 22% hoping to switch to a new industry, and 7% looking to quit with a view to retiring or returning to education.
It seems that employers are caught in a vicious circle, with the struggle to recruit meaning existing staff are put under more pressure, to the point that some choose to leave the industry altogether.
The figures bear this out: of the UK shift workers surveyed, 62% reported that their employer had experienced difficulty hiring in the past 12 months and that, as a result, 46% have had to work more shifts, while almost half (45%) have found it harder to take time off.
Businesses are taking various steps to try and make their roles more attractive and thus to keep hold of staff, such as The Landmark London Hotel in Marylebone which has introduced a four-day week for its chefs.  As well as the four-day week, there will also be a scheme to increase pay for chefs in recognition of the hours they work. 
The hotel's owners have also invested heavily in staff facilities, including a new restaurant for employees with its own open-plan kitchens and designated team, and a new academy offering learning and development in a variety of areas.
Recruitment and retention - let Harri help
Of course, increasing salaries and benefits may be one way to tackle the recruitment crisis: London restaurant Bob Bob Ricard is trying that route, offering a £91k salary plus £6,000 a year in dining benefits in a bid to fill its head chef position. But generally, offering big salaries will not be the complete solution to your recruitment and retention woes.
When it comes to attracting candidates to apply for jobs in the first instance, Harri's career branding tool and innovative AI hiring assistant Carri will have them hooked from the word go.  Through career branding, you can create story pages on your website to showcase your company's culture to potential applicants, while Carri can manage the entire application and candidate communications lifecycle via SMS, web-based chat on your careers page, Facebook Messenger, and more. Carri's real-time messaging allows candidates to quickly apply and set up interviews, plus Carri can communicate details about the team, benefits and culture with applicants in a personable way.
One key way to keep your employees happy, feeling valued and part of a team is through regular communication, and that's another area where Harri can really help. 
Harri's TeamLive app – part of our multi-channel communications tool – enables you to keep in constant contact with team members on the go. 
What's more, staff feel fully in control thanks to Harri's smart scheduling tools which connect time entries and scheduling in one platform, allowing real-time schedule notifications, improved shift visibility, and easy shift swaps with immediate clock-ins.