Vacation Season is Almost Here But With Vacancies so High, Will You be Ready?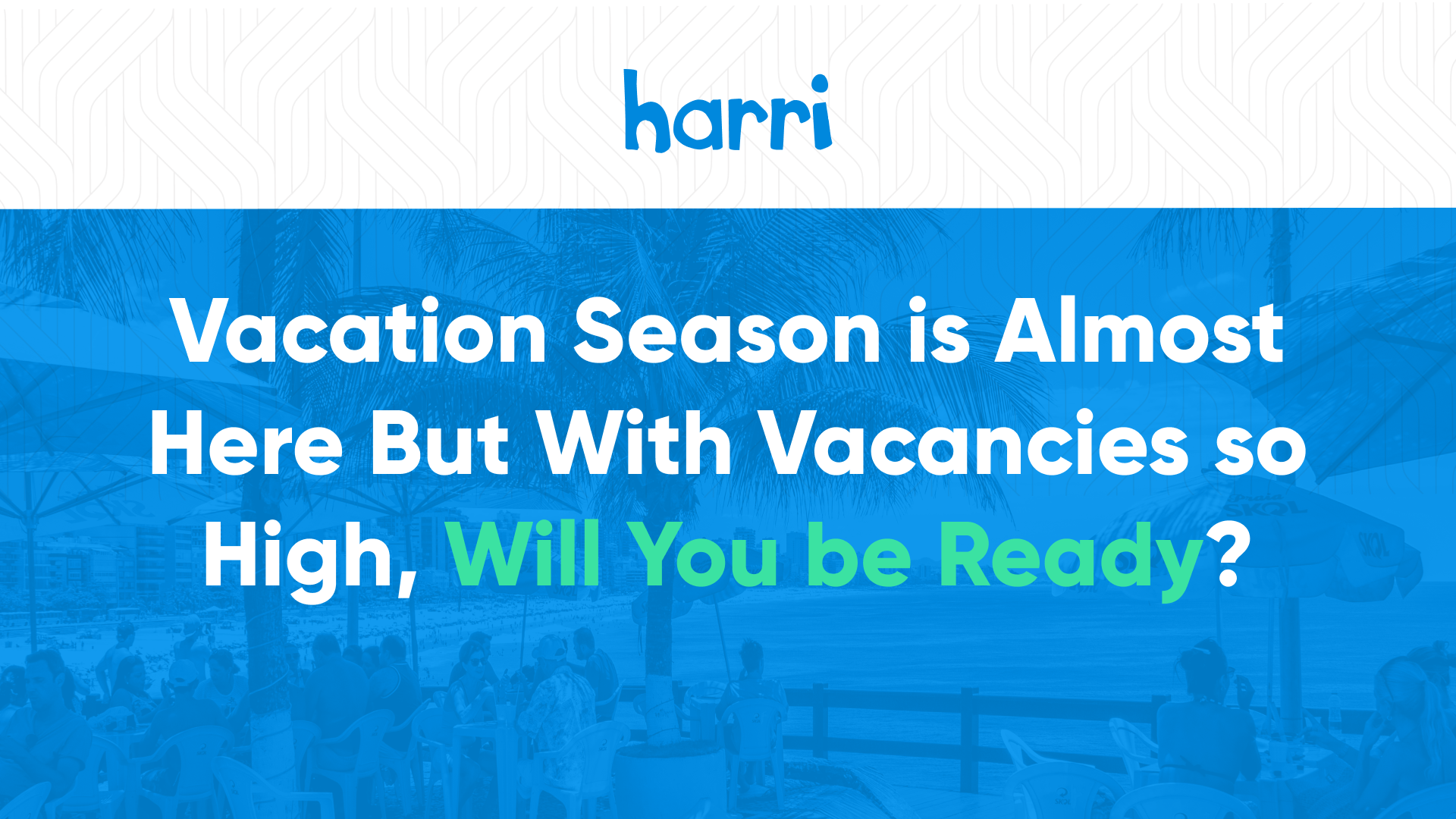 Schools will soon be out and people will be flocking to visitor destinations, desperate for a summer vacation just like old (pre-pandemic) times.
But will you be ready? Will you have enough workers to meet the pent-up demand this summer season? If you're down on staff – and it's highly likely you are – you'd better take action fast, else you won't be able to capitalize on this summer's vacation boom…
What happened to all the workers?
Last year more than 47 million US workers quit their jobs, and many of these were in hospitality and retail. The "Great Resignation" as it was called, has since been renamed the "Great Renegotiation", the "Great Reshuffle" or the "Great Rethink", reflecting the fact that many of these quitters weren't leaving the workplace altogether, but were switching industry in search of an improved work-life balance, more flexibility, increased compensation, and a strong company culture.
With much of the pandemic stimulus aid terminated by the fall, and savings rates dropping to their lowest in nine years (6.4% by January), many workers realized there were better ways to earn a living than in hospitality; in other words jobs with more sociable hours, higher pay rates and increased benefits. 
That's not to say workers haven't switched jobs to – or within – hospitality though: indeed, although the quit rate has been high, the hiring rate has actually outstripped it. In the leisure & hospitality and retail industries quit rates have been consistently above 4.5% since November 2020. The industry lost 1 million workers in November 2021, but 1.2 million people were hired into the industry that same month. In fact, leisure & hospitality has maintained the highest hiring rate of all industries since November 2020 at 8.1%, compared to the national hiring rate of 4.4 percent.
However, what hospitality has largely failed to do is to hold onto those new hires. One reason for this is that hospitality is an industry where workers cannot take advantage of the swing towards remote working that began during the pandemic. 
Add to that traditionally lower rates of pay, unsociable and unstable hours, few benefits, a lack of flexibility, and often a lack of respect for workers (from both employers and, often, customers) and it's plain to see why hospitality is still losing workers to other industries.
High rate of vacancies threatens to impact summer trade
Leisure & hospitality actually led an increase in jobs in March, accounting for 112,000 of 431,000 jobs added overall, according to the U.S. Bureau of Labor Statistics—but employment in the sector is down by 8.7% since February 2020.
In fact, among 1.6 million jobs yet to recover, a massive 1.5 million are in leisure & hospitality, according to the U.S. Travel Association.
Association spokeswoman Tori Emerson Barnes said: "A lack of available workers, coupled with the slow return of business and international travel spending, is restricting Leisure & Hospitality's recovery, even as other sectors of the economy regain – and in some cases, exceed – pre-pandemic levels." 
Experts say many factors are impeding hiring, including higher-paying jobs outside the industry, less interest in labor-intensive jobs such as housekeeping, and concerns around the coronavirus. With so many vacancies in the sector, travelers are being warned to expect that things could be different this year to their usual vacation experience. 
One hotel manager spoke of hotels struggling to fill front desk, housekeeping, and other roles in "almost every part of the hotel", adding that hotels may limit the number of rooms available, close restaurants or operate them with reduced hours, and reduce housekeeping rounds in order to cope.
There are ways to tackle the crisis
So what can you do to try and make sure your business can operate at full capacity this summer – and beyond?
The obvious one is to offer higher rates of pay, alongside staff rewards such as free meals or overnight stays. Offering your staff as much flexibility as possible is vital, as well as giving plenty of advance notice of shifts, and paying for every hour of overtime so workers don't feel they're being taken advantage of.
Harri can help with all of these things and more, starting with the hiring process itself.
With Harri's Talent Acquisition solution, candidates can quickly and easily apply on mobile, with no application left unacknowledged, and all documentation completed online ahead of an employee's start date. 
Hiring managers can post a job to many multiple job boards, including Indeed, Craigslist, & Ziprecruiter – in less than three minutes, and create career story pages on their company website to show off the best bits of their brand.
Harri's tech also enables managers to screen candidates easily through an automated Q&A flow, which leads through to an interview scheduler to make booking an interview at a mutually convenient time super simple.  With Harri, workers can easily clock in and out through our time and attendance module, while our smart scheduling platform allows employees to swap, drop and request more shifts on the go, making life easier and more efficient for the whole team. 
Our mobile communications solution is also a vital tool, enabling staff and managers to keep in contact with each other at all times, and in turn helping maintain morale.
Want to find out more how Harri can support your business needs? Hit the Request a Demo button below.