With Business Costs Rising, How Will Customers React and What Does It Mean For Hospitality?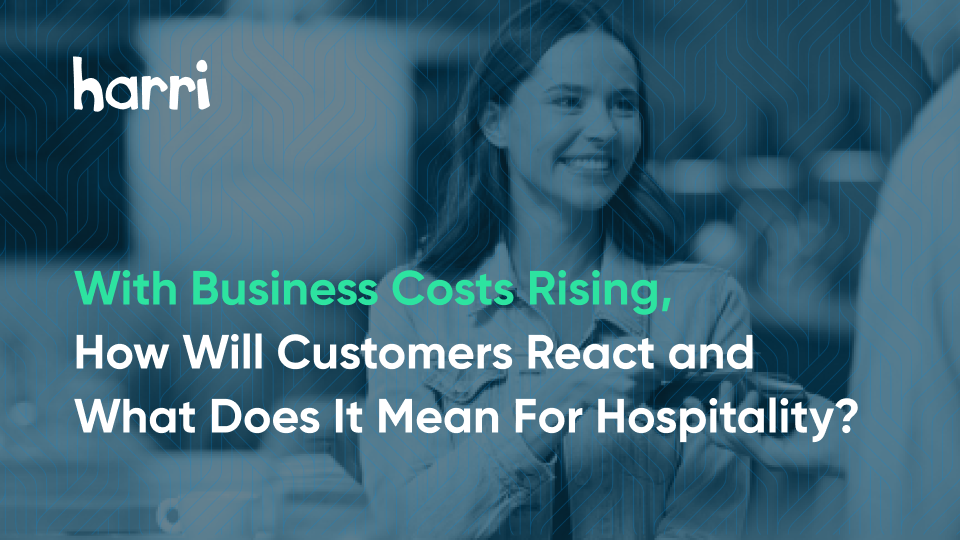 Running a hospitality venue is about to get a whole lot more expensive, and with operators already suffering from nearly two years of reduced trading due to the pandemic, it's not surprising menu price hikes are around the corner. If customers are paying more, they're going to expect more – and at a time when hospitality is facing a recruitment crisis.
Here we take a closer look at the reasons behind the rising costs facing hospitality and explore the consequences.
Rising costs = price hikes on the way
Almost 50% of operators say they will be forced to increase prices by more than 10% in 2022 to cope with rising overheads; for 15% of operators, price hikes of more than 20% are anticipated, according to a survey by UKHospitality of more than 340 businesses (representing some 8,200 sites). Businesses are facing an average energy price increase of 41%, a labour cost increase of 19%, a 17% rise in food prices, a 14% hike in drinks prices, and a 21% increase in insurance costs.
All this comes ahead of the April return to a 20% VAT rate (from the current 12.5%), a rise in business rates, and an increase to the National Minimum Wage. After a dismal Christmas and New Year, when consumers were advised not to mix in a bid to slow the growth of the Omicron Covid variant, hospitality spending fell still further during January.
Overall spending in hospitality and leisure declined 6.3% in January compared with last year, after five consecutive months of growth.
Over 80% of operators surveyed by UKHospitality said they had experienced either moderate (39%) or severe (42%) levels of cancellations since the start of the year, indicating that consumers are already feeling the pinch of cost of living increases.
UKHospitality chief executive Kate Nicholls said: "Omicron has infected the start of 2022 with lower-than-expected trading levels and higher than expected cancellations in hospitality venues. One-in-three businesses in our sector have no cash reserves left and are already carrying heavy debt burdens."
"Many of our community pubs, restaurants, hotels and hospitality venues will therefore fail as the cost-of-living crisis bites, causing demand to falter. This can only cause the UK's wider economic recovery to stutter."
Government urged to act on VAT
More than 250 hospitality business leaders have written to Chancellor Rishi Sunak urging the government to freeze VAT at 12.5% from the end of March. Hospitality VAT was temporarily reduced to 5% to support the industry in 2020. It returned to 12.5% in October 2021 and is due to rise to its pre-pandemic level of 20% from April.
Amongst those who have joined the UKHospitality-led campaign to keep VAT permanently at 12.5% are Big Table Group, Caffe Nero, Côte, Fuller's, Greene King, Hilton, JD Wetherspoon, Marston's, Mitchells & Butlers, Pizza Express, Pizza Hut, Punch Pubs, Revolution, The Restaurant Group, Wagamama and Young's. According to a joint report commissioned by UKHospitality, the British Beer and Pub Association (BBPA), the Tourism Alliance and the Association of Leading Visitor Attractions, freezing VAT at 12.5% could create more than 250,000 jobs over the next decade, generate £7.7b of additional turnover, and deliver £4.6b in fiscal gains to the Treasury. Conversely, a survey of 815 hospitality businesses found that if VAT rises to 20%, four in 10 operators expect to see further cutbacks and jobs losses, while 10% could face closure.
UKHospitality's Kate Nicholls urged the government to "keep VAT at 12.5% permanently," adding:
"We are asking the chancellor to give companies and consumers room to breathe. We have had a very challenging two years where hospitality was hit first, hardest and longest. This industry has borne the full brunt of the economic restrictions due to Covid. Companies have no cash in the bank and are being squeezed from all directions. They must pass costs on or go bust. The only question is by how much prices rise."
Menu price rises are unavoidable
The question of how much prices will have to rise will vary from venue to venue, but several operators are predicting a jump of £10-£15 a head as food, energy and wage costs climb. One chef told The Caterer customers could be in for a "shock" in April as venues raise menu prices to counter the VAT rise and increase in the National Minimum Wage. Other chefs have highlighted dramatic increases in utility bills and ingredients costs which will inevitably have to be passed on to customers.
Danny Parker of Jesmond Dene House hotel in Newcastle said the price of staple ingredients had risen at an "astonishing" rate, and he was now paying 48% more for butter, 31% more for pistachios and 30% more for flour. He said suppliers were blaming an increase in their own energy and wage costs for price hikes.  Parker voiced fears that more expensive menus could lead to some people being priced out of restaurants from April.
"I think dining out might become a special thing again like it used to be in the 1970s and 1980s. I hope it doesn't but how many people will eat out two or three times a week if a meal is going from £35 a head to £45-£50?"
And it's not only rising food costs that are leading to increased menu prices – drinks prices are also on the up. The price of a pint of beer may rise by around 10% – or 40-50p – due to increased inflation, some operators have warned. Lord Bilimoria, founder of beer brand Cobra, told the BBC: "Our input costs in every way – bottling, energy – are up. Freight costs have soared, sometimes ten times. Wages are increasing, and on top of that there are labour shortages. It does mean that businesses have to put up prices, but the consumer is already feeling the squeeze. It is a really challenging situation for everyone." 
Increased menu prices = increased customer expectations
If venues are putting their prices up to cover increasing overheads, it's vital they can justify those higher prices through a first-class guest experience. Customer expectations are likely to be higher than ever, so making sure you have a talented, well-trained – and sufficiently large – team is imperative.
Harri can help you with finding those talented people and getting them on board quickly thanks to our innovative AI hiring assistant Carri. 
Carri can manage the entire application and candidate communications lifecycle via SMS, web-based chat on your careers page, Facebook Messenger, and more; real-time messaging allows candidates to quickly apply and set up interviews, plus Carri can communicate details about the team, benefits and culture with applicants in a friendly, human-like way. 
Managing costs is more important than ever right now, and Harri's Workforce Management system can really make a difference to controlling operational spend. Tools include our Smart Scheduling Module, which makes it super simple to schedule staff at the click of a button and ensure you've always got the right people in the right place at the right time.
Want to find out more about how Harri can help your business? Request a demo below.