Manage All Seattle Secure Scheduling Ordinance Requirements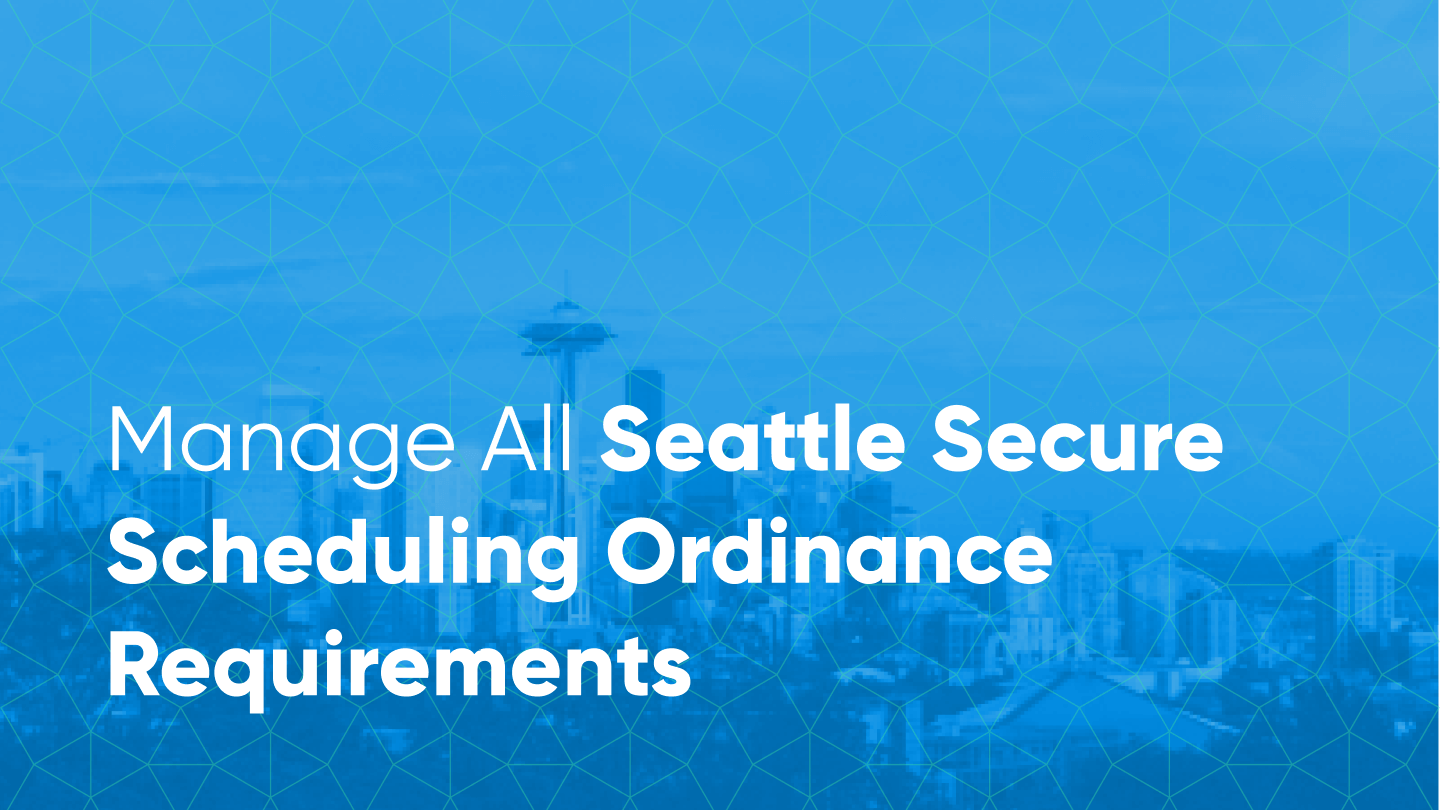 The Seattle Secure Scheduling Ordinance went into effect July 1st, 2017 to ensure transparency and flexibility for hourly workers. These laws mirror Fair Workweek scheduling legislation and have completely changed the way hospitality businesses operate.
Though the Secure Scheduling Ordinance regulations are ultimately made to protect employees, these regulations are complicated and can be time-consuming for business owners to manage. On top of this, the Secure Scheduling Ordinance must be followed in addition to other federal, state, and local labor and wage laws, making 360-degree compliance a challenge for most operators.
Who is covered under the Seattle Secure Scheduling Ordinance?
The Seattle Secure Scheduling Ordinance covers all hourly employees working in retail and foodservice, however, the exact requirements vary by business type.
Retail

: Businesses with 500+ employees globally

Foodservice

: Businesses with 500+ employees globally

Full-service restaurants

: Businesses with 500+ employees globally AND 40+ locations

 
Why do I need to follow Seattle's Secure Scheduling Ordinance?
Seattle takes the Secure Scheduling Ordinance very seriously and failure to comply can result in heavy fines. It's not uncommon for hospitality businesses to have legal and financial teams on retainer to ensure compliance, although this is a costly endeavor.
To paint a picture of what a violation of the Secure Scheduling Act might look like, Mexican restaurant chain Qdoba (with three locations in Seattle) had to pay a settlement of just under $100,000 for infringing on the law's requirements. 
The cause of infringement was for failing to pay employees for last-minute schedule changes or scheduling shifts without a 10-hour break. We'll cover these specifics, as well as other requirements, below. 
Even if your team prefers third-party assistance, an integrated HCM platform can provide real-time analytics and actions to reduce costs associated with scheduling decisions.
Seattle Secure Scheduling Ordinance requirements
If you couldn't already tell by its name, most of the Seattle Secure Scheduling Ordinance requirements revolve around the employee schedule and working hours. Restaurants, hotels, and hospitality businesses must follow all requirements to be fully compliant.
Good Faith Estimate of hours
Seattle's Secure Scheduling Ordinance mandates that new employees should be provided with a clear idea of the dates, times, and locations in which they will be required to work. 
While hours can (and inevitably will) vary from week to week, employers should be able to provide a rough estimate of the expected hours at the time of hiring. 
Seattle Secure Scheduling Ordinance Good Faith Estimates should include:
Expected working hours

The median hours per workweek for the upcoming year

The employee's pay rate (plus overtime/holiday pay rate) and how it will be paid (hourly, shift-based, commission, etc)

The employee's expected pay dates

An explanation of the employer's tipping policy

The employer's official name, plus any trade names/fictitious business names

The employer's address, phone number, and e-mail address



Employers must revisit an employee's Good Faith Estimate once per year, or when an employee's workweek consistently differs from their original Good Faith Estimate. 
Right to Rest periods protect employees who are scheduled to work an opening shift immediately following a closing shift. These are also known as "clopening" shifts.
In Seattle, hospitality business owners must schedule a minimum of 10 hours between shifts. 
If a shift is separated by less than ten hours, the employee must be paid 1.5x normal pay to remain in compliance with the Secure Scheduling Ordinance.
Advanced notice for scheduling
Advanced Notice provisions of the Secure Scheduling Ordinance contain several requirements designed to create predictable scheduling environments for employees.
Employers must provide schedules 14 days in advance

Employees can decline additional hours offered to them that were not on their original work schedule

Posted schedules must be easily accessible in writing or digitally

Schedules must be posted in a language that employees can read



Last-minute changes to an employee's schedule are considered non-compliant with the Seattle Secure Scheduling Act unless the employer pays a premium to the affected employee.
Late-minute schedule premium payment rates:
Adding hours: The employee's usual pay rate

Subtracting hours: No less than half of the employee's usual pay rate
Hospitality business owners should know that the Seattle Secure Scheduling Ordinance allows a grace period which states that adding or subtracting 15 minutes from an employee schedule does not incur a penalty.
If an employee is scheduled for an on-call shift but isn't called in, the employer must pay the employee half of the employee's usual pay rate for the number of scheduled on-call hours.
Access to hours for employees with seniority
The Seattle Secure Scheduling Ordinance Access to Hours rule states that employers must offer additional hours and on-call shifts to existing employees before hiring new staff to fill the hours.
Exceptions to Seattle's Secure Scheduling Ordinance
There are a few exceptions built into the Seattle Secure Scheduling Ordinance that provides operational flexibility for hospitality businesses.
Employers are not liable to pay employee premiums if:
Employees swap shifts amongst themselves

Additional hour opportunities are communicated in-person due to a higher demand than anticipated (only if the employee provides consent)

Hours are added or subtracted based on an employee's written request

Hours are subtracted due to disciplinary reasons (these reasons must be documented by the employer and kept for up to three years)

Hours are cut due to reasons outside of the employer's control, such as weather, natural disasters, government mandates, etc.
In every circumstance, employers should keep a written or digital record of each action to protect themselves in the event a non-compliance investigation is filed.
HCM tech to ensure compliance with Seattle's Secure Scheduling Ordinance
Maintaining compliance with the Seattle Secure Scheduling Act on top of other federal or localized wage and labor laws is increasingly difficult. Restaurants, hotels, and hospitality businesses should seek an all-in-one HCM solution built specifically for the Seattle Secure Scheduling Ordinance to ensure no violations occur in any business location.
Labor compliance isn't the only benefit of a compliance-driven HCM platform. Managers that utilize smart tools see operational success in the form of improved efficiency and boosted employee retention. We'll cover how HCM technology enables fully compliance operations and then some.
Compliance-driven scheduling tools for labor efficiency
Irregular and unpredictable schedules made it extremely difficult for service-based employees to plan their day-to-day lives. While advanced notice scheduling gives employees back the freedom to plan their lives, providing compliant schedules in an industry as unpredictable as hospitality is no simple feat. 
Luckily, there are intelligent scheduling tools like Harri which were built specifically for the labor compliance requirements of Seattle's Secure Scheduling Ordinance, Fair Workweek, and other labor laws.
Harri automatically factors in compliance rules based on your business location. Say your manager is creating team schedules for all front-of-house staff. Employee templates are generated based on the specific labor requirements in your jurisdiction, such as break requirements or right to rest periods. Labor-costs are generated in real-time as you build your schedules, including if premium payments are required, so your team has complete transparency into labor spend.
Employee-initiated shift swaps allow employees to directly exchange shifts with each other. This smart system automatically matches those employees who are looking to pick up extra hours with employees who are no longer able to make their shift. That hands-off compliance approach saves managers the headaches of coordinating new schedules if and when an employee calls in sick.
The fast-changing nature of hospitality means that non-compliant Seattle Secure Scheduling Ordinance actions will happen. You might need to call in last-minute workers to handle a rush of customers or send home a team member to compensate for an unexpected lull. 
However, managers may accidentally create non-compliant schedules even before day-to-day operational shifts. When you oversee dozens of employees, mistakes are bound to happen, especially when dealing with complex and overlapping labor laws.
All-in-one HCM platforms like Harri alert your team of non-compliant actions before they happen.
A non-compliance alert may appear if a manager mistakenly schedules an employee to work without a 10-hour rest period or changes a schedule last-minute without employee permission. In some cases, the non-compliant action may be blocked entirely. 
These alerts empower managers to decide when a premium payment is truly necessary rather than unknowingly adding up premium payments.
Compliance reporting and auditing
When non-compliant scheduling actions happen, and they will, an all-in-one HCM tool will keep an easy-to-find record of all premium payments.
With a compliance solution like Harri, managers gain real-time insights into:
Premium payments by time period

Premium payments by employee

Premium payments by location
Harri calculates penalty compensation in real-time, so managers can see what the added charges would be to schedule certain employees in back-to-back shifts with less than ten hours of rest in between them. This smart tool allows managers to make decisions about how they will schedule their employees and quickly see if the cons outweigh the negatives.
They also give full transparency to ensure all premium payments actually were paid out — a mistake that several hospitality giants have paid for in the past.
If your restaurant, hotel, or hospitality business is suspected of being non-compliant with the Seattle Secure Scheduling Ordinance, you'll need to provide proof of innocence…or guilt. That means operators must keep digital records of all employee actions relating to the schedule to prevent further non-compliance fees.

Seattle's Secure Scheduling Ordinance stipulates that employers are not penalized for employees swapping shifts with each other, regardless of how short of a notice they give each other.
When dealing with Fair Workweek laws such as Seattle's Secure Scheduling Ordinance, it's imperative to maintain accurate reports and records to avoid any surprise fees. With Harri's automated report generating feature, hospitality business owners can dive deeply into the data and make recommendations and changes for best practices as it pertains to reducing fees associated with Seattle's Secure Scheduling Ordinance.
Easy Good Faith Estimates
Creating accurate Good Faith Estimates of employee hours is one thing, but remembering to update and renew them annually can be difficult for hospitality operators to manage. 
The right HCM platform will automatically take care of other Good Faith Estimate-related housekeeping tasks, saving your team the headache of compliance and eliminating the risk of non-compliance fees. 
Good Faith Estimates are automatically generated during the employee onboarding process, and both the manager and the employee have the ability to digitally approve the GFE document or suggest edits.
What if an employee's schedule varies greatly from their original Good Faith Estimate? Harri will alert managers that it's time to update that employee's GFE documentation to ensure compliance.
Staying compliant with Seattle Secure Scheduling Ordinance labor laws
For hospitality businesses unable to recruit legal assistance, compliance-driven HCM software represents an effective and cost-effective solution to managing the Seattle Secure Scheduling Ordinance. The right solution will make all the difference between functional operations and truly labor-efficient operations.
To ensure your company's compliance with Seattle's Secure Scheduling Ordinance, reach out to us at Harri. We're your partner in compliance and never leave you open to liability.