Overtime Management for Restaurant Chains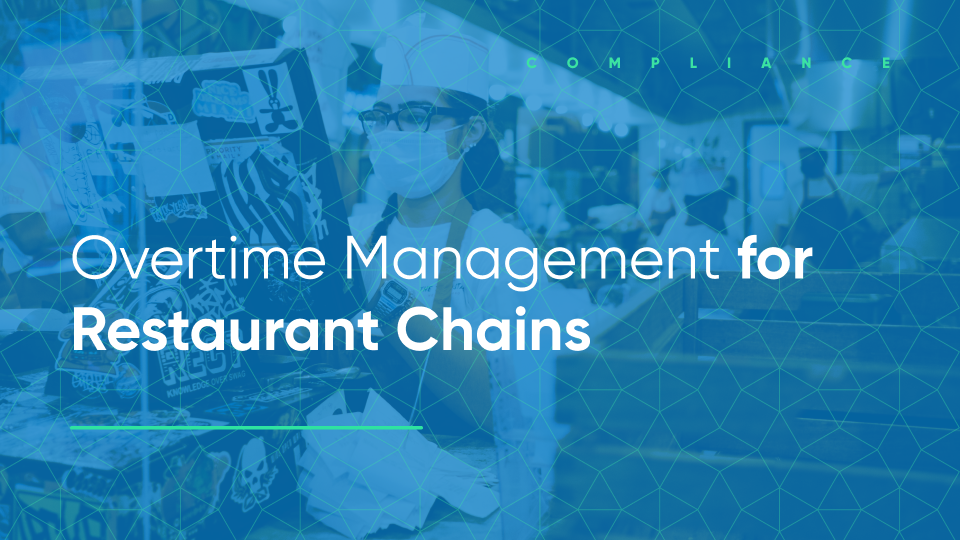 Picture it: it's an unexpectedly busy day at your restaurant. On one hand, you need to keep up with customer demand. On the other hand, you do not want to exceed labor costs. On the other hand, it's too late to call additional team members in to work the evening shift — they're unavailable. 
The next best solution? Overtime hours for your working staff.
Overtime is an operational necessity in an industry as fast-paced and unpredictable as hospitality, but that doesn't mean it's the cheapest solution. Especially when your overtime hours go relatively untracked until it's time for end-of-month reporting. 
But failing to properly manage your team's overtime spend in real-time is the fastest way to let labor spend spiral out of control, especially in Fair Workweek jurisdictions where overtime costs can spring up in unsurprising places.
Intelligent scheduling platforms that connect the dots between all HCM processes can help us forecast customer demand to minimize overtime hours and avoid unnecessary overtime spend.
Hospitality overtime explained
Overtime in the restaurant industry can vary greatly by city or state, which means that multi-state operators need to be well aware of the different overtime requirements covering their employees.
Under the Fair Labor Standards Act (FLSA), hourly workers are entitled to 1.5x their regular rate of pay for every hour worked past the 40th work hour in one week.
However, some states have even stricter overtime requirements. Alaska, California, and Nevada, for example, follow a daily overtime model with employees accruing 1.5x pay for any hours worked beyond the 8-hour workday.
This gets even more complicated if your restaurant operates in a Fair Workweek jurisdiction. Employees covered under Fair Workweek may be entitled to 1.5x or even 2x their regular rate of pay as compensation for last-minute schedule changes or being asked to join an on-call list.
Managing overtime for hourly restaurant staff
Managing labor using spreadsheets or one-dimensional platforms is possible, yes, but they hardly help managers tackle the root of labor issues that result in high overtime spend. This is especially true for chains with large-scale operations or franchise managers that are required to stay within a certain labor percentage each month.
A technology platform that factors in everything from team clock-in times, employee scheduling preferences, customer demand, and local labor laws (including overtime requirements) is the best solution to improve labor transparency and effectively reduce overtime hours. 
To first reduce overtime, you need to understand when you're most likely to need extra labor. While hospitality is prone to unpredictable bursts or lulls in service, there also are underlying labor patterns that should inform your scheduling strategies.
Our intelligent hospitality scheduling platform unifies key operational data from multiple departments to better forecast labor demands:
Sales by location (historic)

Sales by calendar day and day-part (historic)

Check totals (historic)

Tip totals (historic)

Holiday considerations (historic)

Weather conditions
These factors are then used to suggest labor-efficient schedules that make the most out of your existing team based on their skills and availability. And yes, compliance considerations like Fair Workweek are also taken into account.
Maybe there's a bridge shift option that can prevent Employee X from accruing overtime hours. Perhaps Employee Y doesn't have bartending experience, but Employee Z is able to pick up additional bartending responsibilities mid-shift to lighten your Friday workforce. 
When your schedules are smarter, you're less likely to need overtime.
Scheduling restrictions can help managers be more thoughtful in the way they approach employee overtime, too. 
Operators can limit a manager's ability to schedule above a certain labor percentage, ensuring that overtime hours don't expend all labor hours before the weekend while also increasing scheduling transparency for managers. 
And because labor costs are generated in real-time during the schedule building process, managers are better positioned to understand the financial impacts of each employee shift as well as which shifts are worth the overtime charges.
Proactive overtime alerts
No matter how smart your scheduling practices are, managers still run the risk of scheduling and approving unnecessary overtime during hectic day-to-day operations. When you're overseeing fifty team members, front-of-house and back-of-house, across two store locations, naturally overtime hours will slip through the cracks.
Accidental overtime can occur in many ways:
Not keeping up with FLSA or Fair Workweek overtime requirements 

Failing to follow

employee break rules

Failing to keep track of last-minute "stay late" requests

Approving employee shift swaps without realizing an employee's new shift dips into overtime
But the right tools can avoid those situations altogether and keep managers in the know no matter what operational curveball is thrown their way.
Harri automatically sends alerts if an employee schedule will accrue overtime or violates a compliance law before the schedule is published. The same holds true for employee shift swaps, where managers will be asked to approve the overtime should an employee's new shift incur excessive hours.
A direct integration with the timeclock also helps to prevent overtime errors on the employee end. If a team member hasn't clocked out, managers can opt to receive alerts and send them home before overtime is accrued. 
Timeclocks can also be configured to prevent employees from clocking in extra hours, such as coming to a shift early, which would allow for nickel and dime-style overtime payments that quickly add up over time.
The final piece to better managing restaurant overtime hours is to understand your current labor landscape and how overtime costs fit into your brand's overall labor spend.
Our robust restaurant reporting tools separate out compliance-related labor spend, like overtime payments or Fair Workweek premiums, from base labor spend.
A full breakdown of labor costs better equips teams to build labor-efficient schedules moving forward or prioritize upskilling teams in certain areas.
Labor spend and overtime reports include crucial information like:
Who is getting overtime shifts and how often?

How much was spent on overtime?

What shifts are most likely to accrue overtime?

Which managers approved overtime?
Scheduling-related reports are adjusted in real-time to ensure a fully accurate picture of labor spend. So when managers approve last-minute overtime shifts, those changes and their associated costs are reflected in the team-facing schedule (with an indication that changes have been made) as well as labor reports.
Managing restaurant overtime with technology
Effective overtime management requires a combination of data-driven strategy with smart tools to guide your teams towards labor efficiency. Because overtime and other scheduling compliance requirements extend into many different regions of human capital management, an all-in-one solution is the best option to reduce error and improve accuracy of labor forecasting.
Harri is the only HCM platform built specifically to tackle the labor demands of the hospitality industry as well as the nuanced compliance requirements that come with people operations. 
To learn how we can improve your brand's overtime management, schedule a demo with our team of hospitality experts.