7 Efficiencies That Cut Hiring Bureaucracy and Evolve Talent Acquisition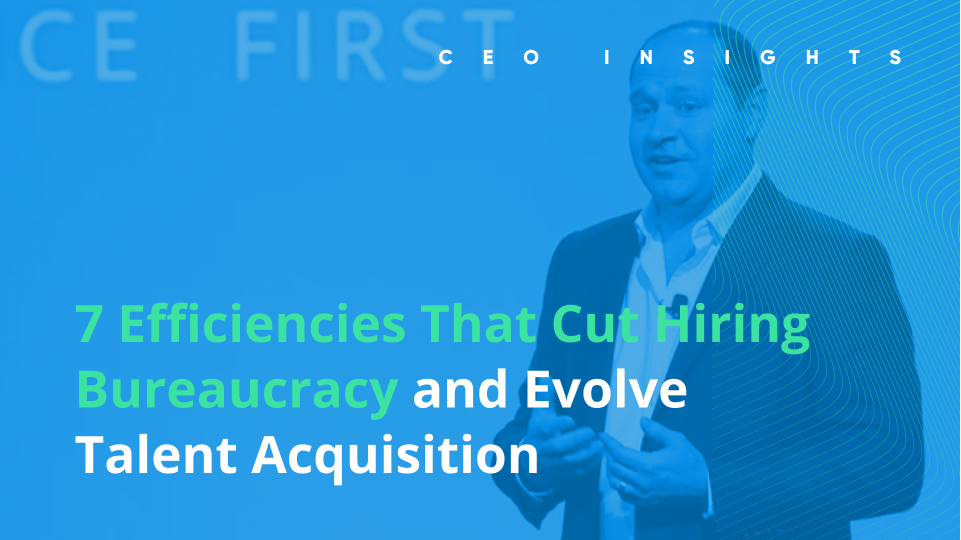 It's way past time to reframe the way we approach talent acquisition processes. Hiring in the restaurant industry was broken before the pandemic — a contributing factor in turnover hitting an all-time high of 75% in 2019 according to the Bureau of Labor Statistics. After everything our industry has gone through during COVID-19, restaurant leaders can't (and shouldn't) return to the status quo. 
Talent acquisition in the restaurant industry isn't just about filling openings. Any owner or operator who thinks that candidates and employees will be happy just to have a job in the post-pandemic environment could be in for a rude shock. The best candidates always have choices, and all candidates will evaluate employers very differently. If you thought hiring was hard before the crisis, just wait until the recovery. 
For most restaurant employers, there is too much bureaucracy in the hiring process, and it will strangle your ability to reach the best candidates, hire them, and ultimately retain them. If you want your restaurants to thrive in the post-pandemic economy, you need to cut the bureaucracy out of your talent acquisition processes. Then you need to change how you think about hiring. 
How do you do that? Here are seven ways to go about it: 
Efficiency No. 1: Remove fragmentation in the talent acquisition process
Most of the time, the entire talent acquisition process is fragmented — a patchwork of processes that are sometimes digital, sometimes analog, and rarely integrated. How are you broadcasting your job postings? How do candidates apply? Can they text applications? How are you managing candidate screenings and interviews? How do you handle employee referrals? What about video interviews? Background checks? Onboarding paperwork? And are you legally compliant every step of the way? If you can say "yes" to all of these and can complete these in a single integrated platform, then you are in the top 10% of your class. Congratulations!
However, even if you've got everything right up to your candidate's first day on the job, what about everything after that? Hiring, onboarding, scheduling, employee communications, training, and other points in any employee's time with you aren't disconnected. They are an ongoing process where you learn more about each other. You need to turn these steps in the process into an ongoing conversation where each side learns more about each other in a way that feels natural, elegant, and cool — because candidate hiring expectations are changing rapidly with technology.
Think of this employee experience in the same way you do your customer experience. You don't want your customers to just order from you or dine with you once. You want them to return again and again, tell friends about you, and have an ongoing relationship with your brand and your business. It's the same way with employees. Getting rid of the fragmentation gets rid of the bureaucracy and makes the process feel personal.
Efficiency No. 2: Think beyond the point of hire
When you start thinking about talent acquisition as merely the first step in the employee journey, you can change the way you think about what happens after the hire. The most important KPI in your talent acquisition process should be the percentage of overall hires that are successful. What makes a successful hire? It's someone who is still on the job after 90 days.
What's magic about the 90-day mark? Any employee who is still with you after 90 days is more likely to be around for a while. Employee turnover is a major cost driver — up to $2,639 per hire in hard costs for recruiting, selection, orientation, and training, according to the Center for Hospitality Research at Cornell University. And that doesn't even get into lost productivity, impact on customer experience, and other less measurable areas.
Efficiency No. 3: Clear the way for hiring managers to do what they do best
If you want to create more successful hires, the first step in the process is simply hiring better. Cutting out the process bureaucracy allows hiring managers to add more value to hiring efforts and focus on what they do best — one-on-one interaction with each qualified applicant. That's where a manager's interviewing ability, emotional intelligence, and ability to engage and inspire the best candidates lay the groundwork for successful hires.
Of course, that ability to focus depends on removing the administrative burdens of hiring, which can be entirely automated with text-bot applications, automated applicant workflows and screenings, SMS candidate communication, and automated interview scheduling. With this efficiency in the applicant qualification process, hiring managers are free to focus on hiring the best candidates.
Efficiency No. 4: Leverage conversational AI
One of the biggest game changers in talent acquisition for service industry employers is conversational AI, which essentially is algorithms that serve as virtual team members. These conversational ambassadors can humanize the hiring process as they automate it. And it's not just valuable at the point of application or coordinating interviews. Conversational AI can increase the efficiency of the entire experience through onboarding alone.
Educate candidates on the company and role.
What we've seen work best is taking what you know about your best performers by position and screening for "lookalikes." These are mirror images of your top performers — candidates who exhibit the same great qualities. It starts with a clear view of what your stars look like, then developing a series of lightweight but easily accessible questions to power the AI. The result are automated processes in screening and interviewing that determine whether our applicants look like successful employees or not. 
Build a relationship with the candidate.
From the initial candidate education coming out of the screening process, you can continue the relationship and, as soon as you get an accepted offer, begin to pre-board candidates. This improves efficiency of the onboarding experience and sets your organization up for higher retention rates by starting each employee off on the right foot.
Improve the likelihood they show up on the first day.
Because the conversational AI has taken the heavy lifting of nurturing the relationship off the shoulders of the hiring manager, you'll find that it's more likely that the candidate will show up for their first shift, ready and excited to begin.
Efficiency No. 5: Improve role-based pre-hiring
We mentioned "lookalikes" earlier. This is one of the areas where connecting hiring to other talent processes can yield benefits. If you want to hire candidates who have the same qualities as your stars, you need to know who your top performers at every position are and what the attributes of success are. 
What is your process for identifying your best people in every role? All too often, it's subjective — which is not fair, transparent, or scalable. Instead, you should have a performance process in place that not only helps you understand who is performing well, but also what they are doing. Ideally, your process should make it easier to offer feedback that helps your people get better at their jobs as it nurtures trust.
Efficiency No. 6: Establish an internal communications system
Regardless of age or role, your employees live in their social networks and are attached to their mobile devices. If you want to communicate with them, your choice is making them come to you or you going to them. We think the best choice is meeting them where they already are and offering them inherently social tools to communicate everything from today's specials to shift changes. 
When it comes to hiring, your employee referrals can be your best source of quality and dramatically reduce your cost of hire by reducing job posting and distribution costs. Social-based communication tools allow you to leverage the value of employee networks to get those referrals. You can create and invite team members to group message channels that encourage collaboration and efficiently spread the word.
Efficiency No. 7: Better cross-utilizing talent to scale a large organization
Your best managers typically rise through the ranks. They know the way you do things because they grew out of your culture. Especially in large organizations, you need to tap into promising talent in one location as you bring other locations online and need managers who already know your system, your brand, and how to deliver an excellent customer experience.
This last connection to career pathing is where everything comes full cycle back to recruiting. Elevating proven performers into management also reduces your hiring risk because you are going with known quantities who also know you.
The real ROI of recruiting and the value of full-cycle integration
successful talent acquisition process that increases your number of successful hires, decreases turnover in the first 90 days, and lowers hiring and training costs across the board. It's more than just decreasing cost per hire, improving time to fill, or other recruiting KPIs. This is about cashing in on your investment in people and seeing true ROI — growth and profitability and business success.
If you want more information about how Harri can help you streamline and integrate your talent acquisition into your other people processes, let's talk. We want to show you the way.