Adapting to the Labor Shortage: Getting Back to Hiring Basics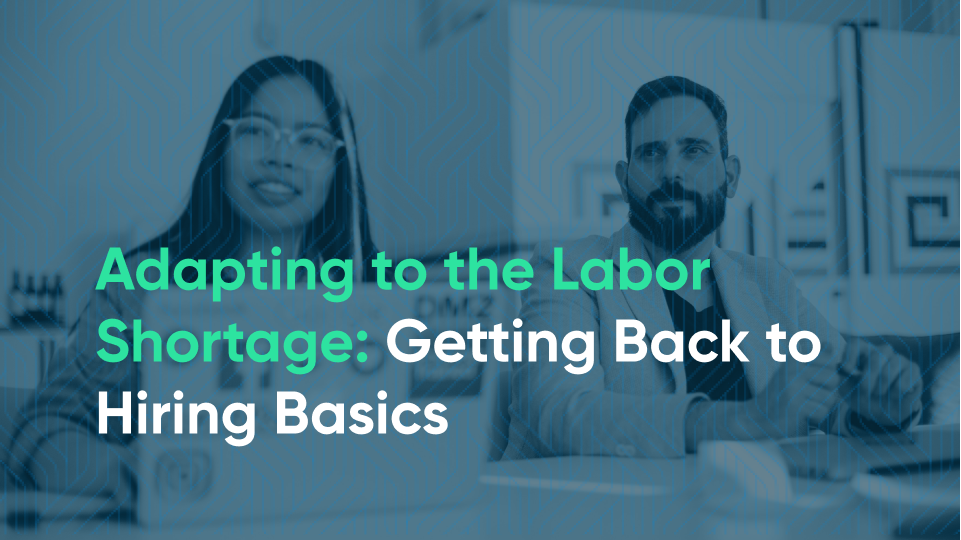 COVID-19 has changed many aspects of the hospitality industry, from shutting restaurants down due to mandatory closures, to changing how customers view dining in physical brick-and-mortar spaces.
One of the biggest effects of COVID-19 on the hospitality industry is the shortage of available and ready labor. The restaurant workforce has been dwindling since March of 2020, due to various factors such as state-imposed stay-at-home mandates, a reduction of people leaving the house, and employees receiving unemployment benefits.
This has left the hospitality industry in a precarious state as employers struggle to attract and retain the right team members for their hospitality business, whether in one single location or across multiple locations. 
But how can restaurants overcome this labor shortage? While most brands are well-inclined to invest time and money in the employee experience, it's important to note that the employee experience begins even before someone's first day on the job. We all know the phrase "first impressions are everything," after all.
Perfecting the fundamentals of hiring is key to ensuring that first impression is spot on. But how can we do that? By getting back to hiring basics.
But first, employers must understand how their current actions play a role in contributing to their own labor shortage.
Understanding the importance of hiring and the hospitality industry's role
As a people-first industry, hiring is the pinnacle of any successful restaurant. The labor shortage has made that abundantly clear as operators race for talent.
In order to adapt, business leaders and unit-level managers alike need to remove friction in their operational processes and work on the organic fabric of finding and attracting candidates. That starts with identifying the source of talent acquisition friction.
Look internally at your business processes and ask yourself the following questions.
How long does it take to apply to a frontline job in my business?
The ease and length of the application matters.
Can your application for a line cook be completed in under 5 minutes from a mobile device? If not, it's time to optimize.
Look to reduce bulky questions, skipping resume submission for some roles, limiting screening questions to meaningful role-based ones, and chat-based application processes like text-to-apply.
What's my response time to an applicant?
During a labor shortage, anything short of an instant response time is a waste of effort. All too often we hear that brands take more than one day to reply back to candidates, but hospitality is far too fast-paced to accommodate waiting periods as large as that.
Quick response times are one of the fundamentals of running a smooth candidate-facing hiring process, but many hospitality businesses lack the time and/or effort to respond quickly enough to new hires when they are bogged down with their current day-to-day operations. More on this below.
What is our average time-to-hire?
Because candidates hold the power in today's job market, applicants that choose to apply to your open jobs are only doing so because 1) They're intrigued by your brand and offerings 2) They truly need a job. More often than not, your job openings won't hold priority over competitor's. 
That makes time-to-fire a necessary metric to consider. Can your open jobs be completed in under 5 minutes and from any device? Are your screening questions role-specific and truly necessary prior to an interview? Are you advertising roles that are no longer open? Identify and correct sources of friction to reduce application wait time and keep candidates engaged with your brand.
Do we have an employee referral program in place, and is it automated? 
One of the best ways to find new employees is by word-of-mouth. If you have a stellar employee on your team, chances are that they know somebody or are friends with somebody who would also be a good fit for your team. Hospitality business owners who don't have a referral program are missing out on valuable prospects that could add great value to their business.
It's not uncommon for operators to delta on implementing a referral program due to the fear that it's too time-consuming. If done manually, this can often be the case. However, if the employee referral program is automated, most will find that it's a worthwhile investment to improve their hiring processes.
Once a hospitality business owner has considered all of these questions and come up with appropriate answers, they can move on to the next step of adapting to the labor shortage: utilizing technology to streamline and automate talent acquisition.
Technology to streamline and automate talent acquisition
The most successful hiring platforms are interconnected ones. Remember, if you can't get the basics of talent acquisition down pat, you're leaving your processes open to friction and unnecessary manual labor. Fragmentation is a great place to start.
Fragmentation between different hiring components such as job boards, application statuses, onboarding, and payroll adds additional burdens onto hiring managers.
If hiring managers are bogged down by unnecessary administrative processes in these basic steps alone, how can they be expected to create a compelling, engaging hiring experience? Removing fragmentation is the first step to enabling your teams to deliver the instant gratification that today's talent pool demands.
A verticalized all-in-one HCM platform is the best way to streamline and optimize hospitality talent acquisition efforts amidst the labor shortage.
How many unique sources do your candidates come from? Perhaps your team utilizes multiple job boards, employee referrals, chat-to-apply, and walk-in applicants to source talent.
All of those applicants need to flow into a singular ATS platform to ensure no candidates slip through the cracks and that the end-to-end hiring experience is fully transparent. 
Our integrated ATS aggregates all candidates and their application/interview statuses into a singular system and pushes through updates in real-time to ensure an accurate candidate pipeline.
This tool was developed specifically with hospitality hiring managers in mind. When you're running a busy restaurant, it's easy to let talent acquisition processes become disorganized for the sake of providing a consistently solid customer experience. That's the quickest way to push candidates away, but an easy-to-use tool that minimizes administrative friction benefits both managers and the candidates they're interviewing.
That's why our ATS integrates screening questions and background checks, to ensure that when a candidate reaches your managers, they're a right fit for the role. A drag-and-drop candidate management system, similar to a Kanban board, paints the full picture of your talent pipeline at a glance and in an easily editable format.
Conversational AI is all the rage for hospitality businesses looking to quickly hire candidates at scale. But not all solutions are created equal. Many fail to provide a humanistic hiring experience, causing candidates to drop off early on in the application process.
Carri, our AI-powered conversational ambassador, provides a solution to static chatbot experiences. 
Answer dynamic applicant questions, schedule interviews, receive feedback, and provide real-time HR resources to applicants at any stage in the hiring process. Carri processes highly complex chat-based inquiries and answers them as a human would — such as an inquiry into a store location's COVID-19 masking policies. 
Why is this so important? Managers simply don't have time to provide high levels of engagement to each and every candidate. That's highly unscalable. But it's exactly what today's workforce is expecting.
By allowing Carri to facilitate the application process in a chat-based environment (and update your ATS with every change), candidate drop-off is reduced without adding more work onto managers' plates.
If a recruit is trying to decide between your company and another company with the same pay, schedule, and role…they are going to choose the company whose brand personality and sense of corporate social responsibility most aligns with theirs at the current moment.
Yet…you know the amazing benefits that your brand can provide to its prospective and existing employees, but most people won't go out of their way to look for perks. That's where career branding, or recruitment marketing comes into play.
Whether you want to showcase star teammates, your brand's family-first culture, financial assistance, or other workplace benefits, career branding is a must-have. 
We enable operators to easily create eye-catching career story pages that allow candidates to understand your brand's unique stories than quickly apply without going through a third-party application website. Embed culture into every step of the hiring journey to attract candidate and retain them throughout the entire applicant process.
Successful hiring means knowing what's going on under the hood. But overinflated data platforms take away from the essentials of creating and optimizing a strong foundation for talent acquisition.
Consider questions like:
How many applications are we receiving each day?

What percentage of applications are moving on from step one to step two?

Are there any applicants who stop their application midway through the process?
Our data analytics platform shows managers the data insights they need to succeed while allowing robust data to be viewed in visually appealing and customizable dashboards.
If these basic hiring metrics lend themselves to slow disengaged candidates and high drop-off rates, then it's time to revisit your talent acquisition processes to identify gaps that can be filled.