Diversifying Your Workforce with Conversational AI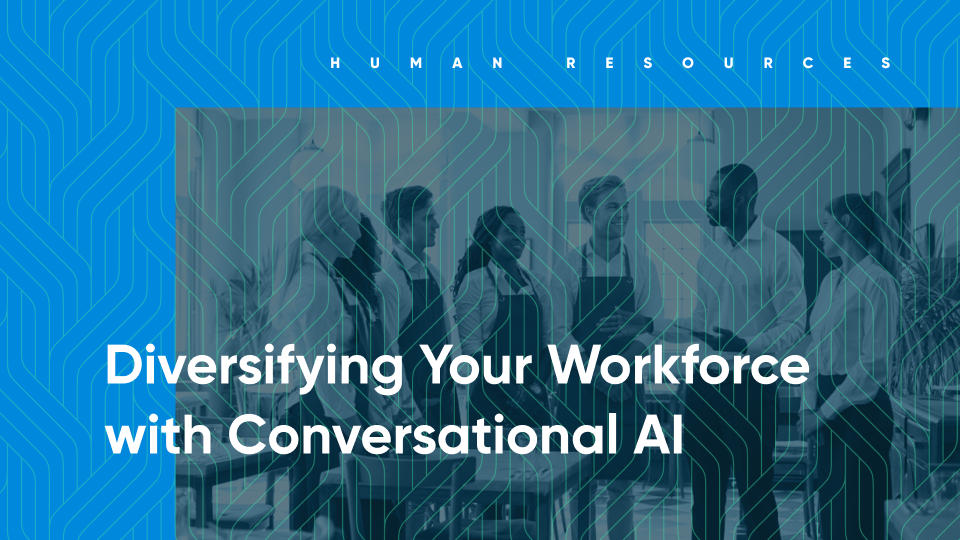 Hospitality is one of the most diverse industries in the United States with respect to service-based employees. Diversity comes in many different forms, including gender, sexuality, race, age, religion, political affiliation, disabilities, abilities, and socioeconomic status. 
There are countless reasons why brands should strive for diversity and zero reasons why they shouldn't. Diverse workplaces perform better as a result of stronger teams, unique perspectives, encouraged creativity, and a wide range of skills.
Most obviously, choosing diversity is the right thing to do. And when your brand has a strong moral compass, you attract a wider range of talent. This especially applies to younger workers who are flocking to brands whose values match their own, giving diverse brands a one-up in the race for talent.
Thanks to COVID-19, more and more brands have committed themselves to building a better employee experience by creating diverse, culture-heavy workplaces and pushing for increased inclusion.
Diversity and inclusion initiatives aren't limited to service-based workers, either. They should include management and leadership positions as well to solidify your brand's commitment to long-term equity.
So how can you go about diversifying your workforce? Pushing for inclusive recruiting practices is a start, but humans are prone to subconscious bias which can tarnish the process and create repeat hires.
Merging technology with human resources is the next step to ensure diverse recruiting practices and ensuring the best candidates are hired no matter what position you're hiring for. 
Never miss a qualified hospitality candidate
In hospitality, a candidate's skill and attitude are two of the most important attributes that managers should consider. Yet gauging these through a candidate's resume is nearly impossible. Managers might gravitate towards candidates with neater resumes, missing out on applicants that better fit their brand and culture in the process.
This oversight is somewhat understandable. When sifting through tens or hundreds of resumes, those stand-out resumes are bound to gain attention. But just because a worker isn't tech-savvy, that doesn't mean they wouldn't make a great line cook.
This same concept applies to diversity. Hiring managers might be more inclined to interview candidates of the same gender or familiar names. When it gets down to the interview stages, they might unconsciously favor applicants that look or sound like them. 
Unintentional or otherwise, this is an excellent way to miss out on top talent. Hospitality's labor shortage means no brand can afford to miss out on any candidate.
A blind interview process ensures that only the most qualified individuals will receive interviews, despite their race, gender, sexuality, race, age, or anything else.
Here's where technology comes into play. By utilizing a conversational AI platform to preemptively screen candidates, HR managers can ensure that every candidate who makes their way through the hiring funnel is not only qualified for the job, but also was selected without any bias.
We developed Carri, an AI hiring assistant, to create fully unbiased application experiences for hospitality businesses. By honing in on a candidate's skills and attitude, Carri ensures a highly personalized and engaging hiring experience for each and every applicant.
Regarding the application process itself, Carri can ask simple yet powerful questions during the early application stages to determine if a candidate is a right fit for the job. 
Consider skills or value screening questions like:
What are 3 things you want to see in a manager?

How would you handle an upset customer?

Do you have at least 2 years of experience as a restaurant manager?
By setting up these questions and qualifications ahead of time, hiring managers can ensure a diverse candidate pool that is both a skills and a culture fit, at scale, without creating additional administrative burdens.
Candidates that make it through this process are already marked as highly favorable, significantly increasing the odds that they'll be hired no matter what demographic they fit into.
Connect and coordinate interviews with the right candidates
Let's rewind a few steps. Before managers can even begin to interview candidates, they need to apply to jobs, first. Long, clunky job applications actually can contribute to a biased application process by pushing away candidates who are not technically inclined or who have busy personal lives — such as if they work two jobs.
Offering easy-to-apply applications goes a long way in diversity, and Carri can help by pushing your job openings out to a candidate's preferred application methods.
Do they want to complete the application process over SMS messages, Facebook Messenger, or through your preferred job board like Indeed? Is the candidate an incoming employee referral? Maybe they're on the move and prefer scan-and-apply QR code applications.
Carri ensues inclusion from step one by empowering candidates to apply in a way that best fits them. Because Carri enables mobile and text-friendly applications, you can offer a wide range of application experiences that reduce candidate drop-off.
Now, if a candidate applies and is deemed to be a good fit based on the initial screening questions, Carri automatically coordinates the interview scheduling process between the candidate and the hiring manager to effortlessly move them along the hiring pipeline.
But maybe the candidate has some concerns regarding the interview process, such as what they should wear, what type of interview environment they can expect, or what benefits they'll receive if they land the role. Candidates can text Carri any questions and receive automated responses depending on job position or location. Responses can be imbued with personality or company culture to create an early sense of connection.
And if a more complicated question is asked, Carri can flag a hiring manager while simultaneously letting the candidate know that a hiring manager will reach out to provide more information. This ensures a highly engaging, humanistic application process without inundating managers with repetitive questions.
What's even more important is how quick and impartial this process is. Hiring experiences need to encourage questions to ensure a good fit and paint a full picture of the role and work environment for each candidate. By providing a real-time conversational ambassador, every applicant can be heard.
Conversational AI is the next tech-based approach to diversity
If your hospitality business hasn't already started investing in diversity and inclusion, you're missing out on key talent opportunities and are significantly diminishing your employee experience. While it may seem daunted to get started on company-wide DEI initiatives, technology can supplement your HR teams to ensure effective hiring processes.
If you are interested in utilizing conversational AI to diversify your workforce, Carri is happy to help you! Learn Carri can improve your candidate recruitment and candidate diversification processes today.