Filling Gaps in the Employee Experience with Conversational AI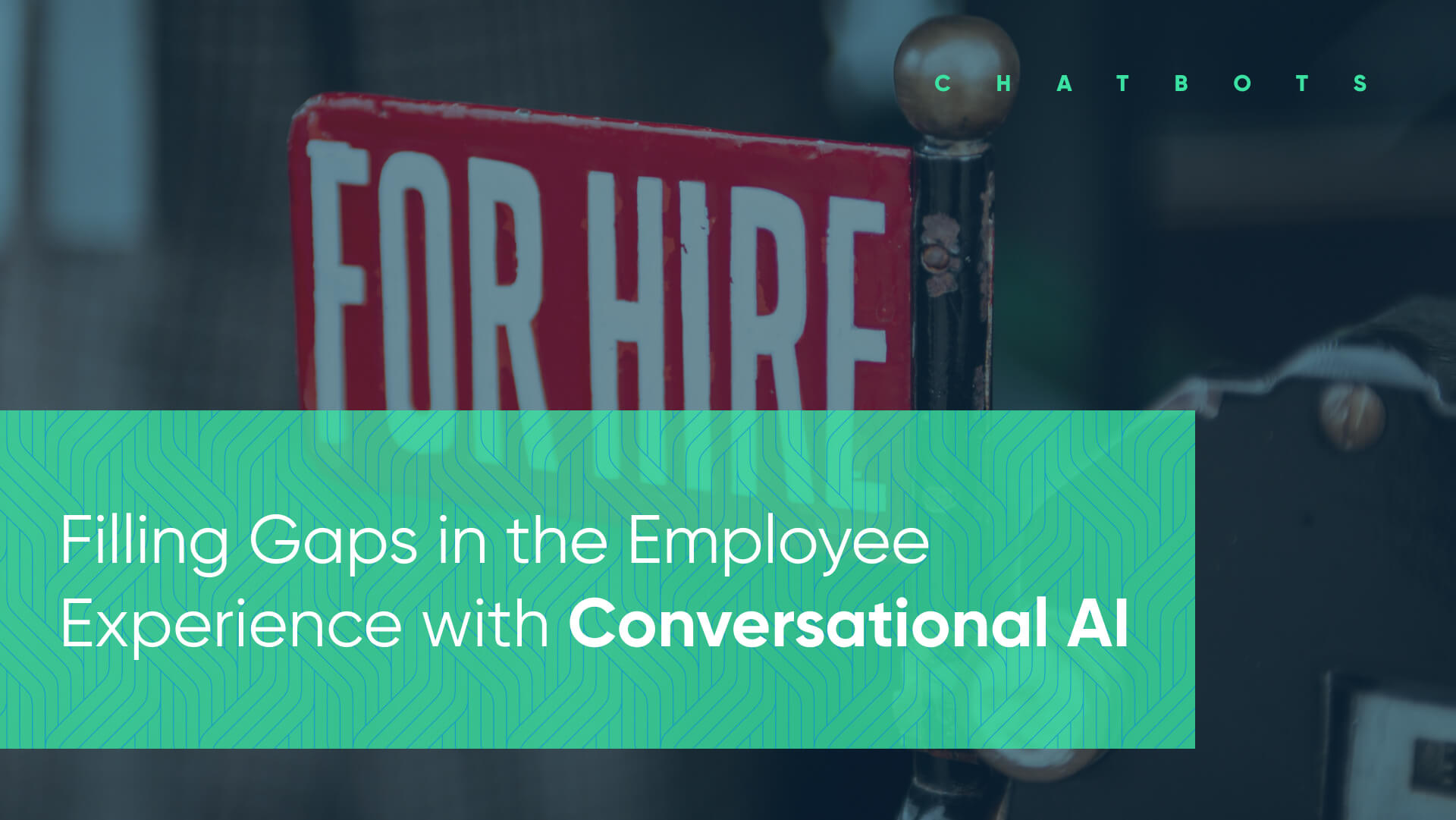 Let's start from the beginning. Hospitality is a highly unpredictable industry with high turnover rates. It always has been, and there will always be plenty of contributing factors that are out of restaurant operators' control. More and more businesses are leaning on HCM technology to identify and address an increasing number of key turnover KPIs. 
But the hospitality industry will continue to struggle with turnover until we address the root of the problem. Employee retention starts the moment a candidate considers applying to your business, yet those early-stage experiences are often neglected.
High-impact, early-stage processes include:
Multiple, easily accessible job postings

Soucing quality candidates

Screen resumes for best fits

Candidate engagement and interviewing

Onboarding 
Conversational AI holds massive potential to fill gaps in the employee experience by empowering teams to execute these early-stage candidate processes in a highly personalized way without adding additional operational burdens to (or outright replacing) your HR team.
What is conversational AI?
Artificial intelligence, or AI, is a tool used to help businesses understand and process data, predict outcomes, and so much more. And while it may be seen as an innovation of the future, chances are that you've already interacted with conversational AI in today's digital world.
Conversational AI guides users through a product or processes. It helps you get from Point A to Point B all while minimizing the need for third-party human interaction. 
Examples that you may be familiar with include online chatbots that help you navigate a website or direct you to a sales agent. Amazon Alexa is an example of highly sophisticated conversational AI that users interact with through a voice platform.
If you've ever been frustrated by a chatbot experience, chances are it wasn't used to its fullest potential. The goal of conversational AI should never be to replace your human team. In fact, the technology is best used when executed alongside your team of HR professionals, augmenting their operational and people management capabilities. 
It's a vital piece to the HCM puzzle that enterprise-grade hospitality businesses have been missing for so long.
Positive disruption: fixing the employee experience
We said the employee experience is broken, but what does that mean and where does conversational AI come into play? First, we have to start by understanding the core issues in the hospitality industry.
Restaurants have always struggled with:
Finding the right team of employees

Retaining those employees
Both of those major issues stem from the employee experience. Think about it, there are only so many line cooks, servers, or sous chefs in an area. Talent droughts aren't replenished overnight, which means businesses would do well to avoid short-lifespan hires.
Not only are you struggling to find talent, but you're paying to source, screen, and onboard new candidates — and the cost of turnover isn't cheap. Conversational AI is the next step in fixing these broken processes, improving hiring efficiency (and effectiveness) while also freeing up your team to focus on high-value initiatives. 
Managing "drought-to-flood" hiring
The talent crisis is a very real problem facing the hospitality industry. Thanks to COVID-19, the talent drought quickly turned into a flood.
When COVID-19 first hit, thousands of employees were left jobless and the average service worker applied to 30-40 positions before landing a role. Job applications currently average at 5x of what they were pre-pandemic. 
But a sudden boom of applicants doesn't mean restaurants have easier access to the right talent. If anything, the flood created extensively drawn-out hiring processes.
It takes approximately 3 interviews to make a hire. But before you can even get to the interview stage, HR must sift through hundreds of resumes to find the right candidates. For enterprise-grade businesses looking for multiple hires, these numbers can be massively inflated. It's impossible for a handful of employees to handle hiring at this scale, but that's exactly what we're asking them to do.
This process represents a huge opportunity for conversational AI.
Weaving AI into pre-hiring workflows transforms an arduous feat into a manageable task. Rather than manually sorting through hundreds of candidates, hiring managers are delivered smaller batches of candidates targeted towards specific hiring needs.
Those candidates can schedule interviews, receive and submit documents, or have their most pressing questions answered via a highly personalized chatbot that's available 24/7. HR teams can step in when needed, but the number of manual queries is significantly reduced and valuable candidates benefit from a high engagement process that doesn't let them slip through the cracks.
Streamline operations to boost retention
The hard and soft costs that result from turnover are huge, and team retention starts way back in the pre-hiring stages. Employees that don't communicate well with direct managers, aren't completely aligned with scheduling expectations, or that simply aren't a good cultural fit need to be identified early on in the hiring processes.
Integrating conversational AI empowers your HR team to focus on the candidates that will be a great fit, which creates an inherently better employee experience. In short, AI helps you hire successfully. But what defines a successful hire?
A the end of the day, a successful hire:
Has worked for you for an extended amount of time.

Is a cultural fit as soon as they start working.

Levels up your organization, adding value in multiple ways.

Fits into financial and budget requirements.
Successful hires minimize employee turnover costs while ensuring your team is filled with high-value workers. The more successful a hire, the higher their return value.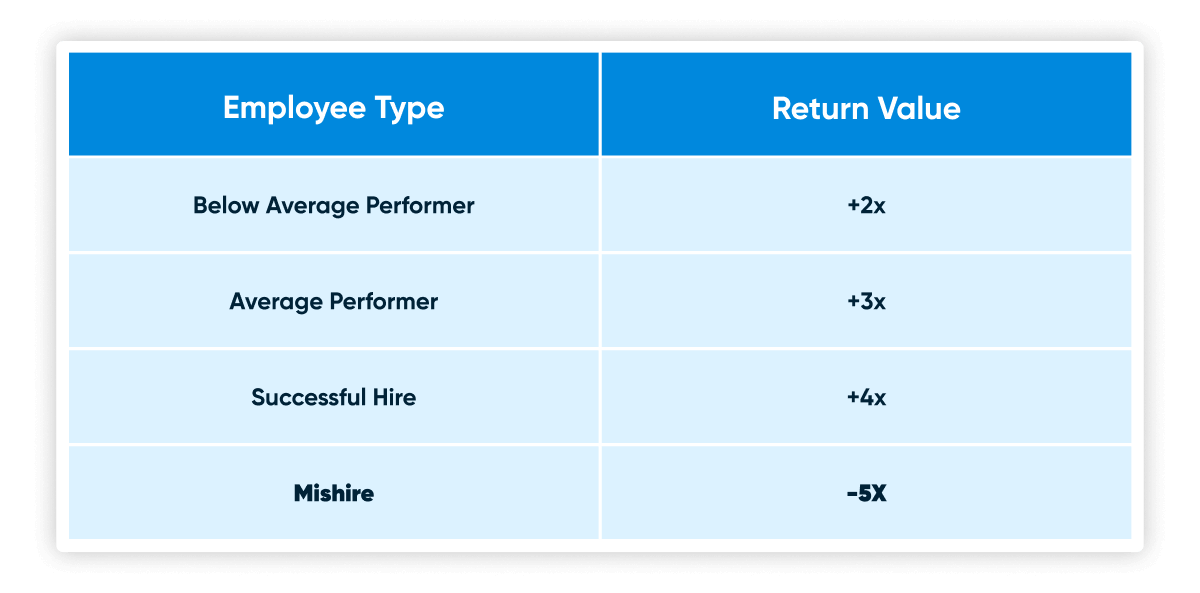 Your HR team is the first line of defense in avoiding the huge ramifications associated with mishires. But hospitality businesses, on average, allocate 1 HR professional per every 300-400 employees. 
That enormous ratio significantly decreases the odds that a business will land a truly successful hire. A thoughtful interaction of conversational AI can significantly streamline these processes, lighting a clear path to successful hires.
But we can't use conversational AI to solve the hospitality industry's talent crisis unless we address the problems that lead us here in the first place. After all, the talent crisis has been around for much longer than conversational AI.
Bringing firsthand experience into the fold
We recognized that the hospitality industry does a terrible job at people management, and a problem of that nature must be approached thoughtfully. It requires a solution grounded in a passion for helping the hospitality industry as a whole, including its front-line workers that execute essential day-to-day operations.
Say hello to Mike Evers. We brought Mike on board because he's personally invested in solving retention problems plaguing the hospitality industry. 
His expertise lies in his ability to build and grow teams of highly qualified, satisfied employees, and his teams saw 97.7% retention rates across all staff levels. Retention is a multi-faceted problem; he emphasizes that there's no one-size-fits-all approach to solving the talent crisis, "turnover is not a single variable. It's industry-specific, location-specific, or even relationship-specific."
Mike found the formula for successful hiring, and he came to Harri to scale that formula for the hospitality industry using conversational AI.
Mike's success working in hospitality, an industry with historically high turnover rates, speaks to his commitment towards employee retention. He spent more than 5 years in hospitality working across 17 different locations, But the biggest challenge was never developing menus or signing leases; it was finding the right team of people to run from an hourly standpoint.
In fact, the retention and HR-to-employee statics mentioned above are all products of Mike's research into the hospitality industry and factors affecting its turnover rate. Combine that drive to succeed with his first-hand experience helping restaurants build highly effective hiring processes, and you have a leader that does so much more than preach ideologies — he's a community leader who's walked the walk.
There's two sides to every coin, and Mike emphasizes the importance to see retention as a gap that can be filled, "turnover is the industry's largest opportunity and its greatest threat. Last year, the hospitality industry as a whole saw a 110% turnover rate. There's huge costs associated with that, but that also means there's no greater cost-saving opportunity."
Follow demand, invest in success
The journey towards fighting employee turnover began when Mike worked in the executive search space for hospitality businesses. Enterprise restaurants requested front-line workers far more often than C-level executives.
While it represented a clear need, it wasn't necessarily a huge opportunity; recruiting front-line employees can't compare to the profits earned when recruiting executive staff. Not to mention they're much more susceptible to early-stage turnover. But sheer demand for line cooks or sous chefs led Mike in that direction. 
That resulted in strong relationship building with those front-line workers, which is exactly where Mike realized the crux of the hospitality industry's talent crisis. Front-line employees are the industry workhorses; restaurants simply cannot function without them. Yet despite their importance, the investment and development of these employees take a backseat to almost any other restaurant operations initiative.
"Business operations don't focus on the personal, professional, or career drivers in an employee's work. If you want your people performance to drive strong business performance, you need to start there."
In the recruitment space, you do become invested in your candidates, in this case, those front-line workers. And when you're attaching your name to a candidate, your name rides on their success. They need to stay in that role for 90 days at a minimum. 
Mike's formula to success boiled down to the fact that he did invest the time in these front-line workers. When you check in with someone every step of the hiring process, ensure their concerns are addressed, and even make sure the employee-to-manager relationship is great, you're going to secure some really great hires.
But while this approach was highly successful, it's incredibly time-consuming and difficult to execute in large-scale hiring operations.
There's no doubt that Mike's model was successful. Unsuccessful team-building efforts don't yield 97.7% retention rates. But at the time, his formula for sourcing and retaining high-value talent was impossible to scale. A tech solution was the obvious next step, but the hospitality industry wasn't quite there yet.
Everyone wanted to jump into conversational AI, but businesses weren't fully sure how to use it to its fullest potential. Nobody wants to invest in and build large-scale processes off of a half-baked structure.
We built Harri to address gaps in the employee experience specifically with the hospitality industry in mind. We had big plans to grow our platform into an enterprise-grade tool that empowers restaurants to create employee experiences that are both streamlined and highly personalized. And we're working with conversational AI to meet those goals.
That's what lead us to develop Carri, an AI-driven hiring assistant that takes the concept of a chatbot and evolves it into something much more humanistic. We understand exactly what candidates are looking for in a company and what employers need to run efficient, effective HCM processes. It's a platform that can take something like Mike's successful hiring formula and scale it into something even greater. 
Carri was built to revolutionize the hiring experience, and that starts with engaging candidates at scale. By turning applications into conversations, Carri manages everything from chat-based application processing to inbiased interview coordination and everything in-between.
When candidates have questions regarding interview dress code, benefits, or application paperwork, Carri can assist. If they ask something more complex, she'll call in the hiring manager to provide further information. Every step of the application flow, including screening questions and candidate replies, can be customized based on role, brand, or location to ensure a truly personalized experience every time.
Why is this important? Carri doesn't eliminate the human from the hiring process, but she does significantly improve time-to-hire by stepping in and eliminating tedious back-and-forth that would otherwise delay the interview process. Time kills all deals, and the hiring process is no different. What's more, she ensures great first impressions by injecting culture into every application journey even before the first interview. 
Charting the future of hospitality with conversational AI
While there are plenty of tech solutions aimed at improving the employee experience, the application of conversational AI is the push that the hospitality industry needs to solve long-standing problems surrounding employee turnover. 
We're looking forward to addressing turnover right from step one of the pre-hiring process with Carri. Our team is setting the precedent of investing in your greatest asset, your people, to drive stronger business performance.
Emphasis on people, because as we empower businesses to scale their hiring operations, we're not looking to replace HR teams. Instead, we'll amplify HR and People Operations with conversational AI to keep the process as human as possible while maximizing efficiency.