How to Improve the Hospitality Candidate Experience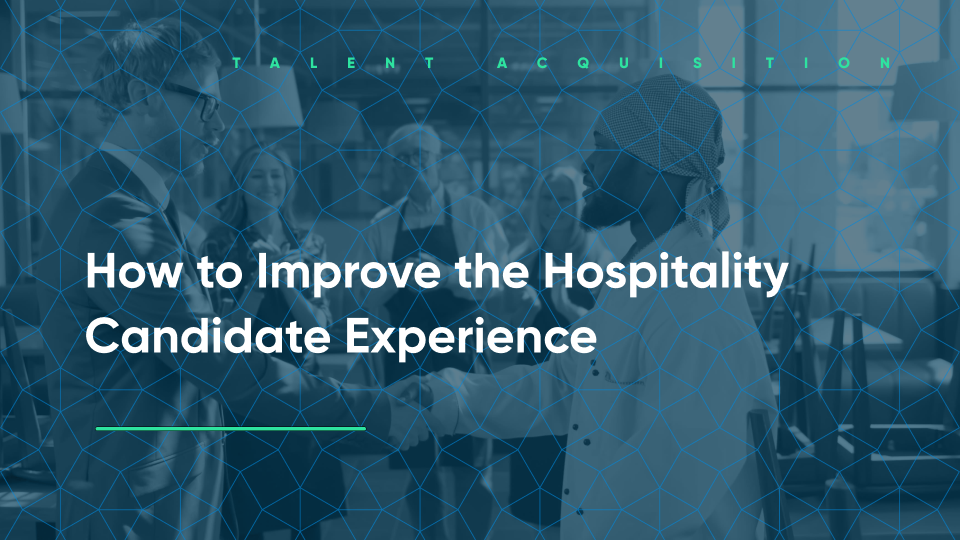 Finding quality talent in any industry is tough, but it's been especially so for the hospitality industry as of late. The competition for quality candidates has become fierce, and the recent shifts in labor power dynamics often have job seekers with the upper hand.
The most recent data from the Bureau of Labor Statistics suggests this trend isn't going anywhere any time soon, and data from 7,000+ hospitality workers in our Hospitality Compensation Survey further supports this.
One compelling data point that we found tells us that 52% of hospitality workers plan to change jobs within the next year in order to achieve a raise.
But compensation alone isn't the only way to attract and retain talent. Operators must take a multi-pronged approach to talent acquisition, setting candidates up for success before they're hired to ensure a smooth and successful long-term brand commitment.
As hospitality brands ramp up talent acquisition efforts, tech-based strategies tend to be the most effective ones. We outline steps to ensure a high-yield recruiting pipeline, as well as the many ways talent acquisition software can give you a leg up in the labor shortage.
Optimize job posting processes
Advertising a vacant position in 2021 means far more than simply hanging a "Help Wanted" sign in your front window. Industry leaders are tapping into multi-channel hiring strategies maximize reach, targeting multiple websites and job boards at once.
We also know that more hits on your application doesn't always mean a better hiring process — the quality of your applicants is just as, if not more important. Otherwise, your managers are wasting time hiring and training fleeting talent.
That's exactly why we offer the tools you need to post your job listing where it will be seen by the people you're actually looking for. 
Multichannel job posting allows managers to take one job post and broadcast it into the hiring platforms. The ability to configure openings by location and brand adds further customization options while still maintaining highly streamlined hiring processes.
The beauty here is that all applicants funnel into the same ATS no matter what job board they applied from. This enables a highly accurate, real-time view of all candidate statuses, which can be viewed at a glance.
Captivate candidate attention
You might be surprised to find how few brands offer highly competitive salaries, but fail to highlight that information upfront. Salary information is often delivered in a one-liner at the end of a lengthy job description — no wonder applicants pass over those opportunities!
Being vocal about internal promotion in the interview also is a huge boon, making you up to 5x more attractive to candidates. According to data from LinkedIn, internal mobility is up 20% since the onset of COVID-19. Be at the leading edge of business and don't forget to source talent from within your ranks. 
An even better tactic is to advertise those advancements to incentivize potential candidates to consider your company at the top of their list. A company that can show future stakeholders that they value their talent and put the time and energy into developing them will make getting to yes far easier.
Our Talent Acquisition Suite contains tried-and-true interview templates to ensure your job descriptions are as effective as possible. Create your own branded templates, or push mandatory templates down to the job-level or the location-level.
Combine that with granular hiring insights to understand which job descriptions are performing best, and your team instantly becomes better positioned to captivate candidate attention at scale. We also outlined a few additional examples in our Best Practices in Recruiting Guide for additional insights straight from our team of hospitality recruiting experts.
Streamline application management
We believe operators spend too much time tracking applicants the old-fashioned way. Is your version of an applicant tracking system still a box of manila folders in a "yes" and "no" pile? Or do you replicate a digital version of this exact process?
With a variety of applicants coming from several sources, we know how frustrating it can be to ensure you don't miss a golden opportunity for a new hire before someone else jumps on it. 
Our robust applicant tracking tool funnels all the data you need into one location. Managers can view key applicant info at a glance and always know what stage of the interview process they're in, allowing for timely and accurate follow-ups to ensure faster response times. 
A simple drag-and-drop interface empowers managers to easily swipe through and organize candidates, making quick work of hiring tasks whether you have 50 or 500 applicants.
We all know that speed is critical during the labor shortage, making this extra handy for managers overseeing large-scale, cross-location hiring operations.
Ensure expectations meet reality
Nothing is more frustrating for a candidate than showing up to an interview expecting to be working lunch shifts only to find that dinner shifts are mandatory a few nights a week.
Just like the employee experience, the candidate experience has a huge impact on retention. But what happens when those two experiences overlap during the onboarding process? To put it simply: transparency is key.
Aligning expectations means you're matching your candidate's availability with the needs of your schedule. Understanding where those gaps are on your roster can be a challenge in and of itself.
This is where smarter scheduling comes into play. Not only can you ensure new hires are paired up with the best staff to learn on-the-job skills (all while keeping a keen eye on labor spend), but you can simultaneously ensure their scheduling needs are met. And if your scheduling platform is flexible enough, you can enable employee shift swaps or self-submitted availability changes, then automatically implement them in weekly schedules.
This is as much of a win for managers as it is for employees. Suddenly, the task of managing labor and keeping team satisfaction high can be automated in a highly effective tool.
It's also advisable to make sure your training schedules are clear and consistent so that both your veteran team members and new hires are on the same page. Having a single point of contact for training, whether that be a manager or a seasoned hourly employee, also means less confusion for new hires and more opportunities to ask questions.
We integrate training right into our employee dashboard so that your candidates aren't looking for extra log-in information and asking you to reset their password for the fifth time. Having a one-stop mentality when it comes to running your business keeps operations efficient.
Hospitality hiring initiatives have been supercharged, to say the least, as hospitality's (already high) turnover rates skyrocket. As a result, more and more hiring managers are seeking assistance to attract, screen, engage with, and ultimately, hire new talent.
AI-powered tools are the natural next step here, providing support with administrative hiring tasks to empower managers to dedicate their precious time towards candidates that count.
That's exactly why we developed Carri, an AI-powered hiring assistant. So much more than a chatbot, Carri is a hiring ambassador, taking on a number of hiring tasks to create a hiring experience that's highly engaging and personalized. 
Application processing, personalized screening, interview coordination, custom engagements, and more. Carri manages end-to-end hiring processes to reduce drop-off rates by providing candidates the instant gratification that they crave. 
We all know that long, redundant application experiences are the fastest way to push candidates away. Hospitality job applications should be able to be completed in under five minutes. 
With that in mind, mobile-friendly applications are winning. Chat-based, text-based, and QR code-driven processes leading the charge.
Accessibility is the key to Carri's success. Carii distills entire application experiences into an easy-to-use process via SMS, QR codes, WhatsApp, Facebook Messenger, and even your career page livechat.