Why Restaurant Chains Need Enterprise Communications Tools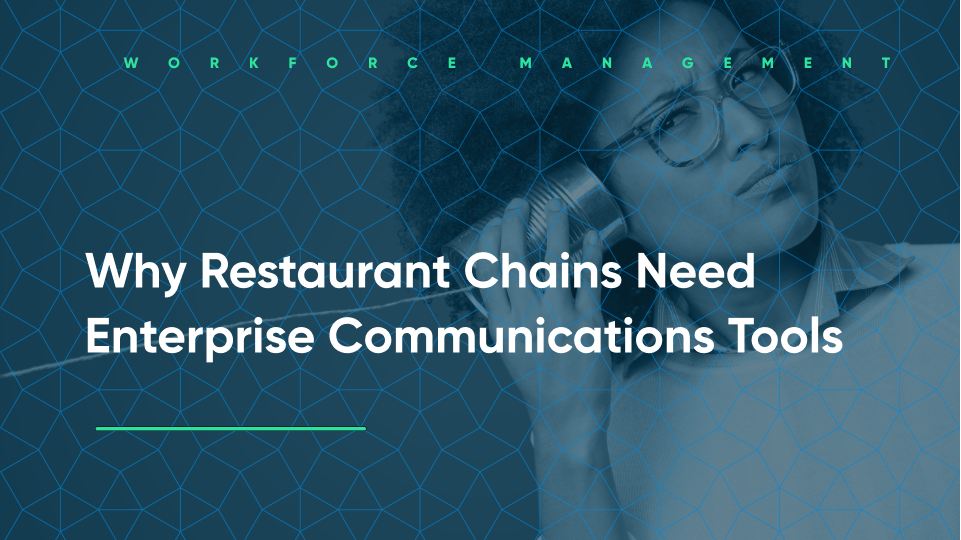 While most hospitality operators will acknowledge that team-wide communications at the macro AND micro level are important, but will put in the time and effort into creating a proper communication system. 
Communication is as big a part of the strategy as keeping up with competitors on the latest menu items. That's because it all funnels into the employee experience, a crucial factor in talent attraction and team retention.
Our 2021 Employee Employee Survey asked 7,000 hospitality workers the most important pieces of their employee experience, and "feeling part of the team" ranked number two on the list.
As the labor shortage continues to push workers away from the hospitality industry, finding ways to help employees feel part of the team and connect with your brand is through solid communication. 
Enter: enterprise communication tools.
While not as common in hospitality, these tools are crucial to a restaurant brand's success. So, why should you invest?
Double down on culture to improve retention
There's a reason why company culture is taking center stage as we navigate a post-pandemic world.
People are more committed to something when they feel like they're part of an initiative. Whether you're launching a new branding campaign or are building a workplace that encourages team engagement, communication is essential to employee buy-in.
That's exactly the reason why solid communications result in higher team productivity. Not only are your employees enabled to perform their job better, but they'll be more excited for the initiatives that you're launching.
This is especially true for hospitality chains where that familiar "family feel" is the centerpiece of the employee experience.
Say you're hosting a brand-wide community give-back event, like a food drive. Imagine each location sharing pictures internally of how successful the event is and how excited customers are to donate. That will drum up excitement and encourage long-term retention in a genuinely authentic way.
Supplementing moments like these with accessible communications lays the groundwork for internal brand ambassadors, and that's a huge win for culture and retention.
Minimize confusion in the workplace
The ability to send announcements and keep the entire team informed ensures smooth operation in everything from food preparation to team scheduling. 
Consistent communications is key, and with the right tool, managers can effectively communicate changes and news to all relevant employees in an instant.
Have a new weekday special? Send pictures and announcements to the whole team, while separating messaging to front-of-house and back-of-house employees filling them in on details relevant to their roles.
No more playing telephone or hoping a manager relays important messages to every team member. Enterprise-grade communications ensures consistency and clarity throughout your entire brand.
Get a better handle on crisis management
As the saying goes, all press is good press, but effective communication systems are crucial during a crisis moment. If COVID-19 taught us anything, it's that operators must be proactive, not reactive.
Employees that feel like they only know half of the story will be left to their imagination. When the rumor mill starts spinning, that's when you lose productivity as well as hard-earned trust.
Not to mention that strong team relationships are critical to retention as we navigate The Great Reshuffle.
Transparent communications eliminate that possibility by keeping your team in the know on the current situation and informing them of next steps.
Communications expectations are changing. Employees need to be met where they are in order to ensure a message is received and understood. Press releases and office memos are stuffy and distant. Mobile communications and status updates feel genuine and accessible.
That same concept should apply to the way your teams communicate internally, especially to your frontline staff.
People are at the core of hospitality. The reality is that those people must be empowered to communicate strongly across all levels, in both a professional manner (enablement) and a personable matter (culture building)
After all, who doesn't want to work at a company where they feel appreciated, heard, and part of a team?