You Had Me at Hello: Hiring Starts With a Conversation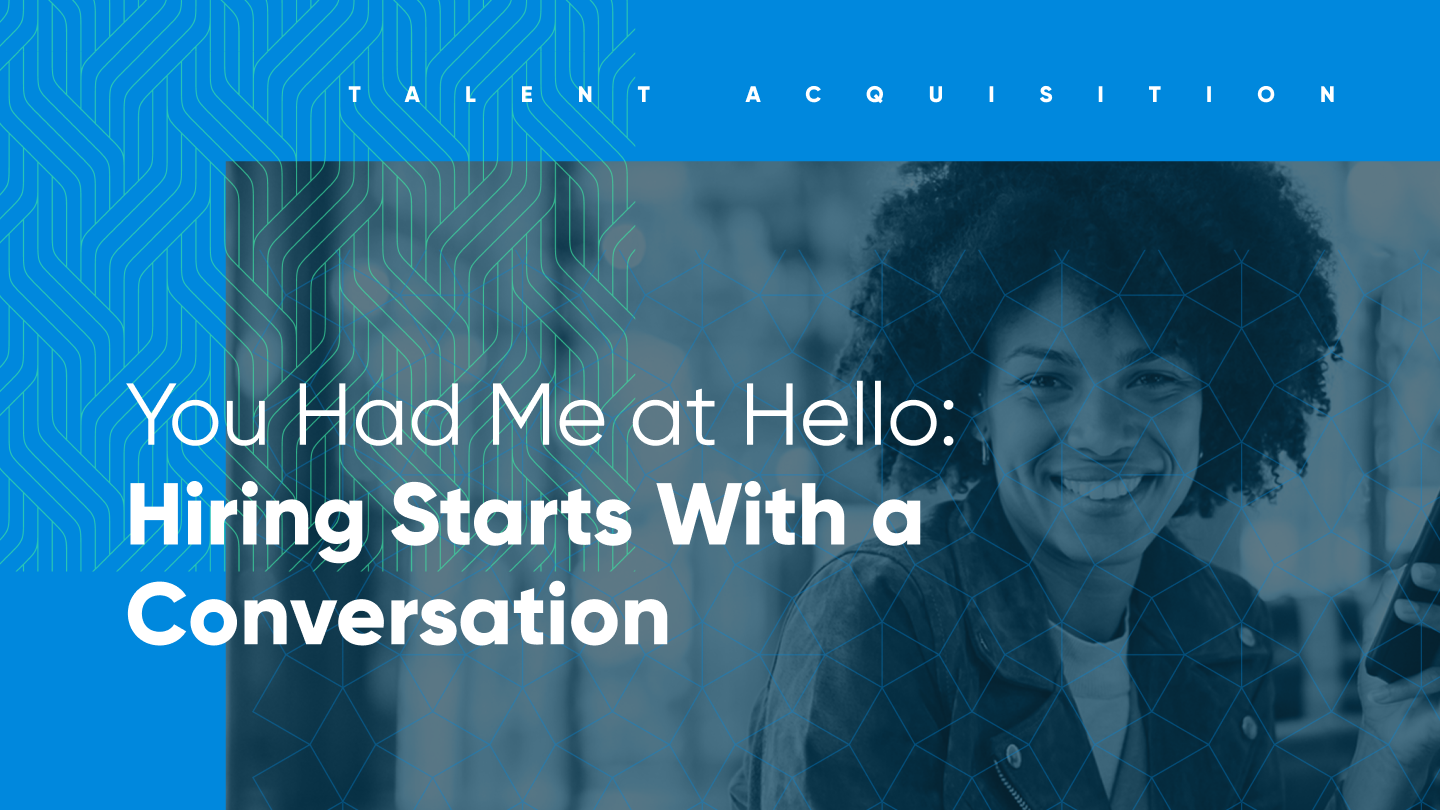 This blog covers the Harri Talent Acquisition Suite. Dive deeper into each of our hospitality-driven talent acquisition products below:
Hospitality's hiring landscape is rapidly changing. Mass job openings and displaced talent in the wake of COVID-19 mean that applicants can afford to be picky about job preferences, compensation offerings, and where they'll spend time applying.
So what does that mean? Candidates need more ways to apply for and complete hospitality job applications. And those applications need to be quick yet highly personalized.
Most hospitality managers don't have time to manually engage with each and every candidate, let alone craft a personalized experience. Brands that invest in technology that can manage high-touch recruiting at scale will win the race for talent.
So, what tech solution should operators be looking for? Allow us to introduce Carri, a conversational ambassador that fills the gaps between managers and applicants to provide unparalleled connectivity and humanize the candidate journey.
Whether you're hiring 10, 100, or 1,000 hospitality workers, Carri vastly improves talent acquisition efforts by making it easier for candidates to find, apply for, and resonate with your job openings.
Let's dive into how Carri can revolutionize your hiring processes to successfully hire high-quality service-level hospitality employees.
Frictionless applications available anywhere, anytime
For service-level jobs, application optionality is important. In-store job advertisements might be eye-catching, but if a prospective candidate doesn't take action before leaving your store, the opportunity will be forgotten. And as more and more applicants shift to mobile, desktop applications are proving less effective.
Application flexibility and adaptiveness are some of the best first impressions a hospitality business can give its prospective applicants, improving candidate volume and quality.
Carri enables a frictionless, flexible application experience by giving prospective applicants the ability to initiate the application process from any device. Text a number, scan a QR code, or send a message via communications channels like Facebook Messenger, WhatsApp, or a web-based chat (hosted on your career page). 
Once a candidate sends the first message, Carri will set them up for success by collecting contact information, relevant skills and job experience, and overall guiding them along a quick text-based application.
Because Carri gives applicants the ability to initiate and complete the application process from any device, she breaks down many of the barriers associated with traditional job applications. Decreased application friction means high volumes of incoming applications — and completed ones at that.
Candidate communications and logistics automation
While talent acquisition is undoubtedly a top priority for hospitality operators at this time, screening and managing candidates is an entire job in itself. 
Most restaurant managers are tasked with hiring new staff but are far too busy to consistently execute successful talent acquisition processes — and understandably so! When you're juggling ever-changing employee schedules, food quality, restaurant sanitation, employee training, and customer demands, candidates are bound to slip through your fingers.
But we don't need to accept this as the only reality of hospitality hiring.
Carri manages end-to-end communications for the basic interview process steps to ensure every candidate is engaged with and accounted for.
Candidate communications managed by Carri includes:
Conducting screening questions

Answer candidate questions regarding the interview process, the role, or the company

Coordinating interviews based on candidate and manager availability

Providing onboarding and new hire documentation

Ensuring documentation is completed and approved on both ends
Why is this important? While Carri handles basic logistics, managers can focus their time and efforts elsewhere, on the day-to-day operations that cannot be automated or assisted through the use of technology.
Does a candidate have sufficient wine knowledge? Do they have 2 years of management experience? Have they worked for a partner brand in the past? Carri will automatically ask screening questions specific to each role to ensure the right hires that meet your performance and culture expectations.
So much more than just a chatbot
What makes Carri so impactful is that she keeps the "human" in "human resources" by ensuring perfection down to the last detail. As an AI-powered conversational ambassador, Carri was built to automate large-scale candidate communications that look and feel human.
It might seem small, but it's these experiences that can make or break an application experience. After all, candidates can sniff out insincerity a mile away.
Carri is sophisticated and communicates conversationally — just like a human would. While typical chatbots can only process one request at a time (and simple ones at that) Carri can process multiple questions within a single question to keep a steady flow of conversation. No errors, no "try asking that a different way," no frustration.
Not only is this key to creating a streamlined candidate experience, but it allows managers to gather more valuable information and sentiments from candidates to improve the overall quality of new hires coming into the pipeline.
A sample conversation with Carri might look like this:
Candidate: Can I change the interview time to 2 pm? Where should I go for the interview?

Carri: It looks like the hiring manager is available at 2:30 pm EST for an interview. Does that work for you?

Carri: You can come in through the front entrance and let the host or hostess know your name. They'll guide you to the back to check out the kitchen and meet with John for an interview.

Candidate: Yes that works

Carri: Great! I've rescheduled your interview with John Doe for 2:30 pm EST. Best of luck and let me know if you have any other questions! 
When a human touch is needed, such as to answer a very specific question Carri will alert managers to step in and ensure constant contact. 
That intelligent and extended functionality expands into the back-end, too, with action-oriented messaging.
Say you have a chatbot that processes 500 applications per day. Does it keep track of applications coming from different sources? Does it funnel all of these applications into the same ATS and display your candidate pipeline at a glance? Can it not only add, but automatically update a candidate's status in your ATS and remove them from the funnel based on the hiring process?
If you answered no to any of those questions, you're adding a huge hiring burden to your already busy managers. Candidate funnels need to be optimized, and an AI-driven tool like Carri transforms this into an accurate, transparent, and automatic process.
Ready to say hello to Carri?
Hospitality's labor shortage isn't going away, which means that in order to execute consistently successful talent acquisition strategies, every application needs to count.
Carri makes the most out of every application and empowers managers to do more with less. Learn how Carri is improving the hiring journey for top hospitality brands like yours.