Can An All-In-One HCM Platform Maximize the Employee Experience?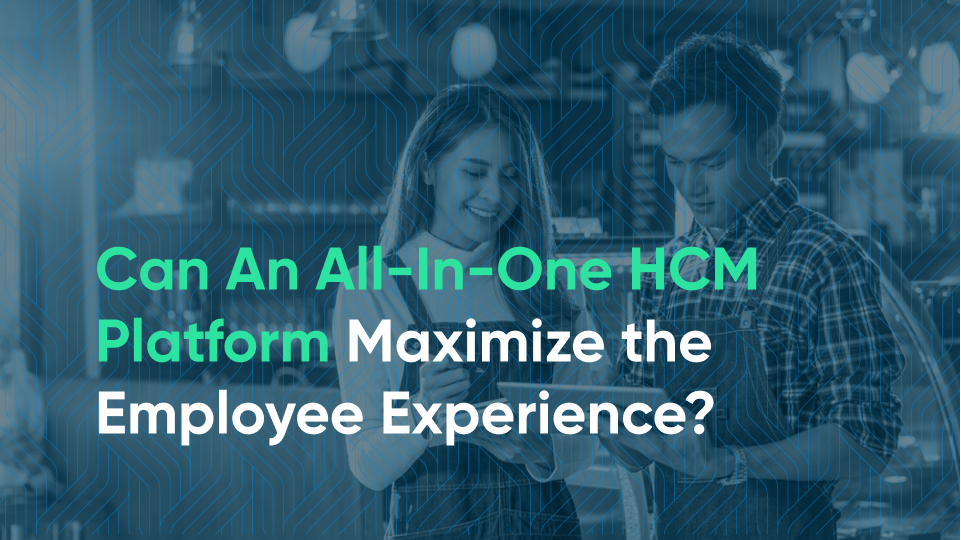 Hospitality is reawakening has ushered in a new era of tech adoption, and with that, new management and organization expectations. As operations ramp up, an increasing number of businesses are finding themselves outgrowing old processes and legacy systems.
 No longer will Excel sheets and pen-and-paper onboarding be sufficient to manage your employees. Technology is needed to drive results.
Hospitality brands are turning to all-in-one HCM platforms to:
Improve operational efficiency

Create a transparent work environment from top to bottom

Provide accountability

Ensure compliance

Bolster communications
However, not all HCM platforms are of the same caliber. Hospitality's unique and nuanced operational challenges means your tech solution should be built to handle the wide breadth of demands that come with restaurant management. 
Key considerations for an all-in-one HCM platform
First and foremost, hospitality operators need an all-in-one HCM platform verticalized for the hospitality industry. Why? That's because hospitality is filled with so many niche challenges, such as stacking compliance requirements or labor supply, that anything else will only add friction to your operational processes. Secondly, you should look for a platform that prioritizes the employee experience for front-of-house employees.
Your upfront considerations don't need to be as detailed as an RFP, but they should include some broad, guiding questions that speak to your main pain points and long-term goals.
Here are some examples of capabilities and EX-driving functionality that you should look for in an all-in-one HCM or WFM platform.
1. Does this solution maximize our employee experience?
The notion of working in HR has changed dramatically in the last year, particularly those in the restaurant industry. With turnover rates at an all-time high thanks to the pandemic, HR teams need to create a company culture that engages and retains employees. 
At Harri, we believe that a good HCM tool should be designed to put people first. 
When platforms focus too much on tracking and management, you lose that human element that empowers managers to connect with employees. There are several ways an all-in-one HCM platform can encourage employee-first initiatives, and that starts with the onboarding process.
From training plans to manager check-ins, a little human interaction goes a long way — especially in an industry like hospitality where workers are typically seen as assets rather than people.
Gauging employee sentiment in a natural way is key to humanizing the employee experience and boosting retention. Maybe you want to let employees rate their workday on a scale of 1-10 each time they clock out for the day. 
If an employee has an iffy day, managers can reach out to learn the cause. Maybe it's something unavoidable, like a rude customer. Or maybe the employee's scheduled shift times are starting to interfere with their personal life. The latter can be improved on, thus improving the employee experience, but you'd never know that if your HCM platform doesn't enable employee engagement.
2. Does this solution streamline our core business?
If your managers are bogged down by administrative tasks, how can they excel in their roles and curate an amazing employee experience? Chances are high that they'll gloss over secondary tasks, such as employee check-ins, like we mentioned above.
Inefficient core HR processes means your team is wasting time and money. Not to mention they're probably frustrated. This is where an all-in-one HCM platform comes into play, with a huge emphasis on the "all."
Say you have a new hire. Does your team utilize multiple point solutions to interact with that employee from pre-hire to post-hire? Does key employee information need to be manually added and updated in each respective system? Do you need to import scheduling and TA information each month to calculate accurate payroll? 
If you answered yes to any of those questions, your team will greatly benefit from the tech consolidation that comes with an all-in-one HCM platform. And that consolidation streamlines everything from onboarding and backend HR processes to front-end operations like scheduling. 
Your HCM platform should work with your team, not create additional friction. When your HR processes are streamlined and air-tight, focusing on the employee experience becomes that much easier.
3. Does this solution enable collaboration and cross-functional productivity?
If 2020 taught us one thing, it's the importance of teamwork. Whether you're working with front-line employees or multi-unit managers, technology is the glue that enables company-wide collaboration. Your HCM platform must overcome disconnections and broadcast company culture to create a sense of belonging.
Hospitality businesses should seek solutions that allow custom collaborative workflows. Communication tools should be flexible enough to facilitate multiple cross-functional conversations at any time without breaching SMS-based employee contact laws, such as those in California.
Harri's employee chat app fosters meaningful communications to boost productivity across all levels. New employees, for example, are automatically added into chatrooms with their direct managers and team members in the same position and location. This ensures every employee has direct access to crucial information related to the company as a whole or can get shift-based questions resolved. These groups are entirely customizable by HR, enabling highly customized communication ecosystems.
Top-down communications are equally as important during COVID-19 to ensure team members are fully aligned and company culture is broadcast during periods of uncertainty. Facebook-style newsfeeds allow corporate to push down crucial messaging related to products, policies, or anything else of note. It can also be used to share and comment on images of in-store happenings — like a picture of your new line cook serving up their first entree. Timeclock popups let HR send similar messages to employees the moment they clock into a shift, such as new employee-first initiatives or a team member birthday broadcast.
Hospitality collaboration is made up of a lot of small details, but when done correctly, it makes all the difference between a good employee experience and a great one. The right HCM solution makes it easy to capture these moments and ensure company-wide alignment.
4. Does this solution help us grow?
A hiring boom is following hospitality's return, with the industry welcoming hundreds of thousands of job openings since peak pandemic times. But that doesn't mean talent will come knocking. 
With hospitality employees leaving the industry in droves, hiring managers need to get creative when it comes to talent attraction. The ability to process information from multiple locations and attract talent from a variety of places is critical to promoting growth. 
The right HCM solution enables them to cast a wide net via diverse job boards, effectively screen out those who aren't best fits, and effortlessly engage with candidates throughout the hiring process.
But we all know talent acquisition doesn't end there. Once you've successfully sourced and screened top talent, hiring managers must coordinate with candidates and team members alike to schedule interviews and ensure timely follow-ups to move incoming talent along the recruiting pipeline. It's an extremely manual process that's even more daunting when overseeing hundreds of applications across multiple locations. 
Utilizing HCM software with fully integrated ATS tools is the best way to ensure no candidates slip through the cracks. When all candidate information and interview statuses are neatly organized in a streamlined CRM, next steps (whether for your team or the candidates) are accessible at a glance. And if that ATS weaves together data from early application stages with updated interview feedback and notes, the possibility of data misentry is eliminated.  That level of transparency and unification naturally breeds more efficient hiring processes.
And if the entire pre-hiring process can be supplemented with conversational AI? You'll create a highly engaging, personalized application experience that sets candidates up for success from the beginning.
5. Does this solution solve our needs at scale?
From QSR franchises to full-service restaurants, all hospitality businesses face unique challenges fit to their subvertical and geographic location. The correct HCM platform should be flexible enough to accommodate even the most nuanced needs as your business grows.
The problem is, most HCM software offer structured solutions that cannot accommodate these unique needs at scale. They either fail to address core hostility requirements or offer niche, high-friction point solutions.
Compliance is a great stress test to gauge a solution's adaptability, and you often find this with HCM platforms verticalized for the hospitality industry.
As your business expands into new cities and states, compliance challenges will undoubtedly alter day-to-day operations across your organization. Your HCM platform should be able to turn on location-based compliance tools like a switch in respect to new hire documentation, scheduling, payroll, communication restrictions, and anything else related to people-driven operations. When those challenges are automatically accounted for, scaling becomes that much less difficult. 
And that modularity should apply to all workforce management processes. A great HCM platform will fit into your existing workflows to minimize disruption during periods of growth. An even better platform will challenge unscalable processes and work with you to ensure long-term profitability.
An all-in-one HCM solution is essential to maximizing the employee experience. But that solution must be able to keep up with a rapidly evolving hospitality industry, and with that, the everchanging needs of your organization. 
At Harri, we are committed to providing the best tools possible to the hospitality industry. That's because we're built up of a team of former restaurant franchisors, franchisees, managers, and more — we've been in your shoes and genuinely want to build a better industry.
Times are rapidly changing, are you keeping up? See how an all-in-one workforce management platform like Harri connects the dots between vital HCM processes to drive a better employee experience, and with that, operational success.