Interview Management & Video Interviewing: The Future Hospitality
This blog covers the Harri Talent Acquisition Suite. Dive deeper into each of our hospitality-driven talent acquisition products below:
The industry-wide labor shortage plaguing hospitality brands is redefining the way we approach talent acquisition. As managers struggle to attract and retain talent, new trends in talent attraction are emerging. 
Coming out of the pandemic, the scales are tipping in favor of applicants. More emphasis is being placed on the candidate experience than ever before as hospitality brands attempt to win over talent. 
How are managers creating enticing candidate experiences without overburdening their teams? The most successful cases shift focus to the basics and re-imagine the interview process.
Why is interview management important?
Hospitality never slows down. That's equally as true for customer expectations as it is for candidate expectations. As brands fight to win over talent amidst a labor shortage, first impressions are everything. That means customization, convenience, and instant gratification. 
Operators need a way to move candidates along the hiring pipeline before they lose interest in the application process, or worse, move to a competitor. As a result, hospitality giants are transitioning to fully integrated recruiting technology to secure a competitive edge.
Ensure all candidates are accounted for
For managers overseeing multiple stores, dozens of team members, and hundreds of candidates, keeping track of interview status can be incredibly challenging. When and where is Candidate X coming in to interview? Who are they interviewing with and is there a backup interviewer?
And if you're posting openings on multiple job boards, do all of those incoming candidates filter into the same interview management system?
Processing these details in one singular platform is necessary to eliminate confusion and ensure applicants are steadily moving along the hiring process and into your workforce.
Turn the backburner on
While you'll undoubtedly come across candidates that aren't a good fit for the brand or role, you might come across someone who isn't a good fit at this moment in time.
Maybe their scheduling availability doesn't work with your needs because of their current school semester. Perhaps someone doesn't quite have the experience to be a store manager, but you believe after 6 more months of working in the industry they'll be a great potential employee.
Passing up on talent (that's already interested in your brand, nonetheless) would be an incredible waste.
The right tools can recycle candidates back into your hiring pipeline so you don't lose their information and resurface them after a certain period of time to restart the interview process — all without clogging up your hiring pipeline and distracting from active talent.
Get the full picture of incoming talent
You have 50 candidates in the pipeline, great! How many are applying for a counter service position in Location 1? Do any of them have bartending skills? Do they have the capability to work across multiple store locations? Is anyone interviewing as a part-timer to cover busy weekend shifts? 
Even if you can view all candidate information in one location, it can be difficult to remember details without clicking into each candidate profile. Large-scale hiring efforts require streamlining and consolidation without losing key information.
Interview management software allows you to view important details at a high level, ensuring full hiring pipeline transparency at-a-glance.
Video is the future of hospitality hiring
COVID-19 ushered in a new wave of technology as workers navigated social distancing and safety requirements. With that came the rise of video interviewing.
But what many thought was a one-time hiring trend is here to stay.
There's plenty of benefits that come with video interviewing: It's a guaranteed COVID-safe interviewing method. It's less stressful for applicants who are prone to interview jitters. It saves candidates a commute.
To a manager, providing video as an interview option may not seem like much, but the added flexibility can make a world of difference in a highly competitive hiring climate.
Say an applicant is interviewing with both your company and with a competitor down the street. If you don't offer video interviewing but the competitor does, that candidate is much more likely to choose them over you.
While we can't deny the value of in-person interviewing, providing that virtual option goes a long way in the candidate experience.
But when it comes to backend logistics, not all video interview tools are created equal. The right video interview tool is easily accessible to all applicants — no need to download new apps or create additional logins. If the candidate can initiate a video interview using the same platform they applied for your job on, that's a huge win.
And on the backend? The ability to start and access candidate videos in the same place where candidate details can be found ensures hiring productivity for managers.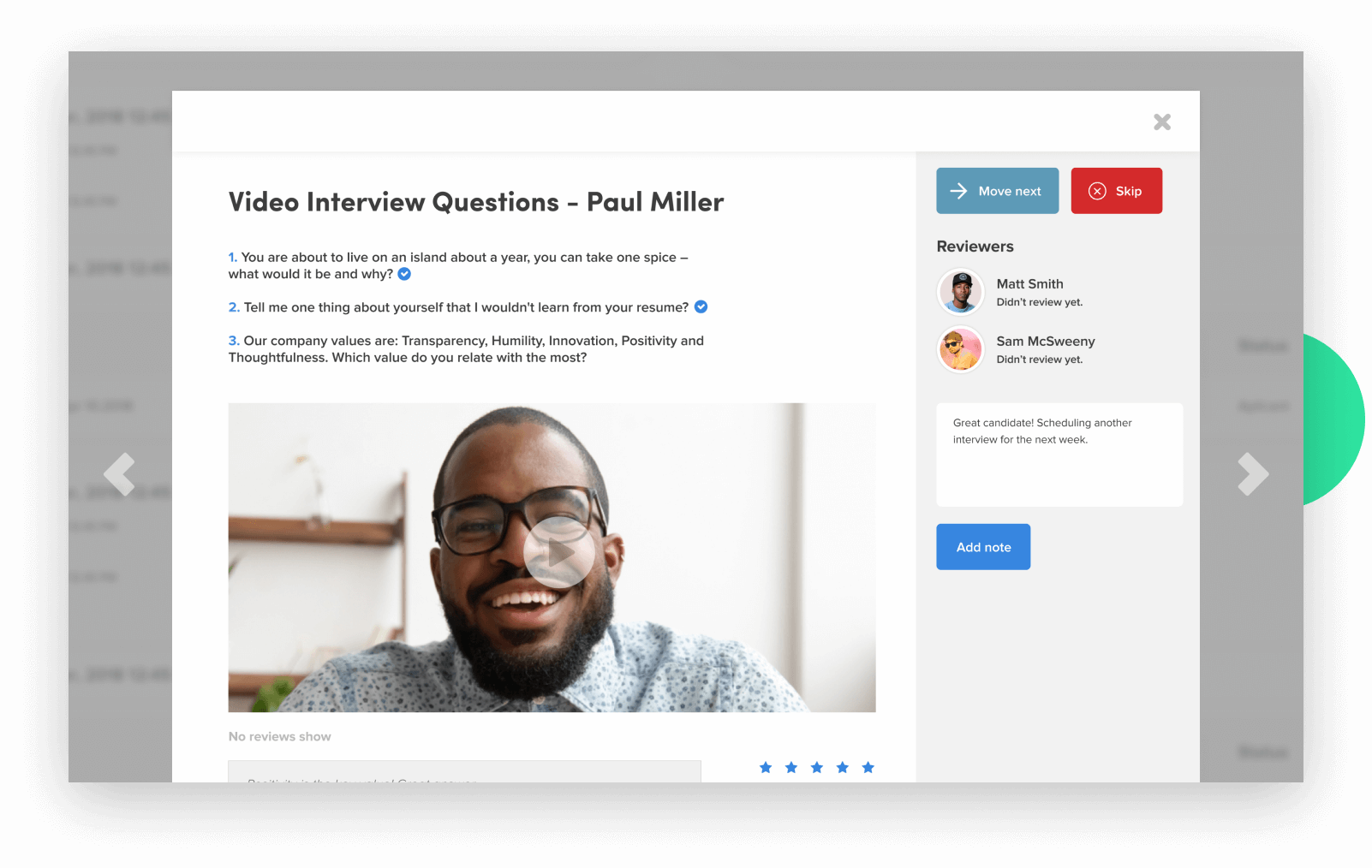 When building the Harri Talent Acquisition Suite, we included hospitality-centric interview management and video interviewing tools to not only improve the employee experience, but the candidate experience as well. Retention starts even before day one, after all!
Powerful application management simplified
Whether you have candidates coming in from Indeed, Google jobs, or your company career page, Harri's interview management ensures all applications and their respective interview statuses are populated and updated in one central location. Yes, that even includes self-service interviews that candidates schedule on their own time.
This enables managers to easily organize, tag, group, and filter applicants based on their status — such as if they're applying for a server position but also have bartending experience. 
Speedy screen function only makes easy work of accepting or rejecting candidates, ensuring a clean and updated pipeline that empowers managers to focus on the most promising candidates.
Interview analytics, like time-to-hire or time-to-interview, enables team members to keep a finger on the pulse of hiring strategies, identify where you're doing well and what job boards reel in the best talent.
Candidate video interviewing tools
Today's candidates expect a modernized video interview process. Enhancing your brand's interview capabilities is an excellent way to capture candidate attention during those critical early stages in the hiring process. 
Easy-to-use video interviewing tools are accessible any time, from any device, and can use your candidate's Harri login. Managers log into the platform using their own Harri login and immediately have access to familiar video interviewing software.