Overcoming Hospitality's Labor Crunch With Smarter Technology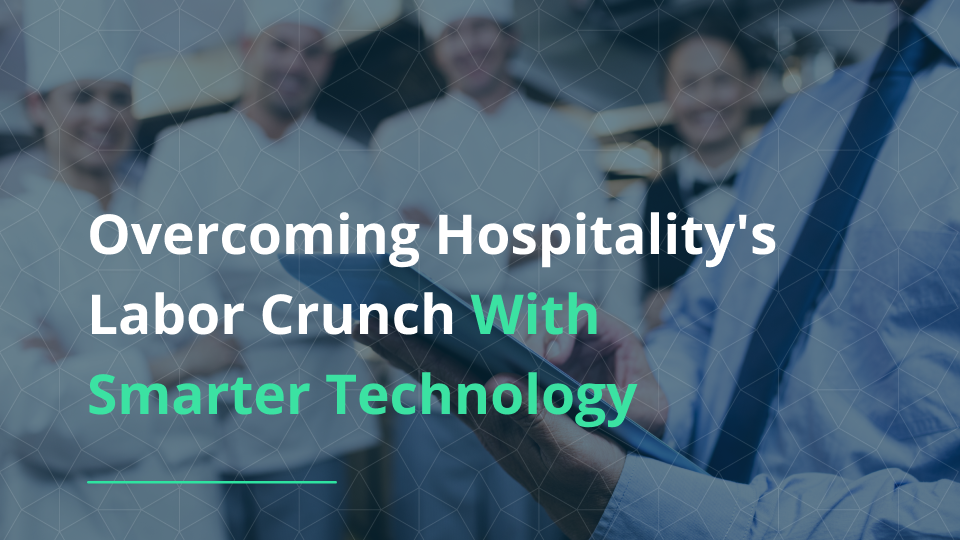 COVID-19 and the labor shortage that quickly followed proved one thing for the restaurant industry: it's time for an upgrade. 
While fragmented operational processes may have worked in the past, they proved unsustainable as our industry experienced rapid change almost overnight. 
Everything from the way we hire to the way we manage our teams is changing. Employees have new, higher expectations, and brands that can't keep up are at a higher risk of turnover than ever before.
That's where technology comes in.
The right tech stack not only gives your restaurant an edge, but saves money, saves time, and creates a better environment for your team.
With so many options out there, it's hard to know what to look for and what works with your brand's specific needs.
Here are five reasons why smarter tech adoption, particularly an end-to-end hospitality-driven solution, is essential to operational success.
Multi-unit brands, in particular, are ready to grow amidst COVID-19 recovery. Most brands are facing a number of challenges when scaling up and executing talent acquisition strategies. 
The right technology goes a long way in building a brand to not only attract frontline workers, but retain and develop them as long-term team members.
On the talent acquisition side, investing in a multi-channel job platform allows managers to post and update job openings across multiple job boards from a single solution. Think Indeed jobs, Facebook jobs, and more.
And because that solution funnels all candidates into the same ATS, managers are truly empowered with a one-stop-shop hiring tool.
Rely heavily on employee referrals? That's smart! The right platform will be able to process these alongside outside candidates for a truly seamless hiring experience.
All of this should be handled within a fully connected Talent Acquisition Suite, a unified platform to handle hiring needs from first-touch to first-day.
Or, you can turn to AI to support and supplement a vast range of hiring needs.
Meet Carri, the humanistic AI-powered chatbot built for hospitality.
Carri transforms applications into conversations, engaging candidates every step of the way while automating key components of the recruiting process for faster, quality hires.
Coordination, visibility, and sophistication beyond what a manual process can provide are the keys to success. The right technology is not only available but accessible.
2. Reduce administrative burdens
Despite the fact that the schedule is the crux of successful restaurant operations, many brands, even at the enterprise level, are still trapped by manual scheduling.
As labor regulations grow increasingly complex, thanks to laws like Fair Workweek, efficient scheduling has become less of a task and more of a strategy.
Manually allocating team hours to meet customer demand while also remaining compliant burns labor hours on the managerial side of operations and is prone to human error. Talk about messy margins. 
That's why an intelligent scheduling platform is priceless. This is especially true amidst a rising minimum wage where operators are striving for cost-effective labor efficiency. 
When your scheduling tools automatically factor in employee availability, predicted customer demand, and localized compliance requirements, you set your team up for success. Even when working with a smaller-than-usual workforce, the process of identifying which skills are in demand on which days becomes that much easier thanks to data-driven scheduling.
Managers can breathe a sigh of relief that labor strategies and compliance needs will be met, while employees benefit from predictable schedules that best suit their preferences. 
And if that platform can handle employee-driven shift swaps while still ensuring full compliance visibility, you can put more power in the hands of your employees to free up busy managers.
3. Consolidate fragmented WFM technology and improve visibility
Restaurant brands no longer have time to manage a messy tech stack. If your systems don't seamlessly talk to one another, managers are slowed down by manual data uploads, lack of cross-platform visibility, separate systems logins, and more.
Not to mention, it makes operational optimization that much more difficult.
We get it, the foundation you built is yours for a reason — probably a good one! But it can be incredibly difficult to understand what is happening across your brand when you are unable to pull together reports at every level of your organization.
This can result in reporting that comes in days or weeks too late.
Utilizing an all-in-one reporting tool to connect the dots between all HCM processes is a must-have.
When all of your data is easily accessible from a singular location, your team is empowered to identify gaps and optimize operations.
Did you experience exceptional sales on an unexpected day? Your data dashboard can tell you who was working, when, and the sales that each individual employee earned. 
Perhaps you're trying to resolve a turnover issue. By combining hiring insights with timeclock data, you can determine if employees were exhibiting signs of drop-off as early as the hiring process, or if lack of engagement began during their first three months with your business (late clock-ins are a precursor turnover, after all!).
It's easier for frontline staff too, who may not be technically inclined enough to easily navigate multiple unique systems throughout their day. Empowerment at the frontline is key to successful operations.
4. Improve communications between managers and employees
Major communication issues are common when managing a multi-unit brand or even a single location. COVID-19 exposed massive flaws in hospitality communication processes as managers and employees alike struggle to keep up with rapidly changing safety guidelines.
But a pandemic shouldn't be the only cause for clear, consistent communications. Operational success is built from the bottom up — when your employees are happy, your customers are happy. You can't build a great employee experience without solid team-wide communication.
That's why a number of hospitality brands are turning to mobile communications to help frontline staff keep track of critical job information, access trainings, and quickly ask questions. This is especially critical for multi-unit managers who can't be in two places at once, but may need to assist with a troublesome customer or provide insight on a messed up supply order.
Organization is key to enabling efficient communications. With a smart communications app built for frontline employees, you benefit from automatic role-based group chats/
For example, a waitress will automatically be placed in a group chat with other members of the waitstaff in her location. This makes communication within the department easier, like when looking for a shift cover. She can also be placed in a group with all employees in that location, front of house staff, and more, to ensure full accessibility no matter your organizational structure. That's setting your team up for success.
We touched on labor compliance earlier in relation to scheduling, but it's such a prevalent challenge in the hospitality industry that we think it deserves its own section.
Between Fair Workweek predictive scheduling laws, child labor laws, Just Cause employment protection, and employee meal break rules, managers have a lot to keep track of. These rules can vary by city or state, creating highly complex compliance requirements for employing hourly workers.
Something as simple as a last-minute schedule change or failing to renew an employee's working papers in time for their one-year anniversary can have serious financial consequences. 
When your manager is in charge of overseeing dozens of locations and hundreds of employees, manually keeping track of nuanced compliance requirements is impossible, to say the least. Why leave it to chance when tech-based solutions are out there?
Employee experience software with built-in labor compliance ensures operational success while minimizing disruption to your day-to-day processes.
Compliance alerts and non-compliant warnings keep your team in the green without forcing your managers to become localized legal experts. It also ensures compliance errors that might be easily overlooked are never missed.
The right tools also make sure no premium payment goes unnoticed and unaccounted for. With the ability to view real-time compliance costs during the scheduling process, managers are empowered to achieve labor efficiency despite compliance costs — something that's especially invaluable as labor costs skyrocket in the wake of the pandemic. Now that's carefree compliance.