Retaining Restaurant Talent with Digital Onboarding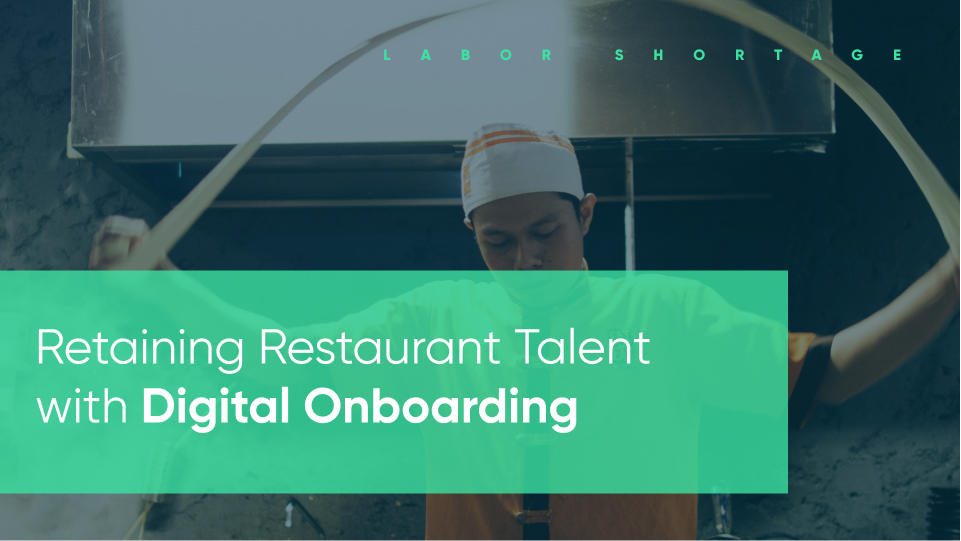 This blog covers the Harri Talent Acquisition Suite. Dive deeper into each of our hospitality-driven talent acquisition products below:
Onboarding is one of the biggest roadblocks for the hospitality industry. Systems tend to be outdated and inconsistent, creating friction in the onboarding process. Because frontline jobs were seen as dispensable, employers fell short in ensuring their new employees were set up for success within their role.
But times are changing and so is talent's workplace expectations.
So, what can an employer do to ensure this does not happen? By creating a great onboarding experience. And that starts with digitizing the process.
Think about it: onboarding is the first impression an employee gets of your workplace. If the experience is poor they'll be pushed away from your brand — especially during the labor shortage where opportunities are elsewhere. Not to mention that restaurant turnover before an employee's 30th, 60th, or 90th day is extremely common in hospitality.
Below, we'll cover what a great onboarding program looks like and how you can utilize an all-in-one HCM platform to ensure a smooth onboarding process for both your new hires and their managers.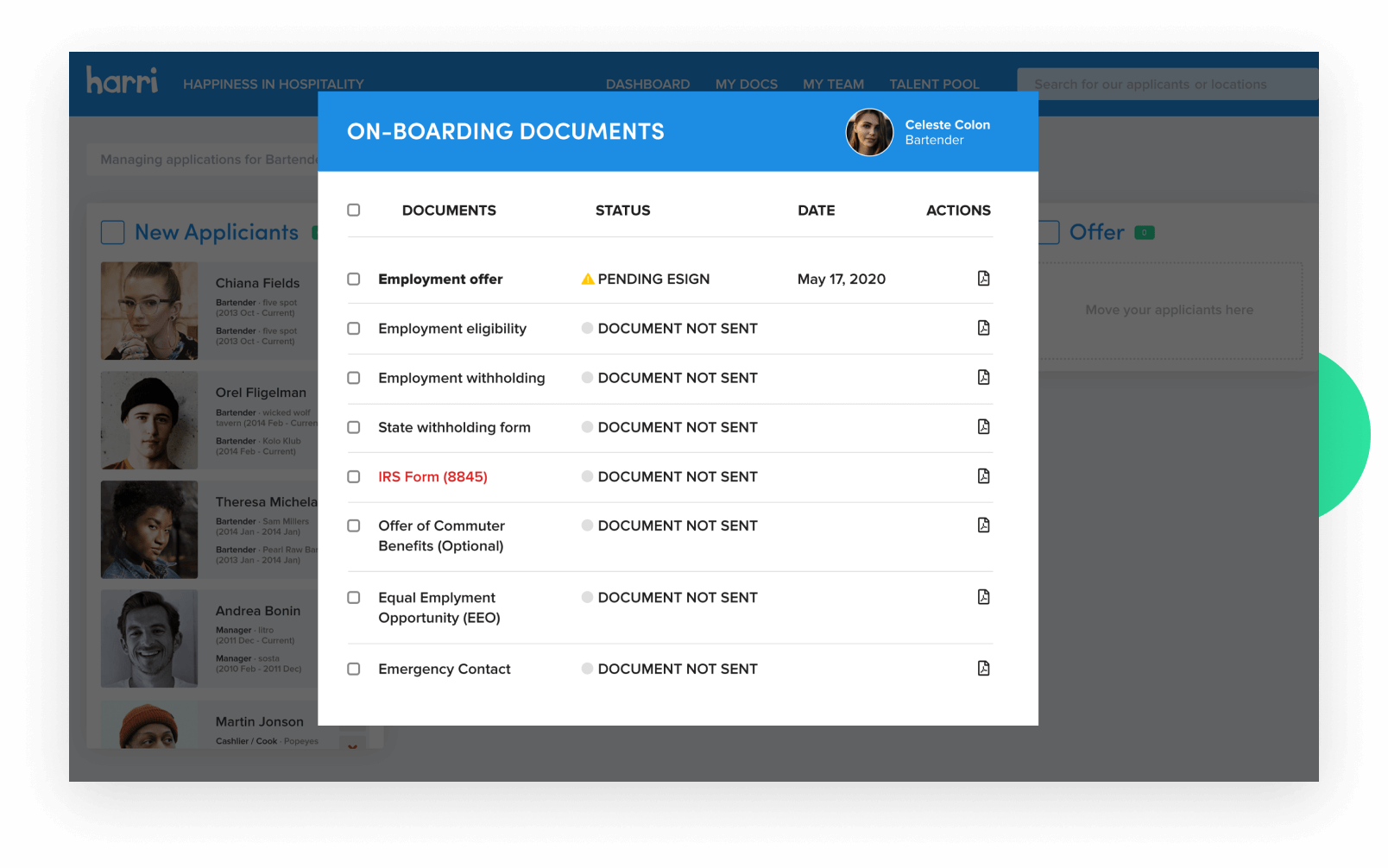 Why is onboarding important in today's hospitality industry?
Restaurant operators don't need to be told twice about the labor shortage. As brands struggle to attract and retain talent, hiring strategies have grown increasingly competitive. 
Low unemployment rates mean there are more jobs than there are employees. 
If a candidate does not feel connected to the job or the team, they can find another job that will be closer to home, pay more, or have a more friendly team. 
Millennials and Gen Z are an estimated 68% of the frontline workforce in hospitality. 
The better the employee experience, the more your new hires will engage with your brand and their responsibilities. This is especially true for younger workers that have high expectations when it comes to team interactions and employee-facing technology. 
Employees want to be engaged with.
Our 2021 Employee Experience Report showed that "having direct access to tools and training resources" was the third most important factor to the hospitality employee experience. That means employers that fail to properly train and engage their employees starting on day one are more prone to turnover.
But your hiring efforts shouldn't end at talent attraction, they must extend into the onboarding process and the employee experience as a whole to prevent turnover.
How to successfully onboard a restaurant employee
There are many facets to consider when onboarding frontline hospitality workers, digital or otherwise. Fire and foremost: a poorly onboarded employee will make mistakes. 
For instance, let's pretend you have a new employee in your restaurant and their first shift is a busy weekend. If this employee does not understand workplace processes, team structure, or even the scheduling system, they'll begin to stress. That new employee might not feel comfortable asking for help because they don't know their teammates yet — they may not even know who the shift manager is! 
Now, you have an employee who is getting orders wrong because they do not know the menu and taking extra time getting from one table to another. These seemingly small mistakes add up for them and the customers. Now, those customers will turn to Yelp or Facebook to voice their frustrations about their experience at your restaurant.
Think it's over? The employee, after several difficult shifts, will eventually quit. Now, they take to Indeed or Glassdoor and write reviews for potential candidates to see. A poor onboarding process can result in losing employees, valued customers, and bad publicity. Great onboarding results in the opposite. 
Successful onboarding can be broken down into three phases:
Pre-onboarding:

From the minute an offer is made to the moment a new employee enters the door for his or her first shift.

Orientation:

The first month or so of employment with a large emphasis on the first day and week.

Late onboarding:

The time it takes for an employee to go from orientation to full productivity (usually around six months).
Ensuring new hires are prepared during the pre-onboarding phase before their first shift increases engagement and reduces turnover.
What should managers be aware of during employee onboarding?
Because employee sentiment is key during those first 30, 60, and 90 days, managers should look out for patterns related to everyday work and check in with the employee if something seems off. 
For example, if you're seeing consecutively late clock-ins, this is an early sign of turnover. However, when addressed, it could be possible that a simple job adjustment like a schedule change can improve employee morale and productivity.
Speaking of productivity, new employees can be extremely unproductive during the orientation and late onboarding phases if there's friction in paperwork, legal training, and job training.
Since so much paperwork is required on that first day, it is not uncommon for employees to spend most of their first shift filling it out and not training. Quicker and more efficient onboarding means the employee will understand their role in the company more quickly and feel more confident. More on that below.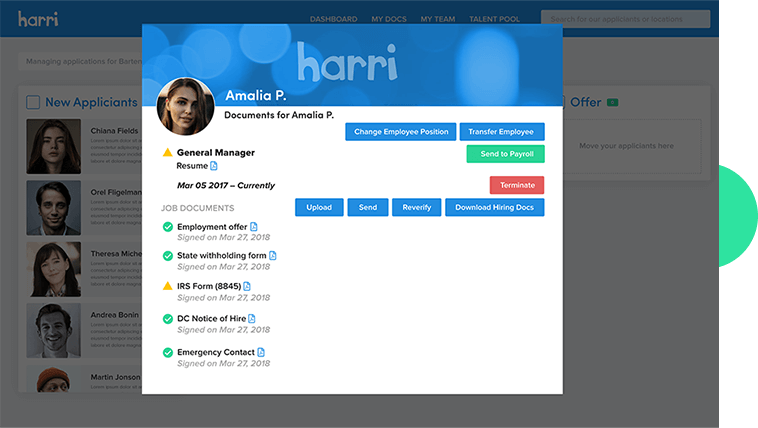 The goal of an onboarding program is to help an employee feel acclimated, reduce training friction, and set up new hires for success. 
Whether it's on-the-job training, employee orientation, or state-mandated courses like safety and harassment classes, hospitality workers have a lot of ground to cover when they first start. 
Digital solutions are crucial here to ensure their precious (and expensive) time is used more efficiently while also ensuring they have access to crucial training information anytime, from any device. This is especially important for career-minded workers who truly want to learn and grow with a company.
Our Talent Acquisition Suite contains a wide range of tools to create an amazing candidate experience, but Digital Onboarding is also included to ensure a streamlined transition from applicant to star employee.
Easier document management
Because hospitality hiring is a fast process, any unnecessary time spent filling out paperwork increases the risk of candidates and new hire ghosting. Your candidates want to hit the ground running on day one just as much as you do.
We make document management easy for new hires and managers alike. When dealing with legal paperwork, like tax forms or good faith estimates, Harri allows respective parties to view, sign, and accept documents digitally from any device — and all within a fully branded and culture-filled experience.
The process looks like this:
Employee receives notification for each federal, state, and custom employer form that must be filled out

The employee fills out forms digitally and can upload pictures of critical identification documents right from their phone. Forms can be saved and finished later if the employee has a question.

The employee submits required forms. Managers receive notifications of the form submission.

Managers approve the forms and the employee is ready to begin training. All forms are saved in Harri for historical reference that can be viewed and downloaded by either party at any time.
From benefits and payroll setup to brand-specific trainings, our onboarding platform makes easy work of creating an engaging and impactful experience for new hires.
Payroll is arguably one of the most important parts of the onboarding process. Difficulties with receiving paychecks, overtime pay, or even referral bonus rewards, breeds distrust between an employee and your brand.
And if their first paycheck is late, that increases the chances of early-stage turnover.
We simplify this process for employees and managers by integrating with a suite of payroll companies, like ADP, Paycom, Paychex, and more.
This unifies HR and payroll into a single system, ensuring that employees are properly paid in a timely and effective manner.
Ensuring a new hire is eligible to work before getting too far along the hiring process is key. For minors or sponsored employees, you'll also want to make sure they're set up in your system correctly to prevent legal issues down the road.
Harri's integration with E-Verify allows employers to quickly and automatically cross-reference employee data in public records like the SSA or DHS — a much faster process than manual searches or submission to government entities.
This is key when maintaining employee working eligibility, especially for brands hiring hundreds of employees per location.
Say you have an employee that needs annual working paper renewals or visa verification. Rather than manually sorting through each employee's status and checking what forms need to be updated, managers and affected employees will receive notifications each year for proper action to be taken.
Remember, successful onboarding is just as important for your management team as it is for new hires. One simple step in the onboarding process here ensures a streamlined employee experience down the road, and it's only made possible through digital tools.
When your onboarding processes are broken and inefficient, your teams suffer as a result. And as hospitality struggles through a labor crisis, keeping employees engaged and empowered is key to successful hiring and retention.
Let Harri do the hard work for you.  To get started, click here.