Retaining Talent Through A Culture of Mobility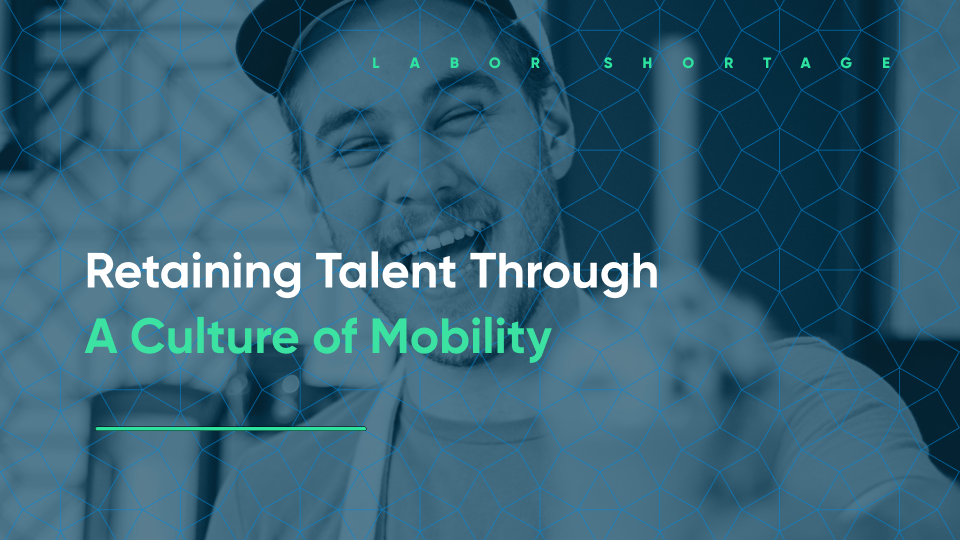 With COVID-19 continuing to wreak havoc worldwide, the US labor market is continuing to shift. Prudential put out a study that showed 1 in 4 workers will leave their jobs this year (up from last year's 1 in 5).
This "great reshuffle" hits even deeper in the hospitality industry as frontline workers prioritize their health over customer-facing roles.
But it's not just safety, there are countless reasons why hospitality workers are leaving.
Workplace flexibility, happiness, and a lack of growth opportunities are amongst the highest.
So, what does a business do to keep its employees motivated and successful? Create a culture of mobility through easily adoptable technology. 
Building a culture of mobility, and why it matters
A culture of mobility can only exist when the leaders in charge encourage growth for everyone across the organization and internal career advancement. 
It all starts with mindset. Identifying and attracting new talent is crucial in hospitality, yes, but so is finding talent from within. When we empower our employees to look internally for opportunities and advancement, we are using internal mobility in the most effective way. 
Not only is internal mobility the best way to retain talent but creates a message about your brand that job-seekers see. Employees who feel that they are a vital part of the organization and its vision have more incentive to stay.
Why is it that more businesses do not hire from within?
There's several ways that hospitality brands hinder internal mobility, whether they realize it or not. We'll cover a few.
1. You are hoarding talent.
We get it. Losing your best talent, even to another store location or internal team, is difficult. However, this simple change in mindset is crucial to creating awareness that the value of an employee is more important than their value in one particular team. 
A culture of mobility then trains the next person in the company to fill that role, giving you more experienced and thoughtful employees.
2. There is a lack of loyalty.
Unfortunately, there is very little implied loyalty between employees and employers within hospitality. Employers spend little time investing in career development, and as a result, the turnover rate is much higher. In the wake of COVID-19, we've seen a surge in management training for frontline workers, encouraging cashiers or prep cooks to rise through the ranks.
Increased internal mobility is a great way to get employees excited about a future with your brand. 
Showing them internal career opportunities better prepares team members for promotions, growth, and lateral moves. Give your employees a sense of belonging and they will reward you with their loyalty.
3. Improper use (or a lack of) technology.
Operators need the right tools, systems, and processes in place to ensure internal success. Without the right tech stack, time and money invested in mobility efforts will fall flat thanks to the inability to scale.
This isn't just an operational necessity, it also creates a more enjoyable employee experience. Most restaurants spent the past few years investing in amazing customer-facing technology. Now it's time to do the same for our employees.
Access to internal job postings, engaging team communications and the opportunity to learn new skills via company training courses helps them succeed while also ensuring your team is both prepared and experienced.
Why a culture of mobility works
To start, employees are simply happier. Engagement and brand perception get a huge boost when you have happy employees. Your employees will always share their experiences with friends and family and become brand ambassadors. You thought bad Yelp reviews were detrimental? Try hiring someone that's heard workplace horror stories about your brand.
Engaged employees are more likely to stick with your company and bring on people who will do the same.
Not only that, but these employees will perform better. Internal hires tend to outperform external hires in their first two years of employment. These internal employees bring specific skills they learned from your company to the role and are able to be more productive from the start. 
Moving forward with mobility-enabling technology
Adapting your tech stack to today's changing times can certainly be a daunting effort, but there are a few key themes to keep in mind.
First, look for an all-in-one tool that eliminates fragmentation between systems and teams. That takes a huge burden off of tech admins and ensures seamless adoption.
Next, look for a hospitality-focused solution that focuses on creating a stress-free employee experience for managers and their teams. After all, the people interacting with your technology on a daily basis need to be satisfied with it
At Harri, we built our employee experience platform specifically to cater to the needs of the hourly hospitality workforce. With that comes tools to create a culture of mobility.
Meaningful interactions during the hiring process
We mentioned earlier that, when hospitality candidates are looking for a job, a few things are top of mind, such as career opportunities. Which means that managers need to be able to address any and all questions regarding career advancement and training to ensure a new hire can be set to succeed.
But for busy managers, keeping up with a hiring pipeline is difficult work on top of daily operational requirements, let alone maintaining consistent candidate engagement.
That's where Carri, an AI-powered conversational ambassador, comes in.
So much more than a chatbot, Carri can handle complex candidate requests, like questions about internal career opportunities or store-to-store job flexibility.
While Carri paints a clear picture of what it's like to work at your company, managers are given back more time to manage and engage with their current workforce.
Training and onboarding
We all know that the first 30, 60, and 90 days on the job are most critical to an employee's success. If a new hire feels disengaged or not prepared to handle a growing list of job expectations, they'll drop off.
That's why proper training and onboarding is an excellent avenue to enable a culture of mobility.
From fully branded training experiences to completion notification and reminders, our digital onboarding tools ensure employees hit the ground running the moment they start their journey with you. And because they're mobile-accessible, employees can easily access the next-step trainings that they need to learn and grow within your company.  
Employee-driven scheduling
As your team members grow within your brand, they'll pick up different skills. A waiter might be able to double as a bartender, or perhaps a dishwasher is learning food prep techniques. 
Our powerful scheduling platform allows operators to assign skills and positions to each employee, then generate smarter schedules based on the predicted customer demand for each daypart.
When you're building schedules for multiple teams and store locations, it can be easy to accidentally silo employees into old roles despite personal growth. Employee-driven scheduling empowers teams to live up to their career progression.