Fair Workweek and COVID-19: What's Next and Do We Still Need to Comply?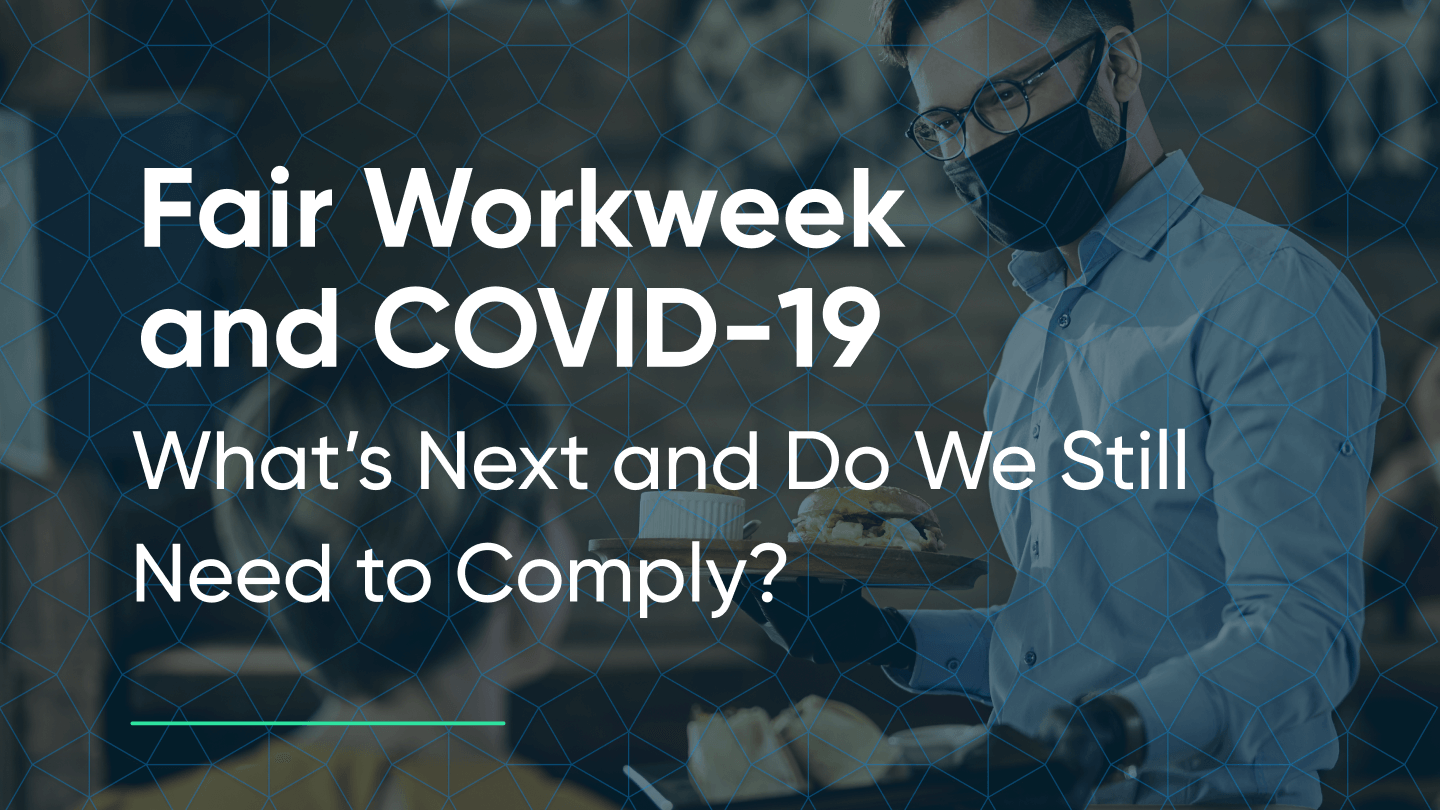 To many, Fair Workweek labor laws are a double-edged sword. While they provide employees with manageable and predictable work schedules, successful implementation requires a lot of upfront manpower from employers. 
Juggling these requirements is difficult enough on its own, but the added burden of COVID-19 has only made this more difficult. Recent financial studies suggest that hospitality businesses may take several years to fully recover from the devastating effects of the pandemic, which doesn't help those required to comply by FWW laws. Despite this, Fair Workweek has not been postponed in areas where the regulations are already active, and business owners must act accordingly.
What is Fair Workweek and how will it affect your hospitality business?
Fair Workweek is a set of labor regulations aiming to create a more stable work environment for part-time and hourly employees in the service and hospitality industries. They outline shift management rules that employers must abide by, ensuring predictable employee work hours. Failure to comply with Fair Workweek regulations can result in some serious fines, which we'll cover below.
While Fair Workweek laws may vary slightly based on the city or state where they apply, all general regulations are the same.
For example, your business may only be required to comply with Fair Workweek if you have 30 locations nationwide or over 50 employees.
Base Fair Workweek employer requirements:
Employers must share shift schedule information with employees 1-2 weeks in advance.

Unscheduled hours may be declined.

Employers must provide employees with good faith estimates in writing detailing predicted working hours.

This includes days of the week, and shift start/end times.

Existing employees must be offered additional shift opportunities before new employees, or before a new hire is made.

Employees cannot work two shifts with an X-hour window. Typically this is a 10-hour window. 

If an employee agrees to work these shifts regardless, they must be paid at a 1.25x rate.

Employers must provide additional compensation if an employee's scheduled hours are changed without notice or consent.

If a shift is canceled without 24-hours notice, the employee must receive pay no less than 50% of what they would have earned from that shift.

Employees receive 1 additional hour of pay if hours are added to their shift without a 10-day notice.

Employees receive 1 additional hour of pay if hours are subtracted from their shift without 24-hours notice.

Employees receive 1 additional hour of pay if shift hours are changed without 10-day notice, even if they're still working the same total number of hours.
We understand that navigating Fair Workweek regulations can be tricky and there's a lot of moving pieces to keep track of. That's where Harri comes in.
We pride ourselves on being so much more than a tech solution. That's why we're hosting a Fair Workweek and COVID-19 webinar to answer your specific questions regarding FWW and the pandemic. 
Register for our webinar: "Scheduling in the Wake of COVID-19: Does Fair Workweek Still Matter?" which goes live October 21st at 2 pm EST
Our panelists are here to share insights on how to comply with Fair Workweek laws and confusing legal gray areas. 
Our panelists include labor attorneys who consult restaurants through FWW compliance strategies, as well as a legal consultant to a nationwide restaurant group. Get your specific questions answered and gain insights on how to comply with FWW laws and confusing legal gray areas.
Read on to learn where Fair Workweek is coming next, non-compliance penalizations, and how to effectively manage Fair Workweek with Harri.
Where Fair Workweek is coming next
At the time of this blog's posting, there are no active Fair Workweek legislation movements. However, there are several states that have bills in progress from earlier in the year.
Many of these have likely slowed down due to COVID-19, but if you operate business in any of the below mentioned states, be sure to keep an eye out on potential Fair Workweek regulations as your state ramps back up.
New Jersey
The New Jersey Fair Workweek Act was sent for approval January 30, 2020, and is still waiting for a decision.
Connecticut
Connecticut was considering a Fair Workweek bill in February 2020, which was moved to the Senate in March.
Boston, Massachusetts
Boston was considering a bill to pass Fair Workweek regulations, but the last action taken was a city-wide legislative briefing held January 29th.
Los Angeles, California
LA proposed a Fair Workweek bill in February 2020 which is still waiting for a decision.
Covid-19 and the service industry
Covid-19 hit restaurants, hotels, retailers, and other service-based industries hard. According to restaurant.org, the restaurant industry reported low-income rates that haven't yet reversed the damages from the peak of COVID-19, plus plans to shift to lighter, limited-hours staff.
While businesses continue to adapt to the "new normal," following Fair Workweek regulations has become even more of a hassle.
Employers are forced to allocate more time, money, and manpower towards COVID-19 precautions to ensure the safety of their employees and customers. Some businesses are able to designate small crews dedicated to COVID-19 sanitation during the workday, while others must make use of their existing teams to uphold sanitation standards.
Employers are responsible for ensuring their locations are properly sanitized, all while abiding by Fair Workweek labor laws.
What happens if I don't comply with Fair Workweek?
Depending on your business' state or city of operation, fines can range from $75 to $500 per violation. That adds up quickly! 
We reported that some of the top Fair Workweek non-compliance reasons were:
Tracking schedule changes.

Issuing FWW-compliant schedules in advance.

Calculating and updating good faith estimate documentation.
Luckily, there are tools at your disposal that can help you and your employees ensure all Fair Workweek regulations are followed. HCM software, like Harri, takes the hassle out of scheduling and documentation.
Fair Workweek might seem like a headache for businesses, especially those that manage hundreds of employees. However, we believe that those who follow FWW regulations are more likely to benefit from long-term employee happiness — after all, the guidelines were written with good intentions.
Whether you're saving employees time (and money) on a commute or empowering them to plan their lives without fear on on-call scheduling, workplace transparency is always appreciated and is correlated with loyal employees. COVID-19 health concerns only strengthen this sentiment.
Loyal employees equals harder workers. What's more, making employees feel seen and heard decreases the chances that they'll leave, potentially saving you additional hiring and onboarding costs. We even reported that 41% of employers were able to reduce employee working hours after FWW-compliant scheduling was introduced. 
That being said, we understand the concerns associated with FWW compliance. There's no sugarcoating the fact that many businesses struggle to keep up with stringent Fair Workweek rules. We recommend HCM solutions like Harri to manage Fair Workweek requirements.
Staying Fair Workweek compliant with Harri
Harri is the only HCM software built with dedicated Fair Workweek compliance tools. Whether you're catching up on Fair Workweek regulations or want to get ahead of the curve, we help bring predictability and accountability to the workplace.
Smart scheduling tools
Our activity-based shift scheduling combines historical work data and weekly employee hour usage to ensure FWW compliant schedules. The result? A faster and easier way to plan and schedule employee shifts — in a timely manner.
Say goodbye to wasting resources! Know exactly how much labor is needed each day and allow peer-to-peer shift exchanges when possible.
Transparent documentation
Generate good faith estimates during the onboarding process or anytime post-hire.
Harri creates compliant good faith estimates based on:
Actual hours worked

Number of shifts

Locations worked vs estimates
Reporting and auditing
Keep detailed records of all Fair Workweek data. Hourly reports by employees, premium fees paid, and more, can be tracked any time from right within your Harri account.
This data doesn't just help you stay compliant, it also can be used to optimize HR processes, especially in areas that are at risk of violating Fair Workweek regulations.
Alerts to keep you in-the-know
We know that managing Fair Workweek expectations on top of your other everyday tasks can be difficult. Harri sends alerts that keep you and your team aligned — and compliant.
Fair Workweek alerts include:
Premium fees paid

Potential premium fee notices

Schedule changes

Employees approaching overtime hours

Unpublished documents with approaching deadlines

PTO and other employee requests
Fair Workweek terms to know
Predictability Pay laws
The name of the laws which Fair Workweek falls under. If you see the term "Predictability Pay laws," think Fair Workweek.
Predictive scheduling
Similar to the above, when you see "Predictive scheduling" in relation to Fair Workweek, that is a reference to the scheduling regulations under FWW — even if it does sound like a fancy software feature.
Good faith estimate
Written communication to an employee detailing the number of hours they are expected to work, including days, times, and store locations.
Clopens
This term refers to back-to-back shifts that have an employee closing the business one day, then opening it the next — a scheduling situation banned under Fair Workweek if there is not a reasonable time cushion between the two shifts.
If an employee's shift spans two days (Think 8 pm to 5 am), this falls under the "Clopen" clause and still requires a time cushion before the next shift begins.
Wrapping up Fair Workweek and COVID-19
Although complying with Fair Workweek might seem an impossible task, it's important to remember two things:
You're not alone! There are tools you can use to ease transition and execution.

Fair Workweek laws will result in a happier and safer work environment.
We know it'll be overwhelming at first, but once you develop those processes, Fair Workweek compliance will only get easier. All-in-one HCM software like Harri will help you manage labor regulations through the pandemic and beyond. Let our FWW-compliant scheduling and reporting tools handle the logistics while you focus on running a smooth business.