Maintaining Labor Efficiency During the Removal of Tip Credit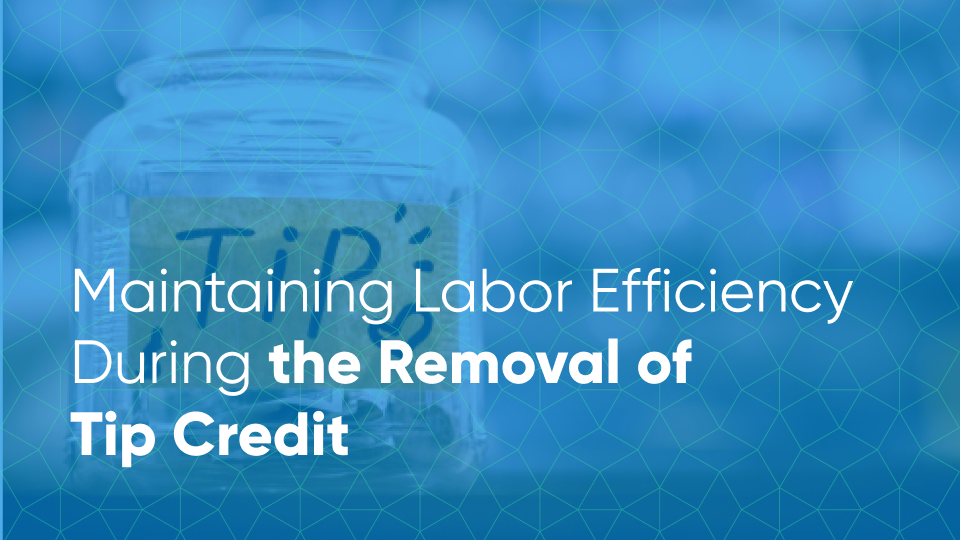 The Biden administration's pro-employee means that longstanding wage and labor laws impacting the hospitality industry are subject to change. Tip credit, in particular, was a highly controversial topic even before the notion of a $15/hr federal minimum wage and is now a hot topic for debate.
Alongside this national minimum wage increase comes the proposal to remove tip credit entirely, promising major operational and financial disruption for hospitality businesses.
Before we delve into how hospitality business owners can maintain labor efficiency during the removal of tip credit, let's jump into the concept of tip credit and why the removal is being considered.
What is tip credit and why is it important?
According to the Fair Labor Standards Act (FLSA), employers are allowed to pay their employees below minimum wage so long as their tip earnings equal at least minimum wage. The difference between the amount of money that a hospitality business owner pays their employees and the standard minimum wage is called Tip credit.
Tip credit is important for hospitality business owners because it allows them to reduce labor costs without hurting employee wages. In fact, most employees that work under tip credit end up earning far above the minimum wage. 
Another financial benefit of tip credit is that it allows operators to save on their taxes with the FICA Tip Tax Credit. The FICA Tip Tax Credit allows food and beverage employers to receive a partial tax credit that equals the employer's FICA tax portion on tipped income that exceeds the federal minimum wage.
In other words, tip credit is a huge money saver for hospitality business owners. According to our 2021 Wage Disruption research report, 77% of hospitality operators are in opposition to the removal of tip credit and 74% believe that tip credit removal will have negative impacts on their employees. As such, there's huge opposition from not only restaurant owners, but their employees as well, against the removal of tip credit.
Tip credit also provides a financial cushion against wage and labor law compliance. Take Fair Workweek predictive scheduling laws, for instance. As these laws grow in popularity, more and more hospitality businesses find themselves struggling to keep up with complex and expensive compliance requirements. Reduced employee hours and massive labor disruptions often follow Fair Workweek compliance; removing tip credit is more than just salt in the wound — it threatens to shut down struggling hospitality businesses. 
Why is tip credit removal being considered?
The removal of tip credit is being considered in order to establish a more predictable wage floor for tipped workers. Although tip credit vastly increases an employee's earnings potential, there are situations where they may end up performing extra work only to receive minimum wage payment.
Those who are in favor of tip credit removal maintain that it would also offset wage fluctuations attributed to seasonality, customer preference, the economy, special events, and/or the weather. Hospitality is an unpredictable industry, after all. 
Additionally, those who want to remove tip credit believe that it would ease wage rate confusion. Currently, the wage rate to which a tipped worker is entitled depends on the amount of tips an employee earns in a given week, and can vary as minimum wages are often different depending on the city or state. It also dictates what percentage of an employee's tasks must be dedicated to tipping-related activities, such as making drinks or serving food. Removal of tip credit would remove these uncertainties to ensure compliance.
So, what happens if tip credit is removed?
Labor costs will inevitably increase. They will increase because you, the hospitality business owner, will be responsible for making up the difference between the employee's tip earnings and minimum wage. The only solution to keeping up with labor spend increase is by using a tech-driven solution to ensure efficient labor operations.
How to stay labor-efficient if tip credit is removed
 The idea of having to pay all employees at full minimum wage, rather than a tip-subsidized reduced wage, may lead operators to cut jobs and reduce employee hours. However, there's a better solution to stay labor-efficient while still driving operational success. The answer lies in an all-in-one HCM solution to better manage your workforce.
The removal of tip credit could bring drastic changes to an employee's hourly wages, with many operators facing wage jumps from $6/hr to $15/hr on a per-shift basis. That means scheduling will see major disruptions that will force managers to be smarter about their labor strategies.
An all-in-one HCM platform with a built-in scheduling tool is the best way to make informed scheduling decisions to keep costs low while still maintaining high service outputs. Hospitality scheduling is comparable to a puzzle, but solutions like Harri can utilize intelligent, data-driven schedules to find unique solutions to your specific budget and labor needs.
Demand-based scheduling is the first layer in tackling the removal of tip credit. By compiling historic sales data, Harri helps operators understand when they're most likely to be busy based on season, calendar date, day of the week, applicable holidays, and even the weather. Operators can utilize this data to significantly reduce the odds of scheduling more employees that they need without running the risk of being understaffed.
But intelligent scheduling to offset labor costs doesn't stop there. We know an employee's skill set is just as important when creating a schedule. How many servers will you need at 6 pm, and can a server double as a bartender on the second half of their shift? Position-based scheduling ensures you have the right employees in the right places at the right times…and in the correct skills ratio.
Successful restaurant performance revolves around the employee schedule, and a data-driven intelligent scheduling platform is the best way to ensure labor efficiency if and when tip credit is removed. And when you use a compliance-driven scheduling solution like Harri, staying compliant with labor laws like Fair Workweek while also maintaining labor efficiency is easily baked into your scheduling strategies.
We recommend preparing for this reality sooner rather than later; the earlier you and your staff are accustomed to new scheduling structures, the less disruption you'll face should we see a sudden tip credit removal.
Employee fluidity and cross-training your workers
Skilling up employees to perform multiple tasks is a growing trend in the hospitality industry and will likely continue to grow as operators seek ways to create a more labor-efficient workforce.
Bartaco sets a great example of successful employee cross-training. Every front-of-house employee trains to learn every role, be it a server, host, or otherwise. If an employee calls in sick at the last minute, Bartaco has immediate availability to fill the missing skills and labor gap. This is especially helpful in a scenario where tip credit is removed, enabling operators to schedule fewer employees per shift to accommodate guest needs. 
It's brilliant from a labor standpoint and encourages team retention by opening a wide range of career options for each employee.
The less friction during the training progress, the faster your teams can skill up. An all-in-one HCM is key to easily cross-training employees to attain similar labor efficiency. By using a digital onboarding tool, operators can keep track of what skills an employee has, what they need to learn, and who they've trained with. They can measure an employee's progress on their 30th, 60th, and 90th day on the job to ensure proper training. Every important bit of information is recorded, helping managers create efficient and repeatable training processes. 
Harri's onboarding tools help get training initiatives moving even before an employee's first day so they can hit the ground running.
In-person trainings can be tracked in an easily accessible learning dashboard, documents can be e-completed by all employees undergoing the onboarding process, and managers can receive notifications of progress milestones. And if your company creates training documents and reminders for each role, those materials can be accessed from the Harri app at any time.
This holds true for state-mandated training as well, such as additional safety training for employees performing kitchen duties or acting as a backup bartender. 
If tip credit is removed and your teams find themselves scrambling to skill up team members in order to maintain labor efficiency, digital onboarding tools ease that process for all parties involved.
When you're dealing with employee wages that are potentially doubled, every minute on the clock counts. Buddy punching, early clock-ins, or the simple act of forgetting to clock out are not uncommon in hospitality, and they can quickly add up to hours worth of payment for employees that may not have necessarily have been on shift.
Operators can spend time and manual effort trying to rectify these errors, or they can utilize a biometric timeclock that ensures complete clock-in accuracy. Harri's timeclock uses facial recognition to ensure that the right employees clock in when they're supposed to without fear of time theft of team member clock-ins.
Set shift clock-in rules, receive late clock-in notifications, and ensure accurate timesheets. These small but powerful tools are vital to staying labor efficient if tip credit is removed.
And because Harri's time and attendance tools connect the dots between employee clock-in, scheduling, and payroll, all team member payments are 100% accurate to the employee's designated shift — although you can make manual changes as needed.
So you've created the perfect schedule (or as close to perfect as hospitality allows) and have cross-trained employees on deck to cover any and all position requirements. While these are all necessary steps to achieving labor efficiency, they're rendered ineffective if you don't have the data to see what's working and what isn't.
An all-in-one HCM platform is the best way to understand labor spend and optimize based on various internal and external factors. The all-in-one aspect is key here, as labor costs can quickly soar based on scheduling and overtime, an employee's age, position(s) worked, and other scheduling considerations. And yes, this includes premium payments related to Fair Workweek or additional wage and labor laws. 
Since most labor costs are incurred during the scheduling process, Harri's intelligent scheduling displays real-time labor costs as you build a schedule. Tiered overtime, premium payments, paid breaks, and more are automatically calculated as you add and remove employee hours from the week's schedule, providing full transparency into each week's labor metrics. 
If tip credit is removed, you have full insights into sales performance alongside labor spend by location, brand, position, and employee. Managers can even set scheduling limits to ensure each location doesn't exceed a predetermined labor percentage. 
Whether you need to fine-tune your labor strategies or want a full view of all employee-related spend impacted by tip credit, Harri's data dashboards can be used to create customized views of the information you need. As operators keep a pulse on spending and sales trends, planning day-to-day operations alongside tip credit removal becomes that much easier.
Staying labor efficient without tip credit requires digitized operations
Employee wage and labor laws are expected to change over the years, but we've never seen anything as drastic as the outright removal of tip credit. Should operators be required to pay tipped employees above a subminimum wage, an integrated technology solution is the only way to keep labor costs low and track spending.
Restaurants that prepare sooner rather than later won't just benefit from minimized disruption, they'll also benefit from improved operational efficiency that will drive business success. Tip credit removal may not be happening at this exact moment, but if there's an option to streamline labor spend and improve scheduling accuracy, wouldn't you take it?