HarriX Webinar | Collaborate With Agility, Solutions Will Come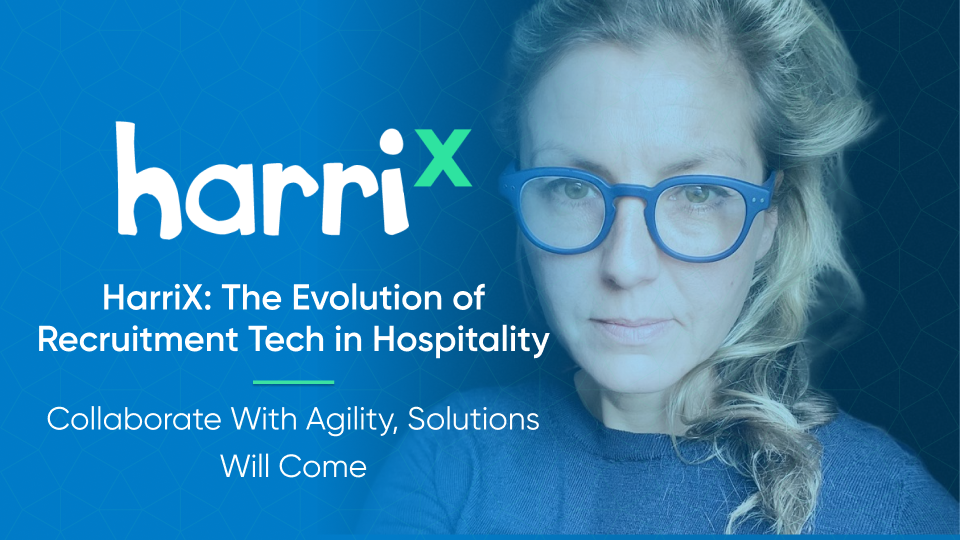 Welcome back to HarriX! This is an event hosted to discuss the evolution of recruitment technology in the retail and hospitality industry, including predicting trends and the importance of the human element in hiring practices.
In this session, we met with Isabelle Hung, former Head of Talent Acquisition at Costa Coffee. Isabelle discussed workplace communications and the importance of collaboration and agility when developing business solutions. With so much uncertainty in most aspects of life, it's becoming increasingly clear that the solution may be improving the way we communicate and collaborate in the workplace.
Isabelle opened her talk by describing the difference between your plan and the reality. She noticed that in any organisation, the original leadership had a clear plan for the future of the company. But things are shifting and leaders find themselves needing a little more flexibility.
Why does this happen? According to Isabelle, it's because leadership has a hierarchical plan, and our working society is becoming a much more flat structure, "the leadership that we require today acquires a lot more agility."
She has consolidated these changes into three parts: agility, top-down bottom-up thinking, and collaboration. 
The ability to hire people into that "-1 below C-suite" who can think strategically and still get their hands dirty is being asked by more and more companies. Employers want people who can do the job at all levels, and that holds true for hospitality.
Isabelle puts a strong emphasis on collaboration and what exactly it means.
Collaboration used to mean "going to a meeting room, having a chat with everybody, then going to another meeting room and having the same chat again." Things have changed today, especially as technology continues to shape the way our front-line and back-end employees work together.
Isabelle finds the keys to successful collaboration are:
Work in a global or local mindset

Keep global thinking in headquarters

Ensure decision making comes from multiple departments
"Have we forgotten the art of how to question without putting our emotions in that?" 
If we don't have great leaders who don't allow us the time to collaborate, how do we make it work? Collaboration truly means that both parties involved have a win.
Successful leadership and cross-collaboration also boosts employee experience scores — an increasingly important KPI amidst the labour shortage.
When discussing the future of business, Isabelle talked about "MOJO." a strategy where everyone from the company runs meetings the same way.
The "MO" is the meeting organiser who comes with the agenda. The "JO" is the judge or observer who has to provide feedback at the end of the meeting.
Isabelle shared that, when businesses implement MOJO, employee engagement scores went up which resulted in increased productivity levels. She inspires the audience to promote change indirectly through leadership while giving people enough room to take risks. 
This is another method businesses seem to have lost over the years, "we have forgotten how to listen without waiting for our turn to speak." Consider active listening, and thoughtful feedback when working with direct reports. 
Clarity is incredibly important in the workplace. What do we want the end result to be? Communicate goals and metrics to your team to keep everyone on the same page, working towards the same results.
Providing your employees with as much clear information is crucial to their success and your company's. Working backwards often helps. 
These changes are "solution-led with the heart of the consumer or the employee at the middle of it."
The workplace is rapidly changing, and that's especially true for hospitality businesses as operators adapt on-the-fly to customer demands, employee needs amidst COVID-19 reopening requirements. 
Now more than ever before, integrated communications tools are a must-have to:
Enable cross-functional collaboration

Relay important messages from strategic teams to frontline workers 

Enable two-way communications and consistent feedback
At Harri, we can relate. Cross-collaboration is one of our 5 core values, and we strive to ensure consistent, transparent communications across all levels and teams — and have seen great success within internal processes as a result!
To that end, we developed our hospitality communications platform to enable efficient enterprise-grade communications no matter how complex a brand's organisational structure is.
Automatic chat grouping based on location or job position ensures team members are always able to communicate effectively with key stakeholders, but custom groups can be created to tackle specific projects or service demands. From office workers to front-of-house restaurant staff, accessible communications can be the difference between excellent business performance or miscommunications.
Interested in learning how Harri can empower your teams with agile communications and meaningful collaboration? Chat with our team of hospitality experts!