HarriX Webinar | Scaling Culture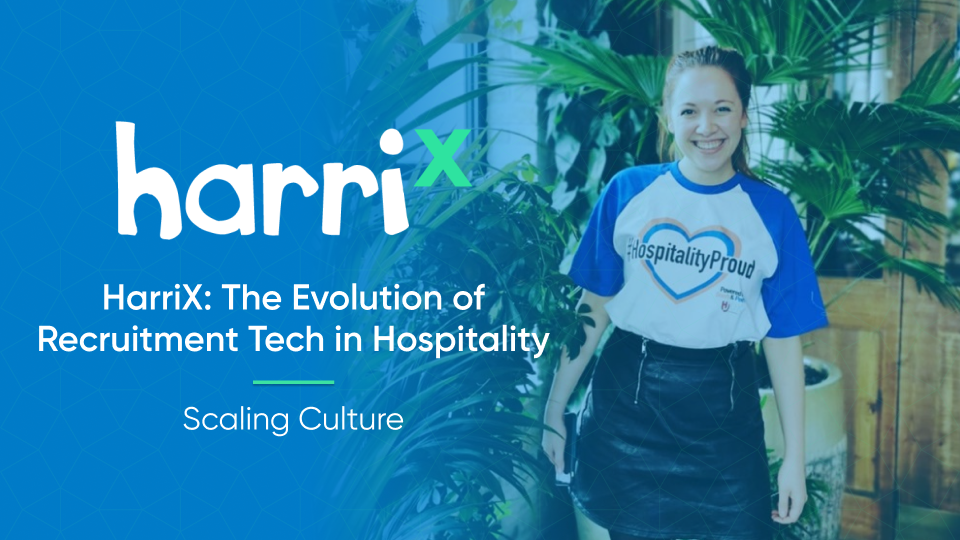 Welcome back to HarriX! This is an event hosted to discuss the evolution of recruitment technology in the retail and hospitality industry, including predicting trends and the importance of the human element in hiring practices.
In this session, we met with Hayley Connor, Head of People at Brewhouse and Kitchen, the largest brewpub chain in the UK, to discuss scaling company culture in the wake of high growth.
In the last 3 years, Brewhouse and Kitchen have experienced 103% sales growth and grown from 90 to 500 people. Very impressive for this startup!
Hayley began her talk by discussing how Brewhouse and Kitchen were working on making their company culture better, as "culture is really important in any business, but especially a startup." 
She drew a comparison between Netflix and Blockbuster to further this point:Blockbuster put profit above people. They thrived on late fees and did not have a flexible culture.
Netflix came in and showed that they valued their people. They were able to build a business strategy around their people, and are seen as highly empathetic and can separate what must be done well now from what can be done later. For all of these reasons, they have been able to thrive where old fashioned companies such as Blockbuster have failed.
Culture must-haves and warnings
Culture is more than nice catchy words on the wall; Hayley emphasised the importance of finding the "human" aspect in human resources.
HR is accountable for the health of a company's culture, and she stressed that tech should be viewed as an enabler, not a disrupter. "Hospitality is inclusive," she saids: tech can give us the room to make our culture more human and authentic.
Positive company culture
Knowing people's names and positions in the company

Communications, learning

Enabling health and happiness

Creating rewarding experiences in the workplace
Negative company culture
Administrative burdens

Emails

Policy and procedures

Governance

Meetings
To that end, Brewhouse and Kitchen have used tech to understand, connect, speed up, and scale. They started first with employee engagement and communications where their teams were most likely to interact.
From Facebook groups and employee-facing webpages, the brand utilised many outlets to facilitate cross-team communications…and garnered a 95% interaction rate as a result!
Why is culture so important?
Hayley gives a powerful message underscoring the importance of culture in today's hospitality industry, "a tangible asset may save a company's bacon when it comes to liquidation, but a human-centric culture allows a business to thrive." 
And what are those benefits?
Enabling responsiveness to a changing world

Increasing levels of human empathy in a business
As Hayley puts it, "culture eats strategy for breakfast."
Between pandemic fears and job uncertainties, why not spend some time thinking about company culture within your own organisation?
Ask employees what it means to them and find ways to engage: the more connected they feel to the brand, the less likely they are to leave.
With high turnover rates, there has never been a better time to evaluate and enhance company culture.
Building and scaling culture using employee-facing technology
We couldn't agree more that communications are at the core of a successful company culture. But in a fast-paced industry like hospitality, it's easy for messages to get lost in the fold. When top-down and bottom-up communications are ineffective and inconsistent, it takes a toll on culture.
That's why we've embedded critical communication channels within our workforce management platform.
Take employee messaging for example. Whether an employee needs to chat with a fellow crew member, their manager, or another employee in the same position as them, they have easy access to brand-official messaging right within their Hari app.
Integration of communications within the TeamLive app is key. Employees are constantly logging into the app to view their schedules, edit payment information, and perform other activities critical to their work, guaranteeing that they'll be exposed to key team messages.
Learn how our integrated communications tool can support your brand's company culture during periods of growth.