86 The Quick Quit: Why Onboarding Is Critical In A Post-Pandemic World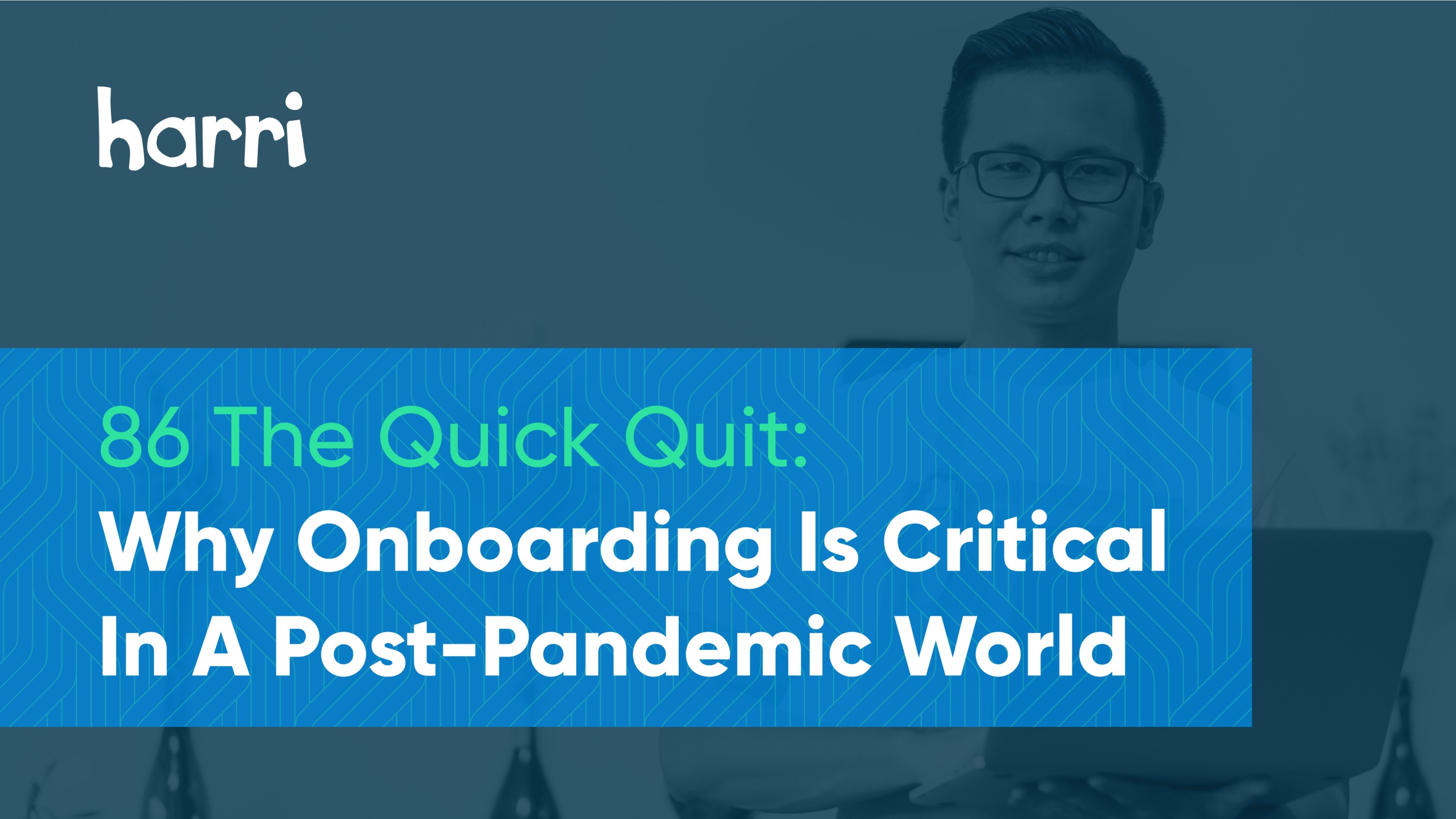 The frontline's needs have been largely forgotten. This has never been more resonant than in the post-pandemic environment, where the enormous pressure placed upon the workforce is making it extremely difficult to hire, engage, and retain.
A key part of the employee experience that needs more attention is onboarding. If the hiring process is an example of 'here's what you'll get when you work for us,' then your onboarding experience is how you can put that into action.
Here are four ways to avoid the 'quick quit' through engagement:
1. Go digital to meet changing expectations
COVID-19 brought QR codes and digital menus to the forefront of the dining experience, and employees and consumers now expect online touchpoints – in fact, they demand it. But implementing this technology could actually benefit you as a business owner, too. According to McKinsey & Company, organisations that excel at personalization generate 40% more revenue. But what exactly do new and existing employees want to see?
The latest CGA report (in partnership with Harri) revealed that 38% of hospitality employees think workplace technology has become more important post-pandemic. At the same time, 45% want to see workplace technology significantly improve. This accentuates the need for employers to invest in digital technology, to make all aspects of the employee experience safer and more convenient – and that starts with smooth onboarding.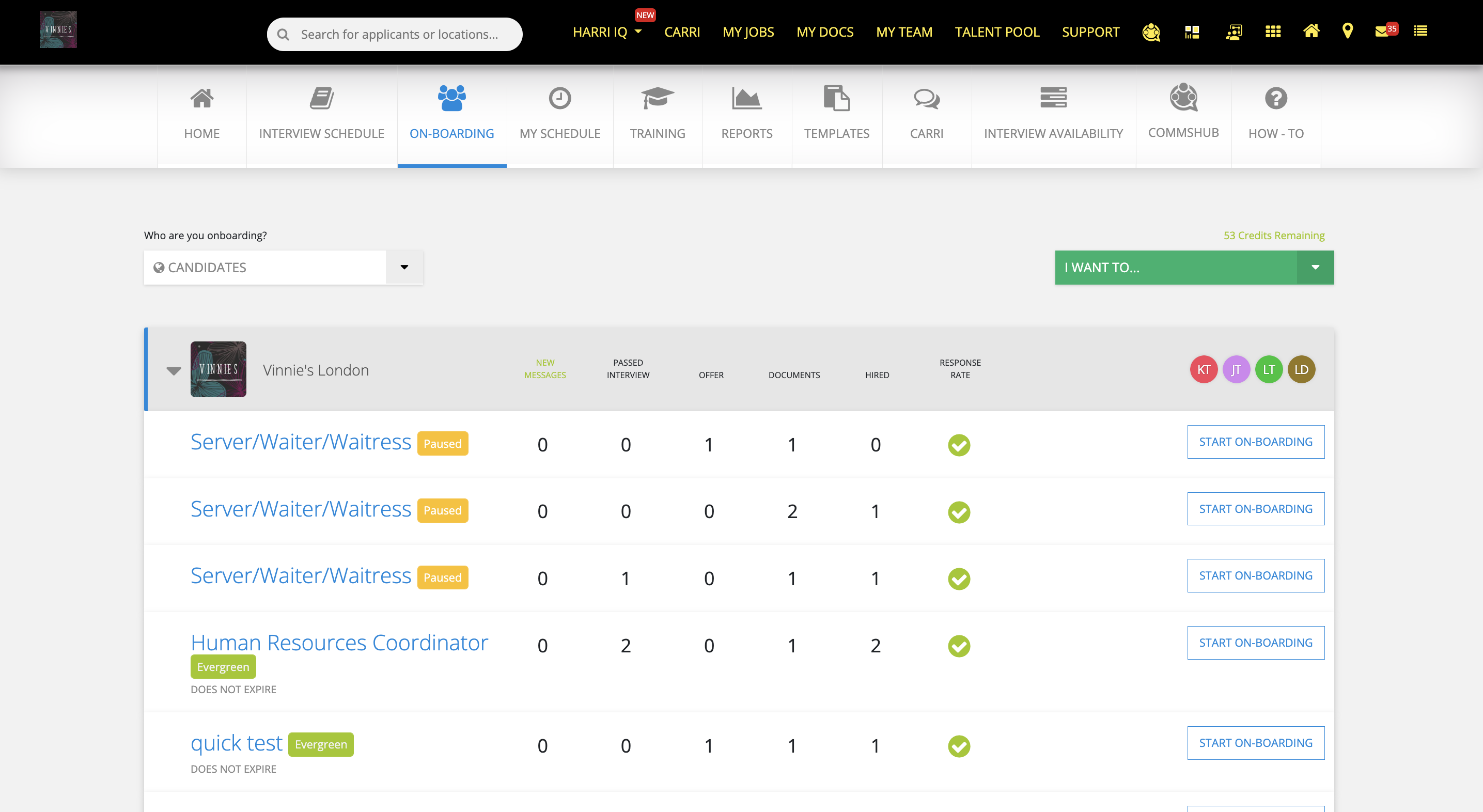 You can alleviate administrative work and deliver a more seamless new hire experience with an online onboarding solution. These solutions digitise the entire onboarding process and keep all relevant information in a single, compliant place. As the documents can be signed and reviewed online, new hires can self-onboard before their first day, allowing more time for training and a memorable experience. 
Once onboarded, new hires should be brought up to speed with the technologies they'll use in the workplace so they can hit the ground running. If you don't provide proper training and support from the start, you could experience high turnover and low productivity from new staff. This is particularly true for young workers who are just starting out in their careers.
Did you know that a negative onboarding experience doubles the chances of an employee seeking another opportunity?
2. Train for the Swiss Army Knife Employee
Service jobs are multi-faceted. The average worker juggles around 11 tasks (including other employee's tasks) daily. This number is even higher for morning workers, who have on average 23 tasks each shift. Having a single staff member manage numerous tasks can lead to mistakes, but with in-depth training from the first day, you can avoid these entirely.
The CGA report found that 37% of hospitality employees think their training is too basic or too long. Only a small percentage of workers are "very satisfied" that their training has equipped them for their duties. It's clear that to retain talent, businesses need to find a balance between the best length for onboarding, initial training, and ongoing education.
One simple and cost-effective way to improve training and keep talent on board is to connect them with your existing teams. This could be through ad-hoc meetings or shadowing to ensure they learn the ropes and gain the skills to succeed. It'll also help new hires gain a clearer picture of the growth and development opportunities in your business.
An intelligent conversational ambassador will enable your team to connect with each other via text and other familiar apps such as Facebook Messenger. These can be used to support onboarding, capture feedback on training to see what's working (and what isn't), and celebrate key employee milestones to keep your people engaged.
3. Prioritise employee wellbeing from the start
Staff well-being is a number one priority for employees – but there's still a long way to go. Currently, 52% of workers believe their employers aren't doing enough to support staff well-being, and 38% receive no help for a better work-life balance.
As such, employers must normalise the conversation about mental health and wellbeing from the moment someone joins, show genuine care for staff, and point them in the direction of support. If you have mental health programmes in place, how can they join? And what incentives does your company offer as part of a wellness package? 
These are important questions that new hires are likely to ask during the onboarding process.
If you're struggling to identify where there are problems or concerns from staff in your workplace, start with a workforce management platform that gives you insight into employee engagement. These help you build a better workplace for everyone, with actionable insights on employee sentiment about onboarding, manager performance, and scheduling. With these insights, you can take care of your team when they need it most. 
4. Shine a spotlight on career growth
Despite the range of opportunities in hospitality, the industry is often perceived as a stop-gap solution for students and graduates to earn some extra money. Over 40% of people who work in the industry are currently studying, saving, or seeking work in other sectors, while only 23% have chosen hospitality as a career.
The possibility of career growth should be clear from the beginning, and onboarding is a great opportunity to advise new hires on how they can progress in hospitality. This could be through a clear career development plan and as they shadow existing employees.
Using an online onboarding platform, employers can upload customised documents (such as career development plans) for new hires to review before they begin their hospitality journey. You can even see when these documents have been sent, opened, and signed.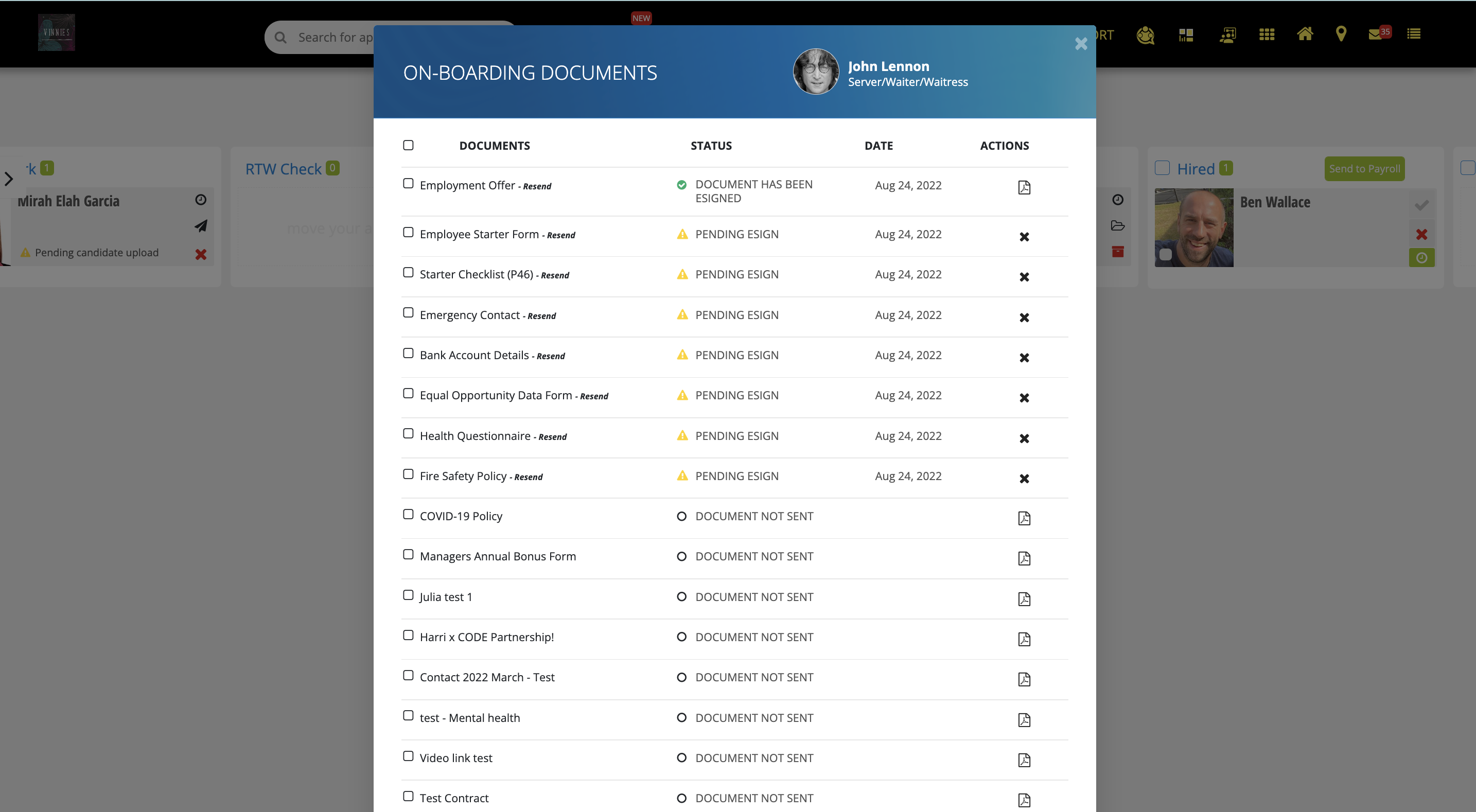 Ready to 86 the quick quit?
It's clear that a great new hire experience sets the tone for a great employee experience. To learn more about how to leverage technology to power a seamless frontline employee experience, request a free demo today!