Wellbeing Warning Signs To Watch Out For In Your Staff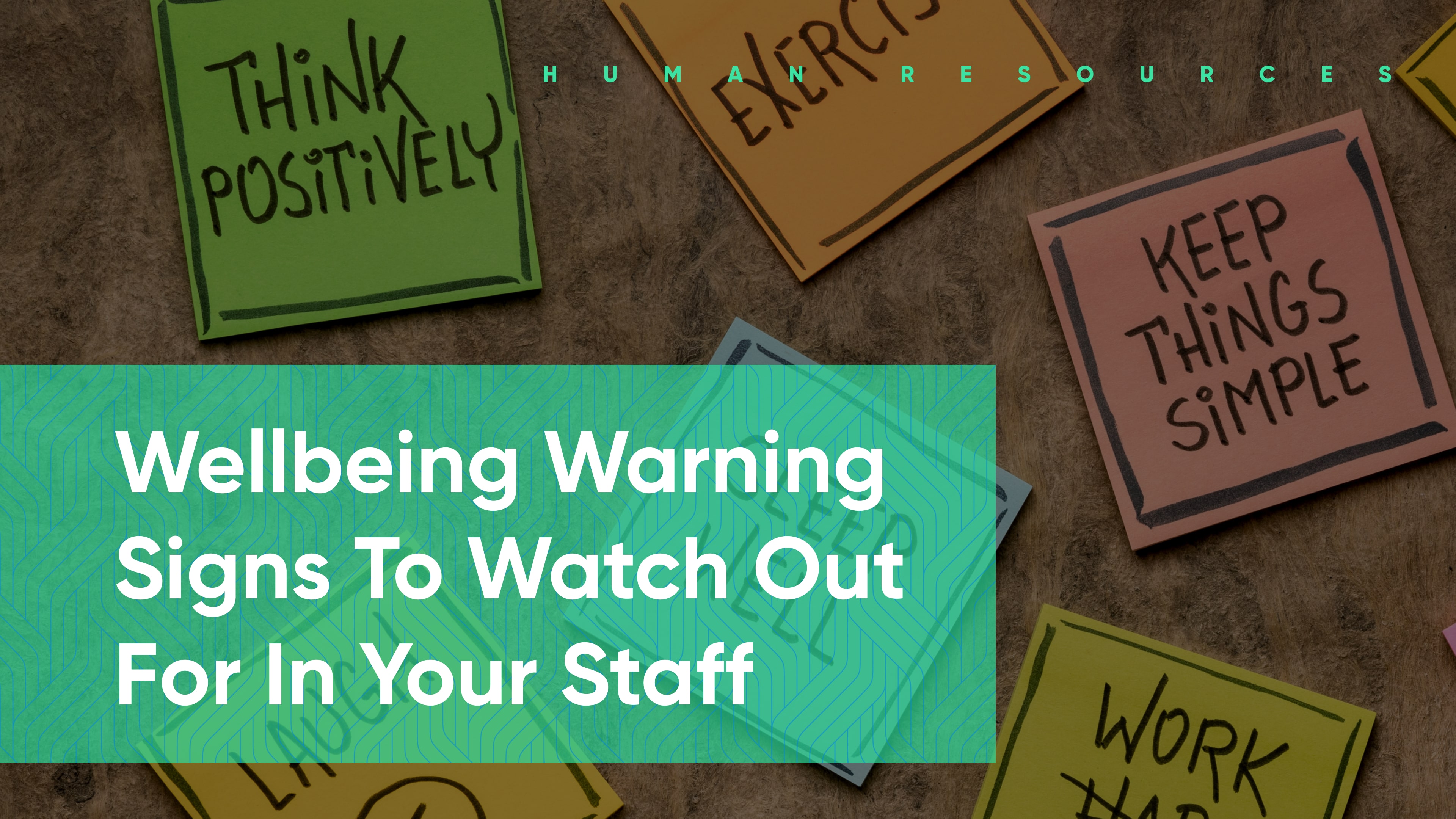 While Mental Health Awareness Week may be at an end, the conversation around wellbeing needs to continue. Now, more than ever before, business owners and managers need to put mental health and wellbeing at the top of their agenda – not just this year, but forever.
In our recent Recruitment Summit we discussed the importance of keeping employees' wellbeing at the forefront of businesses' priorities.
Brexit, furlough, as well as the ongoing staffing crisis have all highlighted the importance of staff wellbeing, but how can you tell if someone is struggling with their mental health? And what can you do to show employees you care? To help you answer these questions, we've offered some guidance around the top wellbeing warning signs to look out for. 
Frequent Mood or Behavioural Changes
During these uncertain times, it's normal to experience changes in both mood and behaviour. Even if we weren't in a pandemic, human emotions can be complex and vary from day to day. But if an employee has started acting out of character (especially on more than one occasion), it could be a sign that something is wrong and support may be required.
At a time where workers are feeling the strain of potentially overworking due to staffing shortages, productivity and motivation are essential for getting through this difficult time. While lack of productivity is normal from time to time, those who are regularly unproductive may be struggling with their mental health. The result is often a backlog of work which can cause further stress and anxiety – something that must be addressed immediately. If you notice that an employee is struggling with tasks they were previously able to manage or is lacking motivation, it may be time to reach out.
Expressing Personal Problems
When it comes to sharing information about our personal lives, everyone is different. Some may discuss it in detail at work, while others may prefer to keep their work and home lives separate. Whatever they choose to share is up to them – the key thing here is to listen. If an employee vents about personal issues they are experiencing, such as being unable to sleep well or losing their appetite, their wellbeing may be suffering. 
Of course, mental health symptoms aren't just psychological – they can be physical too. Fatigue, low energy, muscle pain, headaches, stomach pain, digestive problems, and shaking are all common physical symptoms of mental illness. Keep track of these to determine whether action is necessary. If it is and they need to take time off work or flexible hours, consider using our smart scheduling tool to ensure you have the right people in place to drive operational success. 
With more people coming forward to speak about their struggles, the stigma around mental health is finally beginning to ease. Yet, when it comes to the workplace, many are still reluctant to speak up. In 2021, this should no longer be the case. 
Work should be a safe space where people feel comfortable enough to come forward and talk about their problems. However, unless business owners and line managers properly communicate this, many will refrain from coming forward and seeking help. 
Communication and transparency is especially important now that some employees may be able to work from home, or have to work more shifts to cover staffing shortfalls. By being more transparent and open about wellbeing, whether on video calls or team apps, you can help further lift the stigma that currently exists around mental health in the workplace.
Tech-based solutions to address employee wellness
Harri's communication tools allow employees and managers to stay in contact through one-to-one direct messaging, if an employee requires support or advice; employees and managers can also post information on the company newsfeed to help promote continuing conversations and openness about mental health. Employees can also give feedback at the end of their shifts when clocking out, in order to give managers a snapshot of their experience and overall wellbeing. 
Harri also offers mental health tools as part of our Compliance Package to help you manage stress and anxiety in your team. Want to see it in action? Click here to request a demo.
If you're interested in wellbeing and mental health training for your team, courses are available from Kelly's Cause and Upskill People. 
Don't suffer in silence. If you need help, or are suffering with your mental health at the moment, contact Samaritans or one of the dedicated hospitality mental health helplines. 
Hospitality Action – Hospitality Action provides support with mental health issues through our clinically recommended short-term brief focused counselling. If longer term support is required then our clinical team can help you access this through the NHS or other specialist services.
Burnt Chef Project – On the 1st February 2021 The Burnt Chef Project launched The Burnt Chef Support Service, which is a free text based service available 24/7 to anyone involved in hospitality who wishes to talk about their mental health. To use this free and confidential service just text:
BURNTCHEF to 85258 (UK)
HOME to 741741 (USA & CANADA)
Anytime day or night a volunteer will aim to respond within 5 minutes.