An Insight Into The Hospitality Industry From Ann Elliott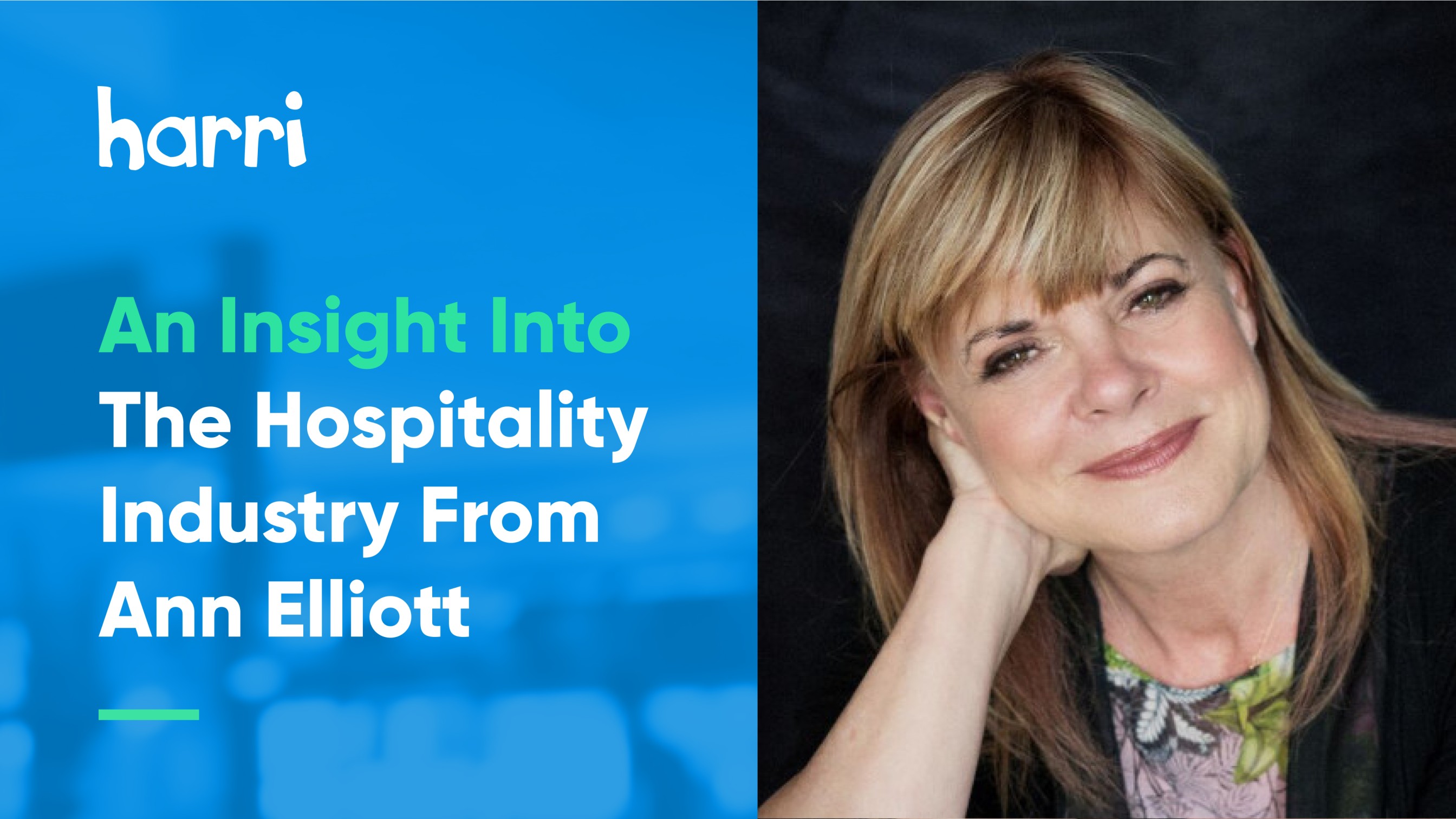 We recently had the opportunity to interview Ann Elliott, hospitality & leisure strategist, connector and advisor, and founder of Ann Elliott Hospitality Consultancy. Over the last few months, Ann has worked closely with Harri to unveil the recruitment and retention challenges in the industry. In her discussion with Louise Gallant, Head of Marketing at Harri, Ann revealed her key findings. 
'People & Leadership in Hospitality' revisited
Last year, we partnered with Ann Elliott to interview a broad selection of People Directors from restaurants, hotels, pubs, and quick-service restaurants. The aim of these interviews was to uncover the impact that COVID-19 and Brexit have had on retention and recruitment, and what the future holds for these brands.
Since then, we've revisited many of the original participants (and some new ones) to discover the long-term impact that this perfect storm has had on their ability to attract and retain talent. To gain a deeper understanding, we sat down with Ann to chat about what's currently happening in the hard-hit hospitality industry. Here's what we discussed:
The initial challenges as people emerged
Ann pointed out that there were three different groups of Human Resource Departments (HRDs) when the pandemic hit: 
Those who were very well prepared

Those who thought it would all work out in the end

Those who knew they needed to start planning
Inevitably, the third group struggled. Those who didn't think it was going to be an issue found that it was a much bigger problem than originally anticipated.
"One HRD said to me: 'I probably said 18 months ago to you that it wasn't going to be an issue. I was an idiot. It is an issue and it's going to be an issue."
Brexit has created a high level of uncertainty amongst HRDs. Even those who prepared for the inevitable couldn't anticipate how many EU citizens would be forced to leave the UK. Throw COVID-19 into the mix, and that uncertainty was amplified, forcing HRDs to find new and creative ways of recruiting and retaining top talent. Consistent and open communication with team members, as well as a stronger focus on mental health and wellbeing, was key.
How are operators addressing these issues?
When the pandemic hit and restrictions became tighter, many operators didn't know who was going to show up to work on any given day. You'll know better than anyone that if you don't have an adequate number of staff to deliver a successful service, you don't have an income. This pushed companies to prioritise which locations to keep open, move staff around based on changing demands, and engage with their people more than ever. 
The problem came when businesses in other industries attempted to get hold of their hospitality teams… 
"As one HRD said to me: 'nothing's off the books. I will try everything to keep my team'."
Changes to training and development
Social-distancing measures brought on by COVID-19 moved everything online – including team training and development. The good news is that because many operators are now seeing younger people get more interested in the hospitality industry, the transition to online learning was generally quick and easy. 
On the other hand, many businesses began recruiting people based on their attitude, as opposed to their skills, throwing training budgets out of the window. 
As COVID-19 measures eased, HRDs had to review their ambitions, purpose, values, and what they stand for, to be able to attract top talent. Most had to rethink how and where they can recruit people from, with many turning to the younger generation (aged 16–23), apprentices, and sponsorship licences. There's also been increased collaboration between operators and marketeers who specialise in recruitment.
Others had to reconsider their hiring and interview process, ensuring it's a positive experience for candidates whilst generating the required recruitment results for the business. 
"I think there's been a lot of lessons learned about people. This is not to denigrate what anybody was doing before, but they've learned to be a lot quicker in terms of recruitment and getting people in. I think they've learned a lot about induction and training and moving that online. None of those are going to change. They've also learned a lot about bringing people in who've got the attitude, and having to boost up training budgets. Those are all going to carry on."
The future of hospitality
"I think there's less of a concern now that people are going to leave. Whoever's left has left. However, what I did hear from one or two HRDs was that chefs, this year, this summer, will be a huge issue. So moving that chef's career pathway, recruiting chefs from abroad, having to pay chefs more, is the real issue for this year."
Download the resulting white paper to discover HRD views on:
The current market and the state of their business since March 2021 

The recruitment and retention landscape over the last 12 months 

The opportunities around recruitment and retention for 2022 

The role of tech in HR in the year ahead