Have Your Say In The 2023 Inside Hospitality Survey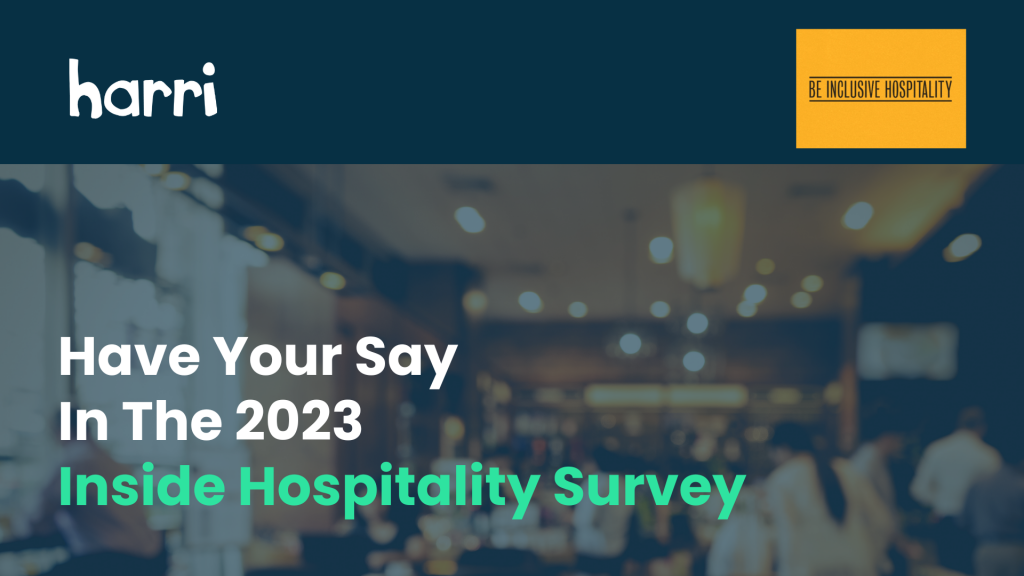 The team at Harri is proud to announce that we're once again partnering with Be Inclusive Hospitality (BIH) to develop the 2023 Inside Hospitality Survey and 2023 Report. The collaborative project between Be Inclusive Hospitality, Ulster University, and the University of West London aims to build and develop knowledge to create a fair and equitable hospitality sector. 
In case you missed our blog on the 2022 Report, Be Inclusive Hospitality is a not-for-profit organisation on a mission to accelerate racial equality in the hospitality industry. Founded by multi-award-winning social entrepreneur, community builder, life coach, speaker, and hospitality professional Lorraine Copes in 2020, Be Inclusive Hospitality responds to the industry's lack of insight and research on equity, diversity, and inclusion.
The report will continue to be a resource and a catalyst for change so that the sector will be more educated on what it takes to build more inclusive teams. 

"It's a privilege to again proudly sponsor this project. At Harri, we are proud to represent a client base as diverse as our teams and believe strongly in our wonderful community in the hospitality sector. Our hope is that this report continues to drive progress toward an equitable, diverse, and inclusive industry."

Jennifer Ravalli, Chief Marketing Officer at Harri
On 31st January 2023, Stephanie Latham, Associate Director of Customer Success at Harri, attended Be Inclusive Hospitality's webinar, where industry leaders came together to mark the launch of the Inside Hospitality survey. 
During the webinar, she explained why Harri is supporting this year's initiative: 
"I'm proud to say that at Harri we are a diverse team across the globe. As a tech company, we operate in the UK, Europe, India, America, and Palestine. I think it's really important for myself and the Harri team that we support this space and keep the conversation going. That's why we've sponsored [the report] again for the second year running. I'm also really keen to see how tech can support and track changes within the D&I space." 
Add Your Voice to The Conversation
As always, your opinion matters, so share what you think! Give voice to your experiences and views anonymously in the 2023 Inside Hospitality Survey. It shouldn't take more than 10 minutes to complete. The deadline to participate is Friday 31st March 2023.