CDC Guidelines For Reopening Restaurants, Dining Rooms, and Bars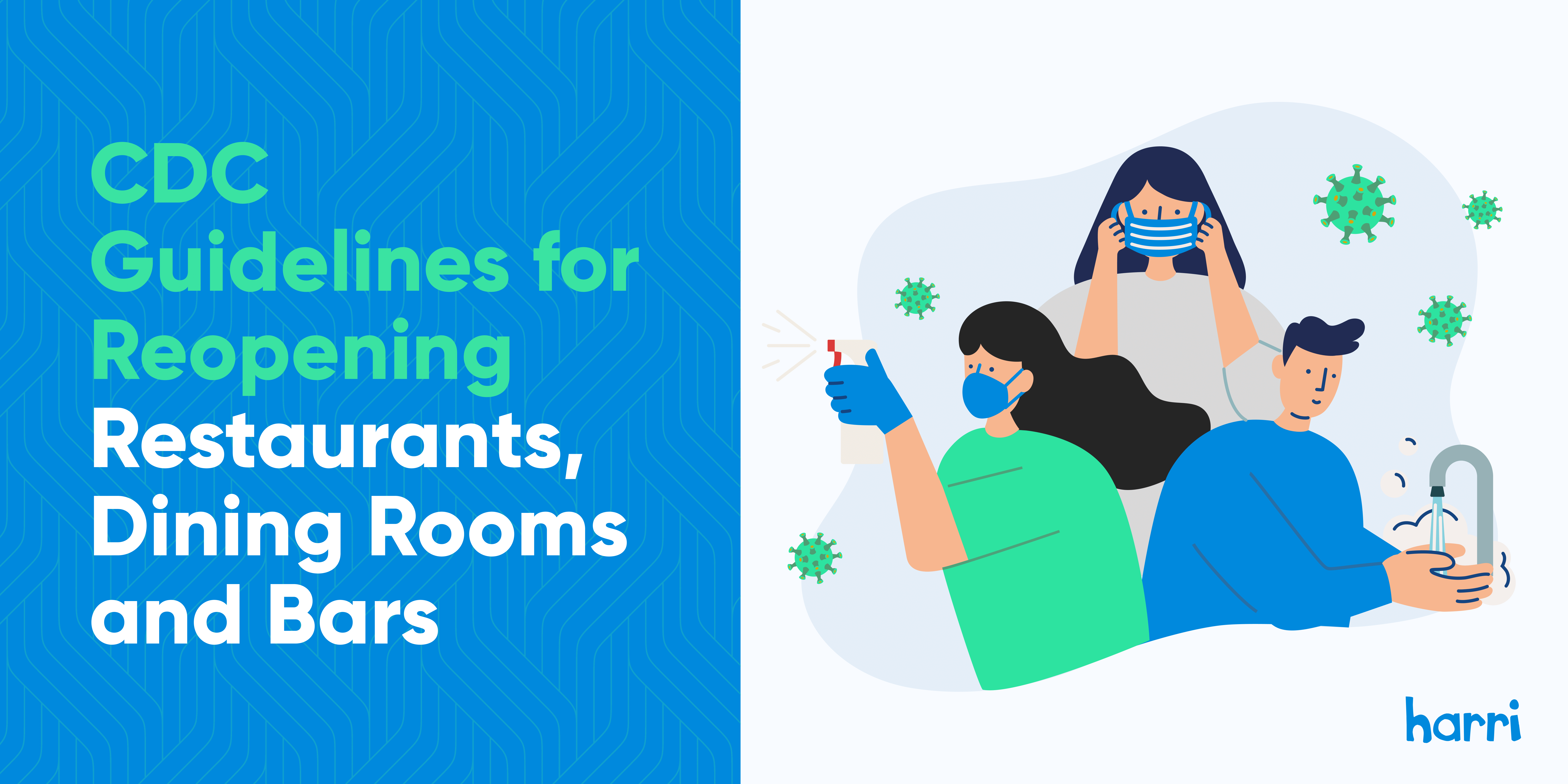 The Centers for Disease Control and Prevention recently laid out its guidelines for restaurants to be able to reopen successfully and safely. The CDC has been the leading voice on which protocols to follow and how to execute health and safety precautions. These guidelines are designed to be applied to all restaurants, but can be translated to a variety of other hospitality industry jobs. As our current situation progresses, the CDC and other major health organizations will continue to develop protocols and establish safety perameters.
According to the CDC (quoted in Nation's Restaurant News), "reopening must be consistent with state and local orders and that operators must be prepared to protect employees with higher risk for severe illness, including people aged 65 or older, people with chronic lung, liver or kidney disease, serious heart conditions, diabetes or moderate or severe asthma, immunosuppressed people, and severely obese people with a body mass index of 40 or higher."
The CDC emphasises social distancing tactics, increased sanitization practices, and employee health checks as a means to reopen successfully. The following is the mandatory checklist to assess reopening from the CDC.
Promotion of healthy hygiene practices such as hand-washing and employees wearing cloth face coverings "as feasible"

Intensified cleaning, sanitation, disinfection and ventilation

Encourage social distancing and enhance spacing, including by encouraging drive-thru, delivery, curbside pickup, spacing of tables and stools, limiting party sizes and occupancy, avoiding self-serve stations, restricting employee shared spaces and rotating or staggering shifts "if feasible"

Train employees on those health and safety protocols
The CDC also recommends the following practices, as a means to be as safe possible:
Develop and implement procedures to check for signs and symptoms of employees daily upon arrival, "as feasible"

Encourage anyone who is sick to stay home

Plan for if an employee gets sick

Regularly communicate and monitor developments with local authorities and employees

Monitor employee absences and have flexible leave policies and practices  

Be ready to consult with the local health authorities if there are cases in your bar or restaurant, or if there is an increase in cases in the local area
As situations develop, finding the most efficient way to implement these practices into everyday life is essential. The Harri Health Check Platform is the easiest and most efficient means for employee health checks. Our Health Check Platform enables an employer to log employee symptoms, temperatures, and access an audit to be printed and displayed for customers. This platform is geared towards providing guests with confidence and empowering employees with a simple and efficient screening process. All of the screening questions and practices come directly from the CDC guidelines. Let Harri handle the tracking and reporting of results while you focus on carrying out the safety measures.
With health screenings, each state has their own ordinances on what practices to follow. In order to keep track of which state and local orders are in effect, Harri has created an interactive map as part of our Health Check Platform. This map will provide you with clarity on which states are enforcing which rules, and update you when those change. You can access the map here.