Festive Fear Replaces Festive Cheer This Christmas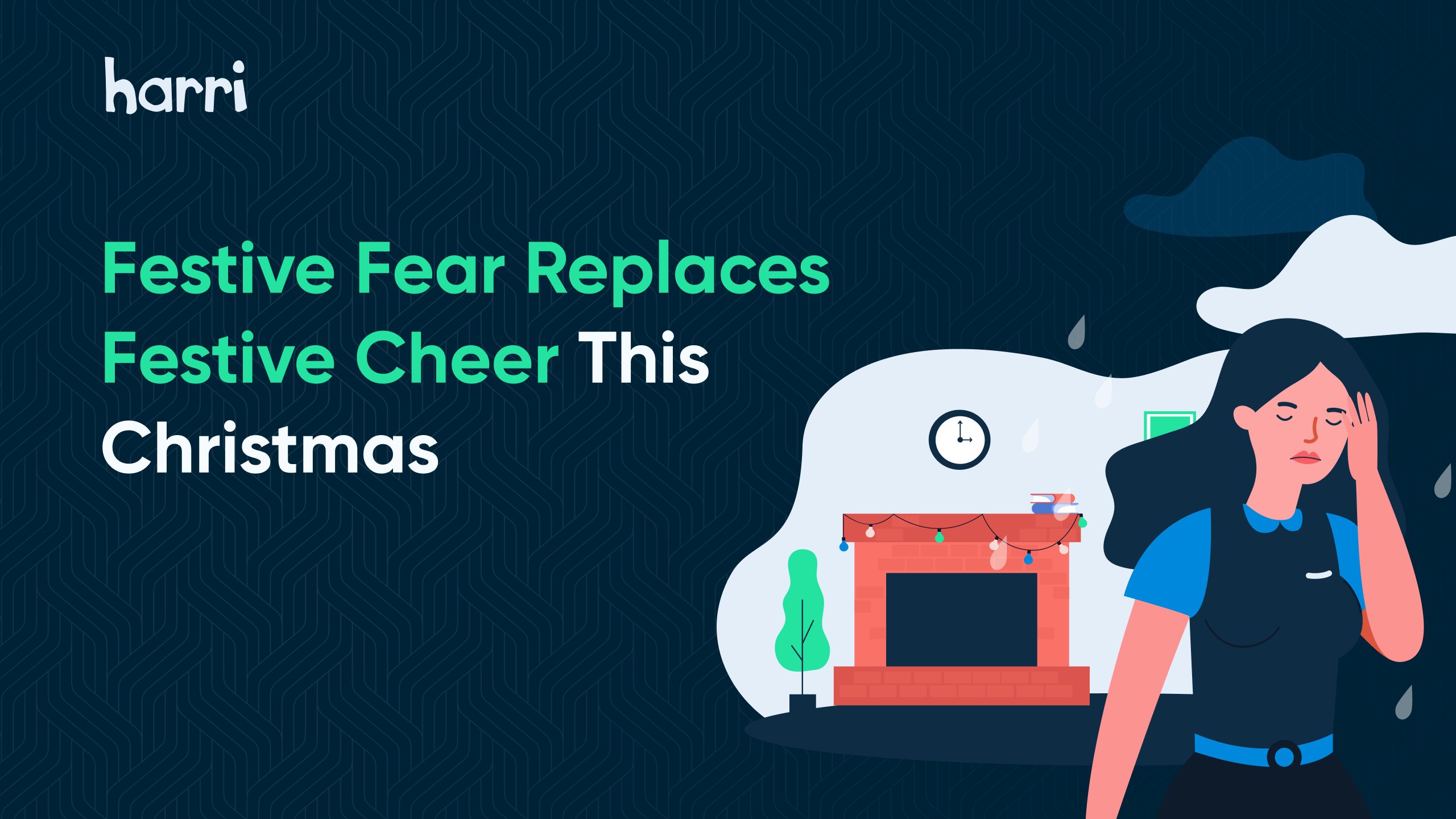 Christmas is supposed to be the busiest time of year for hospitality, with an annual scramble to find enough people to fill temporary vacancies over the party season. While this year was shaping up to be busier than last, with Covid restrictions eased and operators desperately trying to fill permanent and temporary roles, sadly things are now looking rather different.
Job adverts in hospitality fell 25% in a week as operators scrapped hiring plans amid a downturn in bookings caused by fears over the Omicron Covid variant. Here, we take a look at the challenges facing the sector over the festive period and consider the outlook for hospitality as we head into a new year.
Job Ads Fall Along With Christmas Bookings
According to job portal Adzuna, the number of advertised hospitality jobs on December 5 was 80,327, down from 107,782 the week before to the lowest level since August. Adzuna said the drop in vacancies bucked seasonal trends and confirmed that the hospitality and catering sector had already been hit hard by cancelled Christmas party bookings and diners eating out less due to concerns over Omicron. 
The Adzuna data was backed up by analysis of OpenTable restaurant bookings, which revealed that reservations started falling as soon as the new variant emerged in late November. For the week ending December 3, the five-day weekday average of diners was down 1.19% compared with the equivalent week in 2019. The previous week, bookings were 10% ahead of 2019 levels. It was the first time the measure had been negative in over six months.
The Christmas of Cancellations
Now, with the government urging people to work from home to help stem the spread of Omicron, and to "think carefully" about going out in the run-up to Christmas, restaurants and pubs across the country are telling of mass cancellations, with predictions that festive takings will be cut by 40%.
Data from UKHospitality for Monday to Sunday of last week (December 6-12) showed a 13% drop in trade and a 15% increase in cancellations, compared with pre-pandemic levels. In central London, which is particularly affected by the lack of office workers, takings were down 40%, while there was a 25% surge in Christmas bookings being cancelled.
Phil Urban, chief executive of Mitchells & Butlers, said customers began cancelling bookings last week after the government's work-from-home guidance was announced. He told The Guardian: "We immediately saw cancellations. Anybody who was at all nervous, or any company that was planning a do was likely to cancel.
"We saw the impact on Friday and Saturday but we'll really start to see the damage this week, particularly in city centres where historically we'd have lots of corporate events. That's gone now and there's nothing anyone can do to put it back."
In Scotland – where social distancing rules and data collection for contact tracing have been reintroduced – hospitality operators are seeing even more cancellations after Public Health Scotland said Christmas parties should not go ahead. Leon Thompson, UKHospitality's executive director for Scotland, said: "Within minutes of their [Public Health Scotland's] statement being issued, businesses were receiving cancellations, leaving Christmas and Hogmanay trade in tatters.
"Businesses take up to a third of their annual revenue at this time of year. Public Health Scotland has single-handedly jeopardised the survival of businesses and the jobs people rely on."
Hospitality Staff Hit Hard
Of course, cancelled bookings means fewer staff are needed to cover shifts, which is a disaster for many hospitality workers. One such worker revealed on Twitter how the situation is affecting him, saying: "I do agency event bartending and waiting on, gone from being booked every Thursday-Sunday until new year to over half my shifts being cancelled and scrambling round to get a warehouse/picker packer shift."
Owner of the Dog at Wingham in Canterbury, Marc Bridgen, said it wasn't just his business "struggling to make ends meet" as a result of lost trade, but that the pub's staff are losing income: if one worker has Covid, others have to isolate and get PCR tests, and sometimes there aren't enough staff to operate the pub to its full capacity. He told The Morning Advertiser:
"I've got 10% of my team currently suffering with coronavirus. Two-thirds of our team are on zero-hour contracts, and they won't get quite as many hours in December as we all hoped they would get. Also, because we're not going to be quite as bumper as we should be, there won't be as much service charge, which the whole team shares."
Hospitality's Reputation is Suffering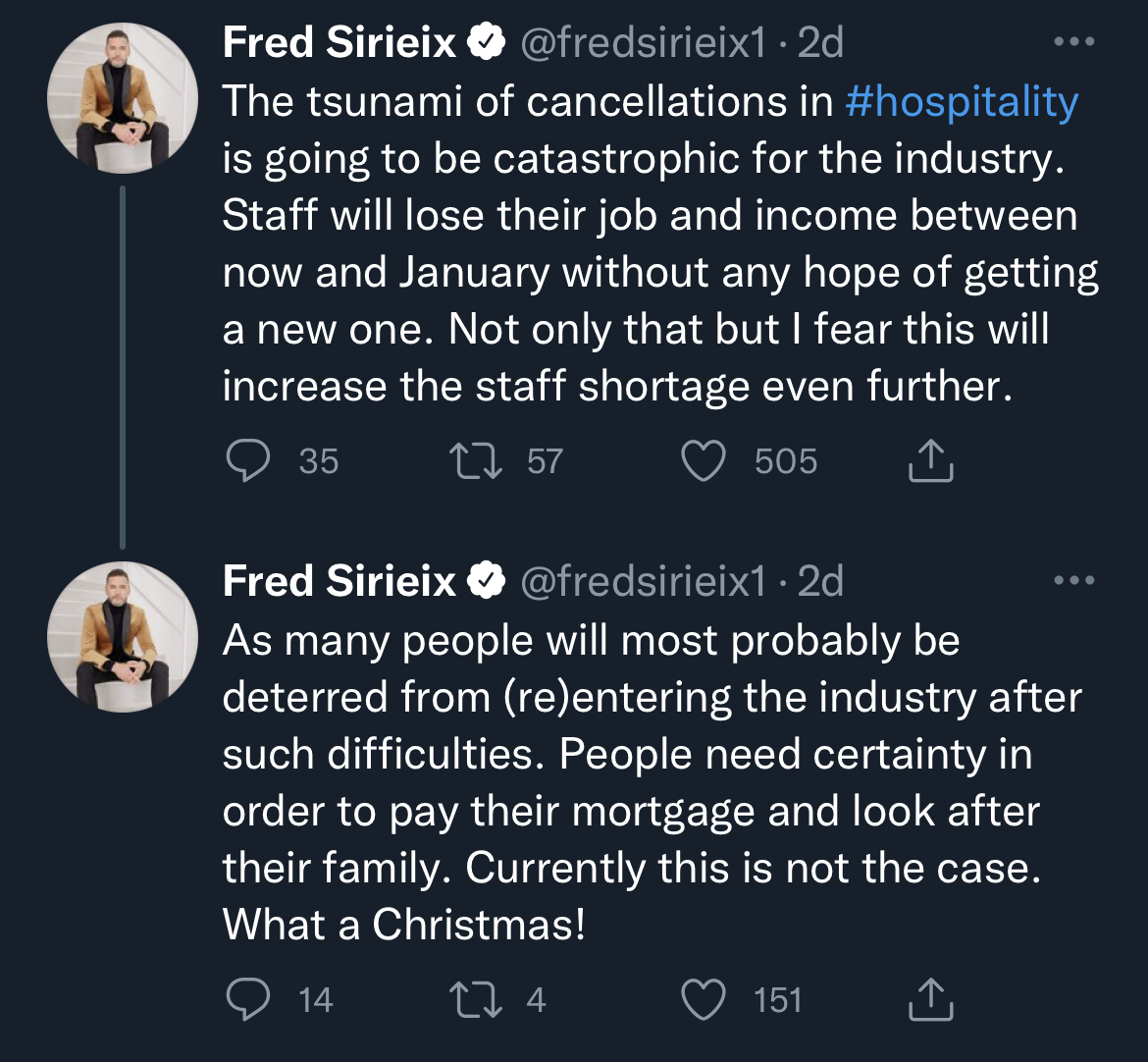 Hospitality was already facing a recruitment crisis before the impact of Omicron, and now the fear is that the industry will be seen as an unstable – and therefore, unattractive – sector to work in.  Hospitality frontman Fred Sirieix voiced his concerns on Twitter, saying that the cancellations would have a knock-on effect on employment in the new year.
Calls are being made for urgent financial support from the government to help prevent permanent closures and lost jobs, with £100m already pledged by the Scottish Government to help businesses there. Speaking to The Telegraph, Michael Kill, chief executive of the Night Time Industries Association, said: "With the prime minister appearing to lack the political will to impose actual restrictions, and instead seeking to induce a pseudo-lockdown through repeated sombre-sounding announcements, our sector is now facing the worst of both worlds – a drop in footfall and no government support to help us through."
In these times of uncertainty, one thing that is for sure is that in 2022 businesses are going to have to work harder than ever to attract new talent.  You need to convince potential applicants that hospitality is a fun and viable sector to work in, and Harri is here to help with that.
One key way you can put your company ahead in the race for talent is by making sure your website really demonstrates your amazing culture and values. Harri's career branding solution can bring your brand to life by showcasing what it means to work at an organisation like yours.
Information on job openings, company values, culture, employee testimonials, and details on benefits can be displayed in one central place, helping job seekers understand why they should work for you and driving excitement at the start of the candidate journey.
Carri, Harri's friendly human-like AI hiring assistant, can help drive that excitement even further by handling the entire application and candidate communications lifecycle in real-time via SMS, web-based chat on your careers page, Facebook Messenger, and more. Carri not only simplifies the application process, but makes it fun, engaging and innovative – who wouldn't be attracted by that?