From the Frontlines: A Conversation with Sam Tuthill on Hospitality Wage Increases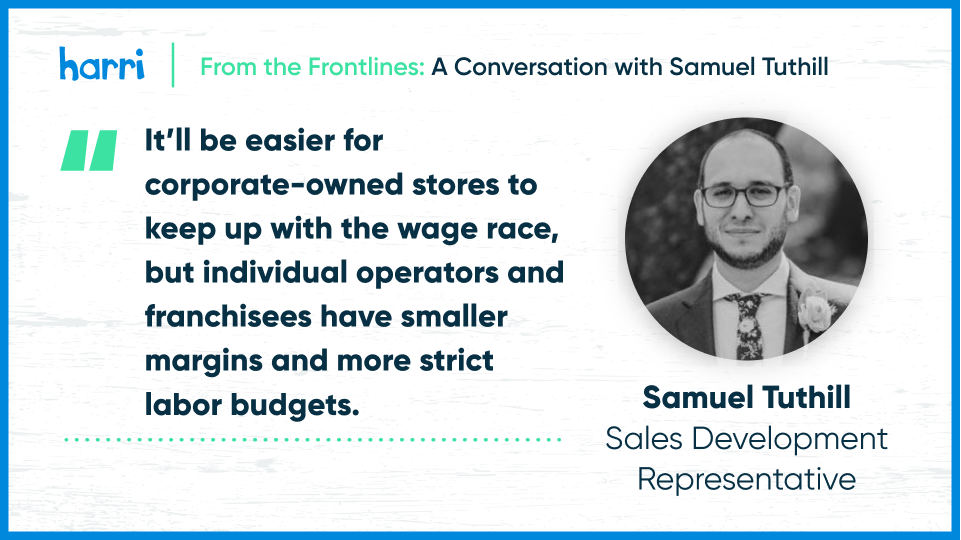 Welcome back to another episode of From the Frontlines! In this series, we highlight members of Team Harri who have inside insights into the latest hospitality trends. This week we met with Sam Tuthill, a Sales Development Representative at Harri to discuss employee wage increases in hospitality and the implications they could have on the future of hospitality operations. 
Welcome back, Sam! It's no secret that hospitality's labor market is tight right now. As someone who interfaces with managers on a daily basis, are you seeing any trends in talent attraction strategies?
Thank you for having me, excited to be here! Candidates are moving towards higher-pay opportunities, and as a result, we're seeing wage hikes for hourly employees in an attempt to win talent. Industry giants like McDonald's and Chipotle are implementing these raises for managers and their teams as a long-term talent attraction move. 
That sounds like it could have a ripple effect across the entire hospitality industry.
That's right. It's interesting because wage increases directly correlate to a better employee experience, which is absolutely a viable long-term hiring and retention strategy. 
However, McDonald's and Chipotle are such influential players in the space. We're likely to see more and more brands follow suit and increase their employee wages to keep up with them. Then if our country adopts a federal $15/hr like we've been seeing a push for, that would also push for further increases to maintain a competitive edge.
How do you think that would impact hospitality operations?
It'll be easier for corporate-owned stores to keep up with the wage race, but individual operators and franchisees have smaller margins and more strict labor budgets. Food costs will probably increase to cushion the financial blow. Teams also might need to get used to doing more with less if managers can't afford to maintain large teams.
I think we'll continue to see an increase in other retention measures too, like career branding and progression, to further support a brand's competitive advantage as an employer.