Hospitality Counts the Cost of a Second Lost Christmas – But Will the New Year Bring Better Times?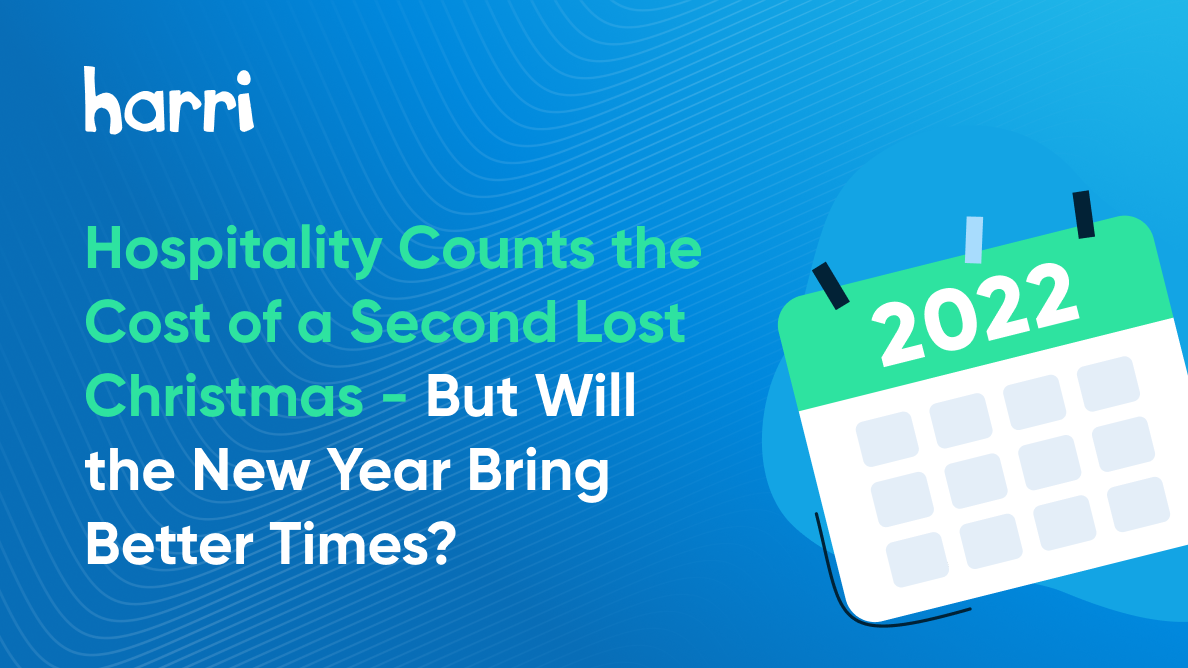 Christmas may feel like a distant memory now for many, but hospitality operators up and down the country are still licking their wounds after their festive trade dropped off a cliff. Here we take a look at exactly how the Omicron Covid variant affected the industry over Christmas and New Year, and ask if there's any good news on the horizon.
The season of very little cheer
Hospitality operators knew it wasn't going to be a good Christmas when the cancellations started flooding in, and now the official figures have confirmed it – Christmas 2021 trading was decimated by fears over the Omicron variant. Pubs, bars and restaurants lost £10,335 on average in the week leading up to Christmas, with takings on Christmas Day down 60% compared to 2019, according to figures from UKHospitality.
Barclaycard, which sees nearly half of the nation's credit and debit card transactions, reported that consumer card spending at restaurants declined by 14.1% compared to a 3.5% fall in November. Bars, pubs and clubs saw noticeably smaller growth of 21.2% in December, compared to 35% the previous month.
In Wales – where (as in Scotland) social distancing, table service only and a maximum group size of six were reintroduced in response to Omicron – pubs lost £16,000 in revenue over the fortnight festive period from December 19 to January 1. According to the Welsh Beer & Pub Association (WBPA), sales were down 34% from the same period in 2019. UKHospitality said average sales for the hospitality sector had been close to pre-pandemic levels (98%) in the weeks prior to the new variant emerging. 
However, 'work from home' restrictions and a drop in consumer confidence hit businesses so hard that many were forced to close early for the festive holidays. UKHospitality chief executive Kate Nicholls said that with December usually equal to three months' worth of trading, this decline in trade pushes back recovery by at least the same amount of time.
She added: "Hospitality businesses have been hit hard during a key trading period – and this after missing out on the crucial Christmas and New Year sales last year. Restrictions must be kept to a minimum and must be lifted as quickly as possible to help an already beleaguered sector, or many will simply not survive."
What will the next few months bring?
With Omicron having been shown to cause mostly mild illness, and with the number of fully vaccinated people in the UK at a high level, there is some cause for optimism as we head into the spring. Covid restrictions are less likely to be imposed on hospitality businesses in England now that hospitalisations appear to be falling, while the lifting of restrictions in Wales, Scotland and Northern Ireland is surely imminent too.
But there are some very big challenges ahead, including the looming return to 20% VAT in April, which UKHospitality is urging the government to put on hold. "In order to help the industry recover and return to growth, the government must commit to keeping VAT at 12.5% and offering enhanced rates relief, " says the organisation's Kate Nicholls.
Another, more immediate, challenge for operators, particularly pubs, is the "Dry January" annual month-long abstention from alcohol. Leading industry voices are urging those who have chosen not to drink alcohol during January not to desert their local pub, at a time when their custom is needed more than ever. Greg Mulholland, director of Campaign for Pubs, stressed the improved availability of non-alcoholic options in the UK's network of pubs.
He added: "Pubs and publicans will need support throughout January and we'd urge people to continue to go to the pub. The pub is about so much more than having a drink, so we hope people recognise the important role pubs play in our communities and get out and support them, whatever they choose to drink and eat."
The major challenge that's not going away: staffing
Having enough staff available to run your business is a major problem that's being exacerbated by self-isolation. Operators have faced huge difficulties recruiting talented workers over the past few months, and now many are finding that the limited staff they do have are increasingly off work self-isolating due to Covid.
The chief executive of Gusto Italian has said that the situation is "very difficult", with around 40% of its staff off at some point over the past month, and at one stage 20% off at the same time. "The business has been on a knife edge for the last month," he said. "For example, we opened our new restaurant in Nottingham, traded it for eight days, and had to close it for 10 days due to a severe Covid outbreak, with smaller closures throughout the business's 12 other sites."
And while Christmas was surprisingly busy for one pub in Derbyshire, the week straight after Christmas saw 30% of the pub's staff off with Covid, meaning the New Year's Eve celebrations had to be cancelled with a loss in sales of about £10,000. "So many people saw loads of cancellations [over Christmas] or people not turning up, but every cancellation we had, we probably had another three tables book in, so that was really good," explained licensee Luke Payne. "And then that week in between Christmas and New Year, coronavirus just ripped through our team. We had to shut, and we're still shut. We're a small team in a tiny pub in the Peak District, so it's just not possible for us to open with 30% of our staff suffering from Covid."
Where does Harri come in?
The isolation period has now been reduced from 10 to five days for fully vaccinated people, offering some good news for operators whose staff will be able to return to work sooner.
But self-isolation is sure to be an issue for a while longer yet, and with fluctuating numbers of staff available, and people often being off work at short notice, efficient scheduling and communications tools are paramount.
Harri's Workforce Management system enables easy communication between team members, and helps keep employees fully onboard at the click of a button. Tools include Harri's Smart Scheduling Module which allows employees to swap, drop and request more shifts as they need to, and enables managers to make sure they've always got the right people in the right place at the right time.
With such an urgency to find new talent to help share the load, Harri's innovative AI hiring assistant Carri can really help speed up the recruitment process. More than just a chatbot, Carri can manage the entire application and candidate communications lifecycle via SMS, web-based chat on your careers page, Facebook Messenger, and more. Carri's real-time messaging allows candidates to quickly apply and set up interviews, plus Carri can communicate details about the team, benefits and culture with applicants in a personable way, making them feel valued from the word go.