Hospitality Operators React To VAT Increase: Is It All Bad News?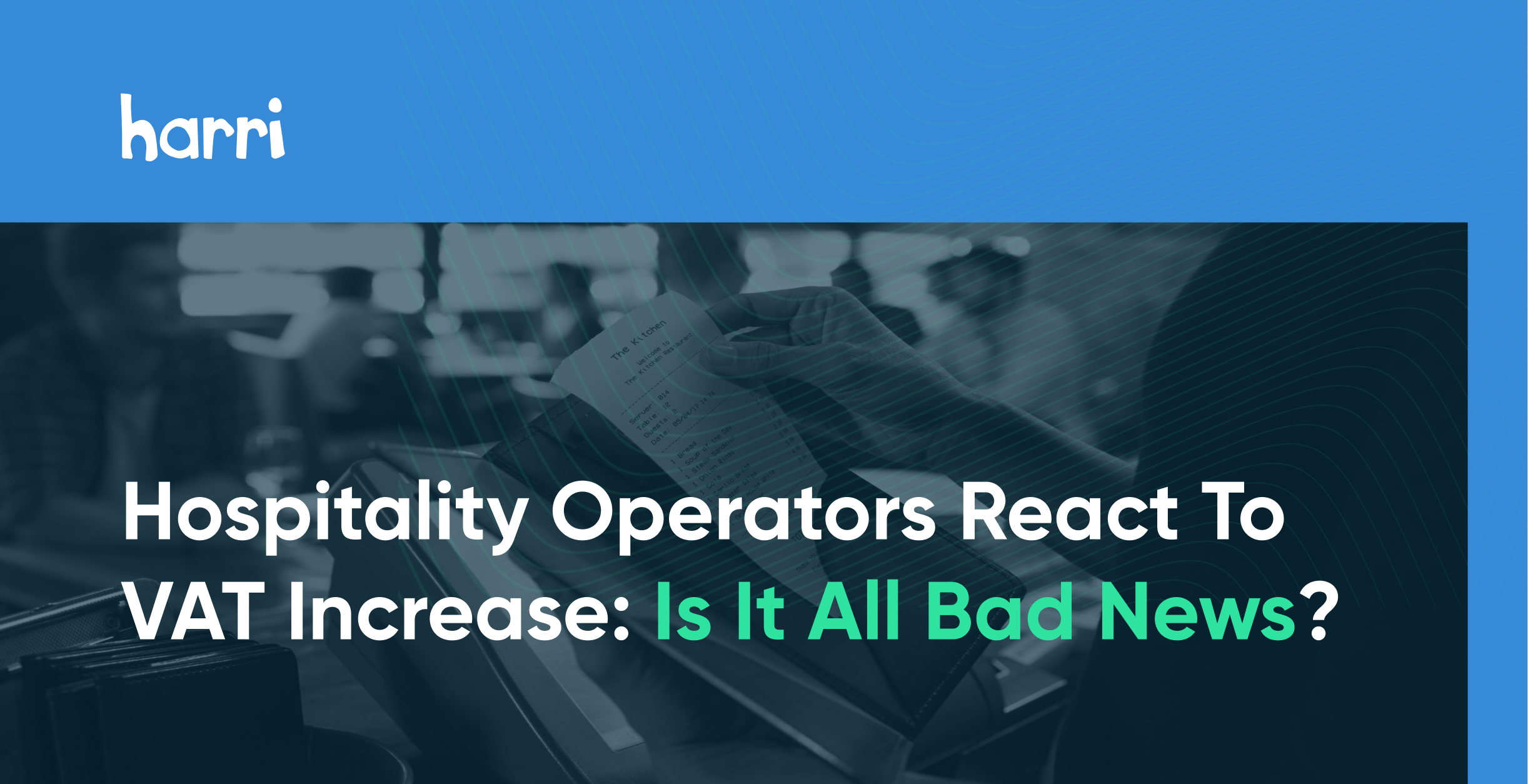 Chancellor Rishi Sunak's recent Spring Budget caused hospitality businesses considerable distress. After months of campaigning to freeze VAT at 12.5%, operators were once again left in the dark. In his speech, Sunak made no reference to holding VAT, and on 1st April 2022, it returned to the pre-pandemic rate of 20%. 
Here's what industry leaders have to say about the increase, and what you can do to ensure you stay on top of your costs. 
The rise in VAT was no doubt poorly timed. A recent business survey by UKHospitality found that the industry is currently facing a 95% hike in energy bills, 19% in labour costs, 17% in food prices, and 14% in drink rates. These pressures have worsened in recent months as the rate of inflation rose to a 30-year high of 7%. 
In response to the statement, UKHospitality CEO Kate Nicholls said: 
"For many businesses, the removal of the lifeline of a lower rate of VAT might prove fatal. For a heavily, disproportionately taxed sector, a return to 20% dashes the hopes that many businesses could begin to recoup some of the losses of the last two years."
Nicholls isn't alone in thinking this. Clive Watson, chairman of The City Pub Group, agrees that the sector will suffer badly from increases to a range of costs – not just VAT: 
"I know the chancellor's got to recoup the money to pay for COVID, but he shouldn't be suffocating industries that have suffered that badly … As companies try and emerge from COVID, a lot of them will just fall by the wayside because of this cocktail of cost increases."
This 'perfect storm' of price increases will negatively impact businesses in the already hard-hit hospitality industry. Of course, it isn't all bad news for the sector…
In the coming months, eating- and drinking-out sales are set to increase as customer confidence rises and at-home eating sales fall. The latest CGA Hospitality at Home Tracker revealed that, while delivery and takeaway sales in March 2022 were 119% higher than in March 2019, growth has stalled over the last 12 months – sales were 24% lower than in March 2021 when COVID-19 restrictions were in force. 
Karl Chessell, CGA's Director of Hospitality Operators and Food, EMEA, responded to these insights: 
"Given the comparatives, the year-on-year dip in deliveries and takeaways was inevitable. It's also a welcome sign that many consumers still prefer eating out to ordering in, and that their behaviour is settling back to pre-pandemic norms."
As the interest in eating out rises, you need to make sure you have the right number of staff in place to deliver a successful service. That's where Harri comes in. 
Our smart scheduling tool ensures you always have the appropriate number of staff in place to deliver the ultimate hospitality experience, all while remaining compliant with local laws. This will be particularly important as we gear up for what's set to be a busy summer ahead. 
Would you like to learn more about this revolutionary solution and how it can help you save operating costs? Request a demo today! 
Discover more consumer insights
Our latest collaborative report with CGA is now live! Click on the link below to download your free copy.