How the Pingdemic is Affecting the Hospitality Workforce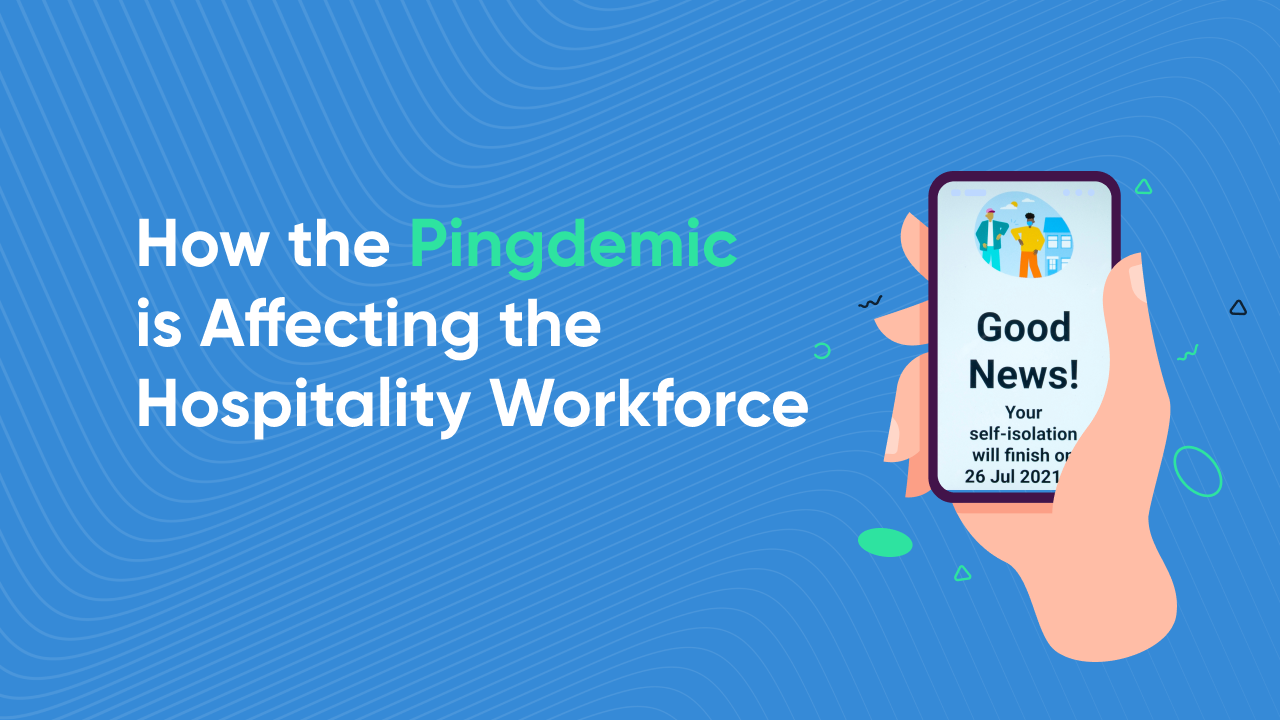 Over the last few weeks, more than 600,000 people have been told to self-isolate after being 'pinged' by the NHS COVID-19 app. These alerts have caused widespread staff shortages and significantly disrupted the hospitality sector, which was already struggling to fill its open vacancies.
Despite the recent easing of all lockdown restrictions, businesses across the country now face even more pressure to quickly hire new staff, so they can prevent further closures and minimise financial stress.
Here, we take a closer look at the consequences of what's being dubbed the 'pingdemic'… 
20% of the Workforce is Self-Isolating
According to UKHospitality, up to 20% of the sector's workforce is currently self-isolating. This figure is expected to rise considerably, as the number of people pinged by the app continues to increase. Many bars and restaurants have already had to take swift action, reducing their operating hours or closing their doors completely, due to lack of staff. 
Stonegate, the largest pub company in the UK, said that 1,000 of its employees are isolating after being pinged by the app, and 15 of its 4,800 venues are closed. These figures emphasise the need to ensure you have the right staff in place at the right time, so you can continue to deliver a successful service. 
Using our smart scheduling tool, you'll only spend the necessary labour costs, without sacrificing on customer service or satisfaction. By saving your managers hours in administrative time, you can ensure they're concentrating on what really matters at a time when it's more important than ever. 
The Threat of Summer Closures
Recently, the government announced that the hospitality industry won't be included on the self-isolation exception list. This means that even if a worker is fully vaccinated, they'll have to self-isolate if they're alerted by the app. As a result, the sector now faces an entire summer of site closures and reduced operating hours. 
Kate Nicholls, CEO of UKHospitality, is one of many industry leaders who are disheartened by the news. 
"It is disappointing the government has drawn the list of roles so tightly and left hospitality and the rest of the economy to face the consequences. We now face a summer of venue closures and reduced service when we should be at a seasonal peak. The sector will do all it can to provide great service, but it will be with one hand tied behind our back," said Kate. 
To remain open and ensure customer satisfaction this summer, you'll need skilled workers who can support your business objectives and growth. Our bespoke talent attraction platform enables you to distribute your open positions to millions of job seekers, and bring in high-quality staff that will help you operate safely. Not only can you post your jobs quickly and simply, be it on mobile or desktop, but our many integrations allow you to post on external jobs boards with just a few clicks, meaning you can reach a wider audience instantly. 
How Integrated HCM Tools Can Help
It goes without saying that the hospitality labour market is currently very tight. If you want to attract and ultimately retain top talent at a time when every application counts, you need to take advantage of the latest technology to automate hiring processes, give managers time back and ensure your candidates have the smoothest interview and hiring experience possible. 
Our smart conversational ambassador, Carri, helps to determine which candidates are suitable for the job, so you can focus on other important aspects of your business. By neatly integrating with our ATS, Carri's conversational AI technology can be used to simplify the interview coordination process by handling the booking and logistics required to guarantee success. Carri can support conversations anywhere, anytime to assist hiring managers in screening, accessing, and coordinating interviews with viable candidates. 
Take a look at our recent webinar blog, 'Lessons To Be Learnt From QSR', to learn about the key challenges faced by the QSR industry during the pandemic. 
Want to know more about our hospitality-centric HCM platform? Head to our website and request a free demo today!