How to Onboard Employees in the Restaurant and Hospitality Industries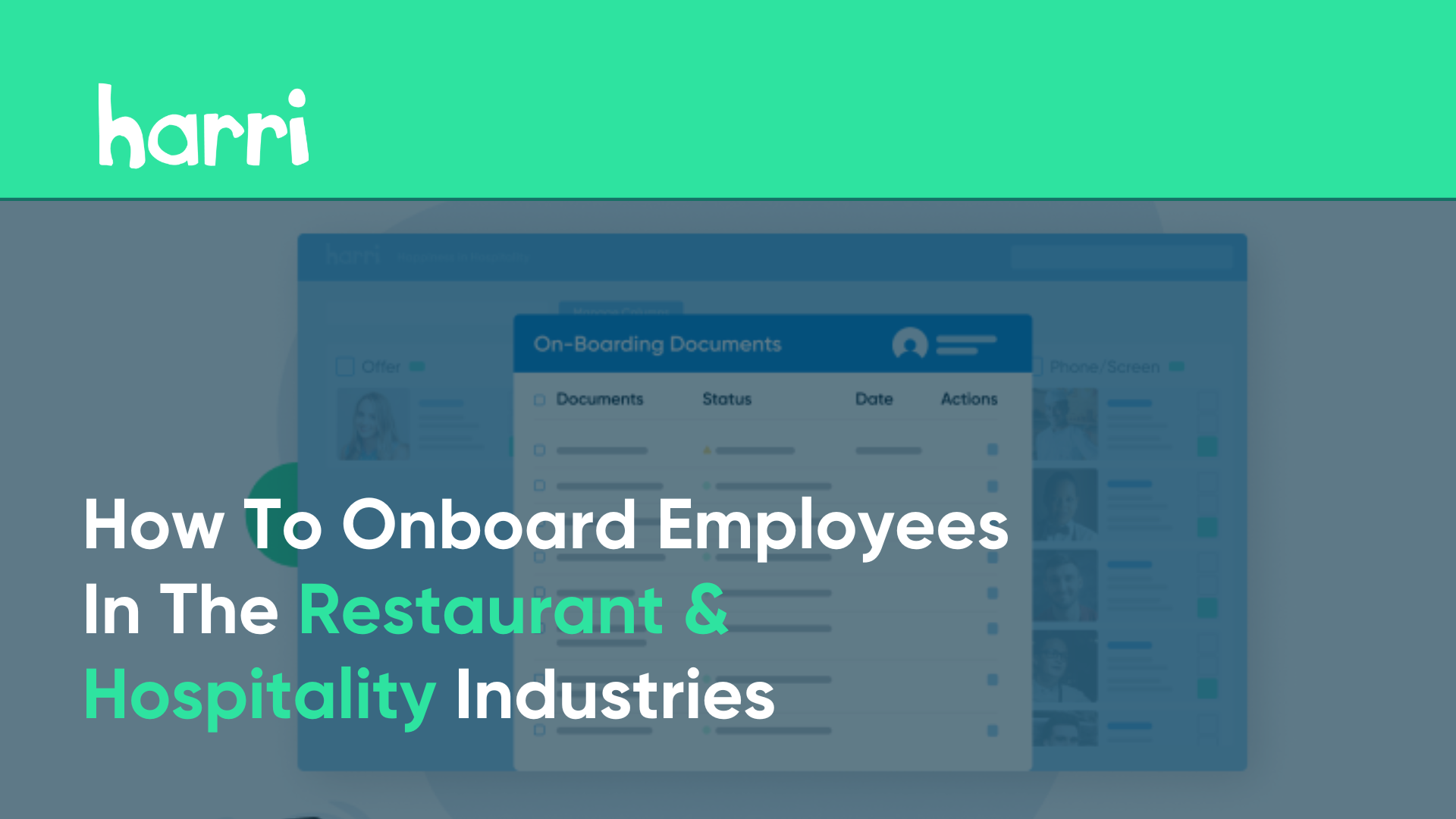 While sometimes overlooked, the employee onboarding process is just as important as interviewing and vetting candidates. There is a strong argument to be made that onboarding is an even more relevant factor of business success than ongoing efforts to boost retention. Onboarding has the potential to make or break your workforce, especially if you own or manage a business in the restaurant and/or hospitality industry. 
If you are struggling to retain your waitstaff and other contributors, take comfort in the fact that you are not alone. Most restaurants find it difficult to seamlessly onboard new hires, train them so they can meet expectations and keep them in the fold for more than a year. Even a slight misstep during the onboarding process has the potential to send employees to competitors. Alternatively, restaurants and other hospitality industry employers who master the subtleties of the onboarding process succeed in retaining their valued contributors, hiking productivity and attracting many more hard workers to the business through referrals. 
From implementing the best onboarding software to coordinating meet-and-greets with employees, engaging in productive dialogues and beyond, it is the subtleties of the onboarding process that matter most. However, if you are like most restaurant and hotel managers, you haven't taken a deep dive into the nuances of onboarding. Below, we provide a brief look at onboarding, why it is so important and the onboarding best practices that maximize contributions from new hires.
What is onboarding and why it matters
Onboarding is the process of imparting knowledge and skills onto new hires. The aim of onboarding is to train employees to the point that they can operate at least semi-autonomously, and make a meaningful difference at your organization. The onboarding process begins the moment an employee shows up for their first day of work. The onboarding process includes but is not limited to:
The completion of paperwork

Engaging in training sessions

Interacting with coworkers

Developing an understanding of how work is completed
Onboarding is not the same as orientation as it moves well beyond the initial week of employment. Onboarding has the potential to last an entire month or even longer, depending on the complexity of the position. Implement the best onboarding software and you'll reduce the amount of time invested in this important transition period. As is commonly said, your time is your money, especially as a business owner.
The overarching aim of onboarding is to integrate a new hire into the culture of the company so they understand the nuances of standard operating procedures. Onboarding sets the stage for a new hire to make meaningful contributions that add to the bottom line. Ideally, new hires will develop a rapport with coworkers during this critically important introductory period.
10 best practices for employee onboarding
Your unique approach to the employee onboarding process shapes new hires' perception of the organization. Prepare ahead of time, by going over the list of tips below and you'll succeed in onboarding new additions. Without further ado, here is a quick look at the best practices for onboarding new employees to your restaurant or other hospitality industry business.
1. Prepare ahead of time
Do not wait until your new hire's first day of work to prepare for the onboarding process. Pre-board the employee with preparation for a seamless transition and you'll reduce the learning curve while boosting the chances of retention.
2. Refine the welcoming process
It is often said that first impressions are the most important. Invest time and effort in perfecting your company's welcoming process and you'll make a positive first impression that proves indelible. You can enhance the welcoming process with an introductory package of work-related sundries, prepping the new addition's workspace and guiding the new addition through meet-and-greets with fellow employees.
3. Take guidance from leaders
It is a mistake to place the entirety of the burden of the onboarding process on those at or near the bottom of your organization's totem pole. New hires are more inclined to remain with an employer if they feel valued. Involve company leaders in the onboarding and training processes, making it clear that the most valued team members care about new hires. Even if senior leaders only spend a brief amount of time with new hires, their presence will help impart the organization's cultural values and expected behaviors.
4. Utilize onboarding software
Interpersonal skills are essential to a reciprocal relationship yet denying the world has made a digital transition is to the detriment of every business in the hospitality sector. Recognize the fact that human personnel can only take the onboarding process so far and tap into the power of onboarding software. 
The best onboarding software makes it that much easier to process paperwork, orientate new additions, train them on the nuances of the workplace and streamline the transition process. Take your time when reviewing the different onboarding software options, reviewing the merits of each and selecting the one optimal for your unique hospitality business.
5. Ask questions of new hires!
There is a common misconception that employers have little to nothing to learn from new hires as there is an inherent power imbalance. However, in reality, employers in the hospitality industry have plenty to gain from picking the brains of new hires. In short, it is not the new addition who should ask all the questions. Pose verbal and written inquiries to new hires, asking them what they need to thrive and feel as though they are a part of the team, then proceed accordingly.
6. Encourage the development of a rapport
Trust between coworkers is essential to success on the individual and group levels. However, it takes time and effort to develop a rapport. Give your new hires an opportunity to bond with coworkers and they'll be that much more likely to develop a mutually beneficial rapport. 
Arrange initial meetings between new hires and employees so they have an opportunity to socialize, ultimately laying a foundation of trust that expands with each passing day. Team-building activities, luncheons, pizza parties and other social activities bolster trust all the more.
7. Plan an onramp to actual work
Few hospitality industry employees are capable of making meaningful contributions on the first day of employment. Instead of asking new hires to start working right off the bat, give them an opportunity to learn the ropes and make contributions as time progresses. In short, it is in your interest as well as that of your new hires to plan an "onramp" that facilitates a seamless transition from the introductory phase to actual work. Gradually implement new information, tasks and responsibilities throughout the onboarding and training processes, allowing the employee to work his or her way up to more demanding work.
8. Implement diverse onboarding activities
Placing a new hire in a room or cubicle and forcing him or her to read through a training manual is not the best approach to onboarding. The best restaurants, hotels and other hospitality industry businesses plan diverse onboarding activities. Such activities should keep the new hire fully engaged with the learning process, hiking memory retention and paving a path toward meaningful contributions in the near future. Though reading through the employee manual and training materials is important, it is in both parties' interest to weave in additional onboarding activities to maximize engagement. As an example, the following help new hires fully understand their role:
Video tutorials

Webinars

Question and answer sessions

Hands-on learning
9. Conduct a dialogue, not a monologue
New hires appreciate the opportunity to be heard. Invite feedback concerning the onboarding and training processes then implement that feedback into subsequent onboarding sessions. Resist the temptation to resort to authoritative monologues, and engage in constructive dialogues and the conversation will prove productive for both parties.
10. Digitize your onboarding process
Onboarding is that much more efficient when part of it is digitized. Though there is certainly value in face-to-face interactions between personnel and new hires, it is not cost-efficient to dedicate a large portion of employee workdays to onboarding new additions who aren't yet invested in their newfound employment. The truth is some new hires will jump ship regardless of the efficacy of the onboarding process. However, if the onboarding process is at least partially digitized, it will appeal to those who favor visualized learning as opposed to human interaction.
An added bonus is the fact that digitizing some of the onboarding processes liberates your team to temporarily deviate from showing new hires the ropes to focusing on productive work. Provide new hires with digital and tangible copies of information for easy accessibility. A digital onboarding system automates this important transitory period, albeit only to a partial extent. Digital onboarding enhances the accuracy of the process and also maximizes its efficiency, ultimately providing more opportunities to personalize the experience through one-on-one or group interactions.
Simplified Hospitality Onboarding with Harri
You are not alone in the quest to add productive new hires to your team. You can streamline the onboarding process for restaurants, hotels, and retailers by reducing administrative overhead and providing a smooth experience for new hires with Harri. Our comprehensive onboarding solution for hospitality includes a digitized system, payroll & HRIS integrations, automated Right to Work verification and more!
If you're ready to meet Harri and see what we can do for your business, request a demo with our team today!