How to Write Job Adverts That Appeal to What Candidates Really Want In 2021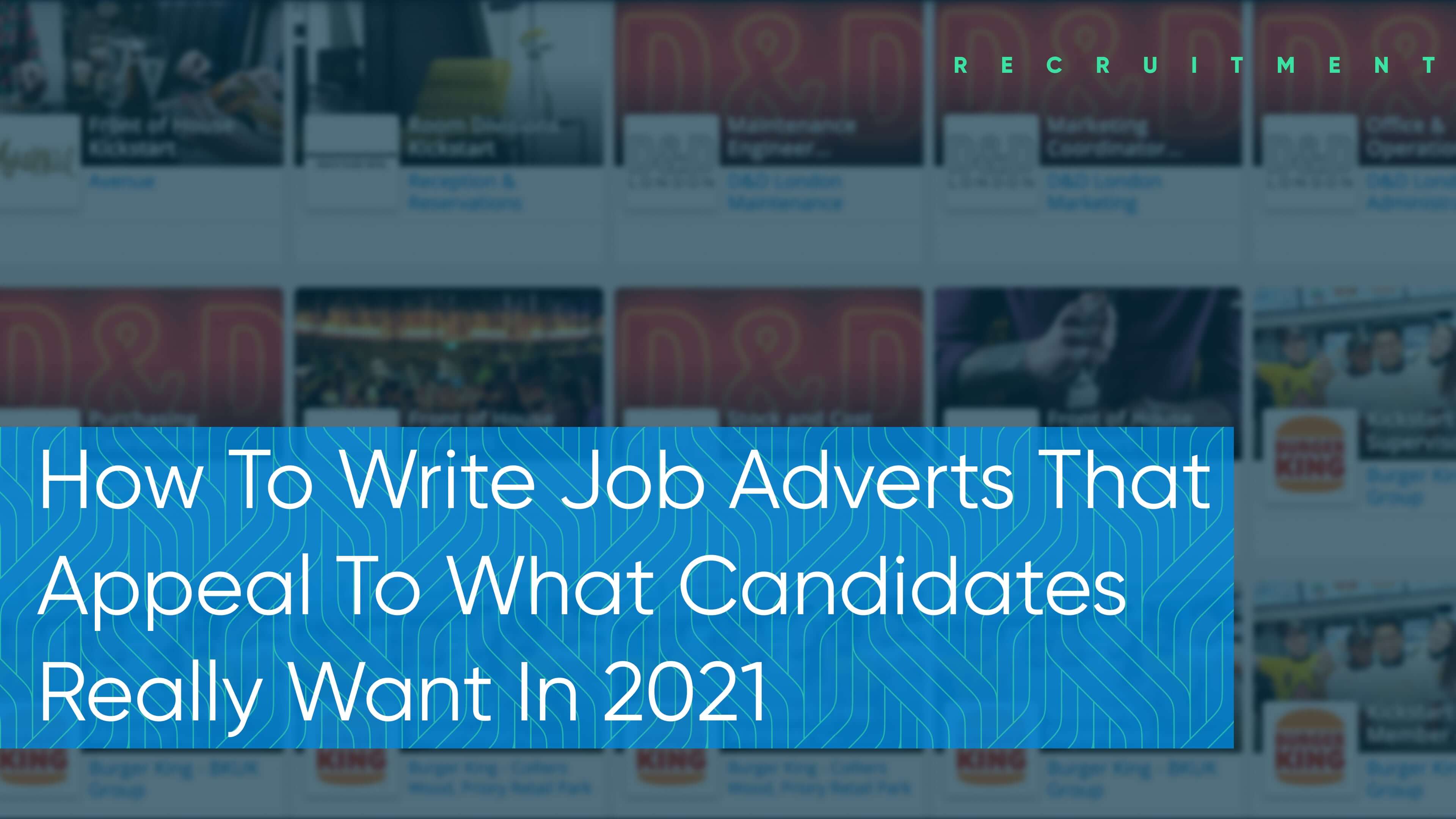 To write a good job advert, you have to know what candidates value and how your organisation mirror their priorities. Long gone are the days when you copy and pasted your job spec (at least… we hope!); in fact, your advert should be a maximum of 30% what you want from them, and 70% what the role and company will offer them, in benefits, opportunity and culture. So what are candidates looking for? If we rewind to just 13 months ago, we were a nation of opportunity-grabbing, travel-orientated, progress-hungry workers. My how things have changed…
Yes, this is the second blog in recent weeks with the same subheading… THAT is how important stability in an organisation is. Every business in the United Kingdom has been affected, in one way or another, by the pandemic, so nothing, right now, feels certain or stable. We thought Brexit was going to be the biggest problem we faced in 2021 when it came to recruitment in hospitality, but boy were we wrong. As a result of the devastating hit our industry has had, it's been revealed that candidates are not only avoiding applying to hospitality jobs, but our current employees, whether furloughed or working, are choosing to leave the industry for one that is more stable. 
Now, this isn't just supposed to be scaring you, but a healthy dose of reality should help you see how important it is to write adverts that appeal to what candidates really want in 2021, increase that attraction and give them a real reason to keep our industry going. Here are a couple of ways to reassure your candidates of your organisations' stability:
Writing about how you supported your employees through the last year

Commenting on any plans you have to ensure their security if anything is to happen again. 

Where possible, offering permanent positions over contract, zero-hour or temporary

Amending contracts to reduce probation periods so that stability is offered sooner rather than later.
Even before recent events, Diversity & Inclusion was a huge priority and attraction piece for candidates. It is vital to show a candidate that they will be part of an inclusive workforce so that you are attracting the very best talent by showing how they'll be treated and the culture they'll be a part of. 
Research shows that, without realising it, we use language that is 'gender coded' which, if not neutral, will unconsciously favour and attract one gender over another. One tip we give our clients who advertise through the Harri recruitment platform is to run their job adverts though a Gender Decoder to ensure we're all giving everyone an equal chance and are taking a closer step towards diversity and away from gender-stereotyped job roles.
If the last year has taught us nothing else, it's showed us what is important to each of us as individuals, as human beings, and we at Harri would be willing to bet our hats that the vast majority of people have realised the value of family and friends, which is something we would then encourage you to consider when planning your roles and writing your job adverts. Yes, to an extent those of us still in work or finding new roles are grateful to be in employment considering the economy, but don't forget that the priority of career and success has shifted to that of family and freedom; so if flexibility and a work/life balance isn't something you're offering, it's likely your employees will be looking elsewhere (if they're not already). There absolutely are companies out there still not learning and moving forward in that way, so by making sure it's clear in your adverts that you promote a work/life balance, flexible working and perhaps offer working from home opportunities, you're going to stand out.
For hospitality and leisure businesses, this might look like scheduling flexibility that considers employee shift preferences or allowing employees to take shift breaks at a time that works best for them.
Perhaps take a step back and think about what kind of company you want your family and friends to be working for; what you know is now important to them and what you would want for them as someone you love – start there. If nothing else, choosing kindness and being human in your approach will put you on the right path.