Key Takeaways From Peach 20/20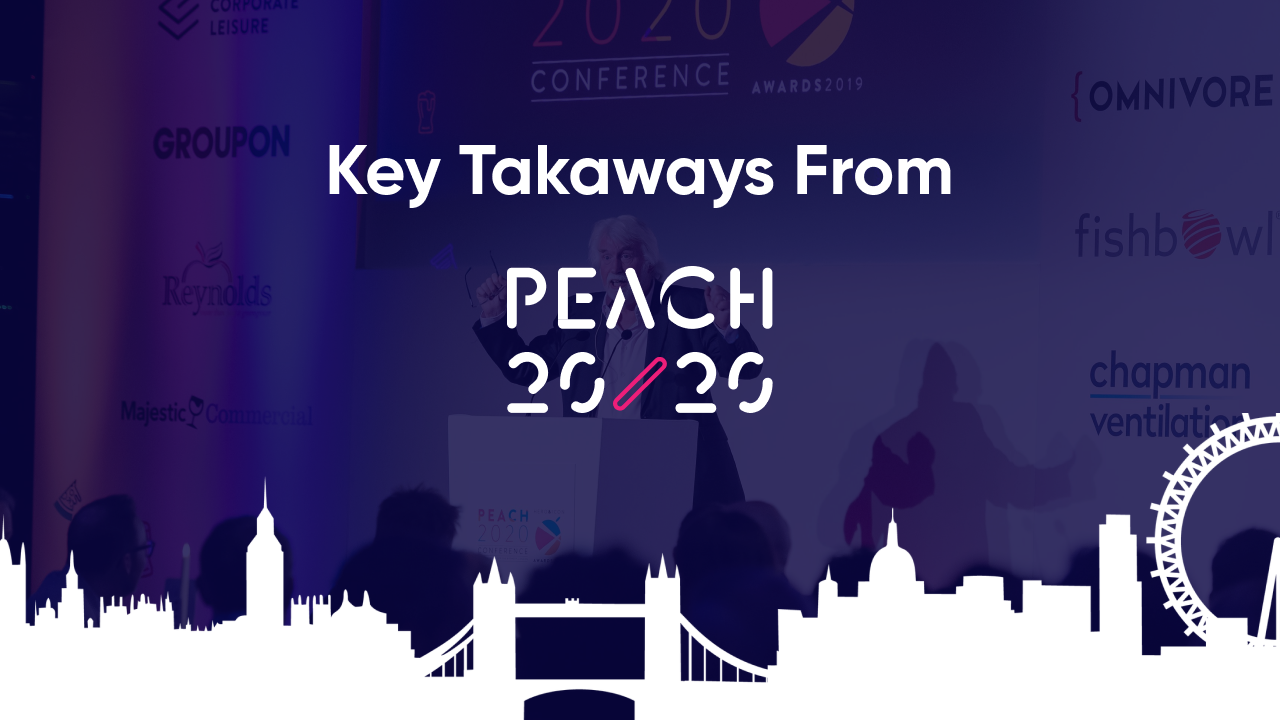 A few months ago, our team showed up to the 2021 Casual Dining Show, where Peter Martin referenced the 'Great Resignation' in the US. This month, we attended Peach 20/20, as he brought more than 300 industry leaders together to discuss some of the key challenges facing the out-of-home industry.
Below, we've outlined the most important points from the event. Don't miss the insights… 
Your Customers Are Changing Faster Than Ever
As always, the Peach 20/20 conference consisted of a diverse range of speakers with a variety of fresh perspectives on the industry. This year's event began with a consumer-focused session, where leaders from across the country spoke about post-pandemic customer preferences and new buying habits. 
While their behaviour has certainly changed, one thing is clear: people are still very much interested in eating and drinking out. That being said, consumers aren't just searching for a good meal; they want the full experience. The question is, can you provide it? 
"Every evening is an occasion of some sort now," said Simon Potts, CEO of the Alchemist creative cocktail bar and restaurant.
The Conversation on Sustainability Needs to Happen Now
During the event, we also saw an interesting (and much-needed) discussion on sustainability. Those who attended agreed that it's time to take action and talk about the hospitality industry's impact on the environment. As Peter Martin rightly pointed out, the public mood has shifted, and it's starting to affect the already hard-hit sector. 
According to recent data, 72% of consumers take sustainability credentials into consideration when choosing where to dine out. CEO of the Restaurant Group, Andy Hornby, also noted that if you're not acting on sustainability, your customers and team won't forgive you. We want to know, how are you embracing sustainability in your business?
How to Achieve Sustainability
You're probably already aware that sustainability can't be accomplished alone. Change can only be achieved by coming together, and the panel agreed. As a hospitality operator, you need to work with your partners across the supply chain, pushing them to reduce their greenhouse gas emissions. After all, they account for the majority of the carbon footprint in the industry.
Just like Peach Pubs CEO Hamish Stoddart mentioned during the event, if we don't find a way of working together with our suppliers, we won't make progress. So we encourage you to go out and speak to those who can make a difference.
Diversity Issues are Affecting the Industry
Another important issue tackled at the Peach 20/20 conference was that of diversity in the hospitality sector – particularly at senior levels. The conversation around this needs to happen now, and some industry leaders have already started to take action and promote inclusion within their teams.
"Our priority is to create a business that's properly inclusive. It's the right thing to do, but it also improves the business as a whole," said Nick Mackenzie, CEO of Greene King. How does he achieve this? By gathering diversity data, forming employee-led mentoring programmes and groups, and listening to underrepresented voices.
Real Change Requires Collaboration
As with sustainability, real change requires teamwork, commitment and a common goal. This month's conference introduced us to some encouraging organisations and founders driving change in the industry, including Lorraine Copes of Be Inclusive Hospitality and Tea Colaianni of WiHTL.
"All of us have a responsibility to go beyond signing charters and act. Together, we can make a difference and get a truly diverse industry," said Colaianni. And we couldn't agree more. Copes' advice for change? Start small with employee surveys!
Government Cooperation is Needed
And it's not just collaboration that's necessary for post-pandemic recovery. Cooperation from higher powers is also required. Kate Nicholls, CEO of UKHospitality, has called for the government to support the industry since the pandemic struck, but she can't continue to do this alone.
"We've done well in making sure the government gets it and the reason we got cut-through is that we had a united, strong voice," she said. "Unless you change mindsets around international travel and business events, London's recovery will be put back." 
Hospitality is All About the People
One important thing to take away from 2021 is that hospitality is a people industry. The problem is, many operators still believe technology takes away from authentic, human interaction. This isn't the case, especially now that technology is more advanced and accessible than ever before.  
In her discussions, Rachel Belam, Head of Food & Beverage Leasing at Unibail-Rodamco-Westfield, said something we can all relate to: "We sometimes resist the move to digital ordering because people want human contact. There's a balance to be had between digital and service from a human being."
The Demand for Tech is Rising
Although 2021 has no doubt been challenging, hospitality operators remain ambitious for 2022, and their ideas are as innovative as ever. We truly believe that this wouldn't be possible without technology – and we're sure many of you agree. Numerous Peach 20/20 speakers said that operators and consumers have adopted apps (among other digital solutions) at a rapid rate in recent years. 
If you haven't yet considered taking advantage of technology in your business, we're here to change your mind. At Harri, we provide bespoke digital solutions to help businesses like yours attract, recruit and retain top talent. Yes, it's still possible, even during these uncertain times! With our technology, you'll be able to keep tabs on your teams and their schedules, and improve how you communicate with them.

Want to find out more? Request a free demo today!