Take The Time Back: How Harri Empowers Leaders To Recruit With Efficiency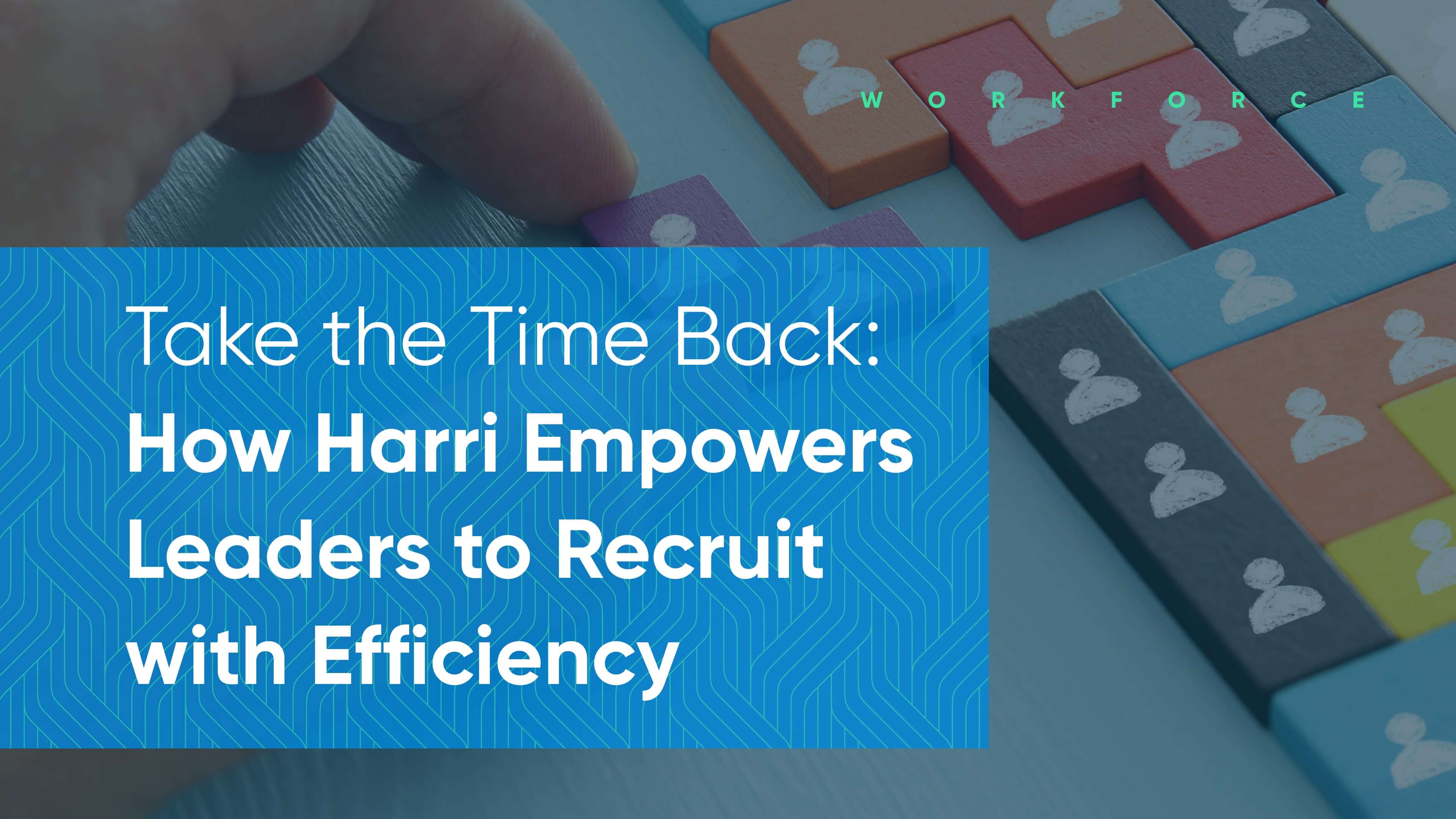 As a leader your single most important commodity is time.

To perform effectively, you need to cut down on manual, menial HR tasks and keep your schedule (and mind) clear for the good stuff: the decisions and actions that are going to move the needle for your business.

If that sounds about right, we're here to tell you that technology is your friend. There have been a plethora of software tools come on to the market in recent times and hospitality leaders are now blessed with endless options for streamlining processes and promoting efficiency across every stage of the HR funnel.

In the first part of this two-part blog, we consider how Harri and other platforms empower managers to recruit efficiently and strategically.
While most managers have the best intentions when it comes to hiring hospitality talent, many find it difficult to apply the necessary time and energy it actually takes to find the best people.
Your focus needs to be on two simple questions: who will bring value to the business and how do we find them?
And yet the often overwhelming amount of admin and logistics involved can make answering those questions near impossible, especially when it comes to the eternal calendar-syncing and correspondence involved with volume recruitment.
The first step to efficiency is enlightenment. So let's take a look at three common pain-points and what can be done to overcome them.
Post a job once, on multiple platforms
With multiple channels to cover (and endless pesky passwords to remember), getting your job roles live and listed takes up needless amounts of time. Or at least it used to. With Harri, you can post to lots of different job boards (including Indeed, Caterer and hosco) in one go, while our integration with Google and Facebook Jobs helps to widen your talent pool and discoverability. When it comes to wording the job description, tech tools such as Textio and Grammarly can be used to review the language for errors and unintended biases.
Scale and sharpen-up the most productive form of recruitment
Internal referrals (existing employees vouching for people in their own network) can be an incredibly productive way to find talent with studies indicating that referred candidates are 55% faster to hire. 
Which is great. But unless you have a streamlined process in place things can get messy real quick – as anyone that has been bombarded with messages from colleagues asking for job spec links or following up on friends' applications can attest. Our platform allows managers to create unique application links for each role and employee, making it easy to track, monitor and attribute referrals from one dashboard.
Stop juggling, start automating
Poor or slow communication is a huge turn-off for candidates. Remember, they're seeing things through a limited aperture and are largely oblivious to the scale and complexity of the operation. 
While issues of this kind are inevitable to a certain degree, especially when hiring for multiple roles with hundreds of prospective candidates, they can be ironed out with the right tech products. Harri's advanced CRM makes it simple to tag and segment candidates and set up automated templates to screen, message and smoothly pass them through the funnel. A joined-up approach that signals to applicants that you are switched-on and attuned to their needs.
It's not just about efficiency...
Your employer brand is your brand and by employing innovative tech solutions you not only speed up your systems but demonstrate to an increasingly values-led and forward-thinking candidate market that you are running a progressive recruitment programme. 
On the flipside, by relying on analogue recruitment methods you are essentially the guy pulling over every five minutes to check their A-Z map despite driving a car with in-built SatNav. 
Which one do you choose?