Peach 20/20 Founder Kicks Off the Casual Dining Show 2021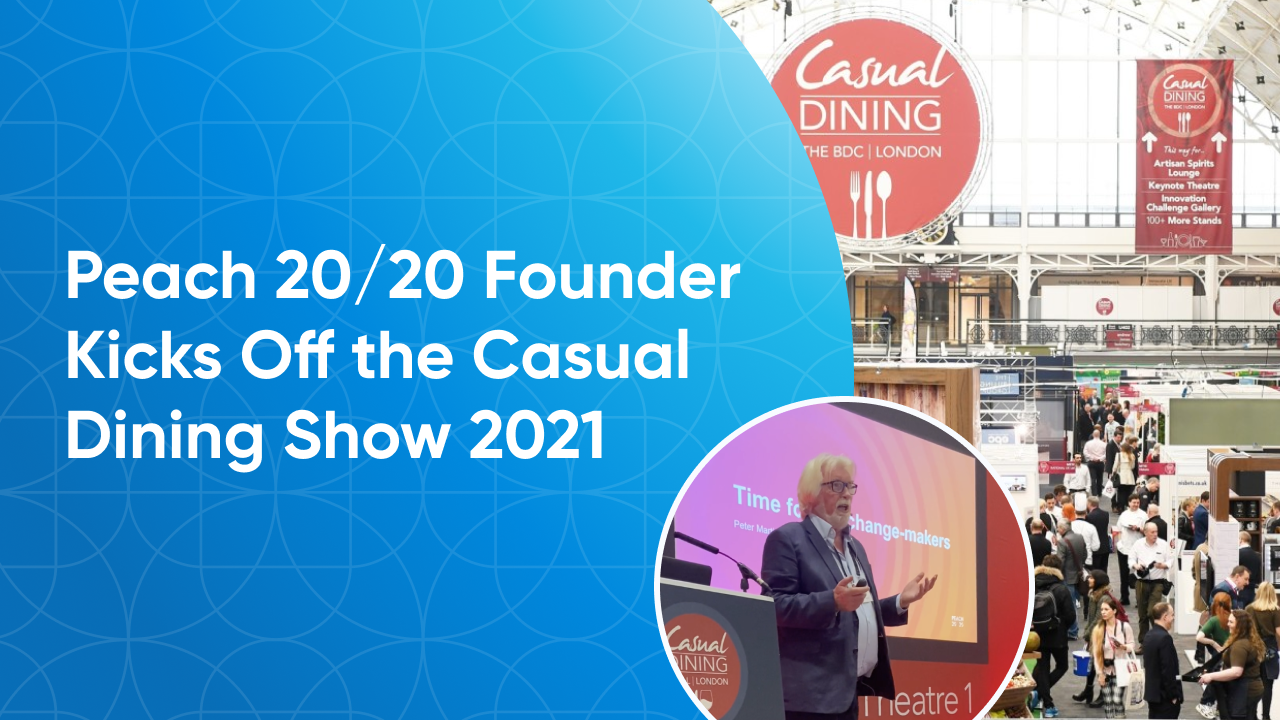 2021 isn't all doom and gloom. The long-awaited Casual Dining Show returned to London last month where Peter Martin, Founder & Executive Director of Peach 20/20, gave an exclusive presentation on the people and ideas that'll inevitably shape the hospitality landscape.
In case you missed it, we've recapped some of the key takeaways to keep you up to date with the latest (and greatest) news.
Peter kicked off the session by asking a question that everyone in the sector will have to face at some point: 
Are you gonna let the times change you, or are you going to start changing the times to your benefit?
While many operators are already taking advantage of the post-lockdown boom, it's important to note that this isn't a return to normality. As Peter rightly pointed out, there's no such thing as 'normality' in the hospitality sector – only the new reality and the new trading landscape that's in front of us.
Of course, this isn't the only question operators need to ask themselves if they want to succeed.
5 essential questions to ask in 2021
'How are you?'
These are probably the three most important words you can say to anyone at the moment, and although it may sound simple, it's easy to forget to check in on those around you.
Throughout the event, Peter raised five essential questions that every operator should be asking in 2021:
How are your people? 

How are your customers?

H

ow are your suppliers?

How are your competitors?

How are you feeling?

 
Let's take a look at each of them in a little more detail…  
It's fair to say that people have always been your most valuable asset – and that's unlikely to change. They've been through a lot of stress and emotion over the last couple of years and it's necessary to take that into account when they come back to work. How do you stay close to them? And do you understand their ever-changing needs? If you don't, you could fall behind. 
"You've got through the most momentous of times. You will have changed, just like the population has changed. How are your priorities changing in your business? Are you ready to get back in business? Are you changing the way you operate? And, more importantly for you, are you asking how are your people?"
The 'Great Resignation'
The pandemic prompted people to rethink their careers. Many decided to switch industries entirely, in what's been dubbed the 'Great Resignation'. As one would expect, this mass migration of workers has caused a staffing crisis in the hospitality industry, affecting not only your employees but your customers too.
A survey of over 30,000 global workers showed that 41% were considering quitting or changing jobs this year. In a UK survey, 38% planned to quit in the next six months, while in the US, 4m people quit their jobs in April alone.
What's causing people to move industries? 
During his discussions, Peter stated that part of the issue is geography – but there's no denying that Brexit also played a role. In the last year, hundreds of thousands of EU nationals left the UK, and they're unlikely to return.
Now the question is: how do operators take advantage of this? As Peter highlighted, around 60% of under 24s don't want to work in an office, so these might be the very people you can recruit back into hospitality. There's no denying that new thinking is needed, but it's not going to be easy.
We still have good employers
Each year, the Sunday Times releases its list of the UK's 100 Best Companies to Work For. Four brands are ranked consistently: Dishoom, Hickory, Hawksmoor and Mowgli – and there's a good reason for this. They've been around for some time now and they understand what it takes to be successful, despite the odds.
"Understanding how these guys make it work can help you make it work going forward. I'm not saying that's the whole answer, but the good operators have answers that may work for your business."
Recently, Peter spoke with Ceri Gott, People and Performance Director at Hawksmoor. Ceri said their application levels are almost back to normal. Why? Because they monitor and manage employee working hours. They make sure people don't work too long and burn out. Plus, they use word of mouth as a way of recruiting – a method that's proven successful for many businesses.
2. How are your customers?
Customers are fundamental to your business. Without them, you cease to exist. It should therefore come as no surprise that the second most important question to ask is 'how are your customers?'.
How close do you stay to them? Do you understand their constantly changing needs? What are they doing differently after endless months of lockdown?
"Things have changed, people's attitudes have changed, and you in the service sector have got to understand what those are and react to them, or even more importantly anticipate them as well."
Sales are up
The good news is that now lockdown restrictions have ended, customers are eager to eat and drink in pubs and restaurants again. This increase in customer confidence (as well as a surge in staycations) meant sales in August 2021 grew by 5% compared to August 2019.
Added to that, the number of customers visiting licensed sites at least once a week is almost identical to 2019's figures:
34.5% (2019) > – 1.0pp > 33.5% (2021)
The working week has changed forever
One of the greatest challenges operators face is understanding where their consumers are. The answer is likely to be: working from home. With remote working now the norm, commutes are cancelled, and railway station car parks are less than half full.
57% of British consumers work from home partially (72% in London)
Understanding how to cope with this is fundamental. It's clear that people want to move away from what they've always done – especially when it comes to commuting!
What do your consumers want?
Since the pandemic, people's priorities have changed. CGA recently conducted a survey that asked 'which of the following considerations were important when choosing where to eat and drink out over the past week?'.
In March 2020, hygiene and cleanliness levels were a top priority for many consumers, scoring 35%. This was followed by convenience (35%) and food quality (35%).
Convenience remained a priority in July 2021, scoring 31%, but one factor that shot up was the price of the food (32%). Meanwhile, health and cleanliness levels dropped to 29%.
Given that 70% of people say they proactively lead a healthy lifestyle, and consumers are more conscious about what they eat since the pandemic, operators really need to focus on the food they offer. Getting this right will satisfy a lot of people.
What about the atmosphere?
Also in his presentation, Peter included interesting data from CGA about the atmosphere people want when eating out. According to the survey, the number of consumers visiting new and different places is growing year on year, but most just want to go somewhere familiar.
Many of the people surveyed prefer a relaxed environment over a lively atmosphere, which is something to think about when opening your doors to the public. By staying close to your consumers, you'll gain a greater knowledge of what they want (and like) post-pandemic.
Technology is the key to success 
It's no secret that in today's world, people rely heavily on technology. In fact, 4 in 10 consumers believe it's improved their hospitality experience, while 51% are now more likely to book a table online compared to before the pandemic.
The speed and convenience of going digital is worth the transition. Tracking orders and payments is a breeze. And even though over half of consumers still prefer to interact with staff face to face, the percentage of people who favour technology is on the rise.
"Understanding how you get that balance between that personal service and technology is the key, and the people who do it will be the change makers of the future"
So, if you haven't already taken advantage of it, what are you waiting for?
3. How are your suppliers?
Just like with your employees, don't take your frustrations out on your suppliers. We all know the pressures they're under, whether it's supply chain or a lack of drivers. Try not to give them a hard time.
Don't assume they're going to come up with solutions for you either. Instead, go out and meet them. Communicate and find out what their unique issues are. By starting a conversation you're much more likely to get the best deal for both of you. 
4. How are your competitors?
You were probably keeping an eye on your competitors before the pandemic, but that's even more important now. Look at what they're doing, how they're taking advantage of reopening and how they're competing with you. Then, think about how you're going to compete with them.
One thing to consider is that there are now fewer of them. Hospitality businesses across the country have been forced to close either temporarily or permanently. While there's no denying this is a tragedy, it does give you a competitive advantage.
Last, but certainly not least, how are you feeling? Now is the time to ask yourself 'is this what I want to do?' and 'how can I do it to the best of my ability?'. Keep this in mind, but don't overthink it. Rather, focus on what you can control – your people, their schedules, and how you communicate with them.
You can watch Peter Martin's entire talk from the Casual Dining Show below.