Political Predictions: What a Democratic-led Majority Means for Restaurants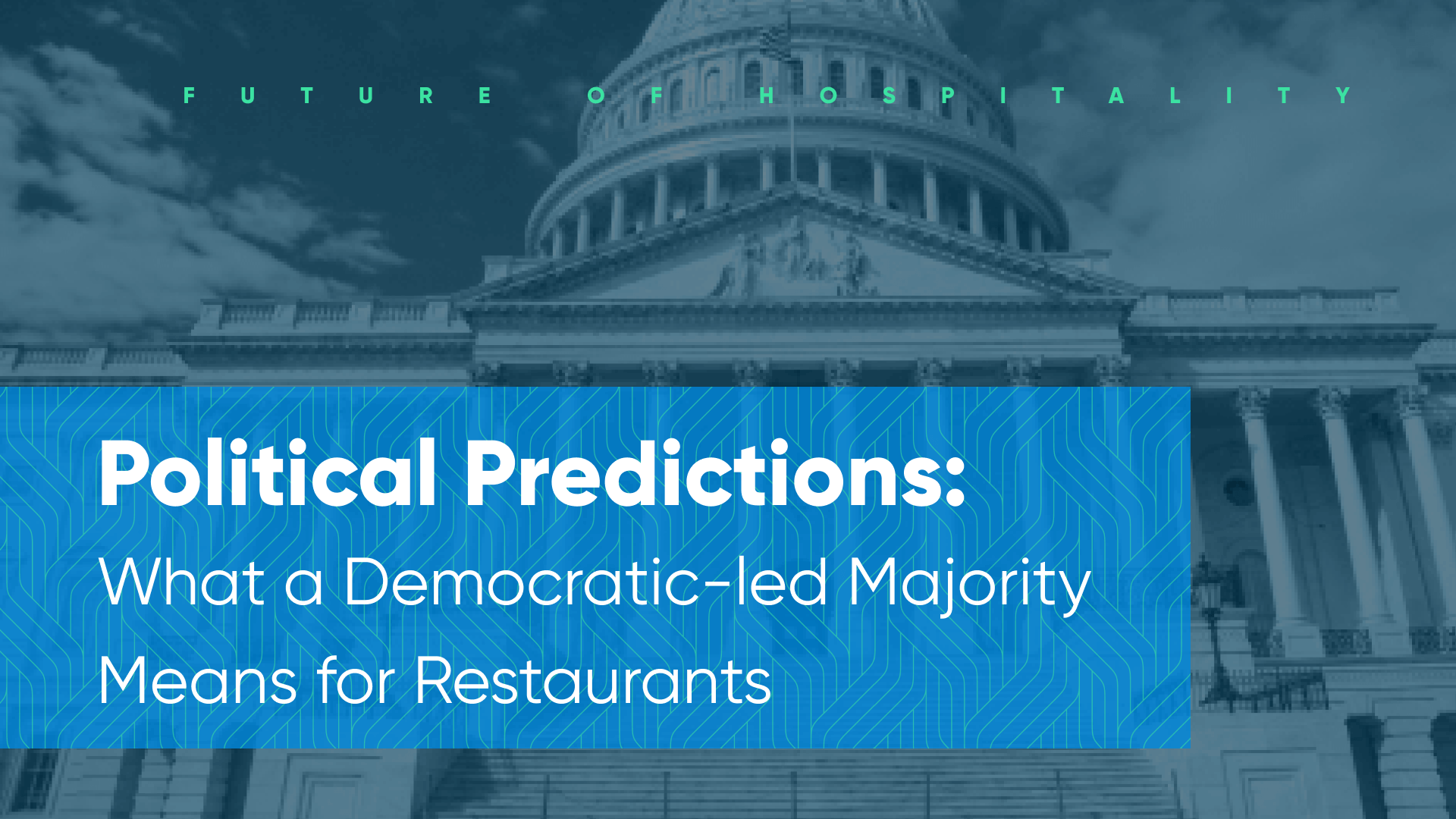 With Biden back in the White House after a four-year break, it is safe to assume he's been planning some major changes for the nation's workforce. While the Trump administration implemented various policies that help the business owners of America, Biden is looking to reverse some of these actions in order to give power back to the employee.
We'll see much more pro-labor laws put into place, but what will those look like? Let's dig in.
Predictions: Incoming pro-labor legislation impacting the restaurant industry
The 80/20 rule states that tipped workers cannot spend more than 20% of their time on non-tipped activities if they are being paid sub-minimum wage. 
These non-tipped activities are essential for business operations and can include tasks such as taking inventory or washing dishes. However, for employees making $3/hr, the ability to spend as much time as possible on tip-based tasks significantly impacts wages earned.
During Trump's presidency, the administration proposed to repeal the 80/20 model. This means that employees who spend more than 20% of their time on non-tipped activities could still be receiving sub-minimum wages with less opportunity for tips.
This hurts an employee's ability to earn more money but saves restaurants in labor costs.
During the COVID-19 pandemic, the 80/20 rule was especially favored by restaurant employees, who spent more time than usual on non-tipped tasks such as new sanitation policies or coping with decreased dine-in opportunities.
The Biden administration has the opportunity to reinstate the 80/20 rule to ensure employees are receiving the wages they deserve — and need to survive the ongoing pandemic. 
Eliminate tip pooling and tip credit
Tip pooling was another proposition that the Department of Labor put into place during the Trump administration. This practice allows restaurant owners to control tips by dispersing them between all workers, including those who do not traditionally receive tips (like dishwashers and line cooks). 
It's important to note that tip pooling is different from tip sharing — tip sharing is when tips are voluntarily split between workers.
Tip credit, on the other hand, allows employers to pay staff a subminimum wage as long as their earned tips level out to at least minimum wage earnings. This allows employers to keep wage costs low without directly lowering employee earned wages. Due to its high earnings potential, most restaurants see it as a win/win scenario. In fact, our hospitality tip credit survey found that 81.8% of restaurant operators were in favor of tip credit.
Like tip credit, tip pooling could work well in some restaurants by increasing a sense of teamwork, enforcing a more helpful attitude from staff, and decreasing stress among new employees. On the other side of the coin, it can demotivate front-of-house employees from providing top-quality service, since their individual performance doesn't directly correlate with earned wages.
Credit Suisse notes that although the removal of tipping policies come with good intentions, they're more likely to lead to unintentional negative consequences such as decreased morale and retention. Some restaurants try to offset this by removing tipping altogether but that tends to yield the same results, especially for tip credit employees who could potentially earn far above minimum wage in tips.
Although tipping regulations represent a very gray area, we can expect the Biden administration to take a pro-employee stance and eliminate tip pooling and tip credit.
Increase federal minimum wage to $15/hr
Now for the news you've all been waiting for…Biden's plan to increase the federal minimum wage to $15 per hour. What does this really mean for the future of hospitality? 
Sure, it seems like a no brainer from an employee's point of view, but it's not necessarily all it's cracked up to be. $15 per hour is a huge leap for some states, especially those who are still at $7.25 per hour. The drastic increase might make sense in areas where the cost of living is high, but for the areas where it's not, this can be devastating for business owners.
According to our past minimum wage inflation survey, restaurant operators expected to increase menu prices, reducing employee hours of service, and eliminating jobs — all of which negatively impact the customer experience. We expect history to repeat itself with a $15/hr minimum wage, especially as these teams continue to fight pandemic-related challenges. 
For restaurants that cannot keep up with the increased labor costs, they may resort to reducing employees' hours or eliminating jobs altogether. Because labor costs will significantly increase, restaurants will be more selective with who they're hiring. Finding the right hire that fits into the new labor budget will become a huge priority, and that will result in increased time and penny spent towards hiring and retention efforts. Businesses may even turn to technology as a means to decrease labor costs. 
Let's not forget to mention the effects of the COVID-19 pandemic. Although a wage increase would not take effect immediately, a staggering number of hospitality businesses are still struggling to stay afloat during the pandemic. Plenty of smaller restaurants, for example, are barely getting by without the increased minimum wage, and have already resorted to downsizing their staff.
As nice as a $15/hr minimum wage sounds, its consequences could prove to be more detrimental than beneficial for both hospitality employers and employees.
Removal of At-will employment in more states
What is At-will employment? It's a labor law that allows an employer to dismiss employees for any reason without warning — so long as the reason is not discriminatory (think race, gender, sexuality). 
In December of 2020, the NYC council signed the Just Cause and Progressive Discipline into action for fast food employers to prevent sudden or wrongful termination. Under this law, employers are not permitted to dismiss an employee, significantly reduce their hours, or cut their pay by 15% or more without reason.
Before any of the above actions can be taken, the employer needs to provide proof that an employee's job performance was not up to par, and/or must document all disciplinary actions taken leading up to the point of termination. It requires a lot of recordkeeping on the employer side.
With a pro-employee administration moving in, we can expect these rules to spread to other cities and states across the country. It may signify a huge step in the right direction of protecting hourly and service-based employees, especially in a time as difficult as COVID-19.
More cities and states will enact predictive scheduling laws
Predictive scheduling laws like Fair Workweek are gaining popularity across the country, especially in pro-employee jurisdictions. We expect the Biden administration to keep the momentum building and encourage scheduling legislation to create stable, predictable work environments for service-based employees.
Employees in the hospitality industry have often suffered erratic work schedules with long hours, no breaks, and last-minute shift changes like added or removed hours. The hospitality industry is incredibly unpredictable and last-minute changes are simply unavoidable at times, especially during COVID-19 where service demands can drop suddenly. 
Fair Workweek intends to give employees back control of their day-to-day lives by ensuring stable patterns of work and predictable work hours. And if last-minute changes do need to be made? An employer must pay the affected employees a premium.
These scheduling laws attempt to find a middle ground between creating stable work environments and meeting unpredictable service demands, but the hospitality industry has mixed opinions on its effectiveness and fairness.
See what jurisdictions have implemented or are considering Fair Workweek laws.
The PRO Act and increased power to employee unions
It's expected that President Biden will pass the Protecting the Right to Organize (PRO) Act. Under the PRO act, employees have more power to unionize and strike against employers without fear of retaliation.
But this isn't the first time the PRO Act has hit the executive desk. Because the bill received no action the first time around, unionists are pressuring Biden to pass this bill by midyear. With the appointment of Lauren McFerran, a pro-unionist, as a labor board chairwoman, and the removal of Peter Robb, a "union buster," this goal isn't out of reach. 
Hospitality businesses would do well to proactively prepare for its passing by keeping an eye on the movement of the PRO Act alongside federal labor organization appointees. Pro-labor changes are moving fast, underscoring the industry's need to focus on the employee experience and tech-based retention strategies.
Immigration reform for easier citizenship
Biden stands on the pro-immigrant side of the fence, which tends to fare well for hospitality — an industry that strongly embraces immigrant citizens. QSR Magazine reports that 29% of restaurants and hotels are immigrant-owned.
A newly outlined immigration policy, the U.S. Citizenship Act of 2021, intends on creating an 8-year path to US citizenship for immigrants. This will be made possible through the Dreamers program, Temporary Protected Status holders, and a less strict Green Card process. The Biden administration also plans to protect the Deferred Action for Childhood Arrivals (DACA) program, making it easier for immigrant children to gain citizenship.
How to prepare for the political shift of an incoming pro-employee administration
The next four years will introduce pro-labor legislation that will significantly impact operational strategies for the hospitality industry. How can you prepare?
An all-in-one HCM tech solution enables unit-level flexibility to adapt to changing wage and labor laws and proactively prepare for any operational challenges the future holds.
Smart scheduling tools for labor compliance
Smart scheduling tools that connect the dots between employee hours worked, performance, and predicted labor demands helps managers not only manage labor laws like Fair Workweek, but also improve operations while staying compliant. 
Scheduling in compliance with incoming legislation is a delicate balance. You want to deliver top service, but labor costs can quickly skyrocket — especially when wage inflation, overtime, and premium payments are thrown into the mix. 
Intelligent scheduling tools like Harri take federal legislation, local laws, and historic business data into consideration to reduce those labor costs while also streamlining operations, all in a fully compliant scheduling environment.
Streamlining operations for your managers is equally as important as finding ways to cut back labor costs amidst rising minimum wage. Managers already have so much on their plate in terms of day-to-day store operations, and figuring out cost-efficient, labor-compliant schedules is a tedious process that they're tasked with. The more you can automate that process, the more time your team has to dedicate towards creating a great customer experience.
Many existing pro-labor laws have strict requirements that can be difficult to keep track of when managing hundreds of employees. 
Were schedules distributed within the advanced notice period? Two employees want to swap shifts, but does that make employee X eligible for overtime payments? Is an employee required to take a break if you schedule them for an extra day?
The right solution will alert you of potential compliance breaches before they happen so your team can plan the best, most efficient course of action.
Real-time customizable data analytics and forecasting
Data analytics is a vital tool for hospitality businesses as they seek to adapt to and reiterate on operational and financial strategies that result from employee-first policy changes. 
Track sales patterns to understand labor costs vs labor demands. Understand how employee performance correlates with overtime. Report on wage data over time to see if your new Fair Workweek-compliant schedules actually are saving you in long-term labor costs. Paint a full picture of the cost of a new hire, from the first step in the pre-hiring process to their 90th day on the job and beyond.
And that's just scratching the surface.
Harri's customizable data dashboards empower your team to drill down on highly specific data points or get a bird's-eye view of performance and costs across your entire business. Because the Harri platform interconnects all HCM data, you have access to all the tools you need to identify process gaps or success trends.
Permanent, digital records on any device
If your business is suspected of violating labor or wage laws, you need to provide proof that you're innocent or guilty. That means hospitality operators need to keep a constant digital record of every workplace action.
Think about it this way: sometimes non-compliant actions need to happen in order to provide quality service to your customers, such as asking an employee to stay an extra 2 hours to handle an unexpected rush. You'll need to provide proof that the employee accepted the new schedule change, when and how long they worked, and if they were paid a premium.
If and when these do happen, HCM tools like Harri keep a digital record attached to every related employee or store location:
Schedules and changes made, if any

Clock-in times and absences

Wage data

Demographic data

Good faith hour estimates

Break requests or waivers

Premium payments paid and how much 
And more!
When your HCM tech stack connects the dots between all HCM data points, accessing digital records related to performance, compliance, and discipline becomes a much less arduous task.