Running A Hotel With All The Right Tools: Your People.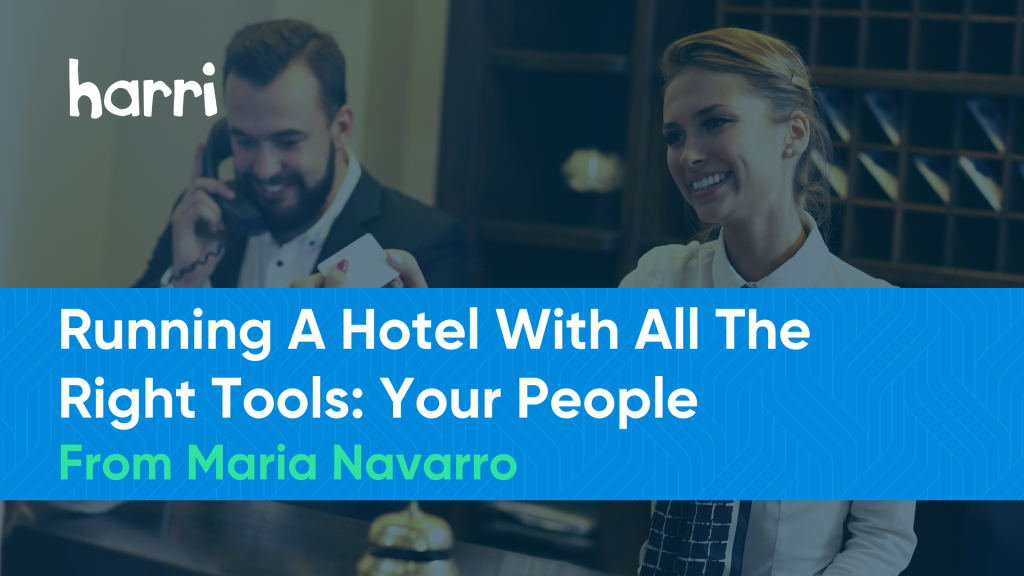 Have you ever had to move before? 
You know, packing up your things in boxes and hoping your couch can fit through your new door.
I'm asking you this question because I've moved plenty of times before, but this last one made me think of hospitality differently. 
And it all started because I had to set up all-new furniture. 
I thought I was going to need help to build everything because I'd never done it before, but it turns out all I needed was patience and attention to detail. 
As I attempted to read the instructions and looked at all the different pieces I wished I had someone supervising me. Someone who had done it before and could tell me where each piece belonged, because I realized that even though most of them looked very similar, they each had different purposes. For instance, I learned that when a screw didn't seem to fit just right, it didn't mean something was wrong with it, it just meant I was using the wrong tool. 
See, in hospitality, we're all building something as well. We're building a team whose goal is to create memorable experiences. We're all different pieces and tools in the toolbox. Each one of us has a different purpose. We're placed where we are for a reason. 
Look at it this way: a toolbox can't be filled with the same tool because then you won't be able to build and fix different scenarios. You'll need different tools and pieces to make sure you're always prepared and ready to meet different challenges.
Well, when you're running or working in a hotel you have to make sure your toolbox is filled with different tools. Diversity is one of hospitality's best friends for many reasons, but one of them is to be able to relate and adapt ourselves to every guest and every situation. 
When you think of a hotel, you probably think of all the different kinds of hotels: resorts, business, vacation, luxury, and the list goes on and on. You'll need a different toolbox for each of them, just like when building furniture. 
You'll need people who express their creativity by running numbers and ensuring your finances are well. You'll need people who are passionate about turning strangers into friends. People who can talk to a guest and make them feel at home. You'll need people who know about the art that is creating a menu and setting up a dining room, and people who make sure every room is spotless.
We're all equally important because we serve different purposes. 
The great thing about working in a hotel is that your personality plays a big role in your day-to-day activities. We probably wouldn't perform as well as we do if we were to swap places because we all shine where our personalities shine. 
Now, back to my "toolbox analogy", If we're all the different pieces and tools, a manager plays the role of the instruction guide. We would all be pretty much lost without it. Even when we don't like to admit it and think we could do it without the instruction set, we always come back to it to make sure we're doing it right. 
Hotel management has a huge task besides running a hotel. It's their job to make sure the people they hire speak their language. It's their job to ensure all pieces go exactly where they need to be. It's a manager's job to recognize different abilities, strengths, areas of opportunity, and personality traits. 
Once they've gathered all the pieces, they need to make sure they're using the right tools for each one of them. 
You can't apply the same pressure or strength to every piece because they're all built differently. 
See where I'm getting at with putting furniture together and running a hotel? 
Many hotels nowadays may think they need top-notch technology or luxury amenities to run smoothly or to expand their reach. When in reality, their power relies on their people. Leading and guiding a team of people in a hotel is an art form. It's a way to highlight people's strengths and personalities to solidify your team. To make sure that every guest that comes across your hotel, feels valued and seen. Because as a manager, you might not be able to greet and meet every single guest, but your employees most likely will. 
Your employees are the representatives of yourself as a team leader. They represent your ability to assemble a great team.
Whether you're behind the scenes doing administrative work, fixing faucets inside the rooms, serving food, or behind a front desk, the guest experience is everyone's job. You're playing a huge role in every hotel's purpose. 
Every role matters, every piece is built for a reason. 
Make sure your toolbox is your key to success. Make sure you're running your hotel with all the right tools: your people. 
Maria Navarro is a bilingual hospitality copywriter born and raised in Mexico. Since moving to the US, her passion for all things hospitality has continued to grow. Recognized by the International Hospitality Institute (IHI) as one of the Top 25 Social Media Influencers in Hospitality, Maria has worked in a variety of management positions for luxury hotels and is now pursuing her love of writing and connecting with people through her copywriting business, offering services in both English and Spanish.
You can read more of her work at mariawriting.com.