Top 6 Factors Employees Look for in Hospitality Jobs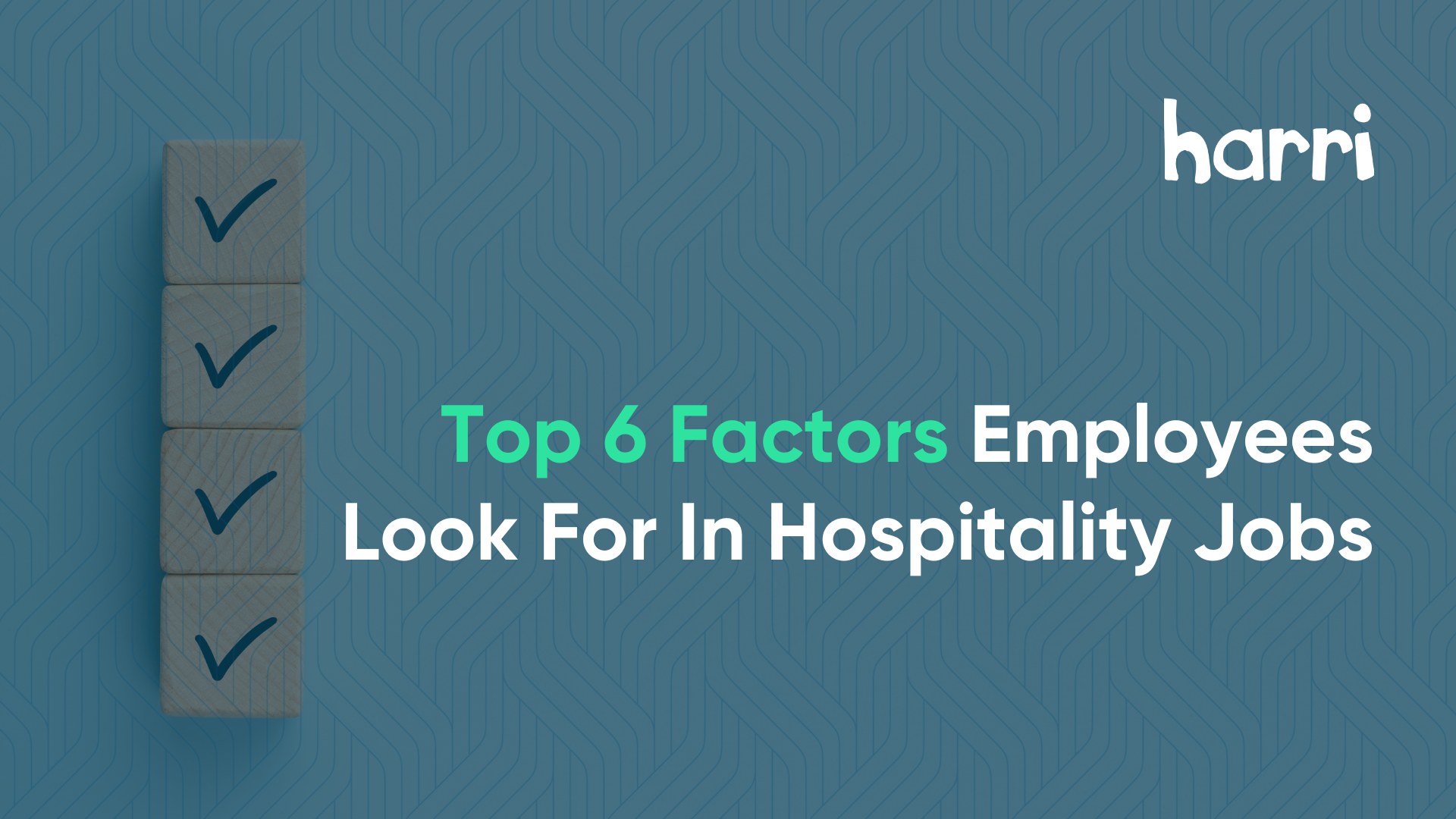 The skills necessary for success in the hospitality industry are quite different from those essential to other industries and niches. Certain personalities, experiences in the workforce and character traits are integral to success in restaurants, hotels and other customer-facing businesses. 
The hardworking contributors who make hospitality businesses "go" are looking for specific features of employment that often extend beyond money. From benefits to comfortable work environments, friendly coworkers and beyond, there is plenty to consider when choosing an employer. 
The magic of the hospitality industry's success is the result of reciprocity. Employers willing to meet employee demands and those who diligently work hard to advance the interest of the collective mutually benefit one another.  
Hospitality jobs: factors and characteristics for employee success
Hospitality is an overarching industry that encompasses more than restaurants. The hospitality space extends to hotels, country clubs, travel, tourism and more. Below, we provide a look at hospitality jobs by niche and break down what are the characteristics that define a successful employee within that business sector. 
Restaurant hospitality jobs
There is a common misconception that working in a restaurant requires an outgoing personality. Contrary to popular opinion, teamwork is more important than extroversion in the context of restaurant jobs. Those willing to communicate with their coworkers and contribute wherever necessary are the most valuable restaurant personnel. Though employees in the roles of hosts and waitress/waiter positions tend to be more extroverted, a bubbly personality is not essential to success. Rather, attention to detail, a willingness to listen and the ability to communicate clearly and cogently, are most important. 
Time management is also essential to a functional restaurant. Scheduling reservations, coordinating service and preparing meals within set time constraints matter a great deal. The best restaurant personnel are willing to accommodate others. People-oriented employees who go out of their way to please customers as well as coworkers thrive in this demanding industry. 
The bottom line is every restaurant employee interacts with people throughout his or her work shift. Those who embrace such interactions excel in restaurant jobs.
Hotel hospitality jobs
Jobs in hospitality are inherently challenging as they require self-sacrifice in the interest of others, both in the form of paying customers as well as the collective of the business. Hotel employees are caring, service-minded and focused on the interest of the group as opposed to narrow self-interest. Though hotel employees are certainly focused on wage growth and benefits, they also covet opportunities for career advancement. Employees provided with ongoing training and opportunities for promotion are likely to return the favor in the form of hard work and loyalty. 
Tourism and events hospitality jobs
It is no secret that tourism and events hospitality positions require a diverse skill set. Those who work in the tourism industry tend to be people-oriented. Event planning and management requires social interactions with diverse groups of people from all walks of life. The ability to work well with others in group settings, speak with eloquence in public and seamlessly embrace unexpected challenges are essential to success in the tourism and events space.
The bottom line is hospitality sector employees are selfless individuals willing to give their all for the betterment of others if they feel as though their contributions are valued. Employers willing to invest in employee skill development and career growth enjoy a mutually beneficial reciprocity. Hospitality sector employees who are satisfied with their employer spread the word to other job-seekers, attracting like-minded people willing to work hard in the quest to climb the ladder, advancing through the ranks with a single employer.
Hospitality jobs: how employers can attract and retain employees
As is often said, money matters most. However, money is not the sole motivator for those working in hospitality jobs. The potential for wage growth, expansive benefits and flexible scheduling are also important. Here's a closer look at the factors that matter most to employees in the hospitality space.
1. Work atmosphere
Oftentimes, it is the conditions of the workplace that matter more than the actual work. Surround your hardworking contributors with friendly coworkers who genuinely want to contribute to the group's collective interest and the collaborative atmosphere will prove beneficial to the interest of each individual employee as well as the business. 
Stress clear communication, teamwork and cordiality. Reward employees who put such company-wide values into practice and they'll influence the rest of the team to do the same.
2. Opportunities to lead
There is a common misconception that hospitality industry jobs are dead ends. Though everyone starts at the bottom, there should be a path to ascend toward the top of the industry ranks. Industry workers who are provided with opportunities to climb the employment ladder and eventually lead others are that much more appreciative of their employer. The opportunity to advance motivates employees to give their all. Employee passion proves contagious, spreading to coworkers and even all the way to customers.
3. Diversity of duties
Jobs in hospitality have the potential to become repetitive unless employers take the steps necessary to keep contributors engaged with work. Delegate different duties to team members and the team will be that much more interested in work. 
4. Benefits
Wages are important yet benefits are just as important or even more important for some employees. Health insurance, flexible shifts, bonuses for employee referrals and even support for college tuition have the potential to make a huge difference . It is also in the interest of hospitality industry employers and employees to implement a wellness program highlighted by easy and low-cost or even no-cost access to mental health counselling.
5. A safe work environment
Hospitality industry jobs tend to be slightly more dangerous than most others. Serving the public in the tourism sector, restaurants, hotels and other spaces creates risk. As an example, working in a hot kitchen within a couple of feet of coworkers presents ergonomic challenges, the risk of a life-changing burn and other threats. 
Employees provided with training to reduce the risk inherent to work environments are that much more likely to remain with the business for years. Safety and health rules should be incorporated during training and also posted within the workplace.
6. Transparency
Truth-telling is essential for respect and a healthy working relationship. Be clear about the expectations of the open position. Don't sugarcoat the work atmosphere when describing open jobs and discussing those positions in interviews. Employees respect employers who level with them about workplace risk and proactively take steps to mitigate that risk. Furthermore, it is mutually beneficial to be transparent in regard to compensation, benefits and job duties. Tell the truth and employees will reciprocate the favor.
Top paying hospitality jobs
The hospitality industry has wage/salary stratification yet it is not nearly as polarized as other industries. As an example, hotel managers make more money than line cooks. However, the location of the hospitality position and years of experience are the prime determinants of financial compensation. 
The industry's highest-paying positions include:
Executive chefs

Sommeliers

Casino hosts

Management positions
Other examples of hospitality industry management positions that pay well include restaurant manager, hotel manager and event manager.
Retaining your hospitality staff
Now that you know what hospitality industry employees are looking for, it is time to shift your attention to retaining valued contributors after the onboarding process. Focus on retaining your hardworking employees and the investment you make in application reviews, interviews and training will not be in vain. Here's the inside scoop on how to keep your "rainmaker" employees in the fold for the long haul.
The first step to retaining hospitality industry employees is to recognize there is an industry wide retention problem. The average rate of turnover for United States-based hotels is more than 70%. Acknowledge this challenge and plan accordingly through a culture that focuses on employees. Make it clear that your employees' contributions are valued. Reward those contributions with a fair wage, benefits and opportunities for advancement. 
From paid time off to paid sick days, retirement benefits, health insurance and more, each individual benefit matters a great deal. Even if your business cannot offer a full slate of benefits, providing some such amenities is better than none. Heap on the praise after a job well-done, hold company wide events after certain benchmarks are reached and provide regular reviews for transparency. 
One of the best ways to attract new hardworking contributors worthy of their keep is to compensate team members for referring candidates. Even a small amount of financial compensation for the employee making the referral and the employee added to the ranks has the potential to be meaningful. Such a financial reward, no matter how small, makes it clear that management genuinely cares about creating an inclusive workplace that benefits the collective and also the interest of individual employees.
Hiring hospitality employees efficiently with Harri
The quality of your employees is integral to your success as a whole, and Harri is here to help. Our all-in-one employee experience platform is built for the frontline and serves as a holistic solution for talent attraction, onboarding, employee engagement and more. 
Let us help you find the best possible contributors in the labor pool and it won't take long to notice a difference in your quality of work as well as your bottom line. Request a demo with our team today!