Unlocking The Secrets To A World-Class Employee Experience With Peter Martin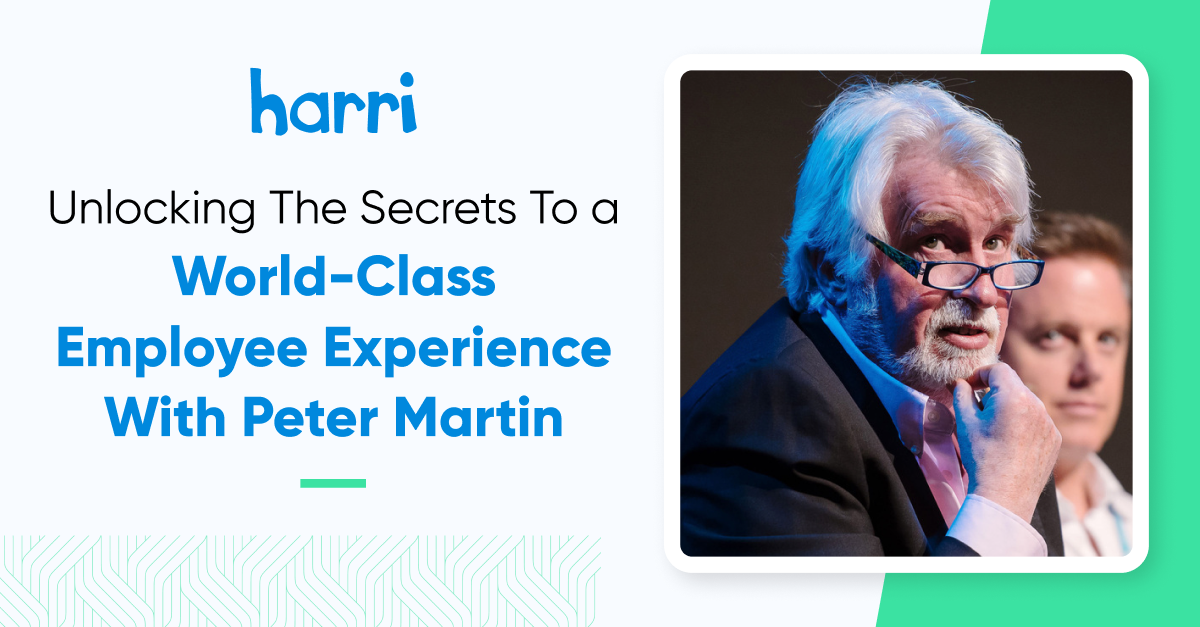 On 19th May 2022, Roy Walker, Sales Director at Harri, hosted a webinar led by Peter Martin, Founder and Executive Director at Peach 20/20. They were joined by Dawn Browne, People & Talent Director at Fuller, Smith & Turner; Jaclyn Ryan, People Experience Manager at Tenpin; Will Beckett, CEO & Co-Founder of Hawksmoor; and Simon Maguire, Managing Director at Luxury Family Hotels.
During the session, the panel discussed key themes from our collaborative report with CGA: Transforming The Employee Experience In Hospitality. In case you missed it, we've outlined the key takeaways from the event below.
The importance of the employee experience
Roy kicked off the session with some interesting insights: he noted that the industry's eyes are on the people agenda like never before – and the panellists agreed. After months of isolation and social distancing, employees desperately need to be heard. But if we, as employers, are to listen and show empathy to our teams, we need to know what drives them. That's where our latest findings come in handy. 
In our recent survey of over 5,000 employees, we found that: 
Now onto the big issue that's on everyone's mind… retention!
How crucial is retention?
Peter Martin – friend of Harri, connector, collaborator, and communicator of hospitality ideas and insights – took over the session by asking some intriguing questions about retention and recruitment. Unsurprisingly, the panellists collectively agreed that this has been a significant challenge over the past two years – and the problem might never go away. 
While the panellists acknowledged that retention and recruitment has been tough throughout the pandemic, Jaclyn and Simon agreed that the ship is now steadying. 
How do you ensure your people stay?
Of course, we're not here to focus on the problems. We're here to provide solutions! 
The panellists offered practical advice on how to keep your people onboard during these uncertain times – starting with flexible schedules. Peter pointed out that one of the issues of hospitality by sheer nature is that it's a round-the-clock job. The hours are often long, demanding, and antisocial, but in today's world, employees want a better work-life balance. 
So, how do we keep people interested in a sector where flexibility may not always be possible? By being honest!
Jaclyn agreed, highlighting the importance of creating schedules weeks in advance so that employees know what's expected of them and where they're meant to be. "It's really the simple things that can go by the wayside when things get chaotic and crazy," she said. "For us, it's absolutely making sure we're doing what we say we'll do, so there's no catfishing during the interview process." 
As well as publishing rotas in advance, you need to make sure your staff thrive at work and enjoy their shifts. If they don't, they could jump ship and take on a position that genuinely excites them.
Click the link below to learn more about:
Recruitment and retention 

Flexibility and schedules 

Implementing and evaluating new pay structures 

The issue of tips and service charges 

Transparency in the workplace 

The importance of communication 
Are you struggling to retain your people during the Great Resignation? It's time to take advantage of tech!
Our team communication tool enables you to stay connected with your employees by centralising your communications in a single place. With multi-channel notifications and a convenient mobile app for managers and team members, everyone can stay in the loop about important business matters.
Ready to attract top talent?