What Restaurants and Pubs Can Learn From QSRs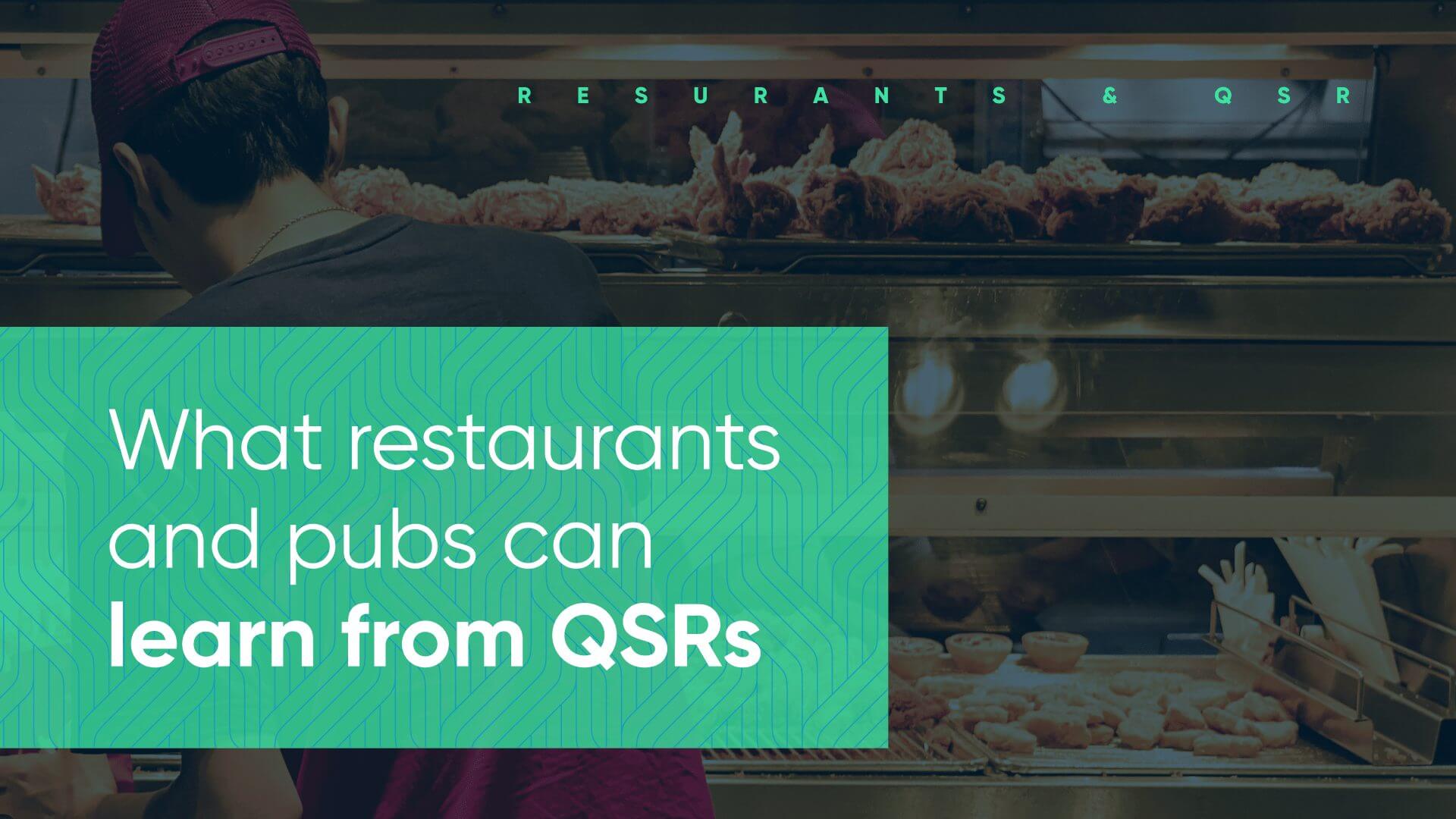 Hospitality had a tough ride in 2020. Even for those who were lucky to see increased demand, like quick service restaurants (QSRs), it's been far from easy.
Previously, QSRs were always the poor relation. Yet they've now become icons of the pandemic. They've fought their corner and proved themselves to be recession-proof by pivoting, quickly and dynamically – from handling mile-long queues to adjusting their supply chain to fulfil a surge in orders. They've managed to cash in on delivery, drive-through and takeaway, all whilst ensuring safety and effective people management.
Before, it was attractive to work for a 5-star restaurant. Today, many people are seeking a career in QSR because of the focus they put on both innovation and their people. The hospitality industry can learn a lot if they take note…
Satisfy instant gratification
In the modern world (even one dominated by a crisis), consumers are used to having their purchases now and spending little effort to get it. To satisfy their audience's immediate requirement for pizza, Domino's allowed customers to request contact-free delivery where payment is made at the point of order.
Of course, this resulted in them having to rapidly hire and train new employees in order to effectively meet a higher demand. Their human capital management strategies had to adapt in line with their customer service strategies.
The hospitality industry can easily take tactics like these on board. Many restaurants have already launched apps to speed up the ordering and bill-paying process, which has been incredibly valuable as customers and staff socially distance. Hotels could apply the same approach to room service, as long as they too ensure that their training programmes are robust enough.
Get the most out of your data
With technology comes information, and this should be capitalised on. That's certainly what KFC have done. They've used data to more acutely predict high delivery demand periods, analyse consumer behaviour, and reduce the number of order mistakes.
They wanted to create a seamless customer experience (or 'frictionless fried chicken'). As KFC's CTO puts it, to do so required "online training at all levels". He said that employees had to focus not just on the product and preparation, but also on the digital component.
So don't just use technology – make the most of it, and ensure that your staff are able to unlock its full potential. To improve the customer experience, for example, try a higher level of personalisation. You could provide tailored options gained from insights like order history and preferences. If your team is given the tools to carry it out effectively, it's a sure-fire way to gain customer loyalty.
Refine the digital experience
You need to ensure that the online experience is 100% seamless. User-friendly design is the exact reason why applications like Just Eat and Deliveroo are so popular.
Most people rely on their mobile phones for at least some of their internet use, but your desktop browser experience should be just as slick. Your hospitality website needs to be fully responsive, with an optimised booking engine if applicable. The idea is that your customers can manage their orders without any issues.
The digital experience extends beyond what it does for your customer though. Elements of your workforce management can also be enhanced through technology. And that's why so many hospitality businesses are turning to Harri.
Our action-oriented people technology is made for people. Through its easy-to-use interface, you'll be able to increase the profile of your employer brand as well as deliver career progression and training programmes to roll out any QSR-inspired strategies.
From the smart scheduling system and timesheet compliance tool to multi-channel team notifications, Harri's integrated solutions will give you back your time, boost the engagement of your people, and empower you to improve performance.
Demipower, KFC's second largest franchisee, uses our smart scheduling tool. To date, Harri has saved them a huge £1.7m by reducing the errors associated with their manual-based systems, and increasing employee satisfaction and engagement. In an era where dynamism, efficiency and a great customer experience is highly rewarded, this has been essential.
To find out more about the advantages of Harri for your hospitality business, head over to our website.