What Tool to Use for a COVID-19 Employee Health Screening at Work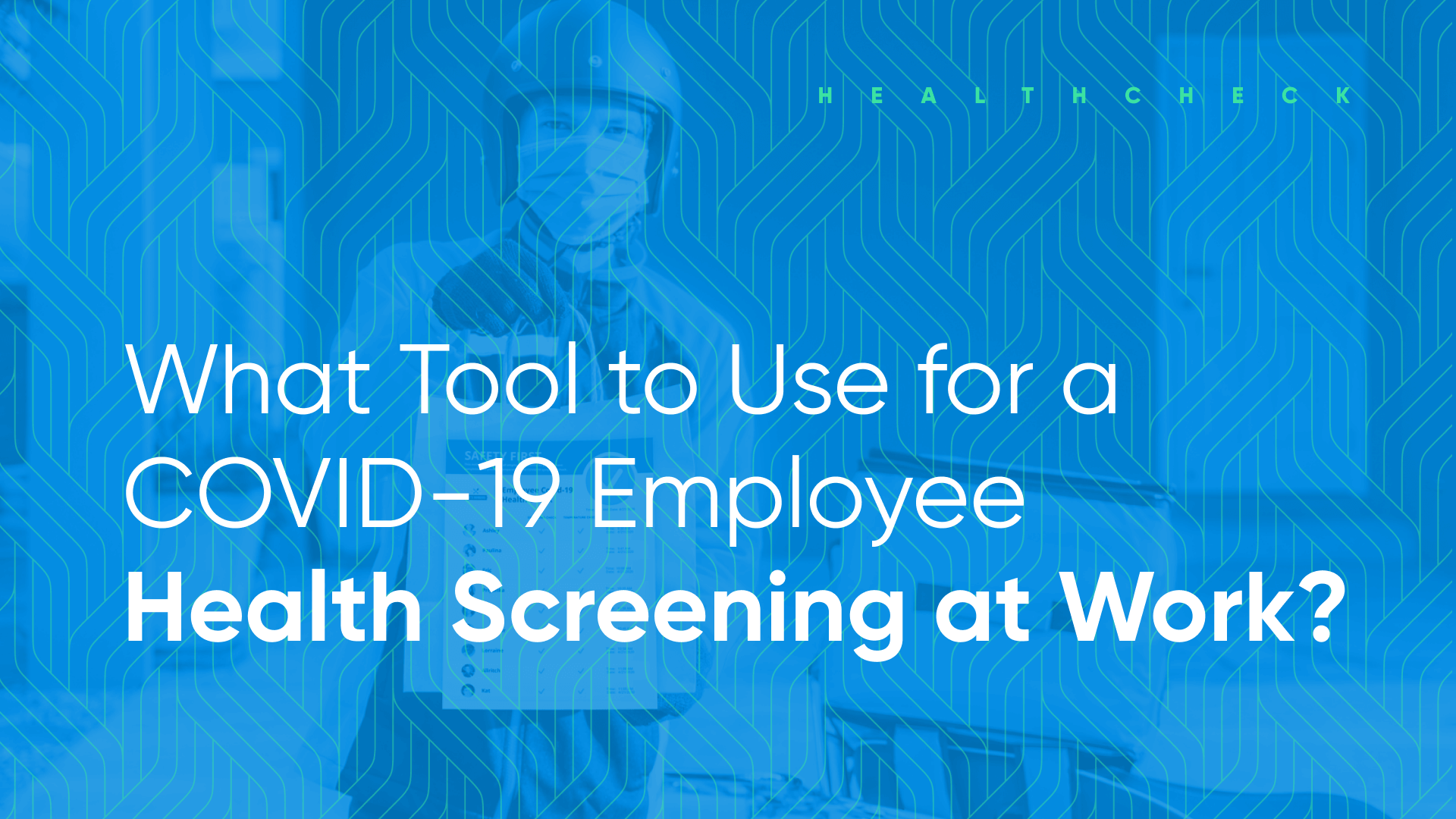 With reopening phases finally in development, hospitality enterprises are looking to implement daily employee health screening tools to ensure guest and employee safety. Restaurants, hotels, gyms, grocery stores and other retailers need a transparent solution to rebuild customer confidence, protect team members and guarantee compliance with state mandates.
The COVID-19 Employee Health Check Platform is a daily health assessment tool created for hospitality businesses. This platform enforces COVID-19 health and safety measures by tracking and reporting health checks at the unit, area and enterprise level.
How the COVID-19 employee health check platform works
The COVID-19 Employee Health Check Platform is the first integrated response to efficiently survey an employee's health symptoms before entering the workplace. This daily employee health screening tool delivers the following capabilities:
Health Check Mobile App

Customer-Facing Employee Health Reports

Enterprise-Ready Reporting and Tracking System

PPE In-Use Image Capture 

Employee PPE Attestations
This solution empowers restaurants, hotels and other retailers to deliver transparency to employees and customers.
Using the intuitive Harri Live mobile app, managers record each employee's symptoms with a pre-built COVID-19 health questionnaire and log a temperature check, before entering the restaurant, hotel or any other type of workplace.
Based on an employee's answers and temperature, the mobile app will alert the manager to whether the employee passed or failed their health screening. Employees who do not pass the screening process are signaled to be sent home and HR is notified for awareness.
Customer-facing employee health reports
Completed health checks are compiled into a real-time report for easy viewing. Managers can generate and print a summary report of all employee health checks to display on a restaurant entrance and include with a delivery or drive-thru orders.
This customer-facing report provides a transparent snapshot of employee health on a daily basis, mitigating customers' concerns and assuring that the establishment is safe to enter. It shows guests that their health and safety is a top priority.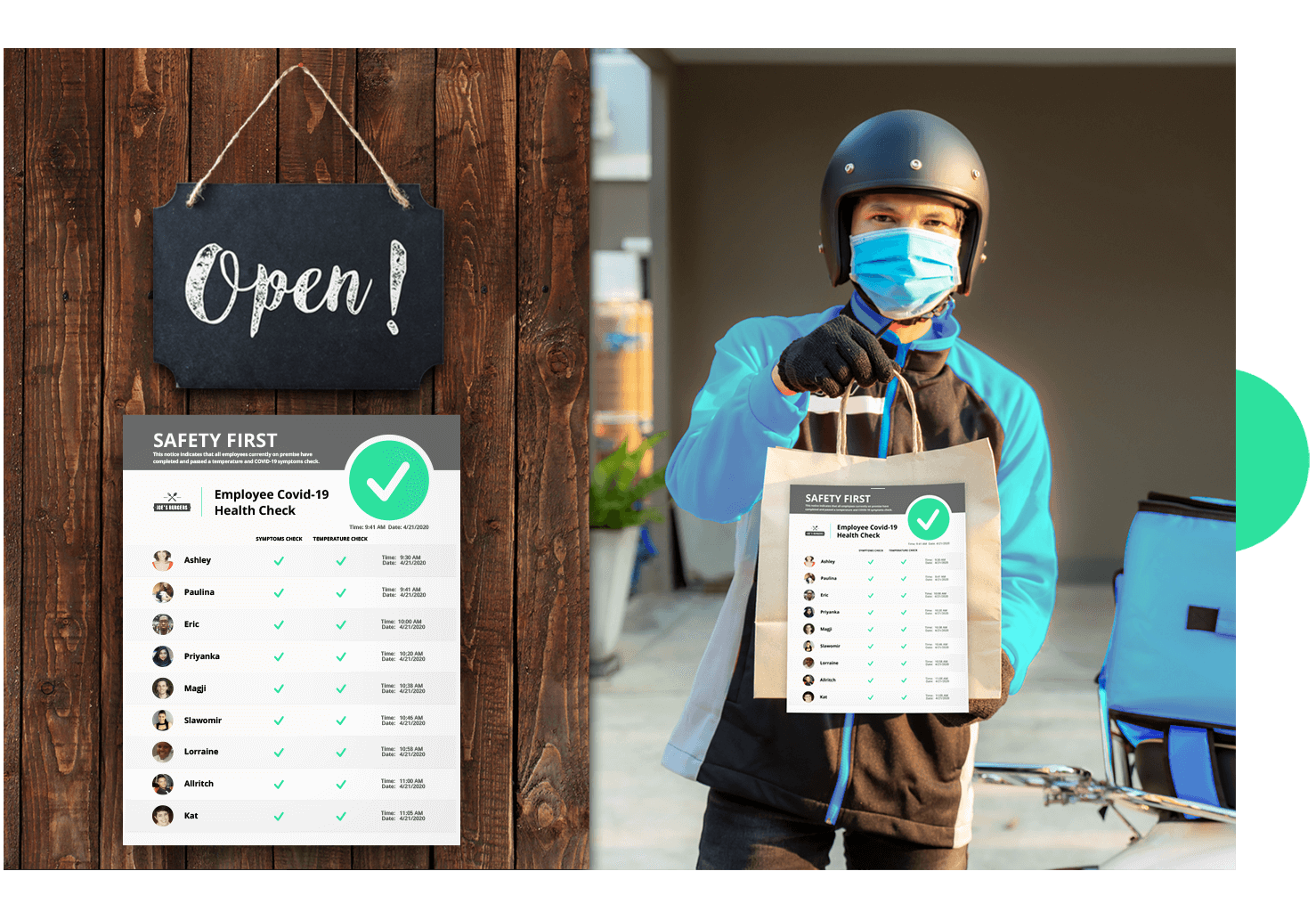 Enterprise-ready reporting and tracking system
The COVID-19 Employee Health Check Platform provides managers with robust tracking and reporting of daily health screenings  at the unit, area and enterprise level. The mobile app immediately sends proactive alerts for above-unit managers if any employee does not pass their health check.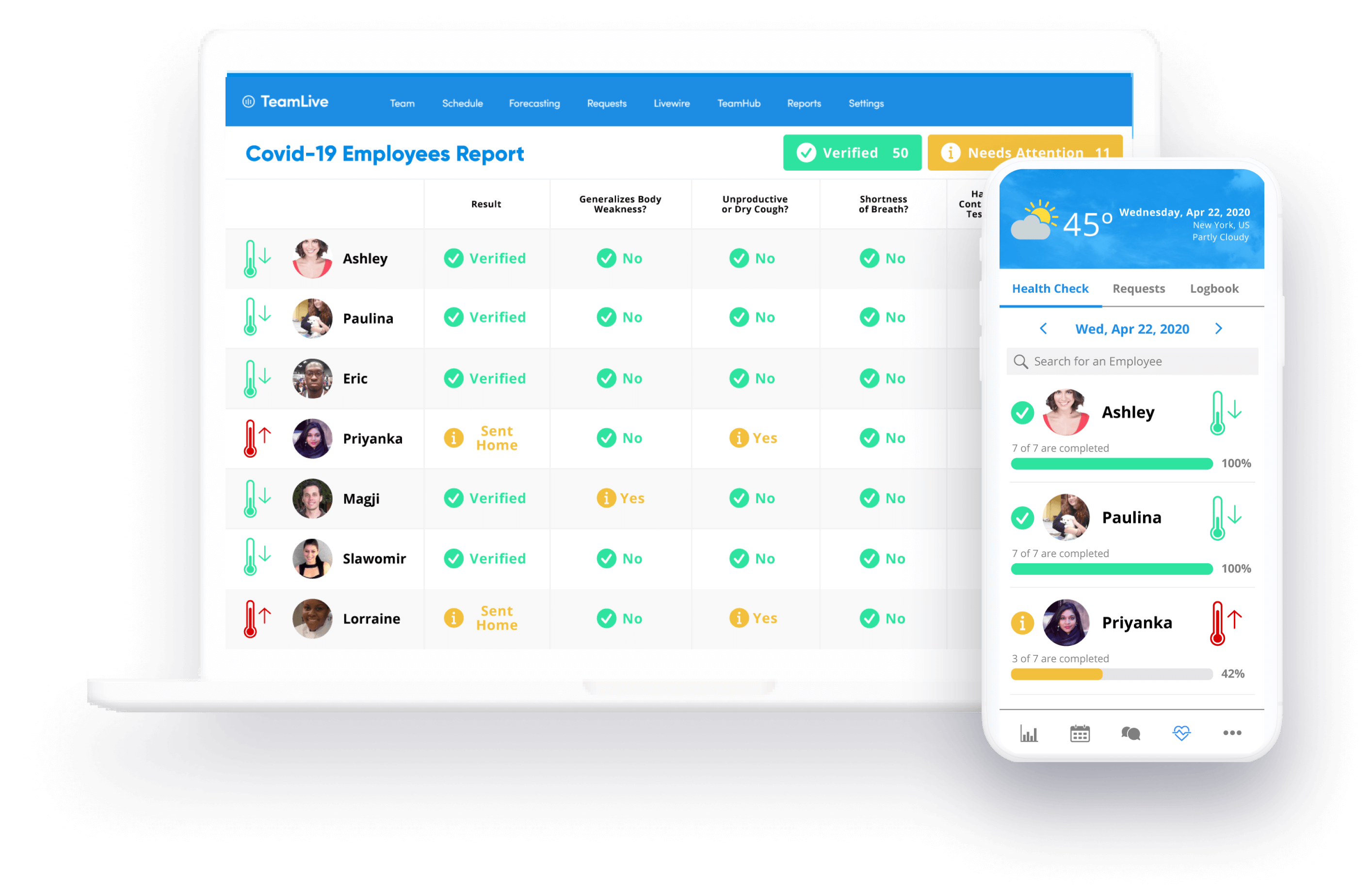 PPE in-use image capture and employee PPE attestations
This tool can also be integrated with Harri's timekeeping system to collect PPE attestations. With TeamHub, Harri's Biometric Time-Clock, employers can push a PPE announcement and digitally process an employee's acknowledgement. Employees attest to being provided PPE prior to starting their shift, complying with numerous local directives. Employees also create a visual audit trail of PPE equipment in use. AI-powered object-detection determines if a mask is present at the time of clock in and produces alerts.
These integrated components form a powerful health check tool built to help hospitality enterprises ensure guest and employee safety in the workplace.
The COVID-19 Employee Health Check Platform helps hospitality businesses:
Restore Customer Trust
Build Employee Confidence
Ensure State Health Mandate Compliance
Here's how this solution delivers transparency and accountability to guests, team members and the larger community.
Restoring customer trust with a daily employee health screening tool
By establishing a daily employee health check in the workplace, hospitality enterprises can provide their guests with the transparency and accountability needed to rebuild trust. Customers will know that their restaurant of choice is implementing every health and safety precaution possible.
The COVID-19 Employee Health Check Platform's daily summary report of employees' health, posted prominently on entryways, eases consumer anxiety and reassures guests it is safe to enter. 
When customers see an employee is wearing an affirmative sticker, they are assured he or she has passed their health screening. A daily employee health check tool allows restaurants, hotels, grocery stores or other retailers to renew trust among customers.
Daily employee health screenings support team confidence
Ensuring that employees know they are safe in their workplace is of the utmost importance.
Worksite health checks help to alleviate concerns among team members and assure employees that their well-being is a top priority of management. Daily health screenings give hospitality employees peace of mind to confidently return to their workplace, interact with other team members and serve guests. 
Ensuring state legal compliance with an employee health assessment platform
Many hospitality businesses are unsure how to guarantee and prove compliance with state health mandates. To understand your state's regulations, our interactive COVID-19 Employee State Health Mandate map is regularly updated.
An employee health screening tool solves this issue by tracking and recording team members' daily completed surveys across the board.
The COVID-19 Employee Health Check Platform compiles employee health survey data into real-time reports for daily review. If any employee fails their pre-shift health assessment, the mobile app immediately notifies a manager.
An integrated employee health check system provides enterprises with documentation proving compliance with state COVID-19 health and safety measures at the unit, area and enterprise level.
Why Harri created a daily employee health screening tool
Together, we are facing a truly unprecedented situation. As a leading HCM platform for restaurants, hotels, and retailers, our mission is to support the global hospitality community and provide tangible employee-centric solutions via the Hospitality Coronavirus Response Center.
The health and safety of team members, customers, and the community is a top priority. We believe it is our responsibility to support this commitment by creating a robust and transparent digital solution. That's why we integrated the COVID-19 Employee Health Check Platform into Harri Live, the core operations mobile app for Harri's HCM suite.
By giving businesses  a way to implement precautionary measures, gather important employee health information and the ability to conduct these checks outside of the establishment, we hope to be part of the solution to stop the spread of COVID-19 and to help restaurants regain their economic footing at this critical time.